Mexican Tostada Breakfast Board
A Mexican Tostada Breakfast Board has delicious tostada fixings, with over-easy eggs, refried beans, tostada shells, and more tasty toppings!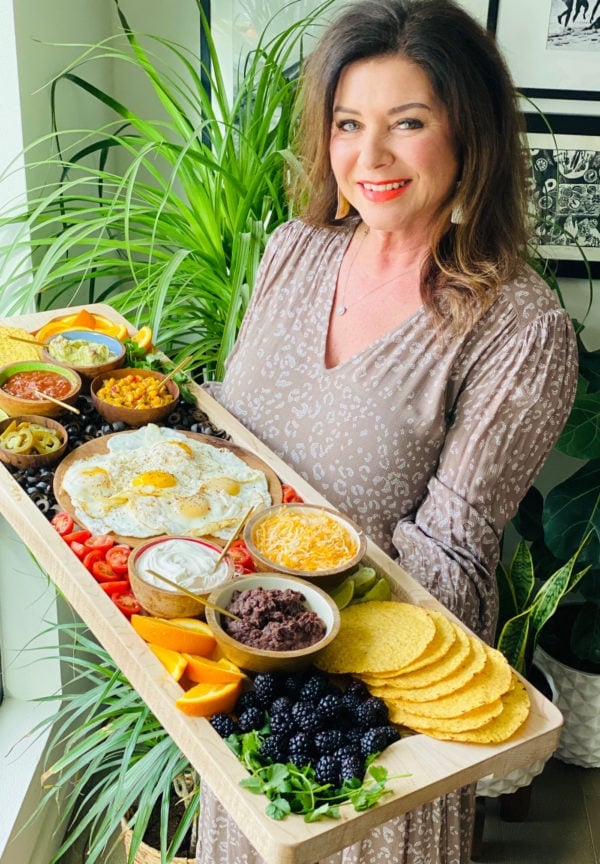 Just in time for the weekend, serve a Mexican Tostada Breakfast Board, filled with ingredients to make your own tasty tostada, with all your favorite toppings! Served on The Big Board, you can grab the link below. And did you know our latest board is a 23-inch Lazy Susan? So exciting!
Mexican Tostada Breakfast Board
Build a tostada by topping a crispy tortilla with about 3 tablespoons of refried beans, cheese, guac, and cilantro. Add your other favorite toppings and end with a fried egg! DELISH!
Who loves to serve a big breakfast on the weekend?
We do!
I love the lingering, and setting down a big board with delicious breakfast foods, especially for a day we like to lounge!
This Mexican Tostada Breakfast Board makes a fun family breakfast board. You can also make my Pear Buttermilk Cake Breakfast Board or Epic Summer Waffle Brunch Board or Best Brunch Board with bagels!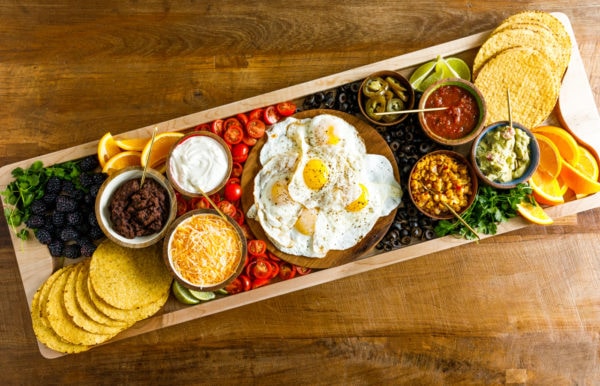 Ingredients for breakfast tostada board:
Pre-cooked tostada shells
Sunny side up fried eggs
Guacamole + salsa + corn salsa + sour cream
Sliced olives, drained
Shredded Mexican cheese (or cotija cheese)
Back refried beans (we buy Amy's brand, or you can make your own Refried Black Beans)
Fresh cilantro
Cherry tomatoes, halved
Limes
Orange
Blackberries
Hot sauce (optional)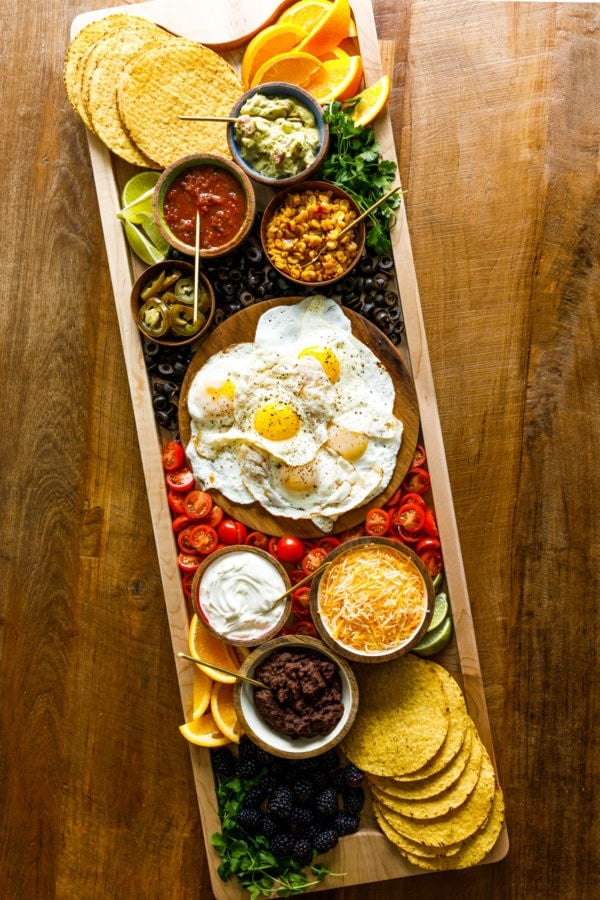 Frank Lloyd Wright's Taliesin West
This is the month I sort of lose my creativity. I mean we're stuck inside and it's cold and it's just not my favorite month. We were lucky enough to visit our friends in Arizona this past week, and took a tour of Taliesin West.
Taliesin West was architect Frank Lloyd Wright's winter home and school in the desert from 1937 until his death in 1959 at the age of 91. Today it is the headquarters of the Frank Lloyd Wright Foundation, which we were able to tour. He favored 15 degree angles that allowed nature to be seen above his buildings. But the low pitch was conducive to many leaks, we learned.
Constructed of brick and stucco, Frank Lloyd Wright colors include warm reds, gold, orange, brown, and yellow-green.
How to make a Tostada Breakfast Board
Only two things need to be cooked on this board: Fried eggs, and heat up the refried beans.
Once these are cooked, cover with a lid to keep hot.
On the board, decide where the hot food will be served, and start building the board around it. Fill small bowls with guac, salsa, corn salsa, sour cream, and a larger bowl with the hot refried beans. Set on the board.
Place the tortillas on either end.
Fill in open spots with tomatoes, olives, and fruit. Garnish with cilantro!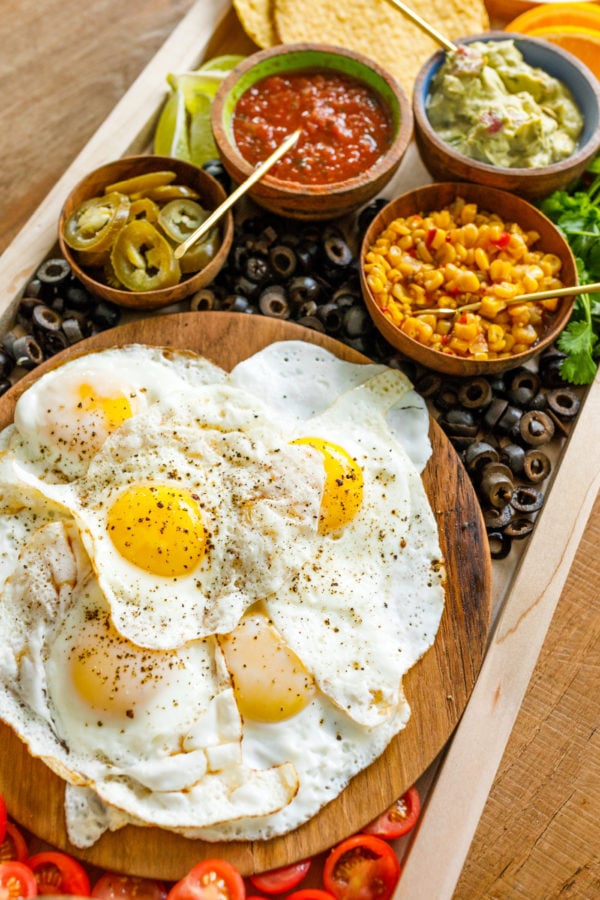 Lastly, place the hot plate of eggs in the center of the board (use a hot pad), and serve!
How to make a breakfast tostada
To assemble tostadas, spread a couple tablespoons of the black bean puree on top of each crispy tortilla. Top with cheese and all your favorite toppings, ending with a fried egg!
Everyone makes their own tostada!
Happy almost-weekend, Friends!
Friends, The Big Board® is here! Yes, I've partnered with JK Adams, the premier woodmaking company in Vermont, with my own line of RE boards!
20-inch round, maple
26-inch round, maple
12 x 36-inch maple
NEW 12 x 24-inch maple
23-inch Lazy Susan
26-inch ebonized BLACK, cherry
12 x 36-inch ebonized BLACK, cherry
A board with a lip (or raised edged) so the food doesn't fall off
FOOD SAFE
Made in the USA
Undercut handles (a unique design)
Thank you for your support, as we've sold out so many times already!
Order The Big Board® today!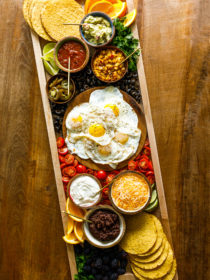 Get the Recipe: Mexican Tostada Breakfast Board
Made on 12 x 36-inch board.
Ingredients
8 pre-cooked tostada shells
8 sunny side up fried eggs
3/4 cup guacamole
3/4 cup salsa
3/4 cup corn salsa, we buy at Trader Joe's
3/4 cup sour cream
1 cup shredded Mexican cheese, or cotija cheese
2 cups back refried beans, we buy Amy's brand, or you can make your own
Fresh cilantro
Cherry tomatoes, halved
3/4 cup sliced olives, drained
2 limes, sliced
1 sliced orange
6 oz blackberries
Hot sauce, optional
Instructions
On a large board, fill small bowls with the dips and arrange on the board. Leave a plate in the center for the "hot" eggs (serve when ready to eat), on a small hot pad.

Start filling in the board around the small bowls with fruit and tostada shells.

Garnish with cilantro and fresh slices of lime.

Set hot eggs on board and serve! Serve with your favorite hot sauce if desired.
Hello and welcome to my home and table!
I'm Sandy—lover of food, family, cooking, THE BIG BOARD, travel, and bringing people together. Through great recipes and connection around the table, we become better, stronger, and more courageous people. Feasting on Life is real, and every time we do it, we grow a little more. Read more...