Millie's Best Rocky Road Fudge
Millie's Best Rocky Road Fudge is a chocolate candy made on the stovetop; add nuts and marshmallows. Refrigerate and cut into small pieces.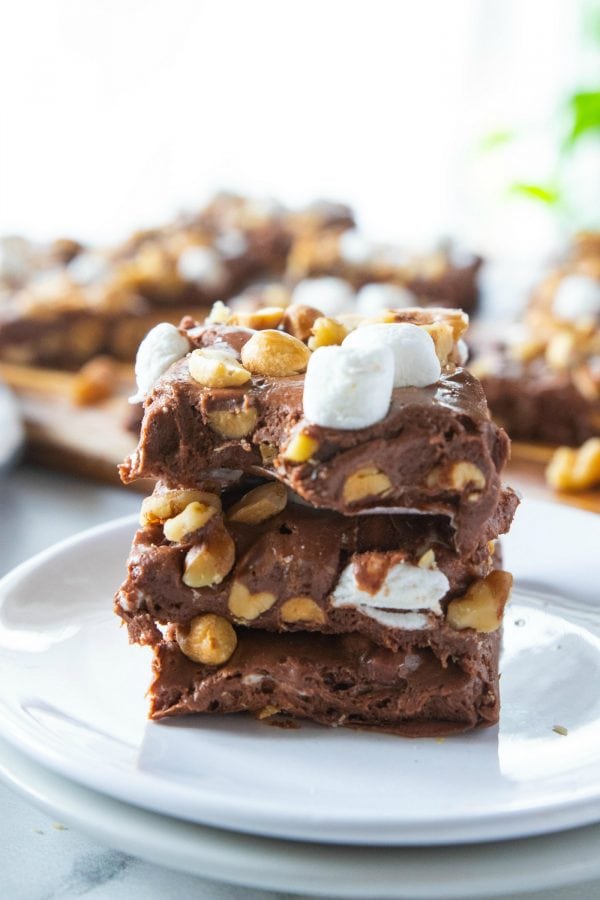 I love this time of year, specifically because it makes me think of my mom and her homemade treats! Today I'm sharing one of Millie's Best Rocky Road Fudge recipes!
Millie's Best Rocky Road Fudge
Let the fudge set for a few hours, then cut into small squares and enjoy!
What nut is in rocky road?
Rocky Road is a typically a chocolate-based ice cream flavor mixed with chopped almonds and marshmallow pieces.
For me, it's just not the holidays if I don't make a few pans of fudge. We love the combo of peanuts and walnuts. You can even switch up the nuts in the recipe, trying pecans, cashews or macadamia nuts.
Ingredients for Rocky Road Fudge
Butter
Semisweet chocolate chips
Sweetened condensed milk
Walnuts
Peanuts
Miniature marshmallows
How to make Rocky Road Fudge?
Mom always lined a pan with wax paper, but I use parchment. I buy these cookie baking sheets, packages of pre-cut pieces, and it makes baking so easy! [affiliate link]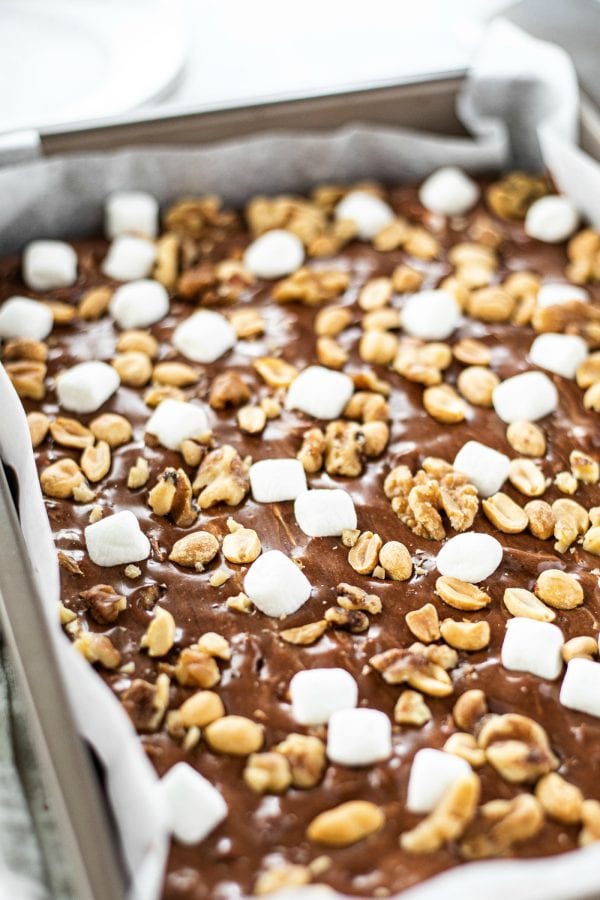 Line a pan with parchment paper (or foil).
You have to have marshmallows to make it "rocky road!" Mix and refrigerate!
This is the easy part: Using parchment paper, lift the fudge out of the pan.
Cut into 1-1/2-in. squares and serve!
Why is rocky road called that?
William Dreyer used his wife's scissors to cut up marshmallows and walnuts back in 1929, which he then mixed into his chocolate ice cream. Later when the stock market crashed, the name of the flavor of ice cream became Rocky Road. They said it was named this "to give folks something to smile about."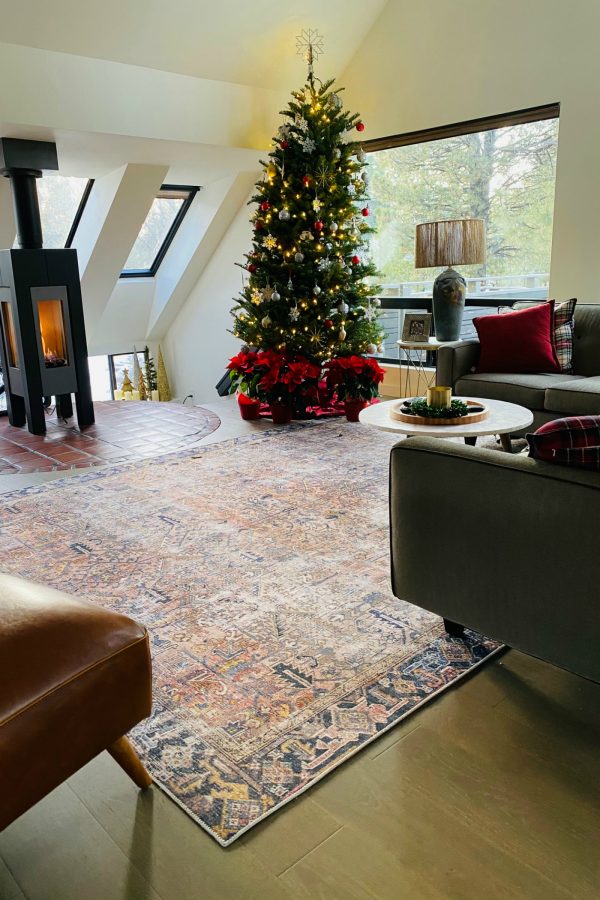 Chris Loves Julia x Loloi rug collaboration
We had so much fun giving our living room a fresh new look, right about the time we put or tree up this year.
This beautiful rug from the new Jules Collection, a Chris Loves Julia x Loloi rug collaboration, has a mix of colors (hello, Cheating Heart by Benjamin Moore, which is our accent color in our home) that just pops in our bright, modern home.
I'm so loving the mix of colors and options for swapping out pillows for the seasons! The rug is a terracotta/multi color combo from their Jules collection:
Get the beautiful rug here:
It has really brought life to our living room—a little something vintage-inspired in our modern home–and we're loving how it feels underfoot, and it's super easy to vacuum!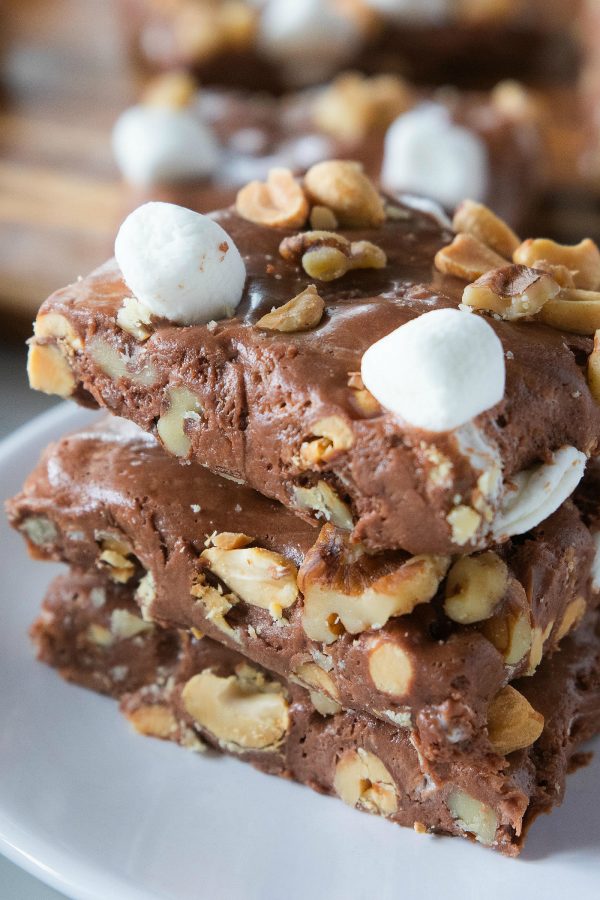 Baking and freezing
But back to chocolate and baked goods for Christmas.
Do you have plans to bake this year and bring treats to friends? With more time, since we're staying home, not traveling, I say get the house smelling good and try some of these treats!
Oh, and you can freeze these, too!
More chocolate recipes:
Quick Peanut Butter Cups Recipe
White Chocolate Peppermint Bark Recipe
Hazelnut Peppermint Brownie Cookies
And did I mention? Pack these squares into treat bags or boxes or goodie plates as homemade candy to give away this year!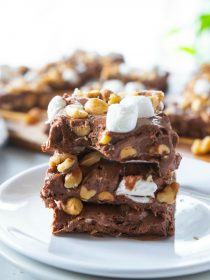 Get the Recipe: Best Rocky Road Fudge
Ingredients
1/4 cup butter
12 oz semisweet chocolate chips
1 can, 14 ounces sweetened condensed milk
1 cup walnuts, plus more for topping
1 cup peanuts, plus more for topping
1 package, 10 ounces miniature marshmallows, plus more for topping
Instructions
Line a 13x9-in. baking pan with parchment paper, letting ends extend over sides by 1 inch; set aside.

In a large saucepan, combine chocolate chips, sweetened condensed milk and butter. Cook and stir over medium heat until mixture is smooth. Remove from heat; stir in 1 cup each of walnuts and peanuts.

Place marshmallows in a large bowl; add chocolate mixture and stir well. Spread into prepared pan. Sprinkle with additional walnuts, peanuts, and marshmallows. Refrigerate until firm, for at least 4 hours.

Using parchment paper, lift the fudge out of pan. Cut into 1-1/2-in. squares.
Hello and welcome to my home and table!
I'm Sandy—lover of food, family, cooking, THE BIG BOARD, travel, and bringing people together. Through great recipes and connection around the table, we become better, stronger, and more courageous people. Feasting on Life is real, and every time we do it, we grow a little more. Read more...