White Chocolate Peppermint Bark Recipe
White Chocolate Peppermint Bark Recipe is perfect for holiday gifts–so easy to make with a light dusting of peppermint candy and Sea salt.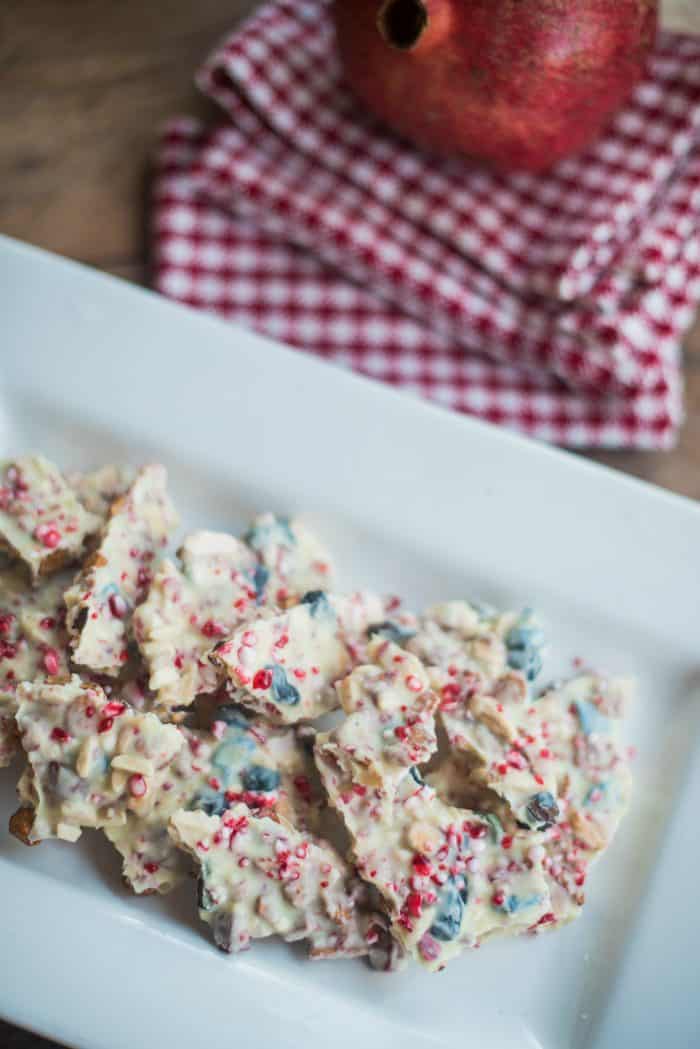 When I think about gift giving at Christmas time I think about homemade gifts, do you?
We recently made this White Chocolate Peppermint Bark Recipe for holiday gifts. So good, so easy! In the past, we've also made this Chocolate Peppermint Flourless Cake recipe for gifts (yum!)
White Chocolate Peppermint Bark Recipe
Just in time for holiday baking, you'll love how simple this White Chocolate Peppermint Bark Recipe is.
Use the best quality white chocolate you can find!
Don't skip the double boiler method. Microwaving will give a texture that you will not like (dry), and does not spread easily. You want to keep it glossy and smooth.
Ingredients for homemade peppermint bark
White chocolate
Colorful chocolate rocks
Caramel chocolate rocks
Slivered almonds
Peppermint grind, or crushed candy cane
Sea salt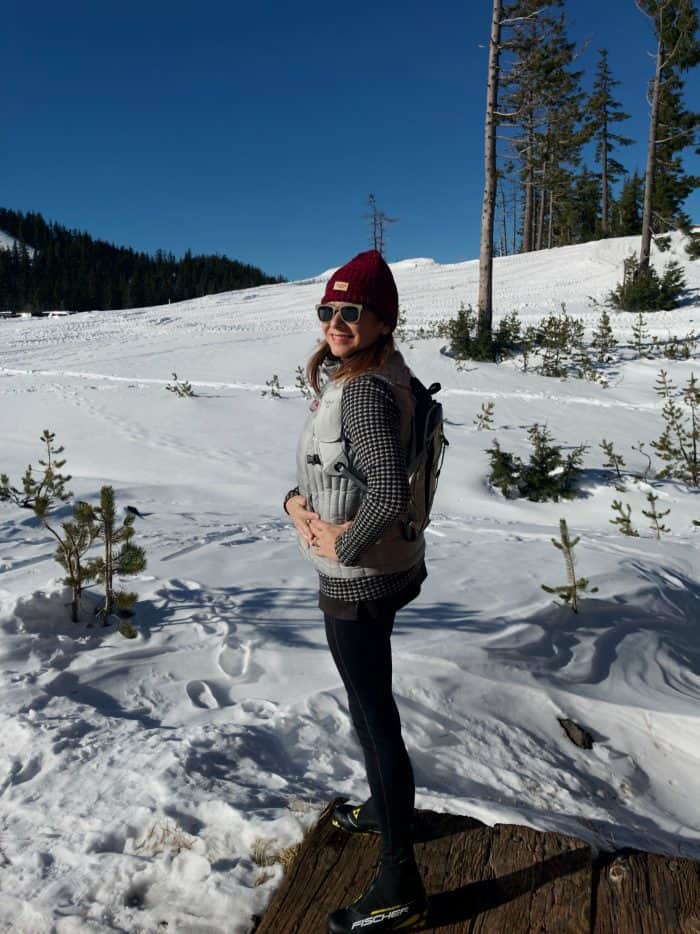 Friends, it's so hard to believe, but we are taking it all in. The kids are home, we're cooking up a storm, and enjoying our cozy home. We'll take some nighttime walks, cross country ski, and maybe sneak in a hike or two.
Paul and I took a cross country lesson last week. Being downhill skiiers, we decided that we're ready for a different style. First, we'll start with the Classic, then learn how to skate ski later!
Cross Country Skiing has two techniques or styles: Classic (a.k.a. Diagonal Stride) where the skier glides straight-ahead in parallel tracks and Skate (a.k.a. Freestyle) which involves a motion similar to ice-skating or roller-blading.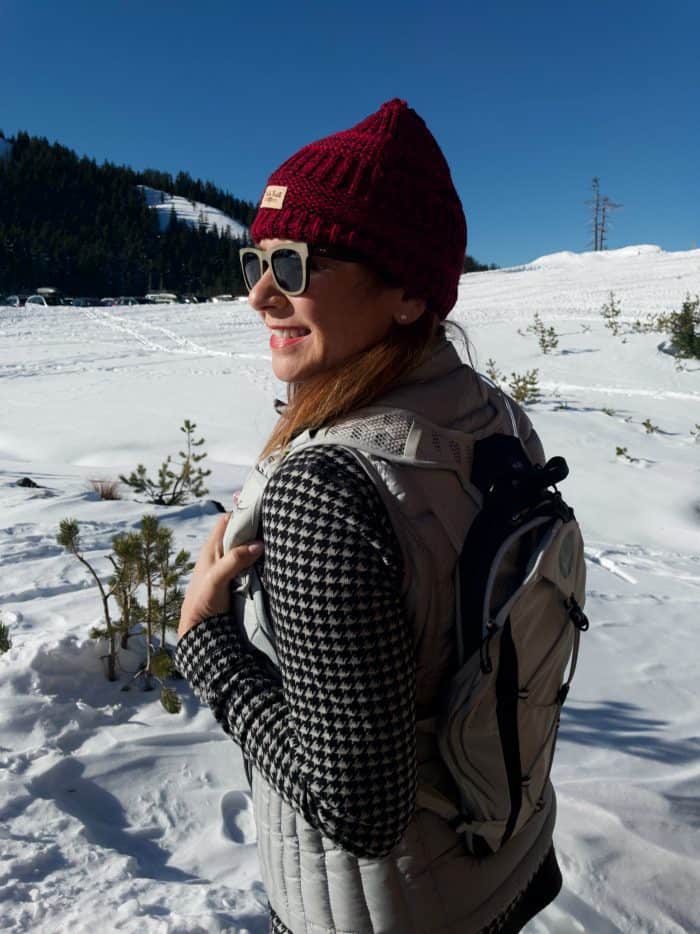 A tip I'd like to share today is when you're looking for outdoor equipment or clothing, we love to visit REI's garage sale online (you have to be a member).
Here I found this Osprey small white backpack for $26. Can you believe it? I love it, just the right size for skiing, holding onto the things I need (snacks, lip balm, extra hat, with a water bladder), and so light, you don't even know it's on your back!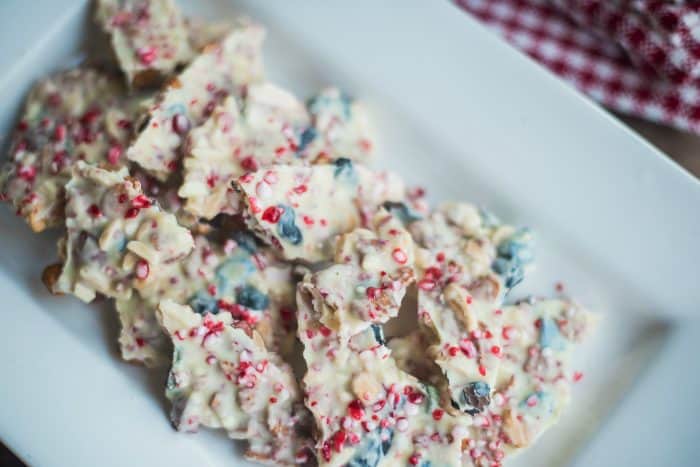 I made this when I was visiting Harry and David, but you can add whatever candy you can. It's also delicious with cranberries and hazelnuts, cookies and peppermint, dried oranges, ginger, cranberries and nuts. So many combinations.
Sea Salt is a great added touch, really brining out the flavors!
Enjoy!
More peppermint recipes: Practically Perfect Peppermint Fudge [Mom Time Out], Peppermint Snowcap Meringues [Belly Full], Peppermint Pecan Snowball Cookies [Chelsea's Messy Apron], and White Chocolate Peppermint Bark Ice Cream Cake [sooooo good! RE].
Get the Recipe: White Chocolate Peppermint Bark Recipe
Ingredients
2 pounds white chocolate, use good quality, such as Guittard, chopped
1 cup colorful chocolate rocks
1 cup caramel chocolate rocks
1 cup slivered almonds
1 cup peppermint grind, or crushed candy cane
Sea salt
Instructions
Melt the chocolate in a double boiler. Add 2 inched of water to a medium saucepan or pot and bring to a gentle simmer.

Place a heat-safe bowl on top of the pot so that the bottom of the bowl is not touching the water. You want the steam from the water to warm the bowl.

Add the chopped chocolate to the bowl; stir occasionally with a spatula until melted and smooth.

Remove the bowl from the heat.

Combine candies and almonds in a large bowl. (Keep a small amount of peppermint for topping.)

Line a baking sheet with parchment paper.

Pour the chocolate into the candy/nut mixture. Gently stir together. Pour right away onto the parchment paper. Chill for about 10 minutes until slightly firm but not sticky.

Sprinkle with remaining peppermint candy and sea salt.

Place in the refrigerator for 45 minutes or until firm. Remove from cookie sheet and break into pieces (like peanut brittle). It also freezes well!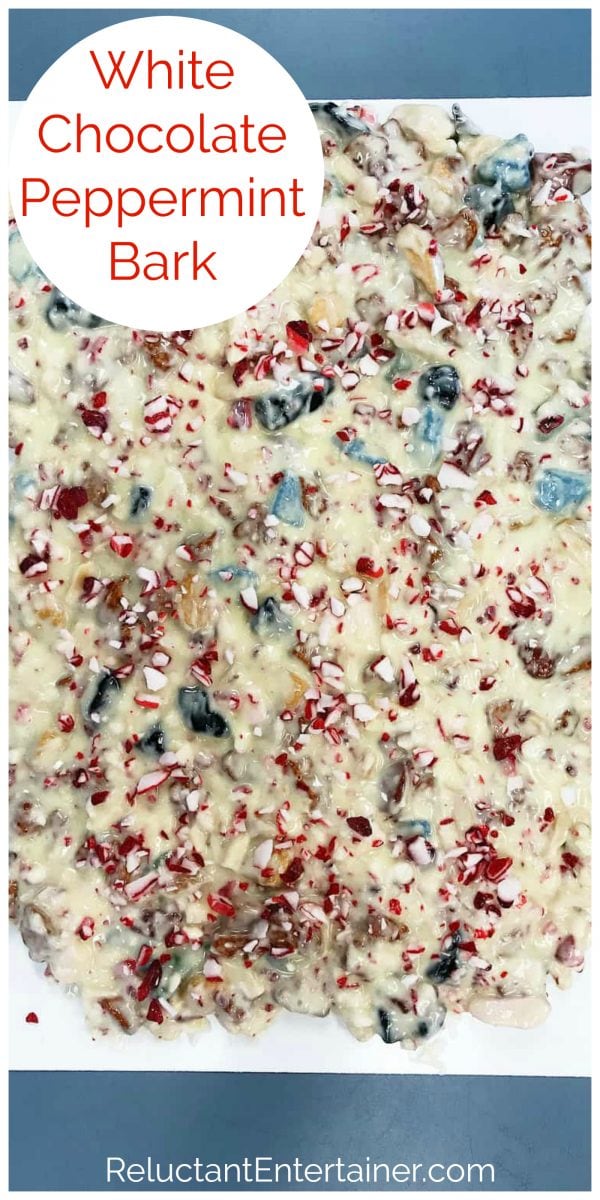 Hello and welcome to my home and table!
I'm Sandy—lover of food, family, cooking, THE BIG BOARD, travel, and bringing people together. Through great recipes and connection around the table, we become better, stronger, and more courageous people. Feasting on Life is real, and every time we do it, we grow a little more. Read more...