Mini Chicken Taco Boats and Jalapeño Greek Yogurt Dip
Super easy Mini Chicken Taco Boats and Jalapeño Greek Yogurt Dip are a delicious appetizer for a party or a quick for a family night meal.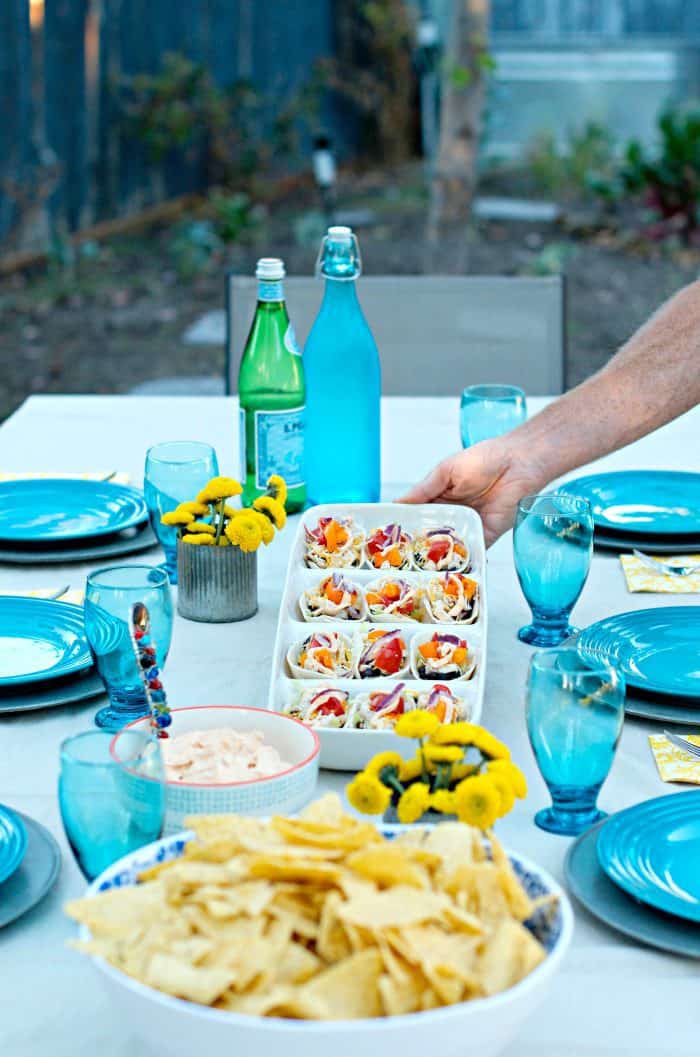 If you've tried my Tasty Taco Mini Stuffed Peppers that I recently posted, then you'll love these mini taco boats today! YUM! The secret is in the sauce, make this fabulous Greek yogurt dip, and drizzle over the mini tacos. Serve with your favorite chips and drinks! ENJOY!
Mini Chicken Taco Boats and Jalapeño Greek Yogurt Dip
A few years back we enjoyed these Mini Chicken Taco Boats and Jalapeño Greek Yogurt Dip for an outside dinner with our kids, a quick and easy meal! We also regularly enjoy these Rotisserie Chicken Mole Tacos Recipe and Flank Steak Tacos Recipe. I'm all about "easy" for weeknight meals. Or this Chicken Taco Dipping Board!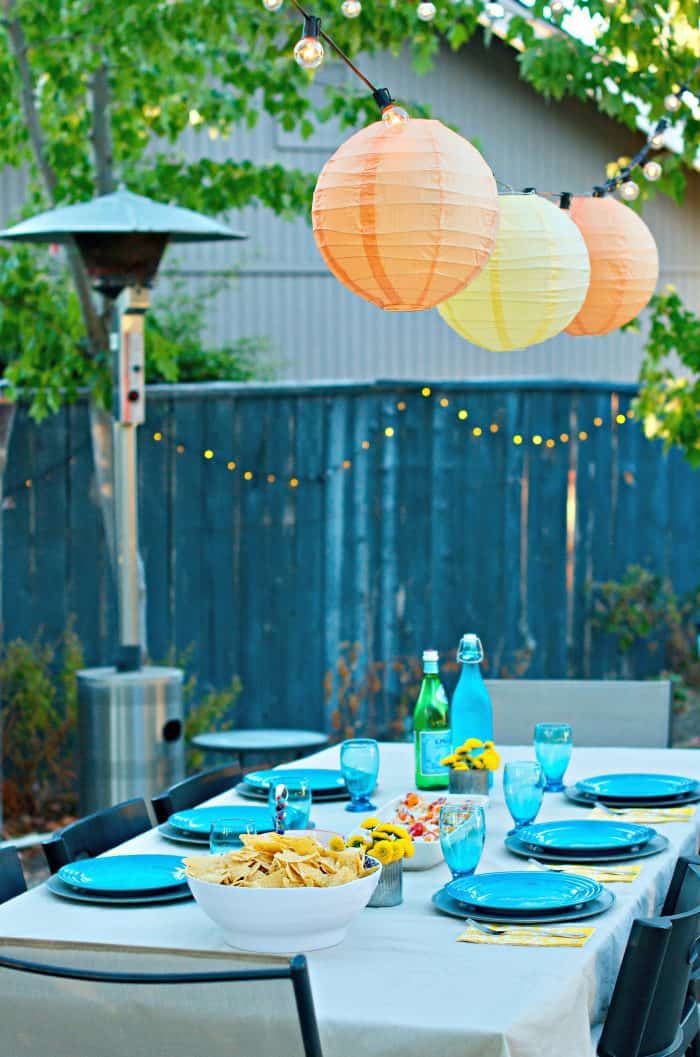 For a "family meal," it doesn't take much to set a pretty table. I think sometimes we just throw the food on the table (hand raised!), but over the years, I've really tried to take 2-3 minutes extra to actually "set" the table with matching napkins and pretty glasses.
Not for every meal, but for most meals, I give it a little more effort, because before we know it, our kids are gone!
Mini Chicken Taco Boats
For this meal, we made mini tacos with Old El Paso™ Mini Soft Tortilla Taco Boats™. These Mini Taco Boats are soft flour tortillas formed into a unique boat shape, with a flat bottom making them easy to hold, less messy, and ready to be filled to the brim with "whatever floats your boat." :) We added black beans and rotisserie chicken!
But guess what? You can totally use regular taco shells (corn or flour).
This is such an easy, convenient meal, yet fun and delicious—a great dinner option for families!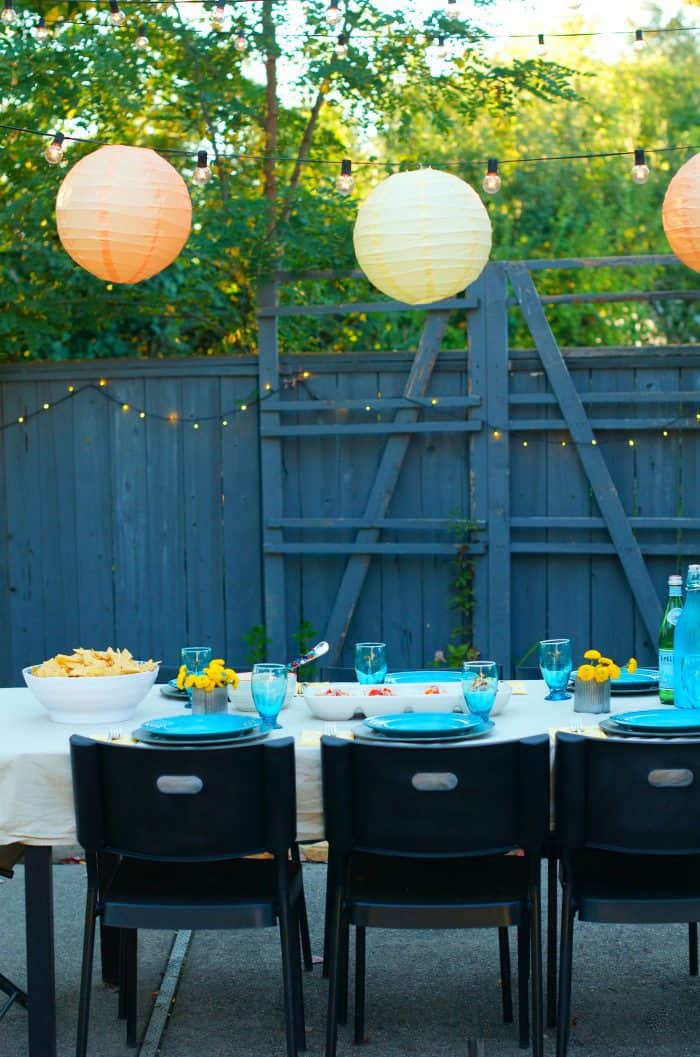 Jalapeño Greek Yogurt Dip
We made our favorite Jalapeño Greek Yogurt Dip, spooning it into a small ziploc bag (snipping off the corner), and drizzled the sauce over each taco.
Fill a pretty platter with tacos!
Place the platter as a centerpiece, and let everyone dig in!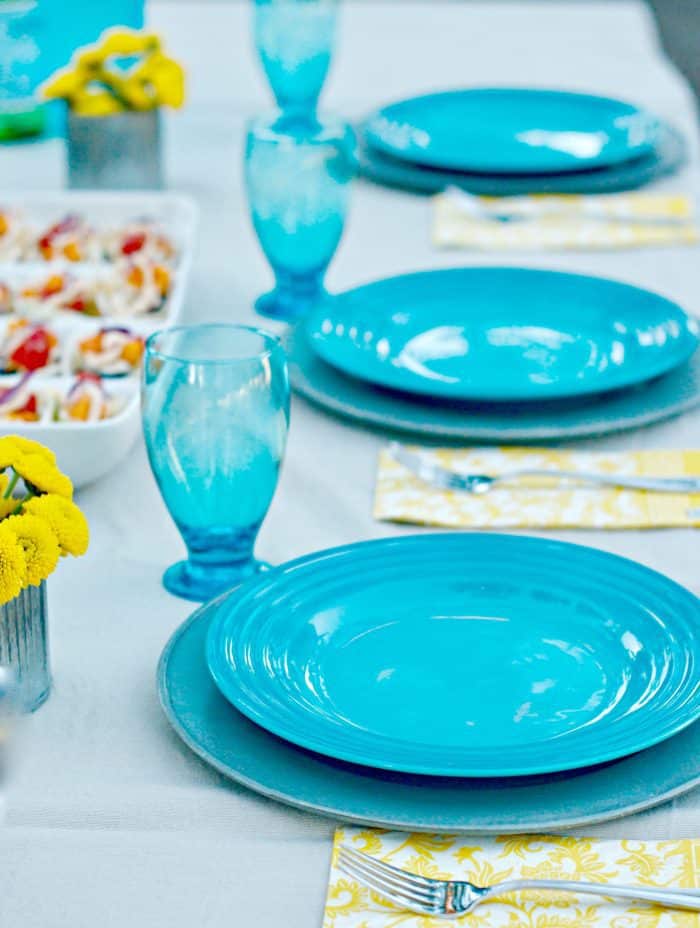 I'm always up for a NEW dinner idea, especially for last minute meals and easy entertaining!
Happy weekend, Friends (and Cinco de Mayo, if you're celebrating!)
More "taco" ideas:
Easy Chicken Taco Soup [Spend with Pennies]
Easy Low Carb Taco Pie Recipe [All Day I Dream About Food]
Mahi Mahi Tacos with Chipotle Sauce and Mango Salsa
Get the Recipe: Mini Chicken Taco Boats and Jalapeño Greek Yogurt Dip
Heat the boats in the oven for up to 10 minutes, or in the microwave for up to 1 minute.
Ingredients
2 cups rotisserie chicken
2 cups lettuce, finely chopped
1 cup black beans, drained
1 cup cheese, grated
Fresh tomatoes
Red onion, chopped
1 box, 12 Old El Paso™ Mini Soft Tortilla Taco Boats™
1 cup Greek-style yogurt
1 jalapeno pepper, finely chopped
1 lime, juiced
1 teaspoon cumin
Salt and pepper
Instructions
Chop the chicken, drain the beans, finely chop the lettuce. In each individual boat, fill with lettuce, beans, chicken, and cheese.

For the yogurt dip, mix the yogurt, chopped jalapeno, lime juice, cumin, and salt and pepper in a small bowl.

Top each mini taco with the Jalapeño Greek Yogurt Dip, filling a Ziploc bag with the yogurt dip, and snipping off the corner with scissors. Squeeze the dip through the tip and drizzle onto each taco.
This post was previously posted in partnership with Old El Paso; as always, all thoughts and opinions are my own.
Hello and welcome to my home and table!
I'm Sandy—lover of food, family, cooking, THE BIG BOARD, travel, and bringing people together. Through great recipes and connection around the table, we become better, stronger, and more courageous people. Feasting on Life is real, and every time we do it, we grow a little more. Read more...