Setting a Family Dinner Table with Mini Chicken Taco Boats and Jalapeño Greek Yogurt Dip
These Mini Chicken Taco Boats and Jalapeño Greek Yogurt Dip are a delicious meal for family night, quick and easy to prepare! This post is sponsored by Old El Paso.
We couldn't be happier that "fall is in the air," because it means that eating outside just gets a little better! A little cooler and much prettier, recently our family was able to eat a dinner outdoors one last time before everyone scattered, the kids back to school, my husband and me on a trip! It was a very fun end-of-summer hurrah, and we indulged in Mini Chicken Taco Boats and Jalapeño Greek Yogurt Dip.
For a family meal, it doesn't take much to set a pretty table. I think sometimes we just throw the food on the table (hand raised!), but over the years, I've really tried to take 2-3 minutes extra to actually "set" the table with matching napkins and pretty glasses. Maybe not for every meal, but for most meals, I give it a little more effort, because before I know it, our kids will be gone.
Mini Chicken Taco Boats.
For this meal, we made mini tacos with Old El Paso™ Mini Soft Tortilla Taco Boats™. These Mini Taco Boats are soft flour tortillas formed into a unique boat shape, with a flat bottom making them easy to hold, less messy, and ready to be filled to the brim with "whatever floats your boat." :) We added black beans and rotisserie chicken!
This is such an easy, convenient meal, yet fun and delicious—a great dinner option for families, even when the kids are big. (Our kids are now 23, 21, and 19.) I'm now keeping these stocked in my pantry, because not only did our "big kids" love the flavor, the "boats" are the perfect size for everyone at taco night. And what I really love, for all ages, is that they are sturdy enough for those who fill their tacos to the max, yet small enough to fit into the littlest of hands.
The kids helped me prepare them in no time.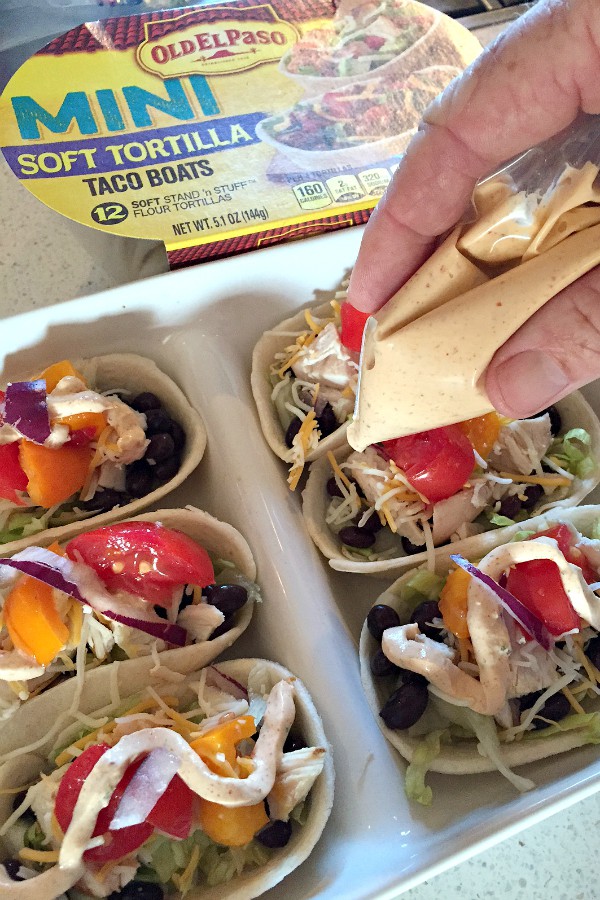 Jalapeño Greek Yogurt Dip.
We made our favorite Jalapeño Greek Yogurt Dip, spooning it into a small ziploc bag (snipping off the corner), and drizzled the sauce over each taco.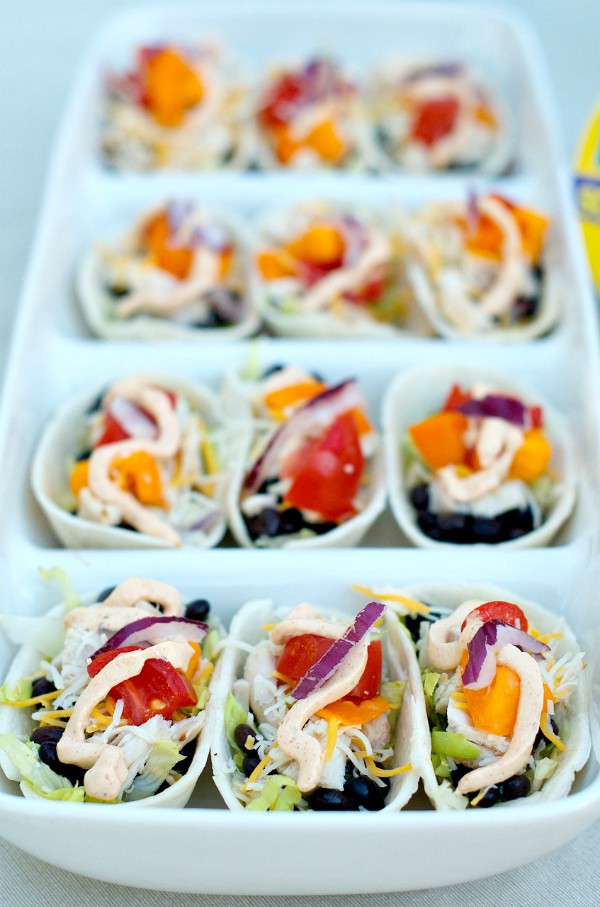 Fill a pretty platter with tacos!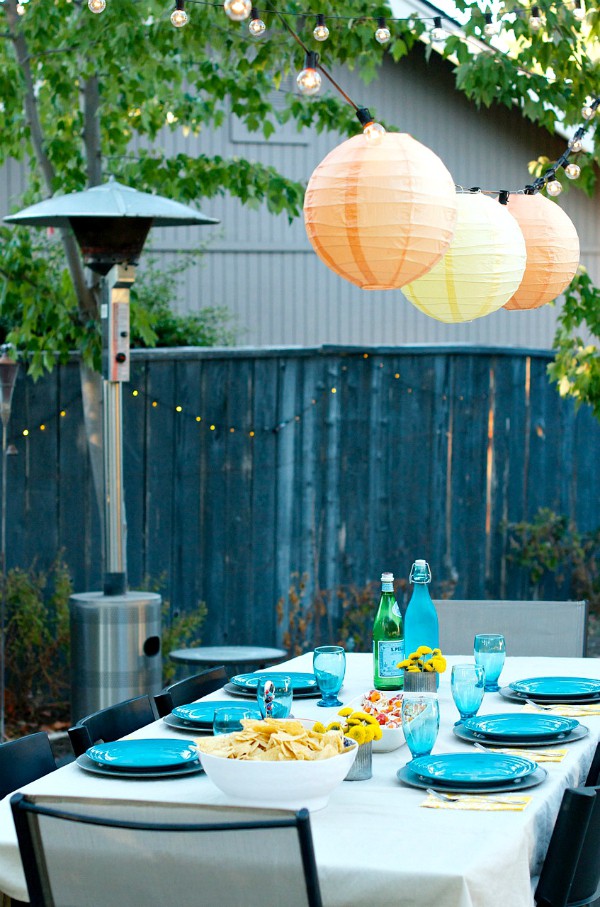 Place the platter as a centerpiece, and let everyone dig in!
How to set a "fun" family night dinner table:
1. Everyday dishes. We use our standard white or blue everyday dishes.
2. Paper napkins. I like to buy paper napkins on sale and keep a stash for each season.
3. Dollar Store glasses. I have several assortments of Dollar Store colored glasses. They add a pop of color to the table.
4. Flowers in the yard, to form a seasonal bouquet in the house. Snip and place in a low-line container.
5. Water bottles. I bought these blue bottles at Target. I keep them filled in the garage fridge, chilled and ready!
6. Make the MAIN DISH the centerpiece.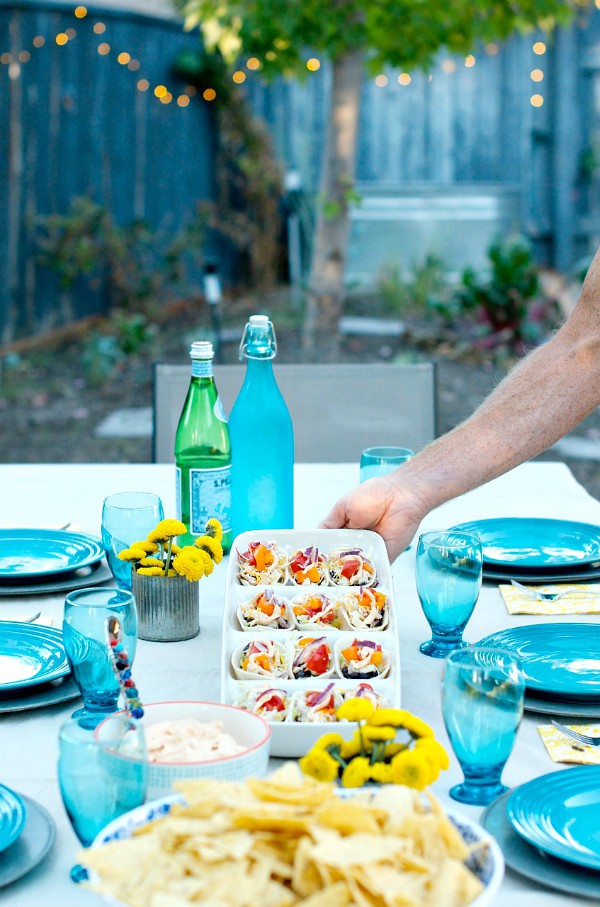 I'm always up for a NEW dinner idea, especially for last minute meals and easy entertaining!
What's your favorite way to make a quick taco or Mexican food dish for your family?
Enter the sweepstakes:
I also want to tell you about the #TacoBoatSweepstakes. Simply share what taco night looks like at your house tagging @OldElPaso and using #TacoBoatSweepstakes for your chance to win a YEAR'S SUPPLY of Taco Boats from Old El Paso! Visit OldElPaso.com/TacoBoatSweepstakes for more details.
Mini Chicken Taco Boats and Jalapeño Greek Yogurt Dip
Yield: 4
Prep Time: 15 minutes
Cook Time: 1 minute
Total Time: 16 minutes
Heat the boats in the oven for up to 10 minutes, or in the microwave for up to 1 minute.
Ingredients:
2 cups rotisserie chicken
2 cups lettuce, finely chopped
1 cup black beans, drained
1 cup cheese, grated
Fresh tomatoes
Red onion, chopped
1 box (12) Old El Paso™ Mini Soft Tortilla Taco Boats™
1 cup Greek-style yogurt
1 jalapeno pepper, finely chopped
1 lime, juiced
1 teaspoon cumin
Salt and pepper
Directions:
Chop the chicken, drain the beans, finely chop the lettuce. In each individual boat, fill with lettuce, beans, chicken, and cheese.
For the yogurt dip, mix the yogurt, chopped jalapeno, lime juice, cumin, and salt and pepper in a small bowl.
Top each mini taco with the Jalapeño Greek Yogurt Dip, filling a Ziploc bag with the yogurt dip, and snipping off the corner with scissors. Squeeze the dip through the tip and drizzle onto each taco.
This post is written in partnership with Old El Paso, but as always, all thoughts and opinions are 100% our own.
Are you following me on Instagram, Twitter, Facebook and Pinterest? Thanks being here today, and if you'd like to subscribe to Reluctant Entertainer, to have each post delivered straight to your e-mail box, then please add your email, here. It's really easy!