Mini Tortellini Kebabs Charcuterie Board
Mini Tortellini Kebabs Charcuterie Board is a large party appetizer! Make 100 Mini Tortellini Kebabs served on an epic charcuterie board; feeds 50 guests. WATCH THE VIDEO!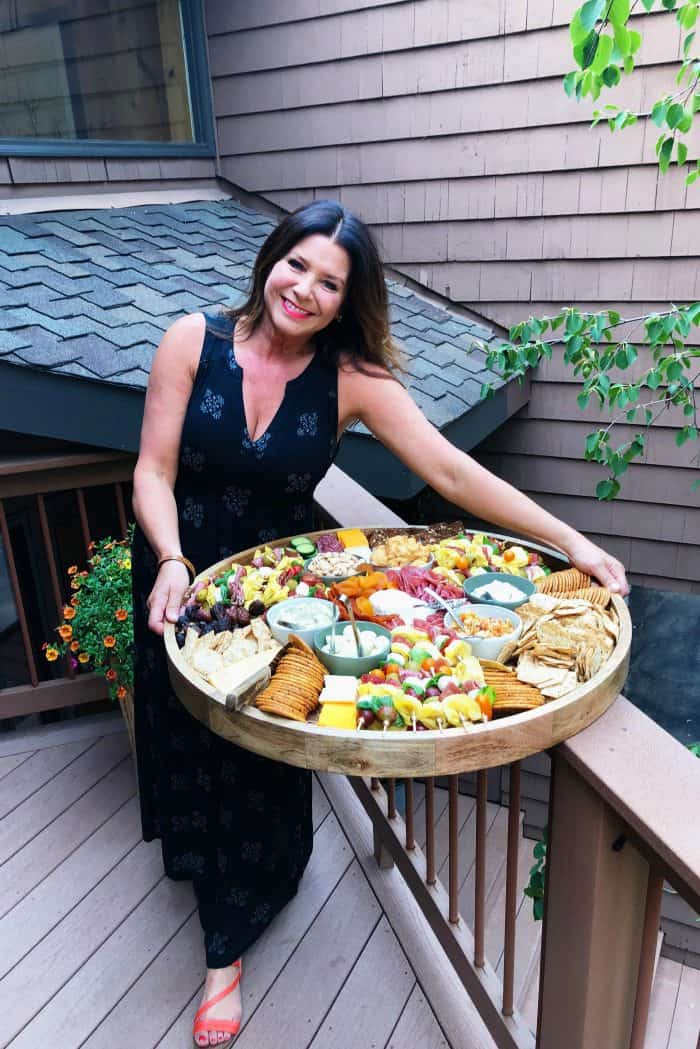 Friends, we recently had a celebration book party for my husband's new book, Free Us From Bullying. Looking for an appetizer to serve for a large party?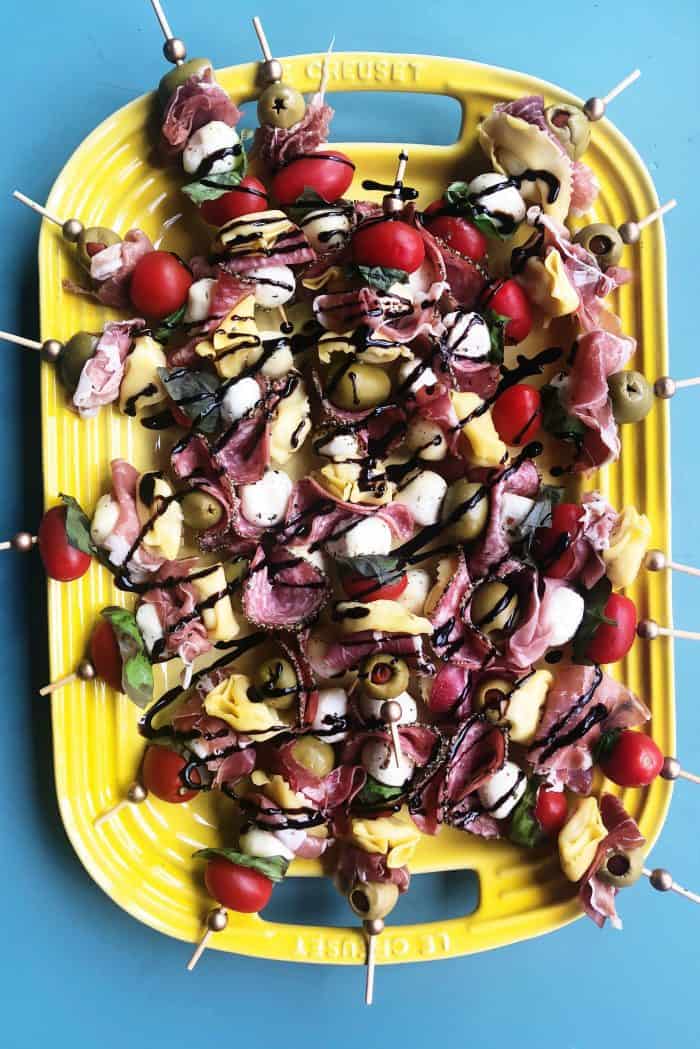 Then you'll love this Mini Tortellini Kebabs Charcuterie Board that serves up to 50 guests.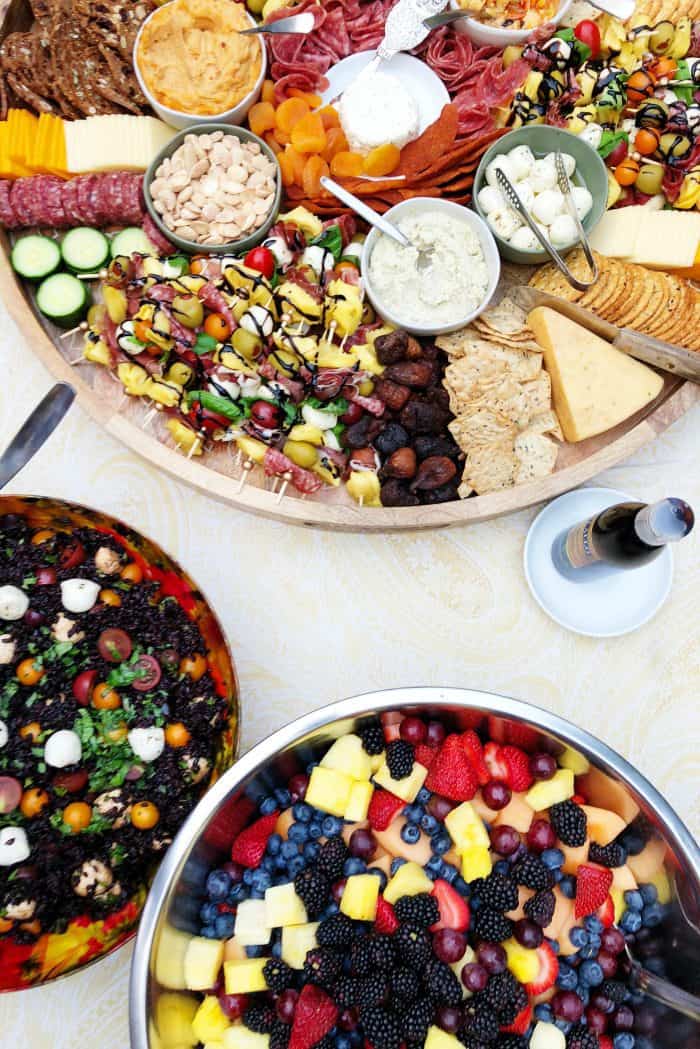 Epic Charcuterie Board
On the menu for our party? An Epic Charcuterie board …
And several salads, and these delicious Mini Tortellini Kebabs.
And other smaller versions of crudite platters.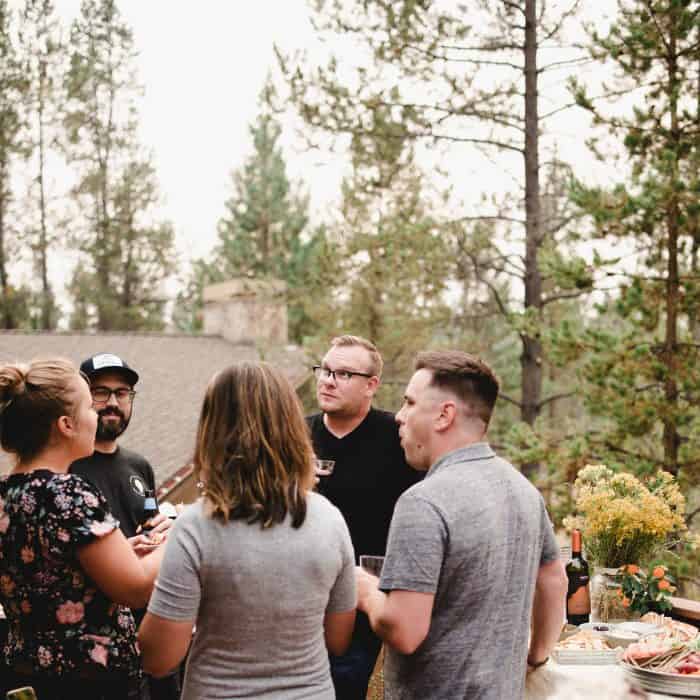 Free Us From Bullying
Friends came to celebrate Paul's new release, Free Us From Bullying, and we enjoyed a beautiful central Oregon end-of-summer evening.
Many of my readers know that my husband has committed his life to the work of bullying intervention, healing, and reconciliation in his nonprofit, The Protectors.org
We just know this book will be a great tool in that work, and in the lives of others.
Our hope is that every educator, youth pastor, and parent will read it. Actually all adults should read it. I'm half way through and so very proud of my husband! He's put his heart and soul into what he's learned about bullying speaking all over the country in the last 10 years!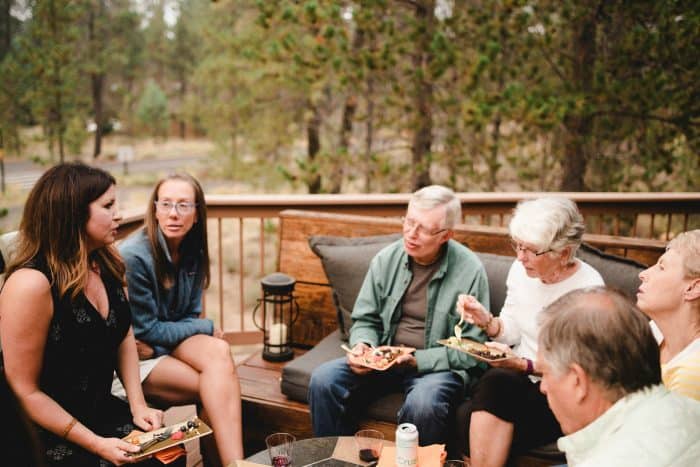 Book Release Party
After we mingled together outside over food and drinks, enjoying these, Paul read from his book as we gathered in our tiny house.
Amazing we almost all fit (about 50 of us).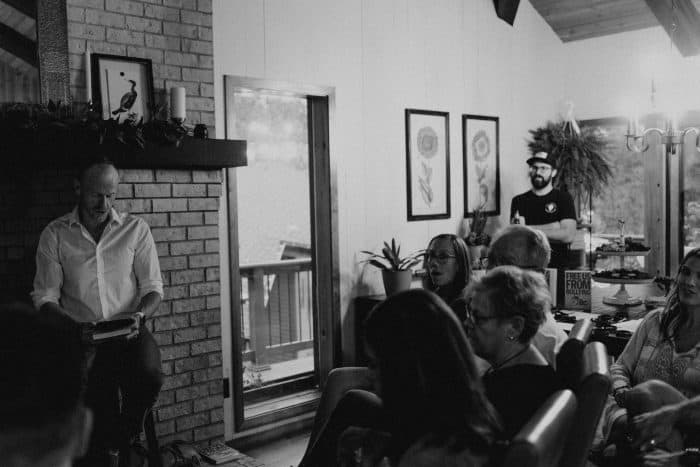 Then our three kids shared their views on bullying.
It's a powerful message—one we should all hear, and support getting the message out to others.
How to make Mini Tortellini Kebabs
This recipe is so easy. Do not used dried tortellini, but use fresh, in the refrigerated section. There's something very soft and tasty about the cheese.
Next, on a fun mini skewer (I bought these at Newport Avenue Market in Bend, OR), thread onto the stick the cheese, meat, tortellini, tomato, fresh basil, cheese, meat, and an olive.
Don't forget the drizzle. Use a very good quality Balsamic Glaze (we use DeLallo's brand).
24-inch Charcuterie Board
Friends, here is the board that I LOVE. It's 24-inches in diameter with a 2-inch lip. A "lip" is the secret to the best charcuterie or dinner board, because the food does not fall off.
You can buy in 2 sizes.
Here are the LINKS:
LARGE Hand-Carved Gabrielle Tray – 24 inches round. Buy >> HERE (affiliate link)
SMALL Hand-Carved Gabrielle Tray – 18-inches round. Buy >> HERE (affiliate link)
Rememember it says it is "not food safe," so you need to prepare the board by either laying down parchment paper under the food, or you can "season" it like we did.
Here are a few other options:
Courtland Wooden Lazy Susan – 18-inch round. Buy >> HERE (affiliate link)
LAZY SUSAN is a board that spins. It does NOT have a lip, but it's cool for the center of the table.
Here's an 18-inch wine barrel wood board or a 24-inch hammered large round tray or a 26-inch stainless steel serving platter that you may also like! Check out the weight on these boards.
How to season a Charcuterie Board
If a wood board says it "not food safe," you can lightly sand it down with sand paper, and rub down with beeswax and mineral oil.
We used this butcher block and cutting board oil conditioner after we lightly sanded the board down.
Or, lay down parchment paper! Easy peasy!
My friend Krissy is a saint. She made 99 of these little kebabs! Her mom also helped us out with several pasta salads.
Arrange on an epic charcuterie board.
Fill in the spaces with cured meats, crackers, veggies, nuts, and dried fruits.
This EPIC CHARCUTERIE is a big hit at every party. And everyone loves a good salad.
Here are the salads I made ahead of time: Wild Rice Salad, Cucumber Pineapple Salad, and then we had several Italian Pasta Salads. So good!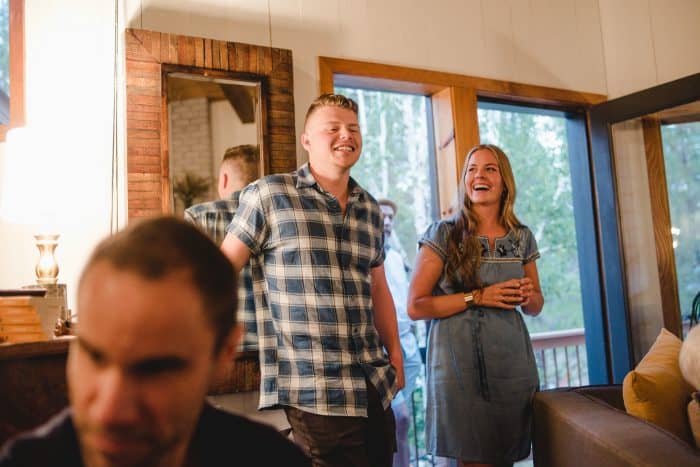 Interested in Paul's book on bullying?
Buy it today, here.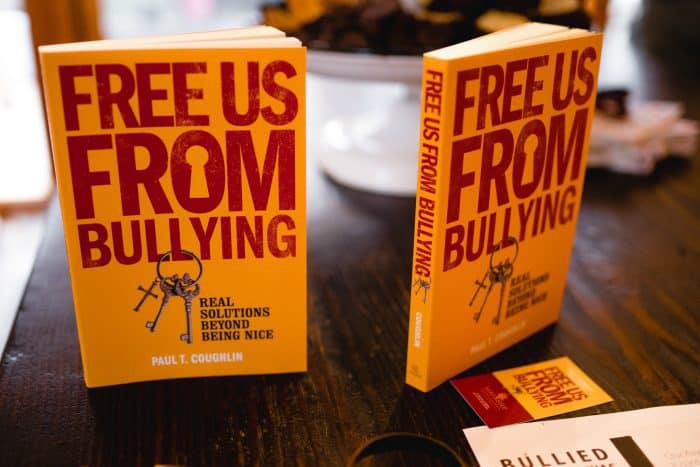 -Bullies are not just naughty, tousle-haired, apple-cheeked children, but calculating, hard-souled individuals, who are never reformed with kindness alone. Neither does being bullied ever make a victim stronger, a frustrating myth.
-Gracious people too often operate from a place of weakness and fear, rather than truth and boundaries, and Paul points out the difference between peace "fakers" and peace makers.
-Free Us From Bullying offers definition, insight and meaningful assistance to anyone dealing with bullying in their home, church, community or heart.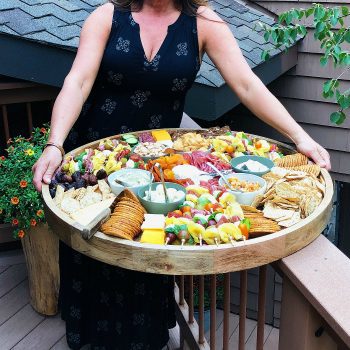 Print Recipe
Mini Tortellini Kebabs Charcuterie Board
Makes 100 kebabs! Use 4-inch wood skewers.
Servings:
100
mini kebabs
Ingredients
KEBABS: 1 large tub of mozzarella cheese balls

Costco

2

large jars olives

Costco

2

large packs fresh cheese tortellini

Costco-fresh, not dried

5

pks of prosciutto/salami

Costco

5

pints

of mini tomatoes

3

large packs of fresh basil

1

bottle of Balsamic Glaze

Delallo Foods

100

small skewers

BOARD: Dips

Hummus

Crackers

Veggies

cucumber, peppers, carrots

Salami slices

Cheese slices

Dried fruits

figs and apricots

Nuts (marcona almonds

100 4-

inch

wood skewers
Learn more about making an epic charcuterie board, and more charctuerie combinations, here.
More charcuterie ideas: Meatlovers Cheese Board [Barefeet in the Kitchen], Salami Caprese Charcuterie Board [RE], Single Serve Charcuterie [Tried and Tasty].
This post has affiliate links. Every purchase from these links supports RE at no extra cost to you. Thank you!