Mixed Berry Crumble Recipe
If you love a mixed berry crisp, then this Mixed Berry Crumble Recipe is what you're looking for. Using fresh mixed berries, this triple berry crisp is a great summer dessert, easy to prepare ahead of time. Serve the crumble warm with either homemade vanilla ice cream, gelato, or fresh whipped cream!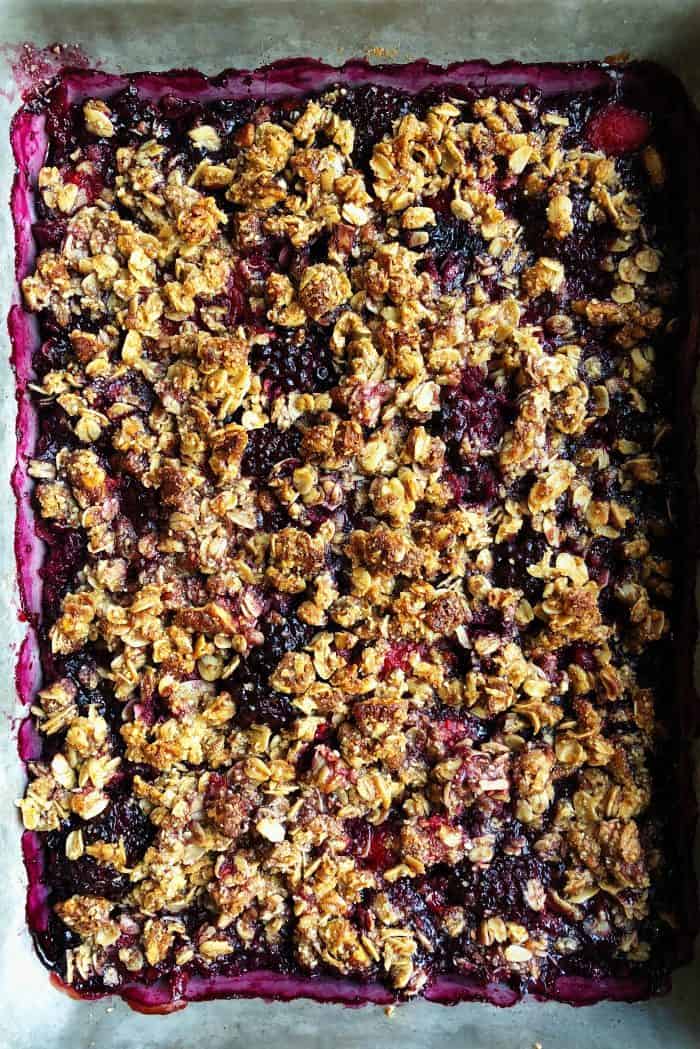 Happy Monday, friends, I'm working to pull my home together today. In the oven is this Mixed Berry Crumble Recipe, ready for dinner tonight, and a few friends popping over for a quick meal. If you're a blackberry lover (hand-raised), you may enjoy my Blackberry Crumble Recipe!
Mixed berry crisp
This mixed berry crisp (or crumble … they are pretty much the same thing) makes an 8×8 pan, perfect for 9 small portions.
We're trying to cut down on our dessert portion size and enjoy a smaller bite. But of course you can always double the recipe if you need to :)
Oh, and if you're looking for something similar, check out these Blueberry Lemon Crumb Bars (similar to crumble? I'll take it!), and these Blueberry Cobbler Bars. YUM.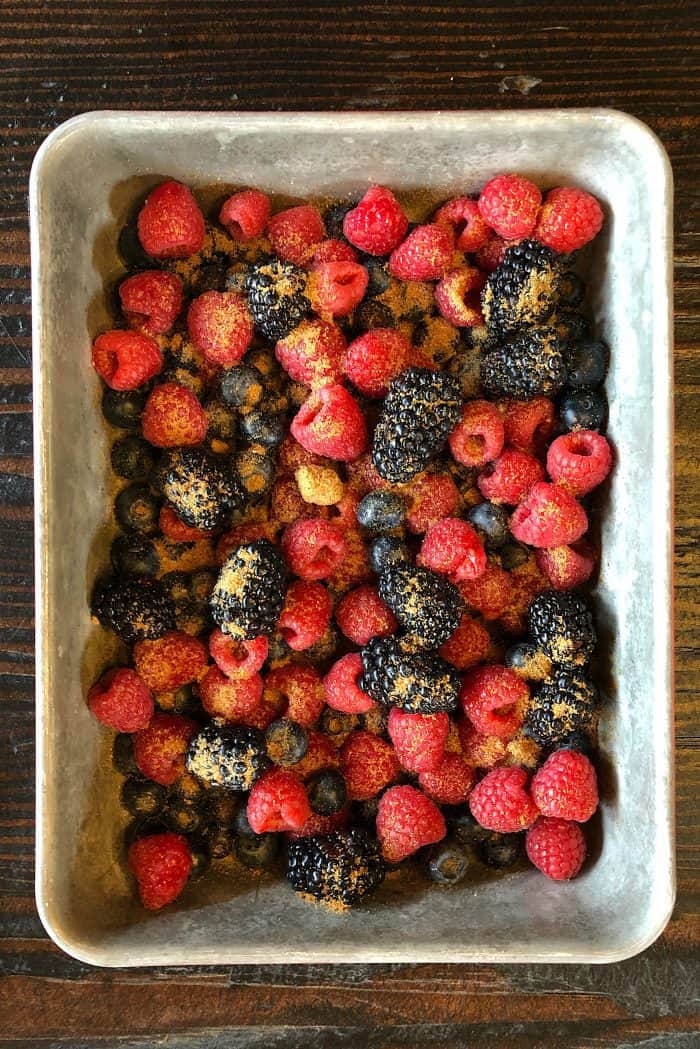 Triple berry crisp
I'm so happy to live in Oregon, and that June and July and August (well, basically the summer) is berry season! We also love this Strawberry Crumble Dessert (ahhh, take me back to the Oregon coast!)
For me, the perfect crumble or crisp is made with 3 different varieties of berries! Oh, man, so good. And check out my recipe (the type of nuts I used) below … this will WOW your guests!
Pulling my home together
Pulling my home together means looking around (sometimes in chaos) and seeing what I can put away, spruce up, or even move. It means keying in on the season and possibly reorganizing.
Toward the end of the week, I tend to have clutter everywhere, and I even spy a Christmas boxwood wreath in the entry way. ACK! There are pillows and shoes in various places, up high (yes, we have a puppy in the house). I'm organizing a few new recipes, and making a shopping list for company coming this weekend.
A cozy home
So I'm transitioning from spring to summer, with very warm days ahead! Making my home cozy for the season is what I love to do. Piddling around the house in silence is also one of my great loves. It's rare that I'm home alone, so I never take silence for granted.
I have also been busy working on my summer menu, planning for some easy weeknight dinner parties. I love easy recipes, like my friend Gina's (Skinnytaste) Turkey Burgers (oh, my goodness!), asparagus, this Watermelon Chili Lime Feta Salad, and a giant green salad.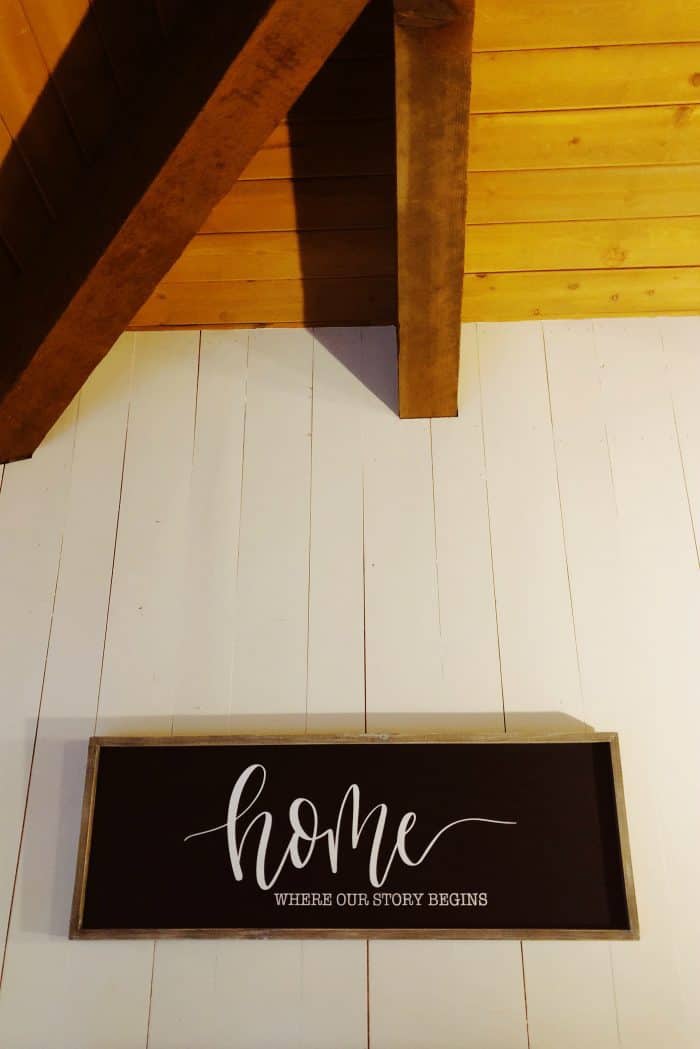 The kids will all be home this summer, which makes me LOVE my new "HOME … where our story begins" wall decor.
Home is where our story begins
Here's a skinny version, which would be so fun on a mantle, or how fun are these mugs (to give everyone at a family reunion?), or vinyl lettered wall art (so cool), and a wood version (but I couldn't find mine on Amazon.)
Mixed Berry Crumble Recipe
This Mixed Berry Crumble Recipe is a classic, because not only does everyone loves good "crisp," it's super simple for last-minute company.
You can always double the recipe for a 9×13 pan! If doubling and you don't quite have 8 cups of raspberries, add blueberries for a filler.
If you want to make it gluten-free, make sure and use gluten-free oats (not all oats are GF!). You can also use walnuts or coconut oil in place of olive oil. EASY!
If you're waiting for a deep rich brown, just pull the crisp out when the fruit is bubbling and there's a little golden color on the crisp.
ENJOY!
Get the Recipe: Mixed Berry Crumble Recipe
Mixed Berry Crumble Recipe, using 3 varieties of berries, is a great summer dessert. You can use walnuts or we love Trader Joe's Sweet/Spicy Pecans!
Ingredients
2 cups blueberries
1 cup raspberries
1 cup blackberries
1/4 coconut sugar
1 cup old fashioned oats
1/2 cup pecans, I use Trader Joe's Spicy Pecans --really good!
1/2 cup almond meal
1/4 cup maple syrup
1/4 cup olive oil
1/2 tsp. salt
1 tsp. cardamom, optional
Instructions
Spray the bottom and sides of an 8x8 pan with cooking spray.

Pour the berries into a 8x8 baking dish. Sprinkle the berries with 1/4 cup coconut sugar.

In a separate bowl, mix the remaining ingredients with a fork, and then pour/crumble it over the berries.

Bake at 350°F for 35 minutes, or until just a little brown. Serve warm with vanilla ice cream, gelato, or whipped cream.
This post has affiliate links. Every purchase from these links supports RE at no extra cost to you. Thank you!
Hello and welcome to my home and table!
I'm Sandy—lover of food, family, cooking, THE BIG BOARD, travel, and bringing people together. Through great recipes and connection around the table, we become better, stronger, and more courageous people. Feasting on Life is real, and every time we do it, we grow a little more. Read more...