Gathering with Bush's Beans Red Lentil Chili
Easy gathering tips with Bush's Beans Red Lentil Chili recipe!
A good, cozy one pot meal gathering is a good way to connect with friends and family, especially in the fall and winter months. The air is crisp, the colors of nature are stunning in the fall, the mood is warm, especially if there is a fire involved, and the menu is full of delicious cozy menu ideas–chili being one of our family favorites. This post is sponsored by Bush's Beans, as I'm sharing a delicious red lentil chili recipe today! And if you're entertaining for Halloween, it's a perfect Vegetarian recipe to make for your guests!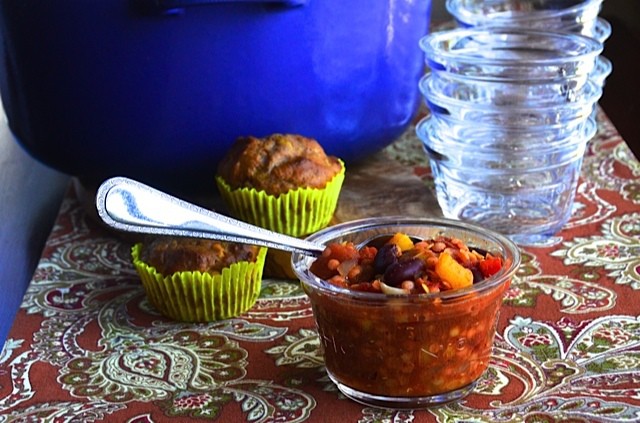 Instead of worrying about all the entrees that compose a normal meal, a big pot of chili takes very little time to prepare. Essentially, when the party's over, it means there will be less dishwashing and mess to clean up, which works for me!
And the sign of a successful dinner party is an empty pot left on the stove, or an empty bowl on the table. :)
Here are 3 things I keep in mind when cooking a casual meal for a large group:

1. Seating the guests. Decide where the party will be held, whether in the dining room, a casual setting on the back porch, or on the patio with a cozy fire (don't forget the patio heaters). Make sure there are extra blankets for a chill in the air, or even for a good snuggle on the sofa if you choose to serve dessert in a more relaxed setting.

2. Plan the menu. Plan the menu around local and seasonal foods. I like serving a big pot of chili with rustic or crunchy warm bread or corn muffins with flavored butters. Ask guests to bring desserts and serve a smorgasbord of chocolate and seasonal desserts. Drinks can be as easy as beer and wine, and water is always the number-one thirst-quenching drink, and healthiest for all.

3. Set the table. Gather mismatched votive and tea light holders and place randomly on the table. Place a trivet in the center of the table, making the big pot of chili the masterpiece centerpiece. Make the table cozy with linen, with a few seasonal elements of nature such as branches, or small vases of flowers. Use small glass bowls for the chili, leaving room on the plate for bread or muffins or salad.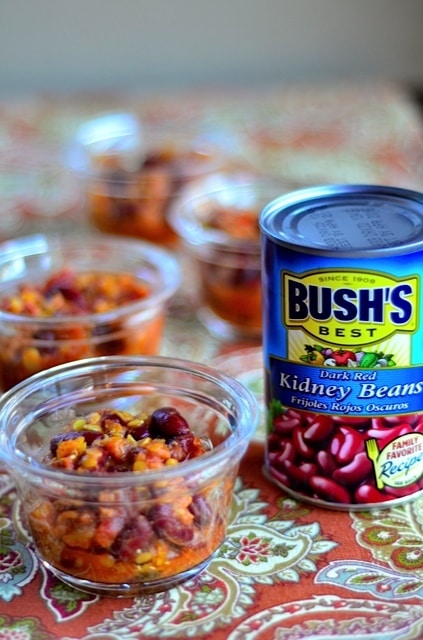 Don't forget the ladle!
My favorite thing about hosting a chili feed is a day or two ahead of time, make the dish, put in the refrigerator, and then take it out and finish the cooking on the stove before the guests arrive. The hardest part of the meal might be finding a spot in the refrigerator for the large pot. :)
As we sit down to unwind from a busy day over a cozy candlelit meal, you can just feel family and friends begin to relax as the conversation begins to flow. It's when we linger around the table and start asking questions …
How was your day?
How's that rough situation in your life going?
What are you struggling with at school?
Tell us about your soccer game?
Tell us how your business is going?
The night begins to shape itself with its own purpose and meaning, and food is the conduit to getting us there.
What's your favorite fall-time chili?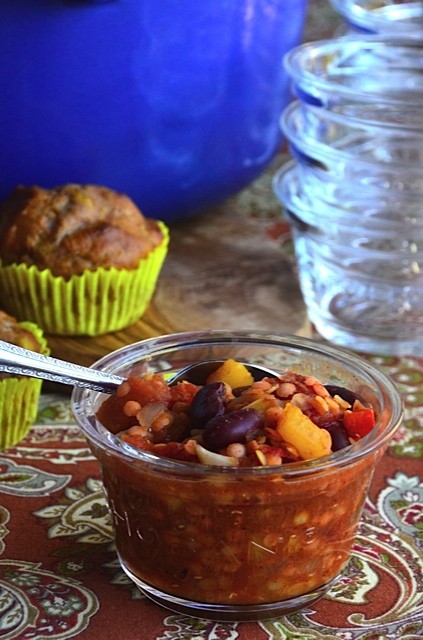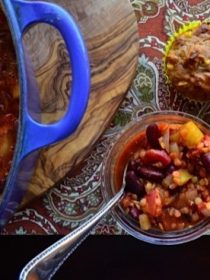 Get the Recipe: Bush's Beans Red Lentil Chili Recipe
Easy to freeze and preheat for last-minute gatherings.
Ingredients
2 14.5 ounce cans diced tomatoes, undrained
3 cans Bush's Red Kidney Beans, undrained
2 cups water
1 medium onion, diced
2 red or yellow peppers, diced
2 cups dry red lentils
1/4 cup chili powder
2 T. garlic powder
2 T. cumin
4 cups salsa
1 6 oz. can tomato paste
Salt and pepper
Instructions
In a large pot or Dutch oven, combine tomatoes, beans, 2 cups of water, peppers, onions, dry lentils, tomato paste, chili powder, garlic powder, cumin and the salsa. Bring to a boil, reducing the heat to low and simmering for 40 minutes, stirring occasionally.

Season with salt and pepper if needed. Serve with desired toppings such as sour cream, green onions, and cheese.
This post is sponsored by the great people at Bush's Beans; as always, all opinions are my own.
Hello and welcome to my home and table!
I'm Sandy—lover of food, family, cooking, THE BIG BOARD, travel, and bringing people together. Through great recipes and connection around the table, we become better, stronger, and more courageous people. Feasting on Life is real, and every time we do it, we grow a little more. Read more...