My 10-Minute Entertaining Countdown
I looked at the clock … 10 minutes.
Our guests were coming in 10 minutes …
What do you do the last 10 minutes before your guests arrive?
I know hostesses take advantage of this time in various ways. It really is the 10 minute countdown for me … what essential things need to get done, what's the best way to spend my time?
Considering that the food is ready, table is set, I think there's nothing so essential to your composure as having the final 10 minutes for a last-minute survey of yourself, the house, and preparation for the party.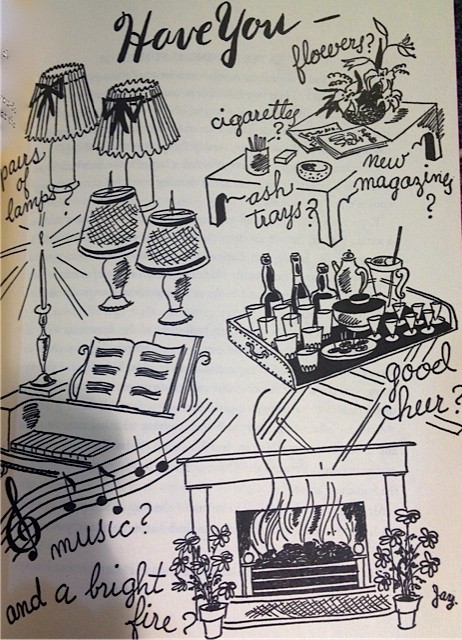 Taken from Dorothy Draper's book, Entertaining is Fun! (written in 1941) I thought her list, compared to mine 72 years later, would be fun to share on RE today.
And here's my list, the things that I quickly run through my mind, that keep me on track, and I find important:
My 10-Minute Entertaining Countdown

1. Entry way inviting.
2. Music on.
3. Drinks and appetizers out.
4. One bathroom clean.
5. Candles lit.
6. Counters wiped off.
7. Food prep work done.
8. Serving utensils and platters out.
9. Dressed with clothes I like, hair combed, lipstick on.
10. Attitude adjusted and ready to give and love others.
Entertaining has changed a lot in the last 60-70 years. It's more casual now, simplified, and maybe a bit cozier.
I will admit, the last 10 minutes sometimes are a scramble for me. It's not always calm, and often I'm doing 3 things at the same time.
But … when the guests walk in the door, I'm ready.
And if I'm not, I just ask for help. For example, I often ask the guests to pour the water into the water glasses.
What's important to you to get done the last 10 minutes before your guests arrive?
(Top photo, I'm wearing a Hip Hostess apron.:) )
Hello and welcome to my home and table!
I'm Sandy—lover of food, family, cooking, THE BIG BOARD, travel, and bringing people together. Through great recipes and connection around the table, we become better, stronger, and more courageous people. Feasting on Life is real, and every time we do it, we grow a little more. Read more...