Roasted Veggie Crudite Platter
A delicious crudite platter with roasted vegetables for fall time entertaining, Roasted Veggie Crudite Platter. A rustic take on a raw vegetable platter.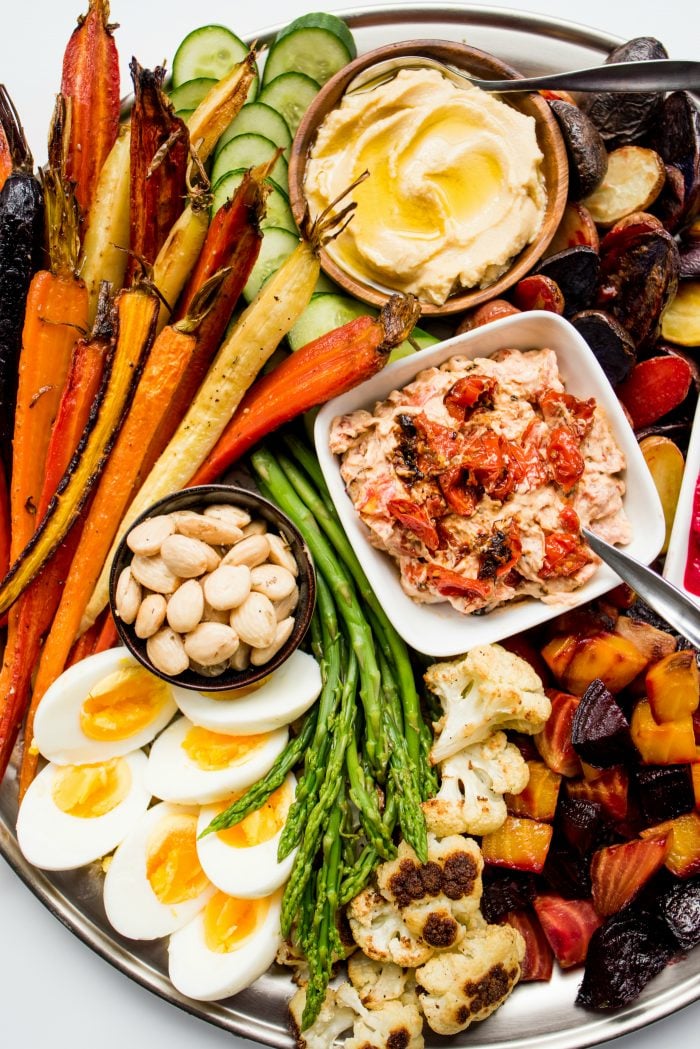 If there is one way to brighten up your menu in the fall, it would be a platter of delicious roasted root veggies! Today enjoy this Roasted Veggie Crudite Platter, an appetizer that everyone in your family (or dinner guests) will be excited about. [Grab the new BIG BOARD links at bottom of page!]
Roasted Veggie Crudite Platter
Delicious root veggies and end of season veggies, beautifully arranged on a platter.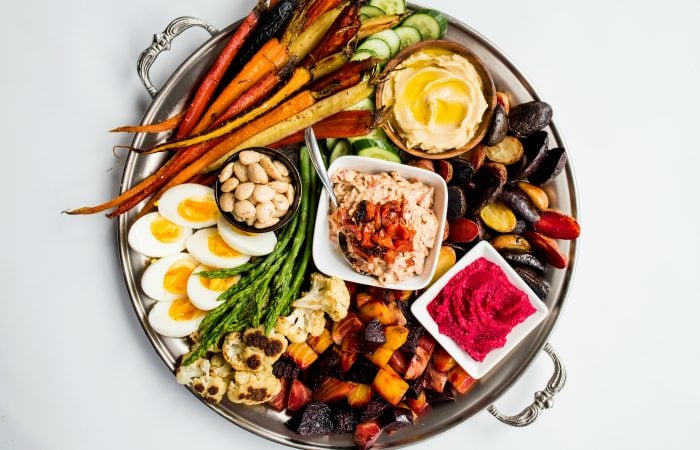 Gratitude can transform common days …
Also, HAPPY NOVEMBER! I love this quote, good words to think about not just for this month, but every day!
"Gratitude can transform common days into thanksgivings, turn routine jobs into joy, and change ordinary opportunities into blessings." —William Arthur Ward
I've been trying to take positive, beautiful quotes and add them to a food photo so you can pin them to Pinterest. Let me know what you think about this?
Delicious Roasted Veggies Platter
The star of this platter is the roasted veggies! They are deliciously browned and caramelized, even when served cold! You can replace any of the ingredients for more preferred veggies, cheeses, and dips.
A healthy appetizer for any time of year, but especially delicious for fall.
Crudite Platter
Fall is one of my favorite seasons for inviting people into our home. It's just so chilly outside, and so cozy inside.
Plus, it seems we linger around the table just a little bit longer.
Perfect for a cozy appetizer, we used these vegetables for this platter.
I also wrote a post 7 Tips to a Delicious Crudités Platter (watch the video in my kitchen), and then earlier this year, Poached Prawn Crudite Platter (yum).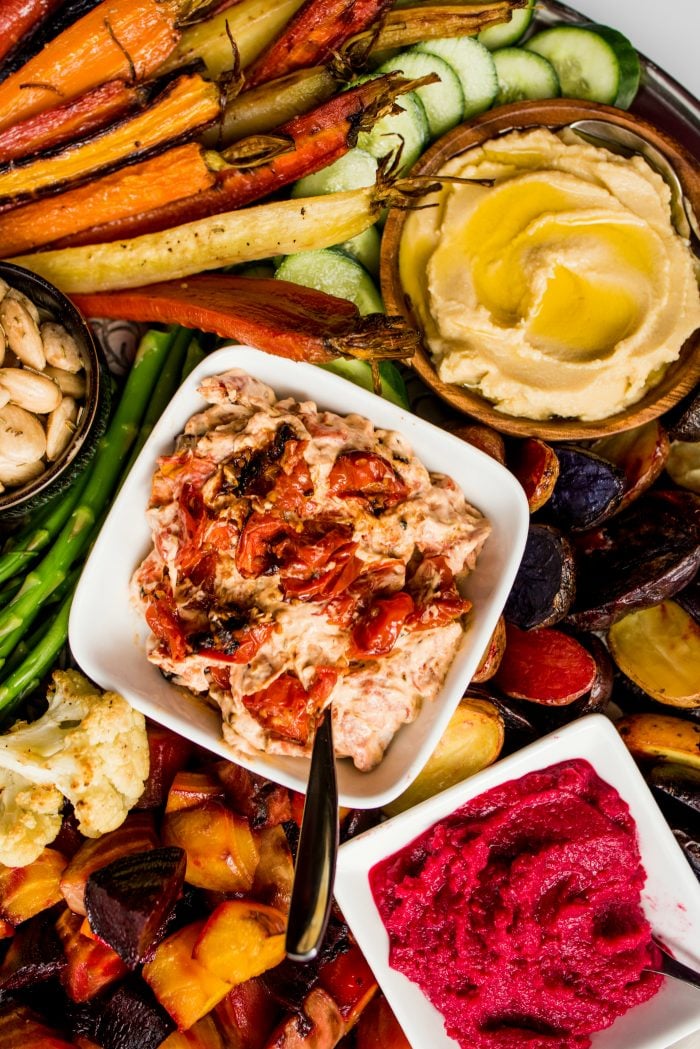 So to get all the "yum" into our lives, while sipping on wine and munching on a healthy appetizer, I think you will love these roasted veggies today. A great appetizer mixed with great people usually means a very good time :)
Mixed with fresh crudités, there is nothing better. It's also great for the autumn and winter holidays coming up!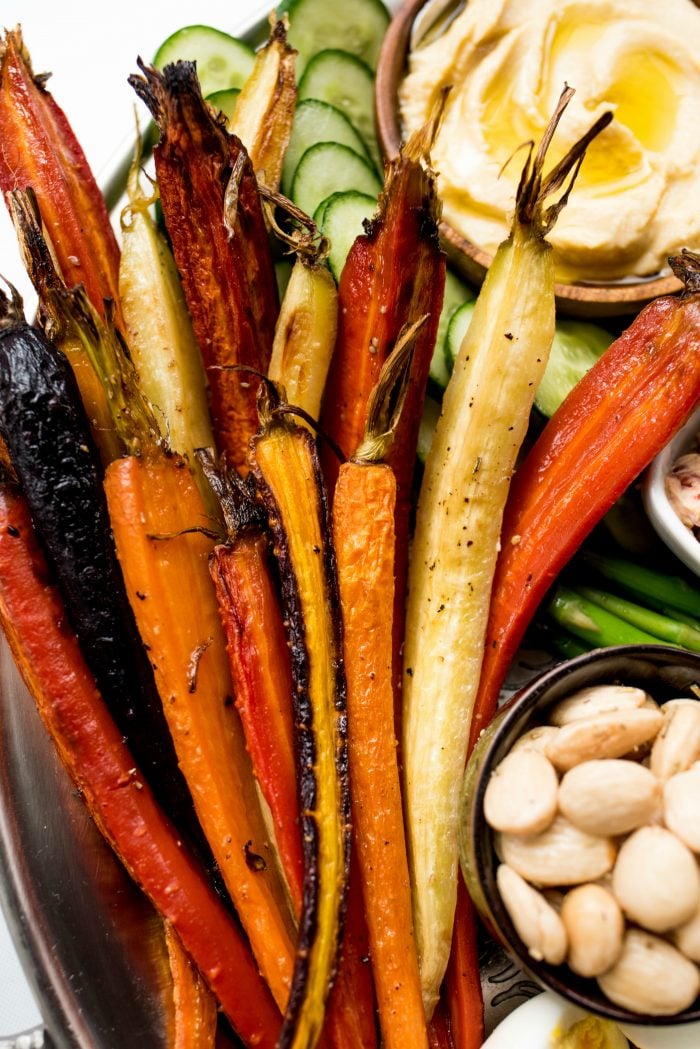 Roasted carrots
Carrots are one of our top go-tos for side dishes, or toppings on a raw salad.
Try my Garbanzo Carrot Date salad, HERE.
You may also love this Roasted Carrots Easy Appetizer Recipe for this time of year. Or, this Crudite Platter Wreath for the holidays! FUN!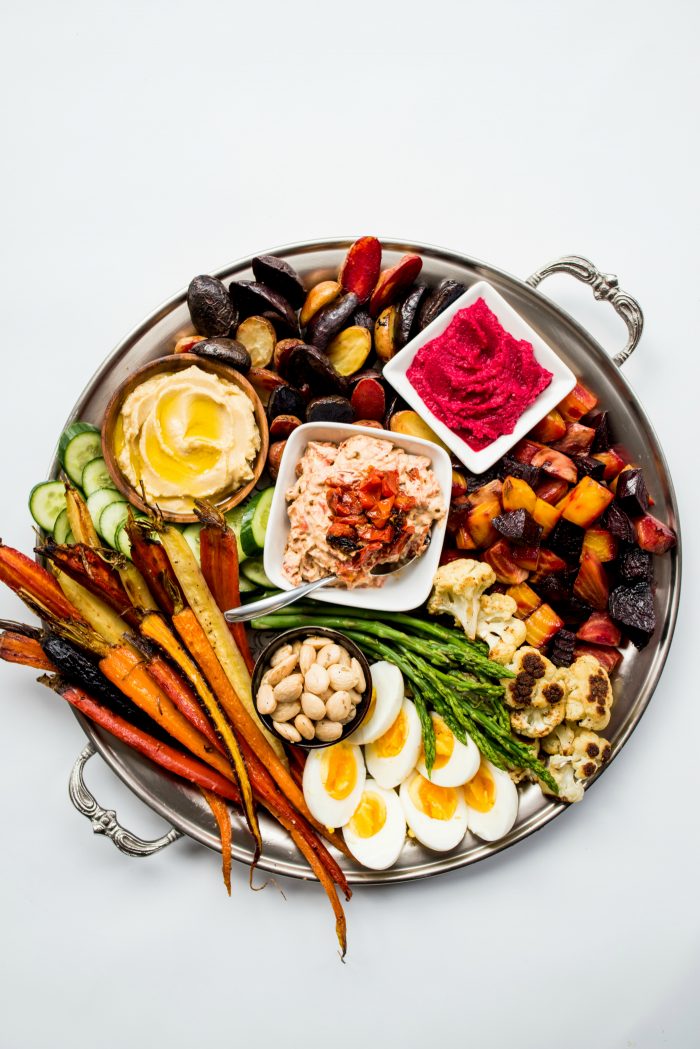 How to make ahead
This is KEY: All of these vegetables can be prepped and stored the night before for easy assembly the next day, because they are all served cold with dips, nuts, and cheeses.
Super satisfying, and so delicious, this could be a meal in itself.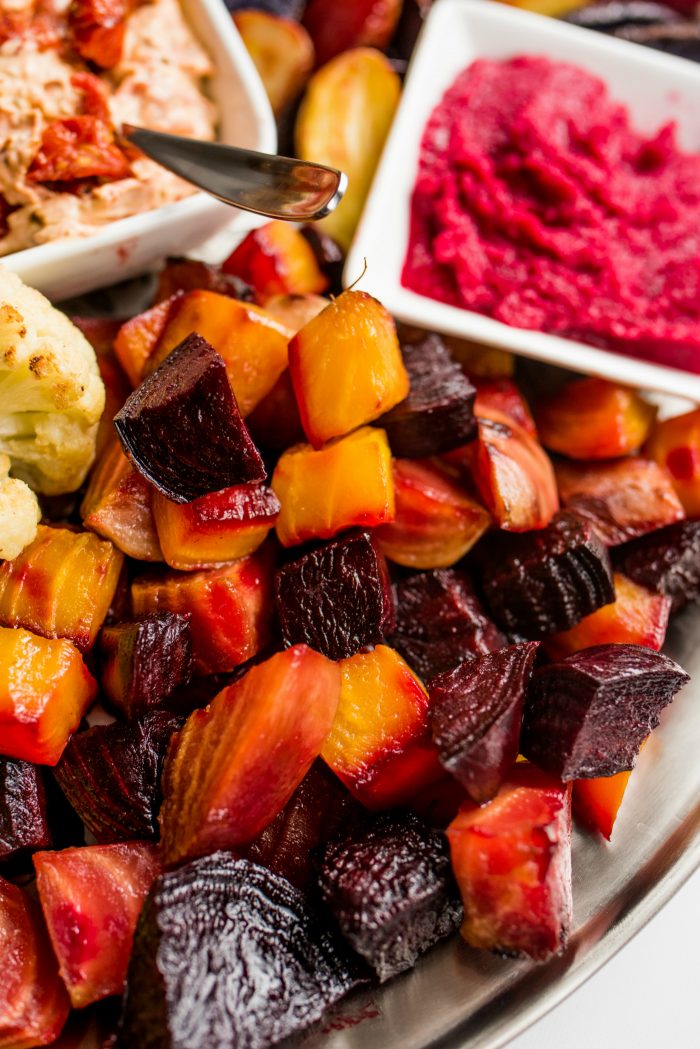 We've served this when friends came over, for Game Day, and we've brought this platter to a potluck.
Always a huge hit.
Happy hosting!
Serve this on my new BIG BOARD! Grab the links here, THE BIG BOARD.
26-inch
20-inch
FOOD SAFE
MADE IN THE USA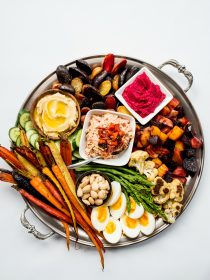 Get the Recipe: Roasted Veggie Crudite Platter
All of these vegetables can be prepped and stored the night before for easy assembly the next day, because they are all served cold, with dips, nuts, and cheeses.
Ingredients
1 bunch whole carrots, cut in half lengthwise
12 oz cauliflower florets
1 lb marble potatoes, halved
3 medium/large beets cut into 1 inch cubes
1 pound cherry tomatoes, halved
1 Tbsp minced garlic
Plenty of olive oil
Kosher salt
Pepper
4 soft boiled eggs, peeled and halved
1 Persian cucumber, sliced
12 oz blanched asparagus
Morcana almonds
3 oz goat cheese
Hummus and other dips
Instructions
Preheat oven to 425 degrees F.

Place your halved cherry tomatoes in a medium bowl. Drizzle with olive oil, crack on fresh pepper and salt, and add crushed garlic. Mix together using your hands, making sure the tomatoes are evenly coated with oil, pepper, salt, and garlic. Spread onto a baking sheet and roast for 40-45 minutes. Allow tomatoes to cool completely on the baking sheet.

Cut beets into 1 inch cubes and halve the potatoes—make the same sizes to ensure vegetables roast at an even cooking time.

In a large bowl, toss the beets and potatoes in olive oil until coated and lightly glossy—not drenched. Sprinkle in kosher salt and pepper and mix once again. Spread on a large baking sheet, giving the vegetables enough room to roast and caramelize, and bake for 35-45 minutes—or until vegetables are tender. Stir vegetables once, halfway through baking.

When potatoes and beets are done, remove from oven and allow to cool.

Next, toss carrots in a large bowl with olive oil and salt. Spread onto a baking sheet and begin roasting the carrots for 33-40 minutes, or until tender and browned.

Spread cauliflower florets onto a baking sheet, and drizzle with oil, salt, and pepper. Toss with your hands and place in oven for 20 minutes, stirring halfway through. Bake cauliflower for 15-18 minutes (depending on size) or until browned and tender.

While vegetables are roasting, blanch asparagus 3 minutes, or until tender, but still crunchy, in boiling, salted water. Make sure to remove asparagus, drain, and transfer immediately to an ice bath to stop the cooking process.

Allow vegetables to cool before plating.

Mix the cooled tomatoes with the goat cheese, and plate your vegetables, hummuses, and nuts. Enjoy!
Hello and welcome to my home and table!
I'm Sandy—lover of food, family, cooking, THE BIG BOARD, travel, and bringing people together. Through great recipes and connection around the table, we become better, stronger, and more courageous people. Feasting on Life is real, and every time we do it, we grow a little more. Read more...