Lazy Susan Fall Dessert Board
A Lazy Susan Fall Dessert Board full of delicious treats–mini cinnamon rolls, Trader Joe's Maple Leaf Cookies, dark chocolate peanut butter cups, and more!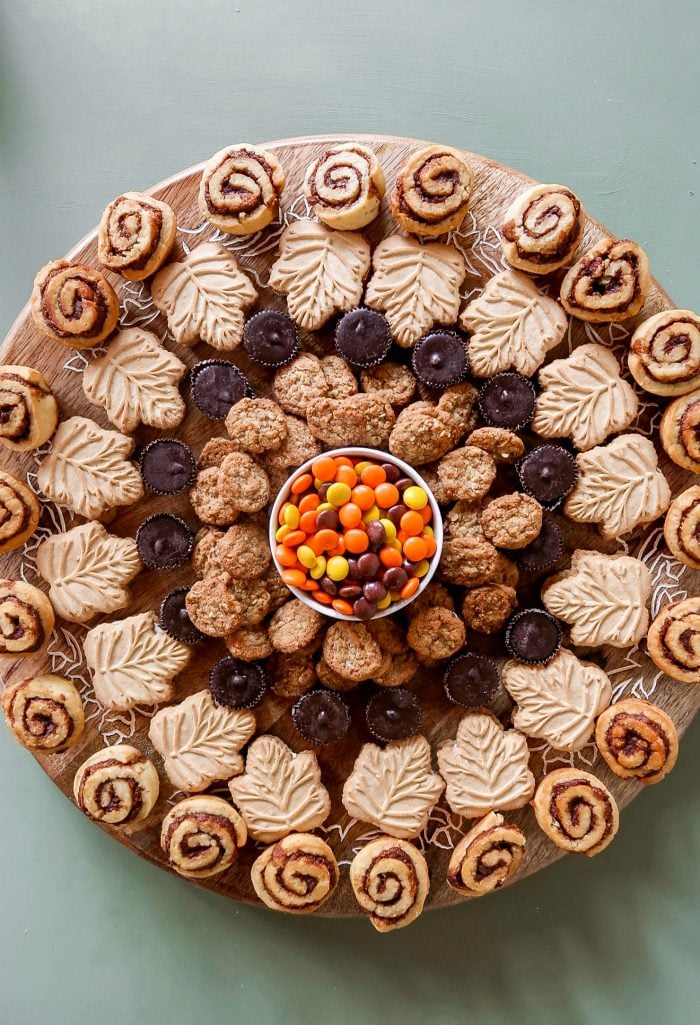 Happy Halloween, Friends!
Enjoy this fun dessert board, served on a Lazy Susan. A great way to serve dessert tonight, or for any fall party!
Whether you celebrate Halloween or the Harvest, it's a fun day to serve yummy treats! Maybe you're serving my Fall Mini Pie Dessert Board or this easy Apple Goody Dessert or Sally's The Great Pumpkin Pie Recipe!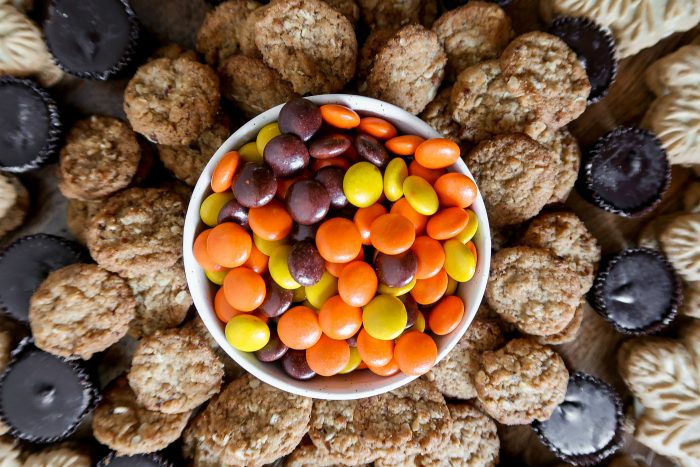 Lazy Susan Fall Dessert Board
Super easy, you can gather all the ingredients at Trader Joe's (my favorite Maple Leaf Cookies), and then the center bowl is filled with Reese's Peanut Butter Pieces!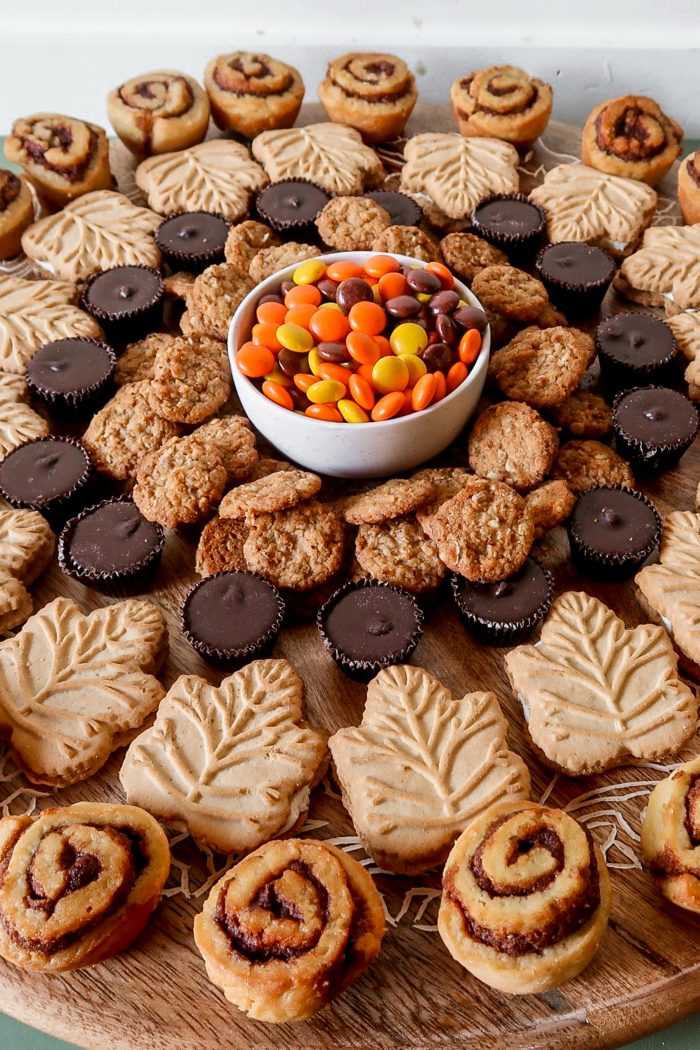 Of course you can always swap this out for candy corn, but peanut butter pieces would be my first choice.
It is true, the day of a party I do make lists, plan ahead for what I'm serving, and try to work backwards with a schedule.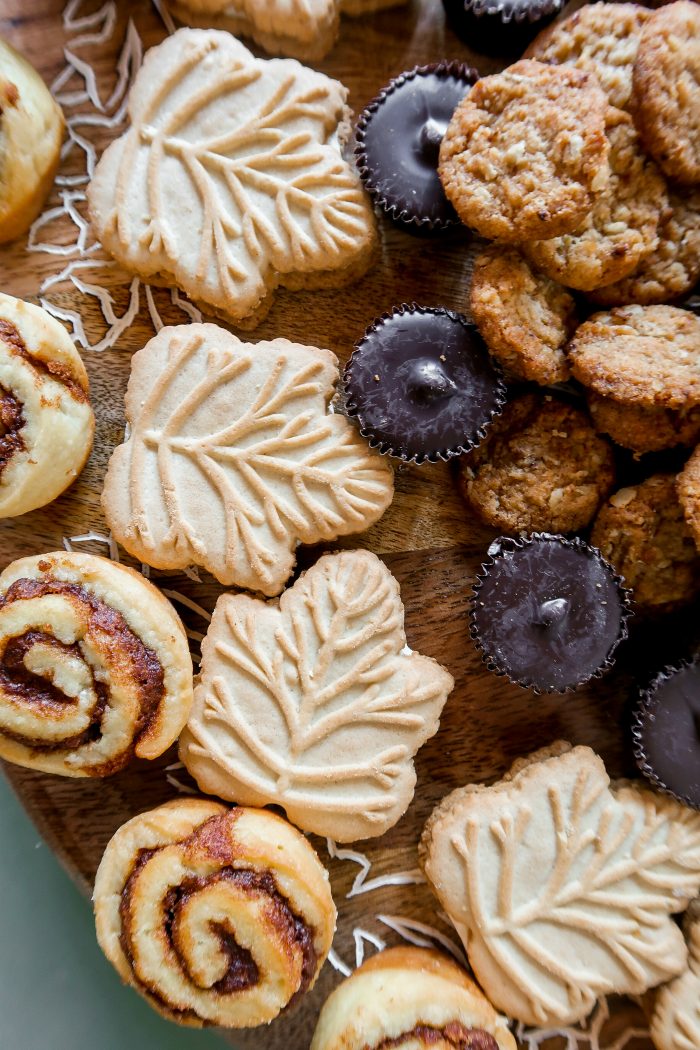 Part of working backwards means I get ready well-ahead of time, so I'm not frazzled and in my bedroom/bathroom when the guests show up.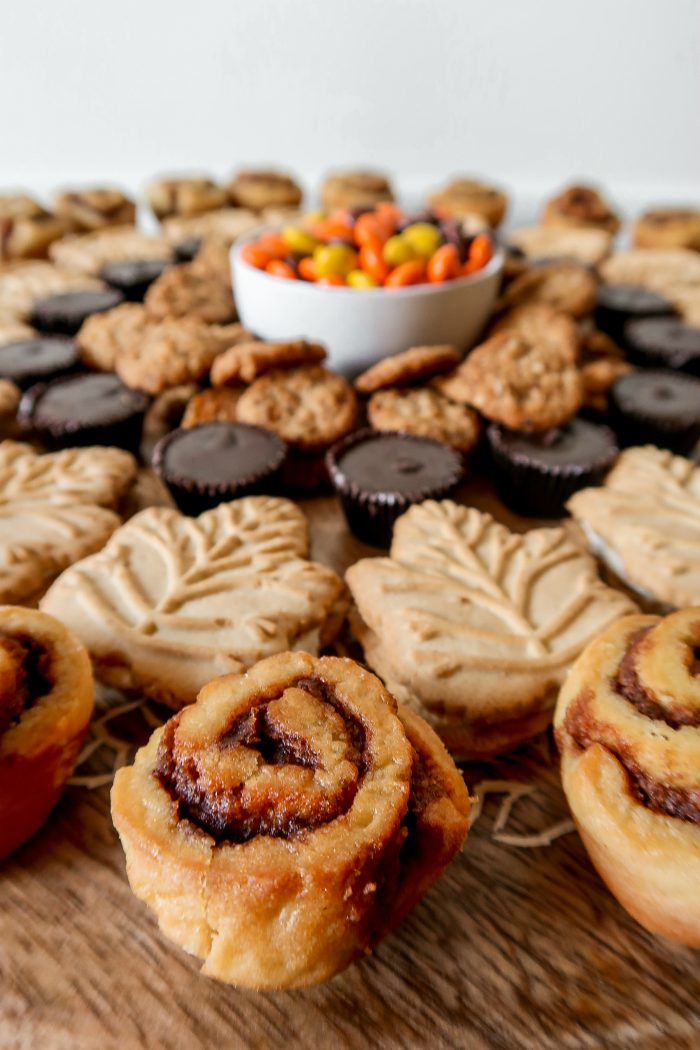 I've had this happen too many times, and each time, I've sworn I'll never do it again.
Fast forward to being a more seasoned hostess now, definitely planning time for myself before a party starts.
Just my two-cents for party planning today :)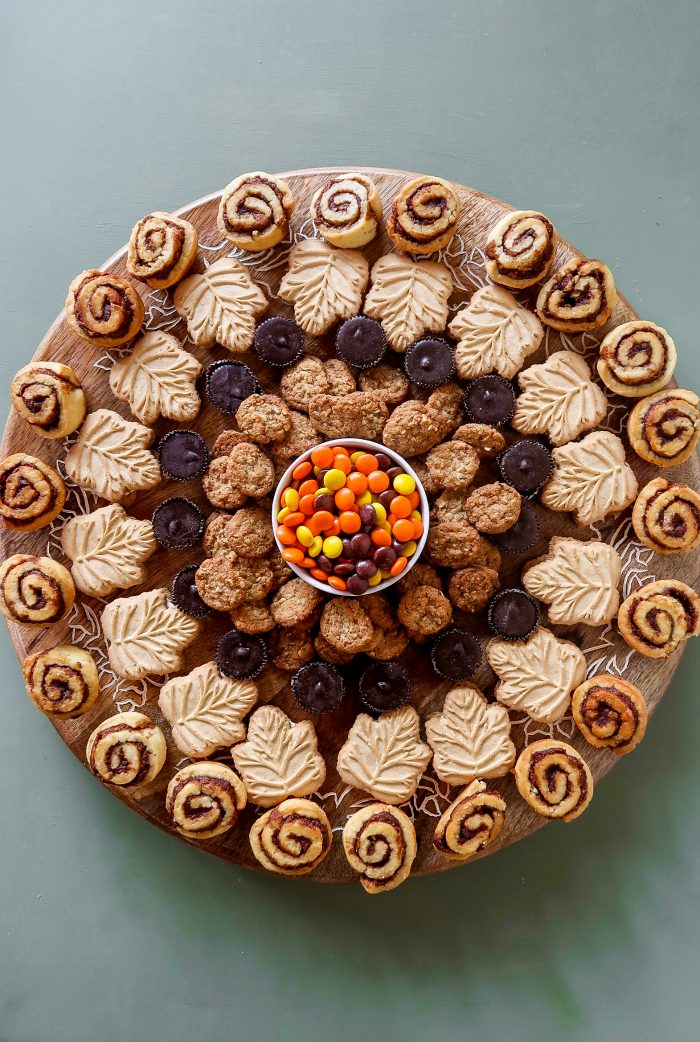 Halloween chili dinner menu
Here's a FUN menu for tonight, if you needs some EASY recipes!
Meg's Winter Green Salad Recipe
Buy your favorite bread. Bake in the oven at 400 to make it hot and crispy (usually for 8-10 minutes). Don't forget the butter!
Want to try my Buttermilk Cornbread Recipe? It has bacon, too! YUM!
This Lazy Susan Fall Dessert Board is easy to make ahead and set out of the way while you clean your kitchen, make the chili, and set out the dishes.
A lazy susan dessert is fun to serve in the center of a table. You spin it around and everyone digs in!
Don't forget we have a 23-inch lazy susan that is super popular! Grab the link below!
Oh, and a blast from the past … our family in 1999 at a Halloween party. Our kids are now 27, 25, and 23. Oh how time flies!
Have a fun day today!
Friends, The Big Board® is here! Yes, I've partnered with JK Adams, the premier woodmaking company in Vermont, with my own line of RE boards!
20-inch
26-inch
12 x 36-inch
23-inch Lazy Susan
A board with a lip (or raised edged) so the food doesn't fall off
FOOD SAFE
Made in the USA
Undercut handles (a unique design)
Thank you for your support, as we've sold out so many times already!
Order The Big Board® today!
Get the Recipe: Lazy Susan Fall Dessert Board
Ingredients
2 dozen mini cinnamon rolls
1 box Trader Joe's Maple Leaf Cookies
Trader Joe's Dark Chocolate Peanut Butter Cups, 1/2 box
Trader Joe's mini oatmeal raisin cookies
Reese's Pieces, center of board
Instructions
On a prepared board, place a bowl of Reese's Pieces in the center.

Around the outside of the board, lay down the mini cinnamon rolls.

Arrange the other food items in between the bowl and outside the cinnamon rolls.

Cover until ready to serve. ENJOY!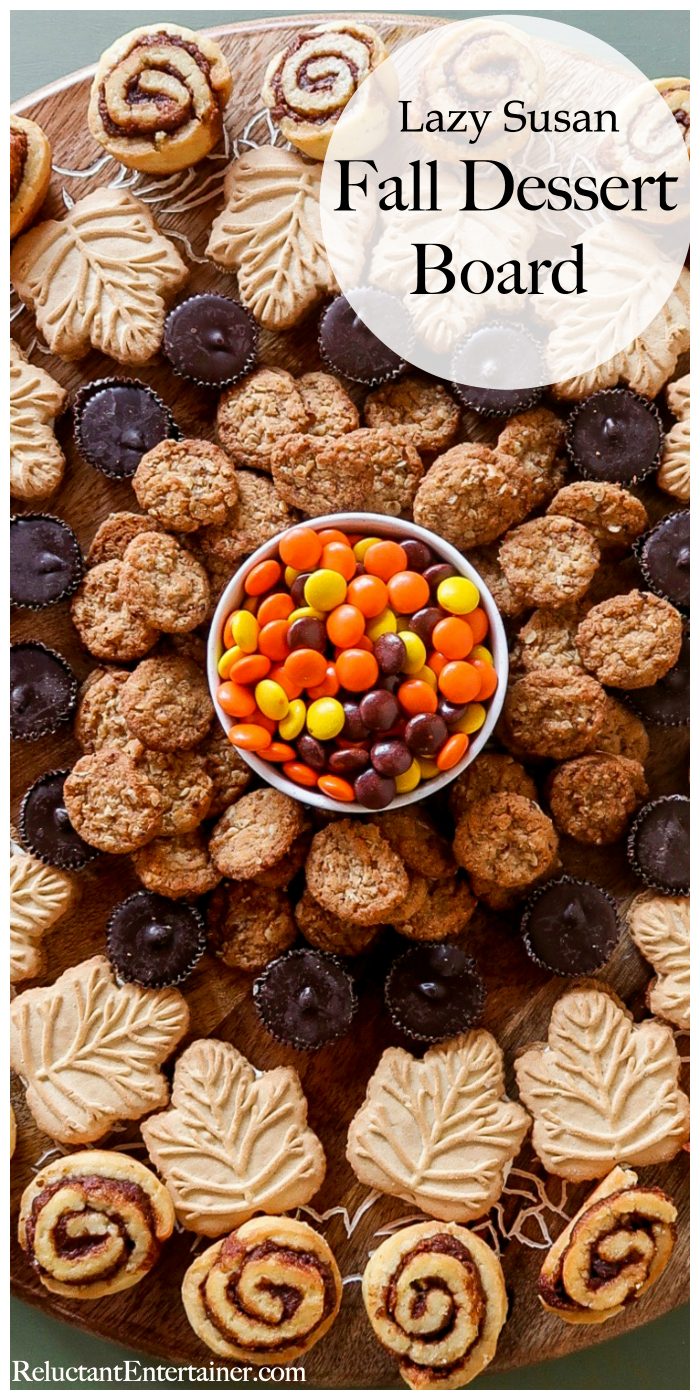 Hello and welcome to my home and table!
I'm Sandy—lover of food, family, cooking, THE BIG BOARD, travel, and bringing people together. Through great recipes and connection around the table, we become better, stronger, and more courageous people. Feasting on Life is real, and every time we do it, we grow a little more. Read more...