Cashew Pesto Seared Cod Fillets
Enjoy this Seared Cod Fillets recipe served on a bed of wilted chard, with butternut squash, purple sweet potatoes, and delicious cashew chive pesto!
Friends, if you're looking to host a holiday small holiday dinner party, then you may want to try these Cashew Pesto Seared Cod Fillets.
Cashew Pesto Seared Cod Fillets
They are scrumptious, and affordable served on a bed of wilted chard with butternut squash, purple sweet potatoes, and delicious cashew chive pesto!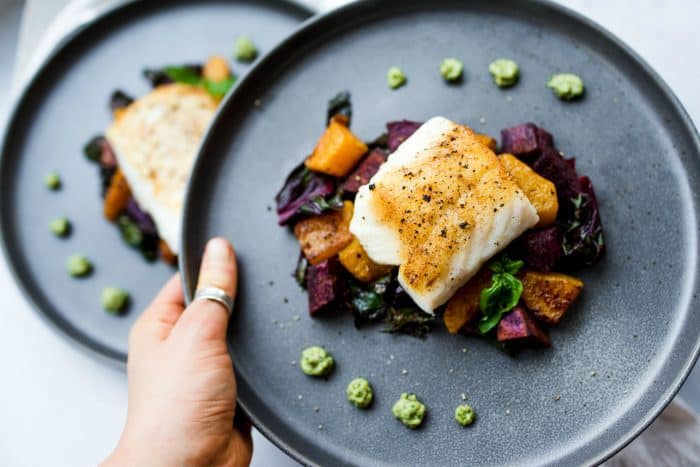 You may also want to try Dijon-Maple Chicken with Brussels Sprouts and Butternut and One-Pot Paprika Chicken Thighs. These are easy recipes to make ahead of time!
If you're looking for more seafood, Creamy Seafood Chowder from my friend Holly at Spend with Pennies or this Seafood Lasagna Recipe from Becky at The Cookie Rookie.
What I love about hosting is there's no need to wait for a special occasion. Just make that invite and make it happen. The hardest part of hosting is getting the date on the calendar, because we all live such busy lives.
What are place cards?
Place cards are generally used at weddings or events to let people know what table and seat they will be sitting at. A place card has a name written on it.
For a dinner party, I don't typically set out place cards. But if you have new people coming to your home to share a meal, then it's a fun idea. You can strategically place people by others who you want them to get to know. My husband and I have been very good at this for years,connecting people with others we think they'd love to know! And later in life, we've had friends come back to thank us.
We are not selfish with our guests. We feel that the more we connect others together, and encourage new relationships, the better our world will be.
One of the biggest blessings for Paul and me over the years has been a bounty of beautiful friendships. So many we are still to this day very close to, and we love and cherish these people in our lives.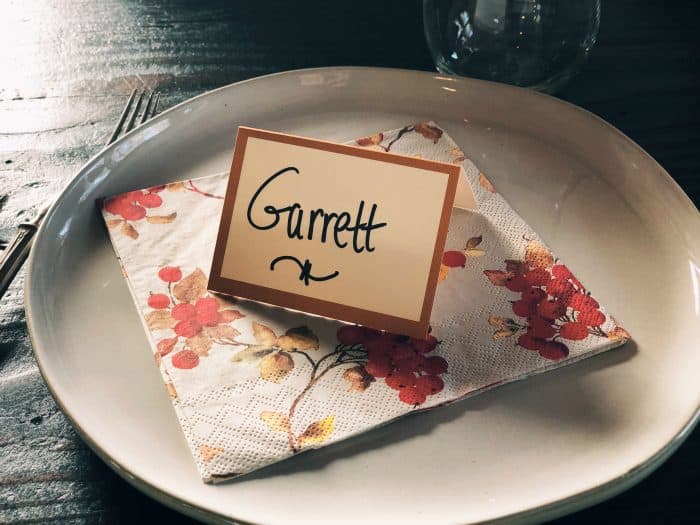 Using place cards at a dinner
Recently, we had little kids and big kids at the table. I wanted to place all the kids between adults, so we set out place cards. Fun!
Purpose: The purpose is to let your guests know where they are sitting.
Where to put them: I usually place the cards on the table just above the dinner plate, or off to the side. You can also place them on the plate!
Style: I handwrite the names myself, but you can also find printable ones online.
Wording: For our dinners, we're on a first name basis. Keep it simple!
Happy holiday entertaining, Friends!
Get the Recipe: Cashew Pesto Seared Cod Fillets
Ingredients
Fish, Greens, and Potatoes
2 purple sweet potatoes, cut into 1 inch cubes (roughly)
4 cups butternut squash, cut into 1 inch cubes (roughly)
1/2 cup olive oil, divided in half, plus some for coating pan
4 cod fillets, washed, dried, salted and peppered on each side
Sautéed Greens
1/2 cup whole dill weed
1 Tbsp minced garlic
1 bunch of red chard, chopped into large pieces
1/4 lemon
Salt and pepper to taste
1 tsp honey
1/4 tsp red pepper flakes
PESTO
1 cup basil, chopped
2 cup finely chopped chives
2/3 cup raw cashew pieces, softened in hot water for 5 min and drained
2 Tbsp Greek yogurt or nondairy alternative
2 tsp garlic powder, or two garlic cloves
¼ cup olive oil
1/2 a lemon, juiced
Kosher salt and black pepper to taste
Instructions
Preheat oven to 450 degrees.

In a large bowl, combine sweet potato and 1/4 cup of oil. After potatoes are evenly coated, lay flat in a single layer on a baking sheet. Add salt, pepper, a dash of coriander, and a sprinkle of garlic powder. Gently mix with hands and place in oven for 10-12 minutes. Repeat these steps with the butternut, except bake a bit longer—about 20-24 minutes, or until tender and lightly caramelized and golden.

In a food processor, combine all pesto ingredients and puree until smooth. (Don't forget to salt and pepper!) Begin by adding a little bit of each at a time—I tend to go heavier on the pepper for pesto!) Set aside.

In a medium skillet on medium high heat, add a splash of oil and garlic. Cook garlic until it is lightly golden, then reduce heat to medium, and add in red chard, lemon, dill, honey, and pepper flakes. Cover the pan and allow greens to reduce and wilt, about 4 minutes, then reduce heat to lowest temperature.

As the greens wilt, heat a well oiled pan on medium-high heat. When oil is hot, add in cod fillet and cook for about 3 minutes, then flip and cook for another 2. Remove from heat so it doesn't overcook! Repeat for remaining cod fillets.

Serve immediately and plate by layering greens, potatoes, fillet, and pesto (which can be served on the side of the plate or directly spread on the fish).
Notes
Enjoy this elegant meal for a small dinner party, or try cutting the ingredients in half and making it for a special date night!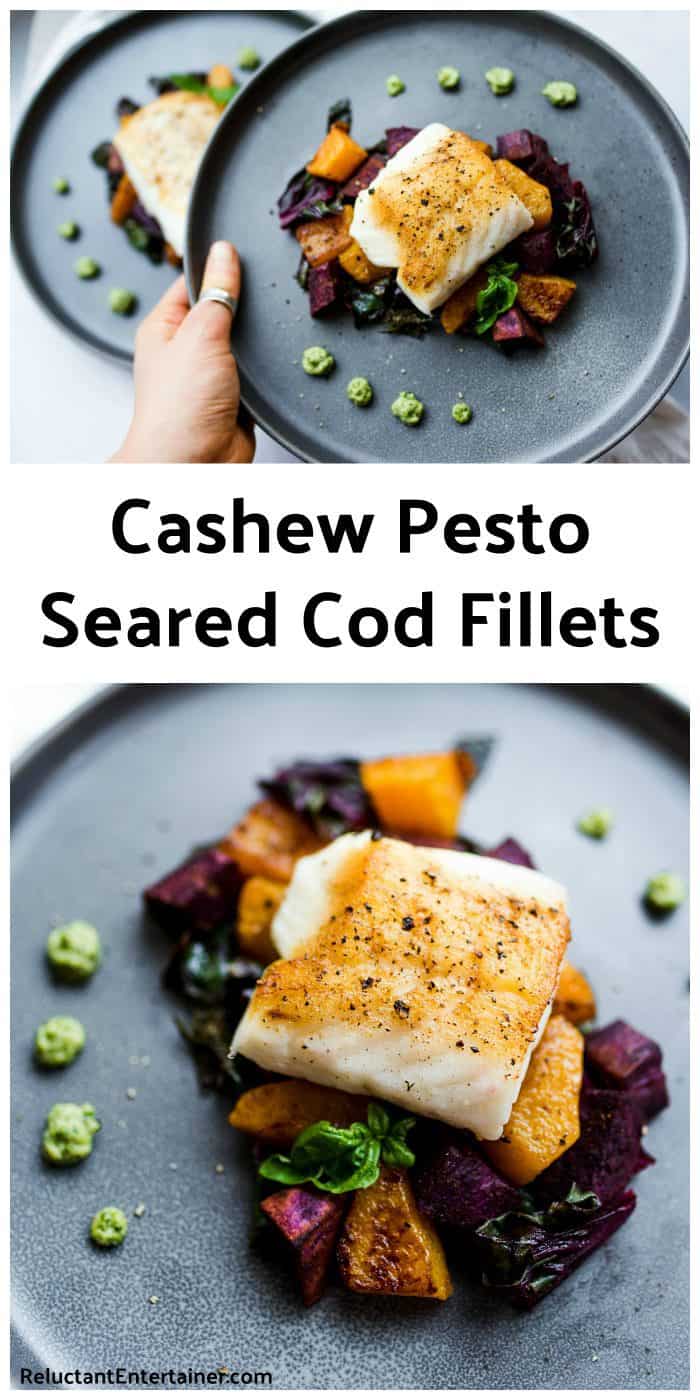 Hello and welcome to my home and table!
I'm Sandy—lover of food, family, cooking, THE BIG BOARD, travel, and bringing people together. Through great recipes and connection around the table, we become better, stronger, and more courageous people. Feasting on Life is real, and every time we do it, we grow a little more. Read more...