Cozy Minimalist Charcuterie Board
This Cozy Minimalist Charcuterie Board is a small cheese board for 2 or 4 guests, with cheese, chocolate, meat, nuts, and fig toasts. Perfect for a cozy moment with your favorite friends.
Here we are … the beginning of December, with frozen mornings and shorter days to enjoy the sunshine. We get to enjoy sipping on hot chocolate and walking through the crunchy snow. Or, having a couple people over to enjoy this Cozy Minimalist Charcuterie Board!
Cozy Minimalist Home
A cozy existence we have in our little mountain home, and it reminds me of my friend Myquillyn Smith's (also known as "The Nester" who blogs at Nesting Place) new book, Cozy Minimalist Home (More Style, Less Stuff), which I've been very much enjoying.
I think we all want to have a a beautiful, intentional home, and this book shows you how it can be done!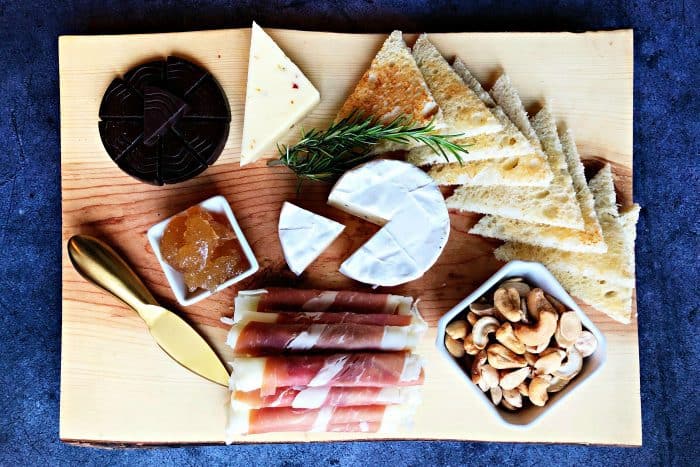 Myquillyn's and my life parallel each other in a small way, having both downsized and worked on a fixer upper home. A much smaller home than we were used to, after 4 yard sales and about 50 trips to Good Will!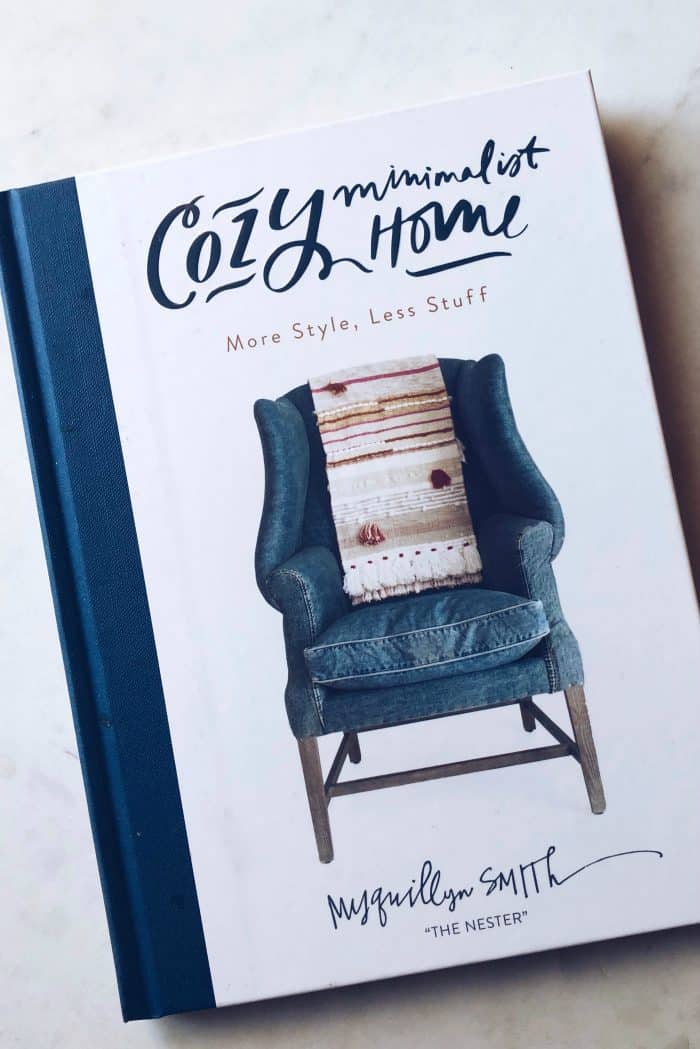 I love the message in The Nester's new book, about all things cozy, and simplifying your life and home. She ends the book with a Decorating Manifesto, which summarizes the message of the book, and honestly, keeps your values in check with simple and meaningful living.
Having just visited Denmark and Norway, the Danes and Myquillyn have it right.
"Cozy's job is to make us comfortable, and real comfort leads to real connection."- Myquillyn Smith
Today I'm sharing a link for you to pick up Myquillyn's new book, Cozy Minalmist Home (More Style, Less Stuff).
Buy the beautiful hardback book, HERE.
Cozy Minimalist Charcuterie Board
I'm also sharing a cozy charcuterie that you can make for 2 or 4, or double for 6 or 8 guests.
Serve with your favorite wine.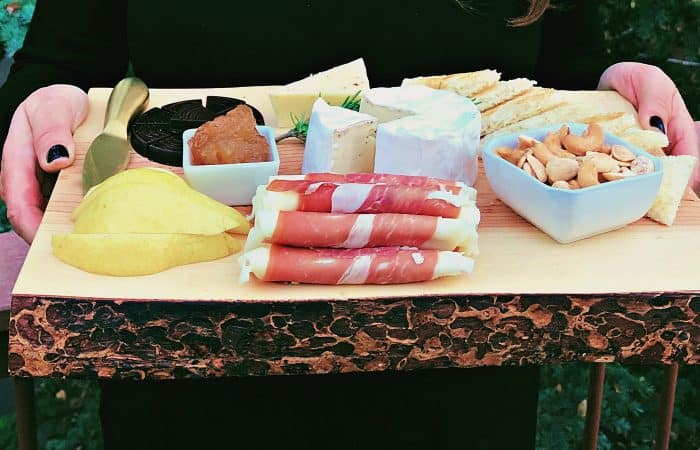 This is what I really appreciate about this book
It's simple, with great messages and quotes that inspire.
It's well laid out, with great photography and ideas for your home. Always with a touch of her humor, which I love.
I love how she shows several ways to design a small area. Not just one idea, but photos of three different ways (ie the fireplace mantle).
She shows you what to focus on when decorating your home, and what's really important.
She always brings it back around to content, purpose, and the people. (Yay, Myquillyn!)
Best tip, and one I learned from my nephew's wife, Addie:
Deconstruct each room, and then recreate it step by step. (It works, as you ultimately get rid of stuff that you don't want to put back in!)
I'm happy to say that 2 1/2 years ago we moved to our small home (getting rid of a ton of furniture), and have not purchased one new piece since we moved in.
My thought on a cozy home is to fill it with things you love, that make hosting easy and comfortable for your guests, and learn to be content.
Contentment is huge. Decide what is enough, and learn to leave it there.
Myquillyn has a great chapter on this.
For now, this small, simple, minimalist charcuterie!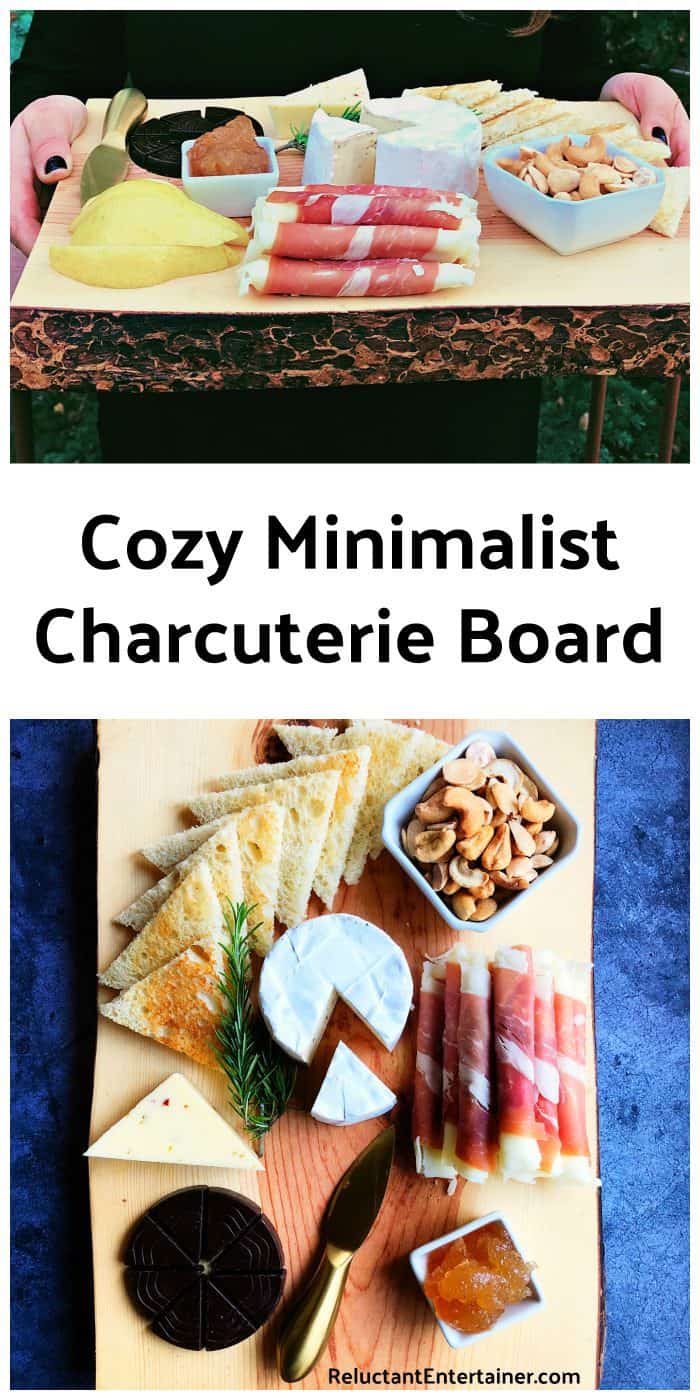 More charcuterie/cheese board ideas: Pineapple Cheese Board [RE], Butternut Squash Charcuterie Board [RE], and this BEAUTIFUL Christmas Tree Snack Board [Baker Mama].
Get the Recipe: Cozy Minimalist Charcuterie Board
Ingredients
3.5 oz Trader Joe's Extra Dark Chocolate Wedges
Fig jam
Sourdough bread, cut in triangles and toasted
1 small round brie cheese
Prosciutto mozzarella sticks
Cashews
Favorite hard cheese
1 Bartlett pear
Rosemary sprig, herb of friendship
Instructions
On a serving platter or wood board, arrange the above items. Serve and enjoy with a few friends!
Hello and welcome to my home and table!
I'm Sandy—lover of food, family, cooking, THE BIG BOARD, travel, and bringing people together. Through great recipes and connection around the table, we become better, stronger, and more courageous people. Feasting on Life is real, and every time we do it, we grow a little more. Read more...