Slow Cooker BBQ Pulled Pork
For 6 hours, cook this easy Slow Cooker BBQ Pulled Pork for sliders, tacos, enchiladas, nachos, or burritos. Top with cheese and slaw!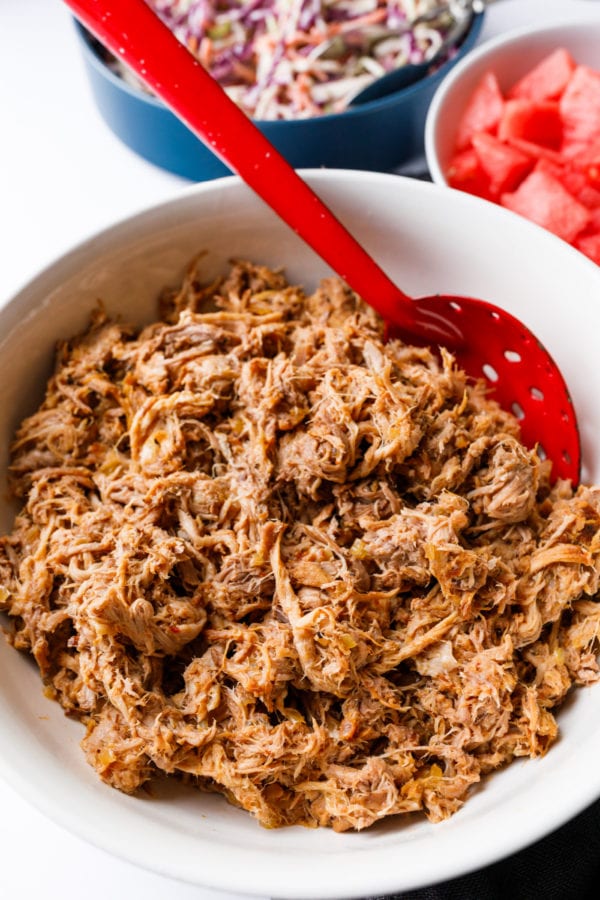 Today I'm sharing an easy Slow Cooker BBQ Pulled Pork recipe! With delicious flavors and a from-scratch barbecue sauce, there are various ways to serve this dish.
Slow Cooker BBQ Pulled Pork
I have never been more ready for spring and easy recipes for having people over for dinner again. You, too? This year I crave fresh air, getting in the outdoors, and then coming home to a recipe cooking in the slow cooker.
How to serve BBQ Pulled Pork
You probably look forward to energizing recipes like I do! Abby made these for us down in the desert, on The Big Board, plus easy homemade slaw. The "pork slider board" recipe is coming soon on the blog.
Serve on slider buns with homemade slaw, or for TACO TUESDAY! Fill the taco shells with pulled pork for this Easy Taco Dinner Board. Or in tacos, enchiladas, burritos, taco bowls, nachos, etc.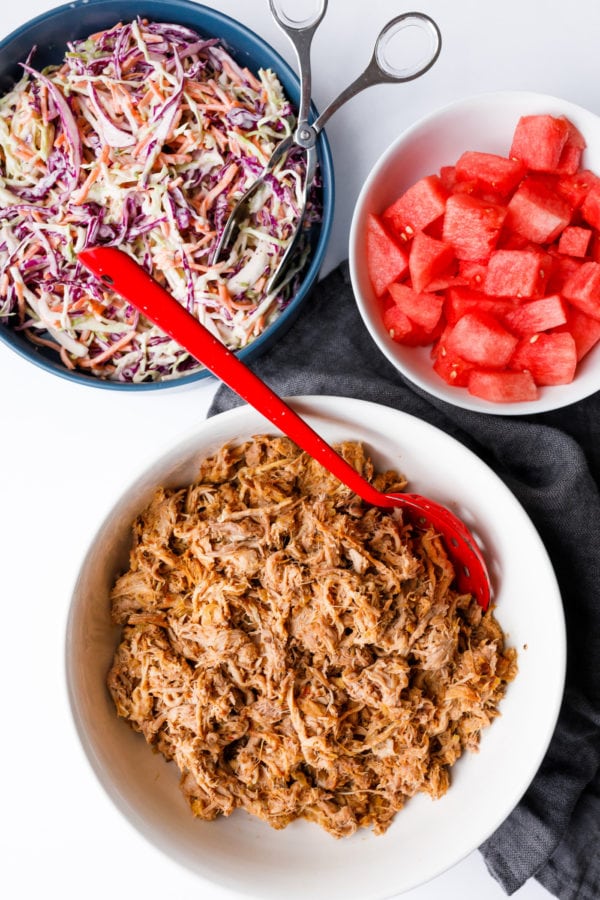 How do you make pulled pork from scratch?
How easy are these ingredients:
Vegetable oil
Skinless pork shoulder
Sweet onion
Chicken broth
And also make your own barbecue sauce!
What's the best pork for pulled pork sliders?
Did you know that whether you're slow cooking, pressure cooking, or braising pork for pulled pork sliders, the best cuts happen to be the least expensive?
That's right, pork butt or pork shoulder can be very affordable, especially during game day events (on television) and summer holidays. This last week we watched March Madness with our friends.
You don't want to use lean cuts like loin, roast, or pork chops for pulled pork.
There's just not enough fat to give the pork that texture that literally falls apart when pulled.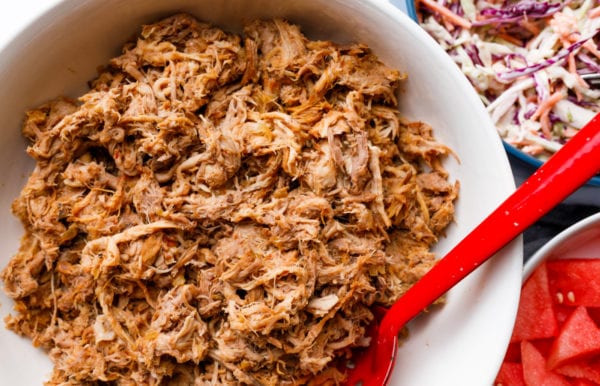 Best way to cook pulled pork
I say the slow cooker is the best way. You can also make my Instapot Pork Carnitas Recipe, if you love the Instapot.
Make a juicy, fall-apart tender pork recipe for easy sliders or tacos.
And if you're looking for a shortcut, you can always buy a bottle of your favorite brand of barbecue sauce. But as I always say here on RE, homemade is the best!
Prepare, put in the slow cooker for 6 hours, and you'll know you're going to have a great dinner when the house starts smelling good! :)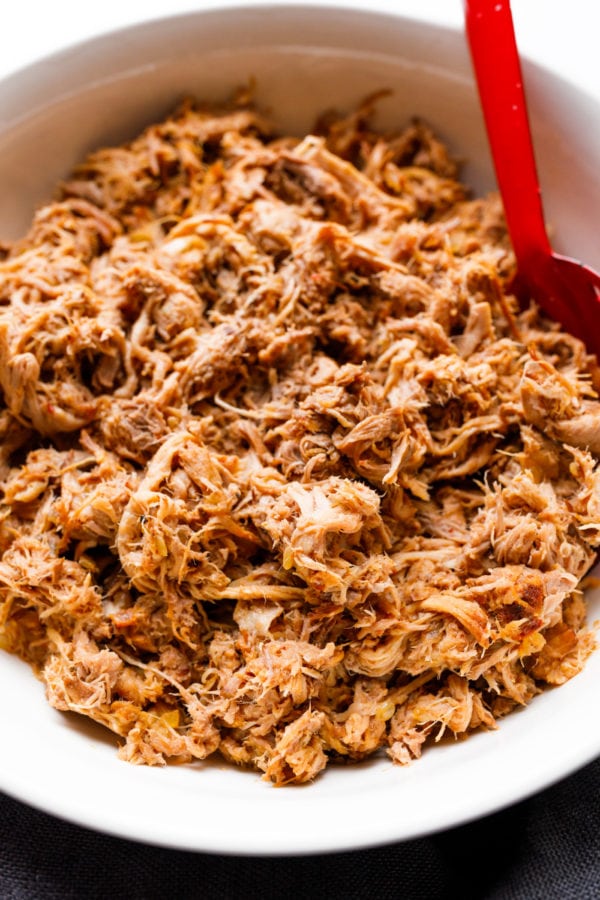 How to make homemade barbecue sauce
Here are the ingredients for the homemade BBQ sauce:
Ketchup
Canned chipotle adobo chilis (not 2 whole cans)
Red wine vinegar
Dijon mustard
Brown sugar + maple syrup
Worcestershire sauce
Cracked black pepper
Garlic
I love everyday cooking, easy recipes, and making our homes smell good—for any season!
I hope you're having a wonderful spring, Friends!
More pulled pork recipes:
Get the Recipe: Slow Cooker BBQ Pulled Pork
Serve on slider buns with homemade slaw, or for TACO TUESDAY! Make your own BBQ sauce (or if in a pinch for time, buy store-bought).
Ingredients
For the pork:
2 Tbsp vegetable oil
1 bone-in, 5-6 lb skinless pork shoulder
1 large sweet onion, diced
⅔ c chicken broth
⅓ c water
BBQ Sauce:
1 c ketchup
3-4 canned chipotle adobo chilis, not 2 whole cans
½ c red wine vinegar, plus 2 Tbsp, divided
2 Tbsp dijon mustard
⅓ c brown sugar, packed
2 ½ Tbsp maple syrup
1 ½ Tbsp Worcestershire sauce
1 ½ tsp fresh cracked black pepper
4 cloves garlic, crushed
Instructions
To make the BBQ sauce:
In a blender or food processor, combine the ketchup, chipotle chilis, ½ c red wine vinegar, dijon mustard, brown sugar, maple syrup, Worcestershire sauce, black pepper, and garlic. Blend until smooth, and set aside.
To cook the pork:
Pour the oil into the bottom of the slow cooker, then add the onions and pork shoulder and season with a generous pinch of salt. Pour in the chicken broth, water, and barbecue sauce. Cover the roast and cook on high until the meat falls apart easily—about 6 hours.

When the meat is tender, carefully remove from the slow cooker and shred in a large bowl or on a large rimmed baking sheet with two forks, or your hands if the meat is not too hot. Remove any excess fat and reserve juices that come out. Using a slotted spoon, strain about ½ c of the onions and solids from bottom of the slow cooker (drain off the excess fat on top) and add to the meat. Drizzle with the remaining 2 Tbsp of vinegar and mix until combined.

Serve hot on slider buns with cold, crisp, coleslaw, vinegary pickles, and fresh lime juice! Or in tacos, enchiladas, burritos, taco bowls, nachos, etc.
Hello and welcome to my home and table!
I'm Sandy—lover of food, family, cooking, THE BIG BOARD, travel, and bringing people together. Through great recipes and connection around the table, we become better, stronger, and more courageous people. Feasting on Life is real, and every time we do it, we grow a little more. Read more...