Strawberry Banana Bread Recipe
This Strawberry Banana Bread recipe has the perfect combination of tartness, sweetness, and moistness – for the very best banana bread!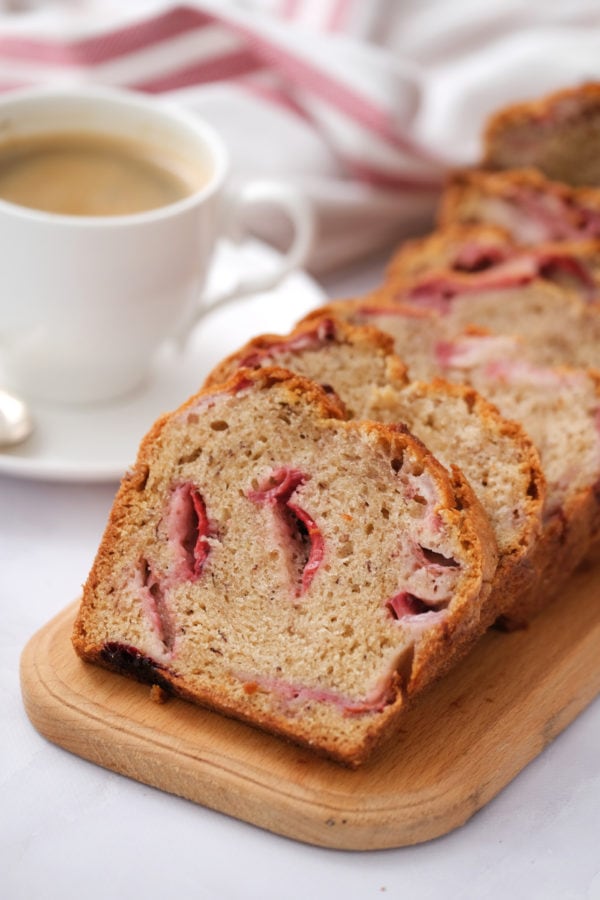 Ready for a delicious Strawberry Banana Bread recipe?
This is such a great banana bread recipe that you can make for your friends and family to enjoy as a snack, for dessert or even for breakfast with a glass of milk.
Strawberry Banana Bread Recipe
And of course, if you're in the mood for a little twist on my sour cream banana bread recipe, this strawberry banana bread is a great one to try! I love to make, bake, and freeze a few loaves for a rainy day (or to give away).
It's very easy to put together, quick to prepare by hand (just use a giant wooden spoon)!
Just be prepared– everyone's going to love it!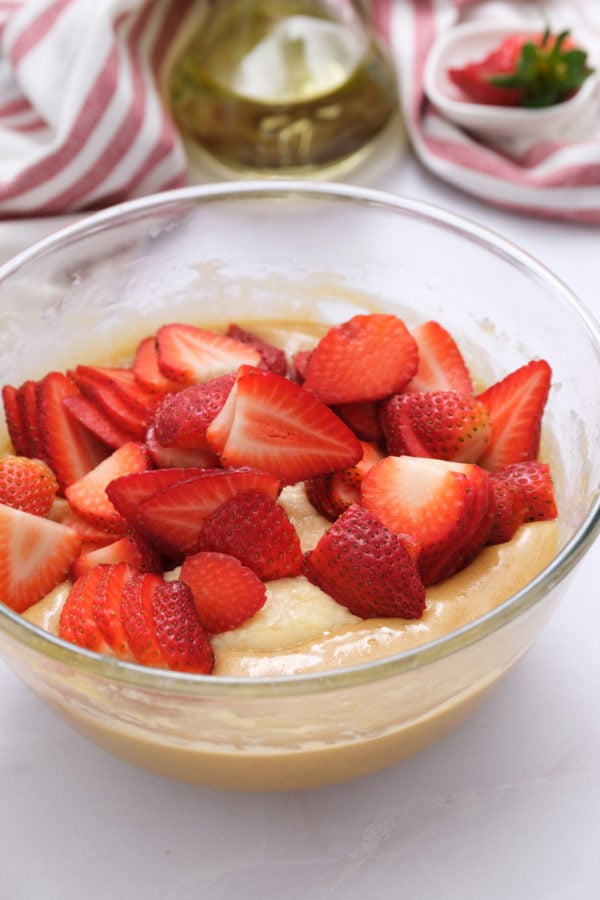 Ingredients for strawberry banana bread
Flour
Baking soda + salt
Ground cinnamon
Vanilla
Sugar
Fresh strawberries
Banana
Eggs
Cooking oil

Best banana bread
This banana bread recipe is actually delicious with any kind of berry! Remember each oven is different, so make sure and under-set your timer, so you don't over-bake the bread! You can fill 1 large loaf pan, or make two smaller loaves.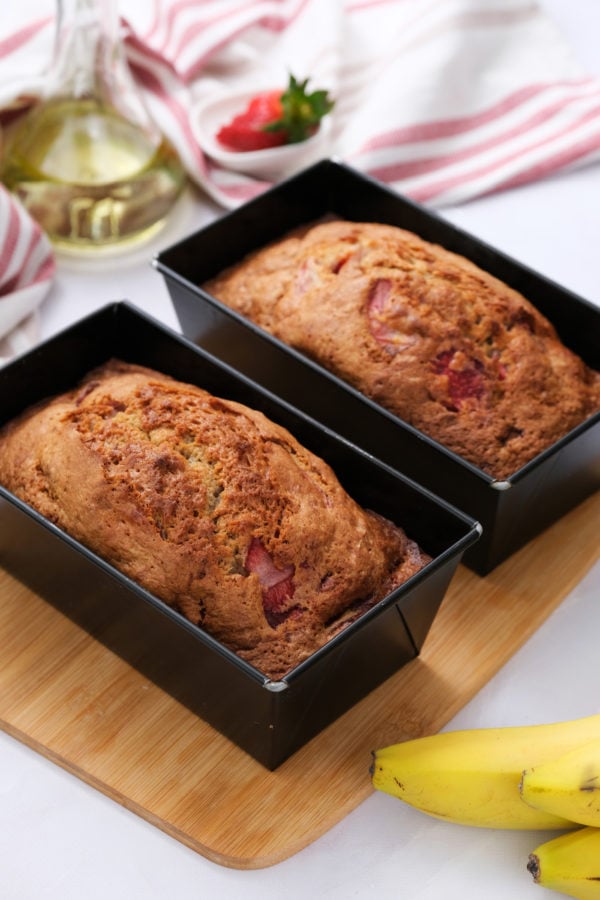 Is there a difference between banana bread and banana cake?
There is a difference between banana cake and banana bread. A traditional banana cake is made like a butter cake with the addition of mashed banana (and my recipe has buttermilk). Banana bread has a firmer more dense texture than banana cake and is great for popping a slice in the toaster.
Moist Strawberry Banana Bread
Banana bread, my favorite, and sweet strawberries? Perfection.
For breakfast add Storyville coffee, and a bowl of granola.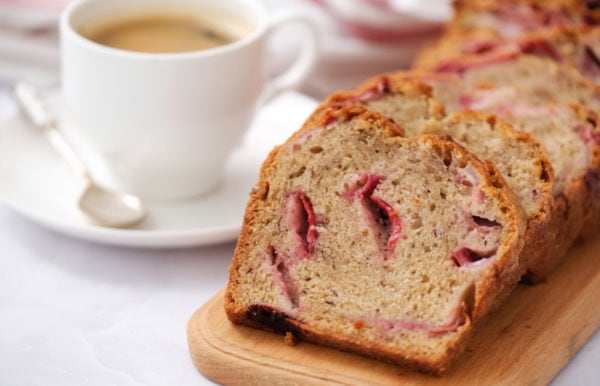 Extra tips for making strawberry banana bread
You can use frozen strawberries if you don't have fresh. Make sure to thaw and drain beforehand. Also, you will need to add 1-2 extra tablespoons of flour to the batter.
Substitute the strawberries with blueberries or raspberries, or mixed berries. It's delicious.
The last 10 minutes of baking time, tent the loaf pan with foil. The tenting tip helps to prevent the top from burning while baking the bread through.
If you love an almond flavor, replace the vanilla extract for almond extract. DELISH!
How long does strawberry banana bread keep?
Cool the bread and enjoy right away. If you need to store it, put in an airtight container and you can store it for around 4 days.
We love to freeze any leftover loaves (if there are any), by wrapping it tightly in foil, and then placing it in a freezer Ziplock bag.
This bread is delicious with any kind of berry! Remember each oven is different, so make sure and under-set your timer, so you don't over-bake the bread!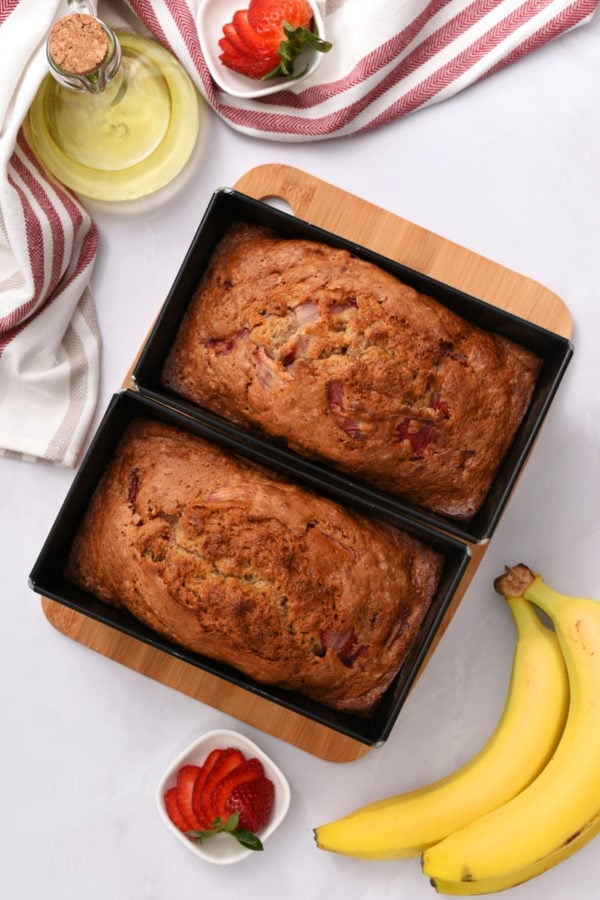 April blossoms
Since it's April, I can't help but think about blossoms that are starting to bloom. Take a peek here at my old house, and the beautiful pink and white table that is perfect for spring.
"It is true, as they say, that the blossoms of spring are all the more precious because they bloom so briefly." –Murasaki Shikibu
More banana bread recipes:
Healthy Banana Bread with Medjool Dates
Whole Wheat Blueberry Banana Bread
Copycat Starbucks Banana Bread Recipe
Get the Recipe: Strawberry Banana Bread Recipe
Delicious with any kind of berry! Remember each oven is different, so make sure and under-set your timer, so you don't over-bake the bread! Makes 2 loaf pans or 4 small pans.
Ingredients
3 cups all purpose flour
1 tsp. baking soda
1 tsp. salt
1 tsp. ground cinnamon
1 tsp. vanilla
2 cups sugar
2 cups fresh strawberries, sliced
1 banana, mashed
4 eggs, beaten
1 cup cooking oil
Instructions
Mix all ingredients together in a large bowl (except berries); stir by hand.

Add the berries last, gently mixing into the batter.

Spray and fill loaf pans (4 small or 2 large).

Bake at 350 for 35-45 minutes in small loaf pans, or around 60 minutes in 2 large loaf pans.
Notes
previous posted JUN 2016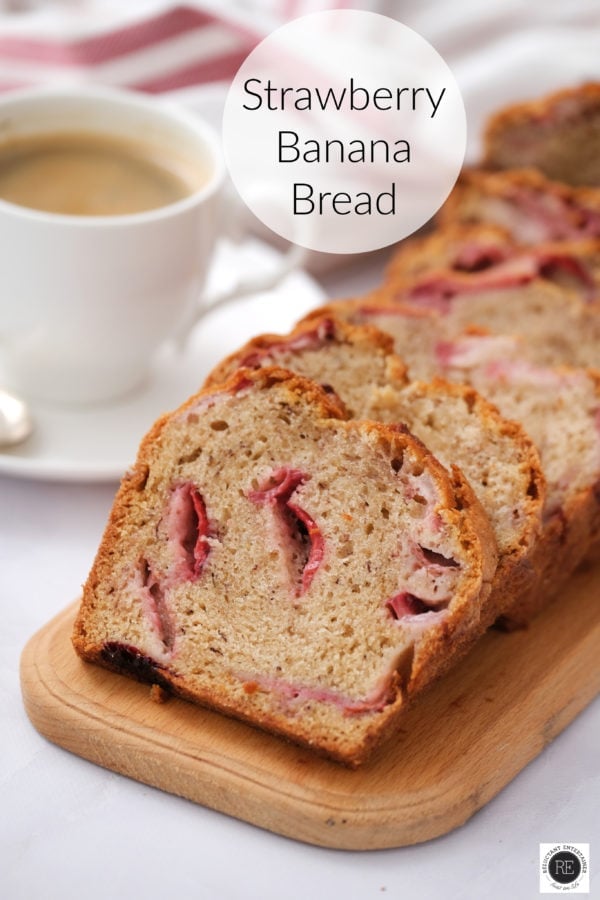 Hello and welcome to my home and table!
I'm Sandy—lover of food, family, cooking, THE BIG BOARD, travel, and bringing people together. Through great recipes and connection around the table, we become better, stronger, and more courageous people. Feasting on Life is real, and every time we do it, we grow a little more. Read more...