Whole Wheat Blueberry Banana Bread
A moist banana bread recipe, try this Whole Wheat Blueberry Banana Bread with fresh or frozen blueberries [from The Well Plated Cookbook].
Friends, I've been in a nesting mode, have you, too? I really feel that fall is in the air, especially with our chilly mornings and evenings.
Whole Wheat Blueberry Banana Bread
Just in time for fall baking, I made my friend Erin's recipe, Whole Wheat Blueberry Banana Bread this past weekend. DELICIOUS!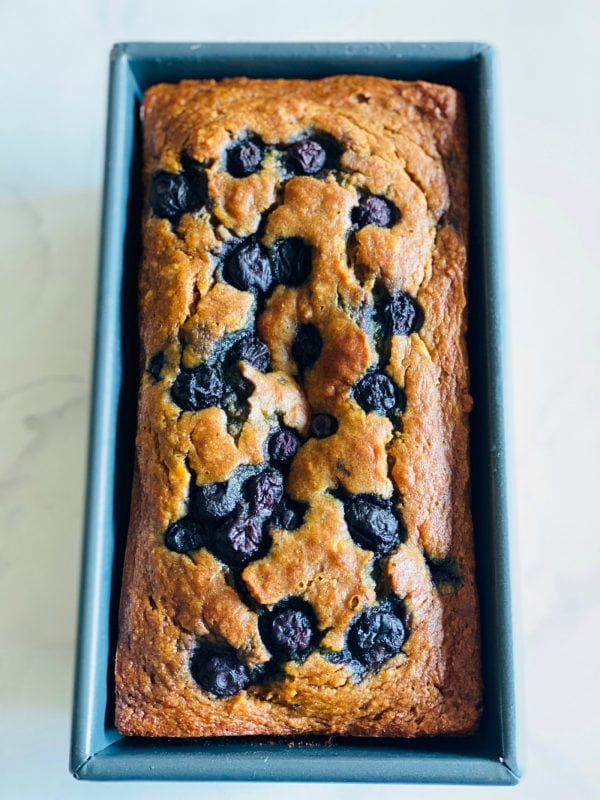 I love a breakfast bread that isn't too sweet, but is moist and flavorful. The combination of bananas and blueberries? The best!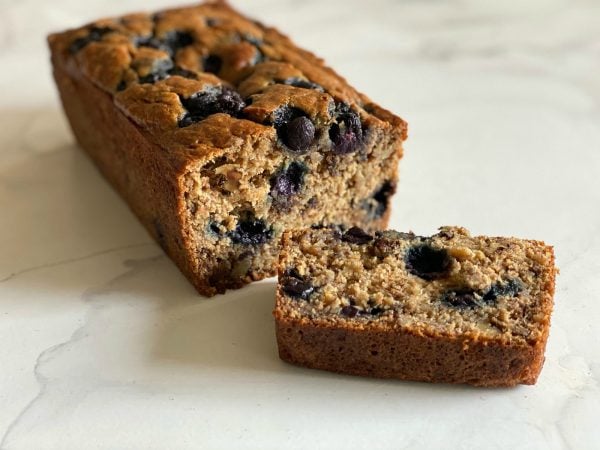 Ingredients for Blueberry Banana Bread:
Raw walnuts
Coconut oil (I used vegetable oil)
Mashed, overripe bananas
Egg
Maple syrup or honey (I used maple syrup)
Nonfat plain Greek yogurt
Pure vanilla extract
Baking soda, cinnamon, kosher salt
White whole wheat flour (I used regular whole wheat flour)
Blueberries (fresh or frozen)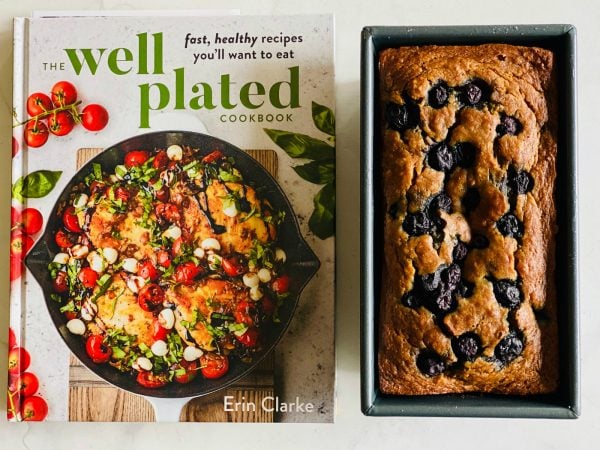 The Well Plated Cookbook
Today I'm sharing a new cookbook from my friend, Erin, from Well Plated.
It's called The Well Plated Cookbook, and you can buy it, too (affiliate link). It's beautiful, filled with gorgeous photography and helpful extras and practical tips, to make the most of your cooking.
Buy the book, HERE:
The Well Plated Cookbook: Fast, Healthy Recipes You'll Want to Eat
Tell your friends and family about this cookbook!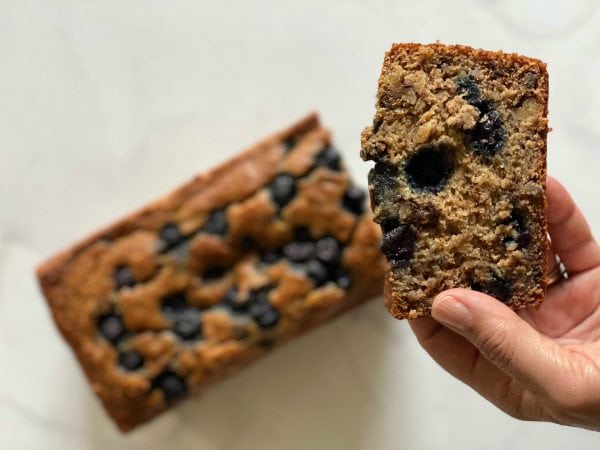 There were so many recipes I wanted to try, but with the chilly morning yesterday, I was happy to turn my oven on to 350! :)
The book is chock-full of fast, healthy recipes that you'll actually want to eat … and share with others.
Erin came to my other mountain home a couple years ago, and we spent a weekend here where we live … riding bikes, kayaking, and eating [check out this tortellini sausage skewers appetizer].
She blogs at Well Plated [healthy, wholesome recipes]!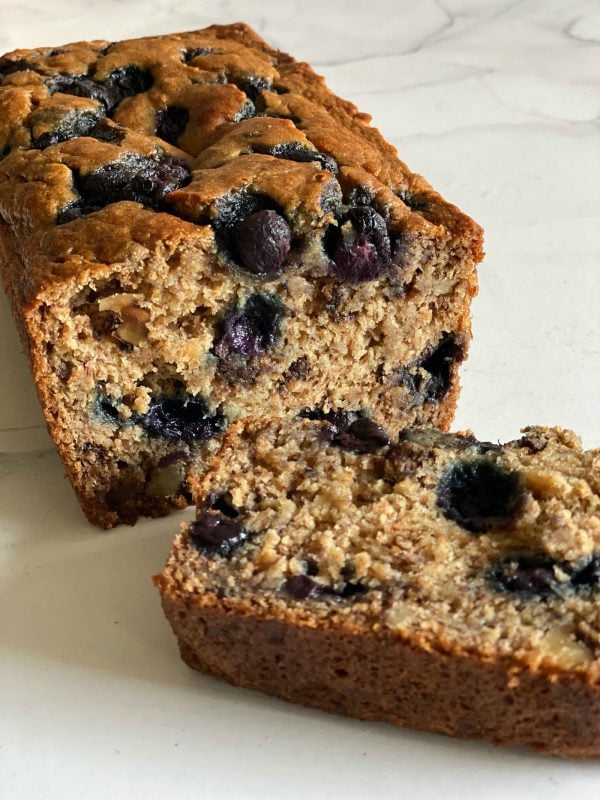 Baking at home
I'm so excited, and proud of her.
This book has a collection of recipes that I'll be making over and over.
And honestly, with COVID, how many more of us are eating (and baking) at home now?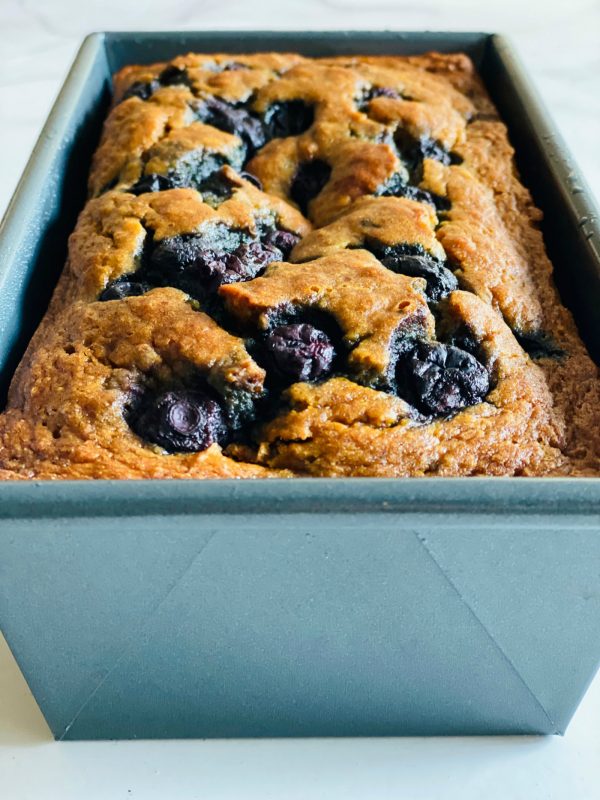 Enjoy this Whole Wheat Banana Blueberry Bread recipe today!
The recipe makes one full loaf, and trust me, you may want to double it!
Get the Recipe: Whole Wheat Blueberry Banana Bread
from The Well Plated Cookbook
Ingredients
1/2 raw walnut halves, toasted
2 Tbsp coconut oil, I used vegetable oil
1 1/2 cup mashed, overripe bananas
1 large egg, at room temp
1/2 cup maple syrup or honey
1/4 cup nonfat plain Greek yogurt, at room temp
1 1/2 tsp pure vanilla extract
1 tsp baking soda
1/4 tsp ground cinnamon
1/4 tsp kosher salt
1 1/2 cups white whole wheat flour
1 cup blueberries, divided
Instructions
Lightly coat a 4 1/2 x 8 1/2 inch loaf pan with nonstick spray. Preheat oven to 350.

In a large bowl, whisk the bananas with the egg. Whisk in the maple syrup and yogurt until well combined. Last, whisk in the vanilla extract and oil.

Sprinkle the baking soda, cinnamon, and salt as evenly over the top as you can.. With a rubber spatula or wooden spoon stir to combine. Sprinkle the flour evenly over the top, then gently and patiently stir it in, just until the flour disappears. The batter will be lumpy and shaggy.

Add the toasted walnuts and 3/4 cup of blueberries; gently fold to combine.

Scrape the mixture into the prepared pan and smooth the top. Sprinkle remaining 1/4 cup blueberries over the top. Bake for 35 minutes, then check the color of the bread. If it is browning too quickly at the corners, loosely tent the pan with aluminum foil. Continue baking for 24-35 minutes additional, or until the center comes out without any wet batter clinging to it.

Allow to cool for 15 minutes. Remove the bread from the pan and transfer to the rack to finish cooling completely.
Notes
I used vegetable oil instead of coconut oil; you can also use canola oil.
I toast walnuts in the microwave, but you can also toast in the oven.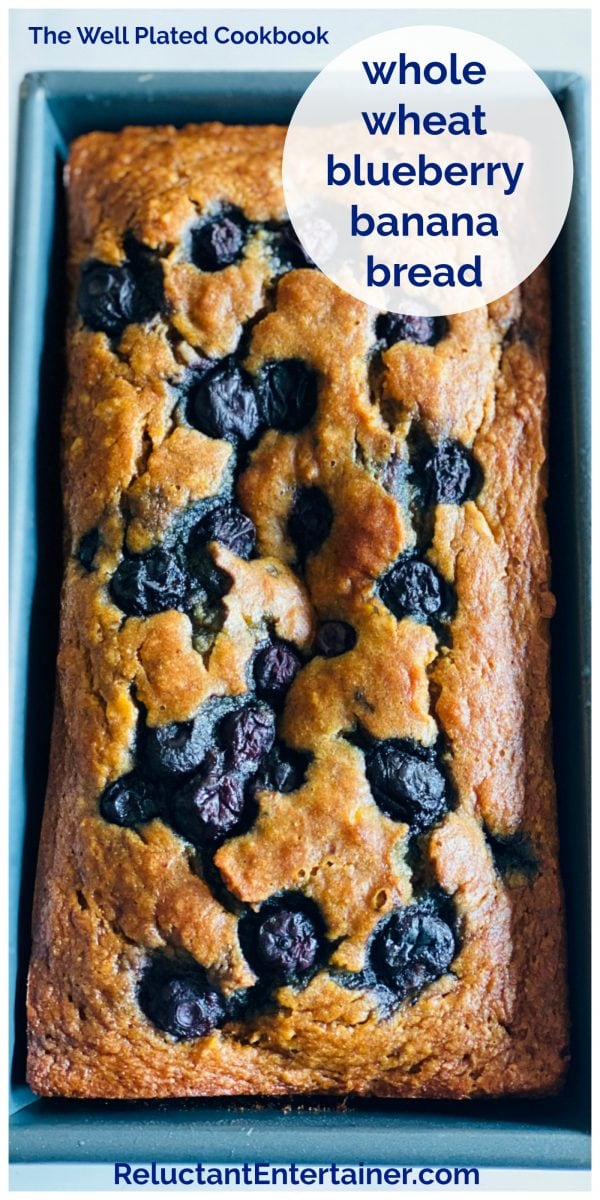 Hello and welcome to my home and table!
I'm Sandy—lover of food, family, cooking, THE BIG BOARD, travel, and bringing people together. Through great recipes and connection around the table, we become better, stronger, and more courageous people. Feasting on Life is real, and every time we do it, we grow a little more. Read more...