Slow Cooker Pesto Denver Omelette Breakfast
Slow Cooker Pesto Denver Omelette Breakfast is a comfort breakfast or brunch dish! It's made with ham, green onions, hashbrowns, and perfectly cooked eggs!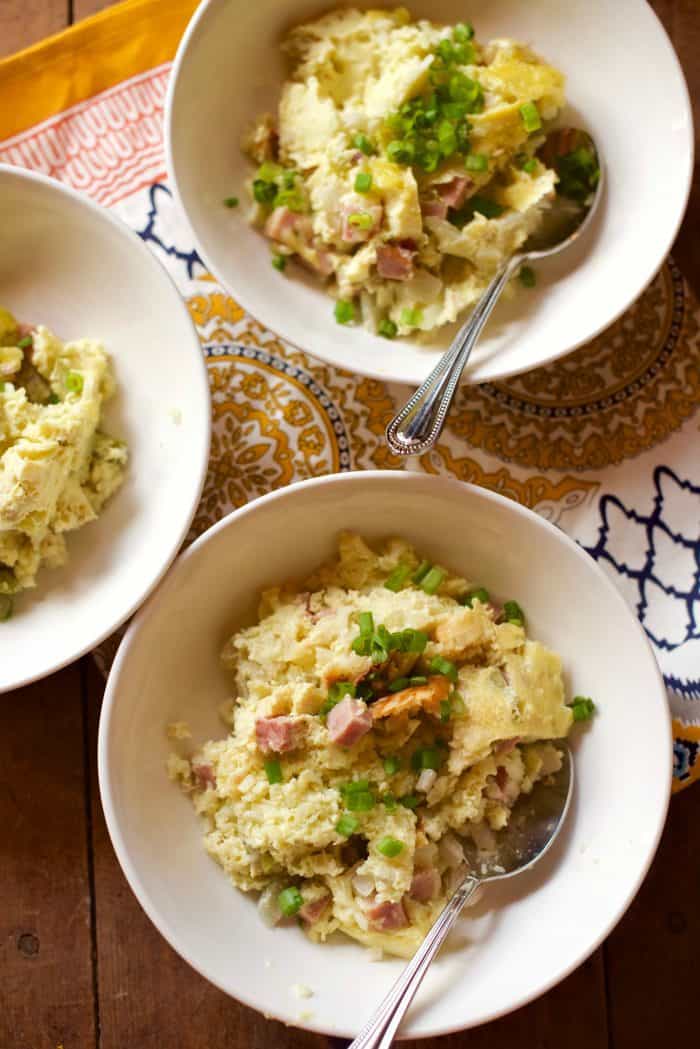 Friends, it's that time of year, to think about Easter and making family time count!
We love this comfort Slow Cooker Pesto Denver Omelette Breakfast, with a spin on the old-fashioned Denver Omelette. This time it's made in the slow cooker, with an option to cook on low overnight.
Slow Cooker Pesto Denver Omelette Breakfast
For some reason breakfast dishes (besides the usual quick breakfast, like cereal, an egg, or a bowl of yogurt), makes me think of special occasions. And, when our kids were little!
Ingredients for Denver Omelette
Frozen hashbrowns
Chopped ham
Cabot cheese (pick a favorite flavor, like Pepper Jack Cheese Habanero Cheddar Cheese, Horseradish Cheddar Cheese,
Roasted Garlic Cheddar Cheese!
Bell pepper, diced
Red onion, diced
Eggs
Milk
Pesto
Salt and pepper
We had so many great family breakfasts together over the years. It made me feel good inside, as a mom, to make a "special breakfast."
Winnie the Pooh … when you wake up
We also watched every Winnie the Pooh video, over and over, year after year, when the kids were little. Which this quote made me smile …
"When you wake up in the morning, Pooh," said Piglet at last, "what's the first thing you say to yourself?"

"What's for breakfast?" said Pooh. "What do you say, Piglet?"

"I say, I wonder what's going to happen exciting today?" said Piglet.

Pooh nodded thoughtfully. "It's the same thing," he said."
How to make an overnight casserole
One breakfast I love to make is an overnight Slow Cooker Pesto Denver Omelette Breakfast. Guests or family love it, and how easy is the slow cooker, anyway?
What I started doing was buying ham steak at Costco (3 rounds in a pack) and freezing it.
In the morning, everyone can help themselves!
Set out your favorite toppings!
So easy for making yummy breakfasts (or even dinner!)
This only took me a few minutes to put in the crockpot, and it was done cooking in 3 hours (on high).
Other make-ahead breakfasts
Other ideas for make-ahead breakfasts are: Overnight Breakfast Sausage Enchiladas, Make-Ahead Chocolate Coffee Cake, and Ham Breakfast Casserole. Easy Ovenight Sweetie Rolls [Baker Mama] and Pumpkin Overnight Oats [Well Plated].
All easy for hosting!
Enjoy!
Get the Recipe: Slow Cooker Pesto Denver Omelette Breakfast
Make the night before; cook through the night. Wake up to a delicious breakfast, ready to serve with sour cream and fresh salsa.
Ingredients
1 pound frozen hashbrowns
2 cups ham, chopped
2 cups sharp white cheddar cheese
1 bell pepper, diced
1/2 cup red onion, diced
16 eggs
1/2 cups milk
1/4 cup pesto
Salt and pepper to taste
Instructions
Spray a 6 quart slow cooker with cooking spray.

Layer 1/2 of the potatoes on the bottom of slow cooker.

Top with half of the ham, cheese, bell pepper and onions. Repeat layering.

Beat eggs, pesto, milk and pepper in large bowl with a wire whisk until well blended.

Pour evenly over potato-ham mixture.

Cook on low setting for 6-7 hours, or on high setting for 3-4 hours, or until eggs are set.

Top with green onions; serve! Optional to serve with sour cream and fresh salsa.
Notes
Originally posted OCT 2017
I am a huge fan of my Kitchenaid multi-cooker and Instant Pot for these types of recipes!
This post has affiliate links. Every purchase from these links supports RE at no extra cost to you. Thank you!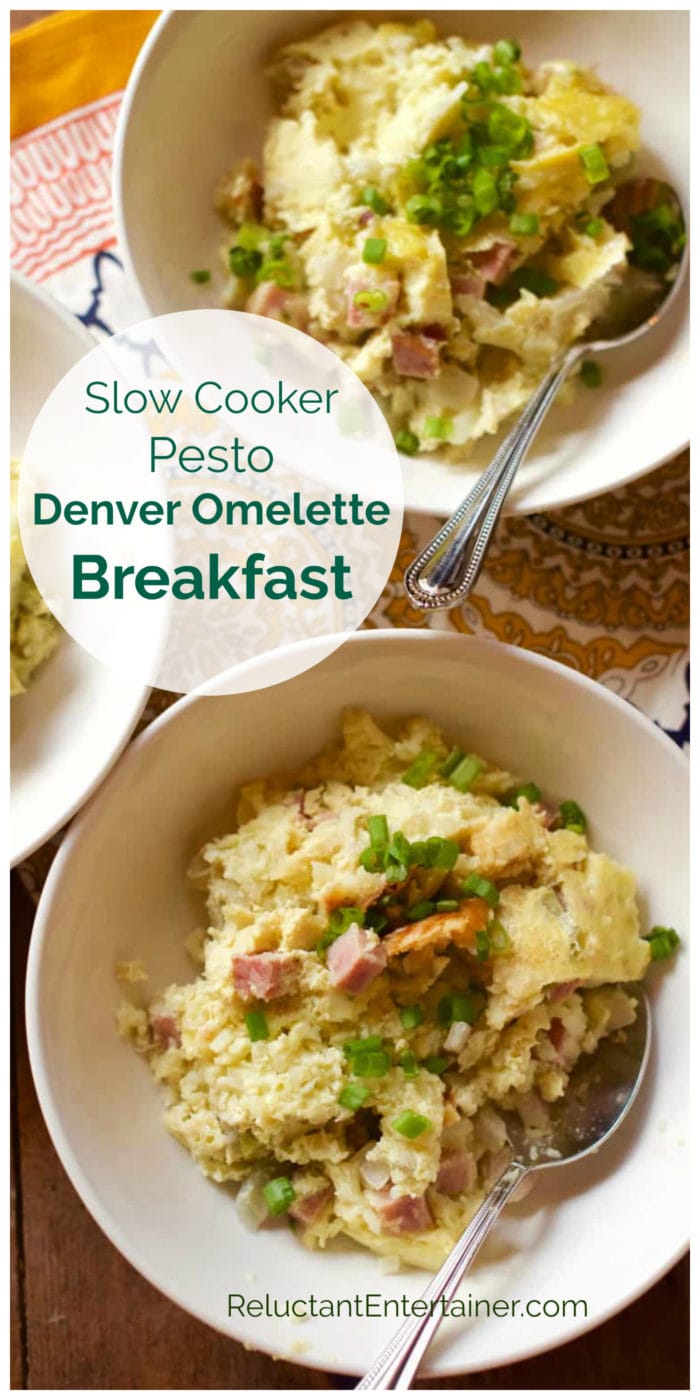 Hello and welcome to my home and table!
I'm Sandy—lover of food, family, cooking, THE BIG BOARD, travel, and bringing people together. Through great recipes and connection around the table, we become better, stronger, and more courageous people. Feasting on Life is real, and every time we do it, we grow a little more. Read more...