4th of July S'Mores Chocolate Treats
Enjoy these 4th of July S'Mores Chocolate Treats, and a great way of displaying your party ingredients, in patriotic style!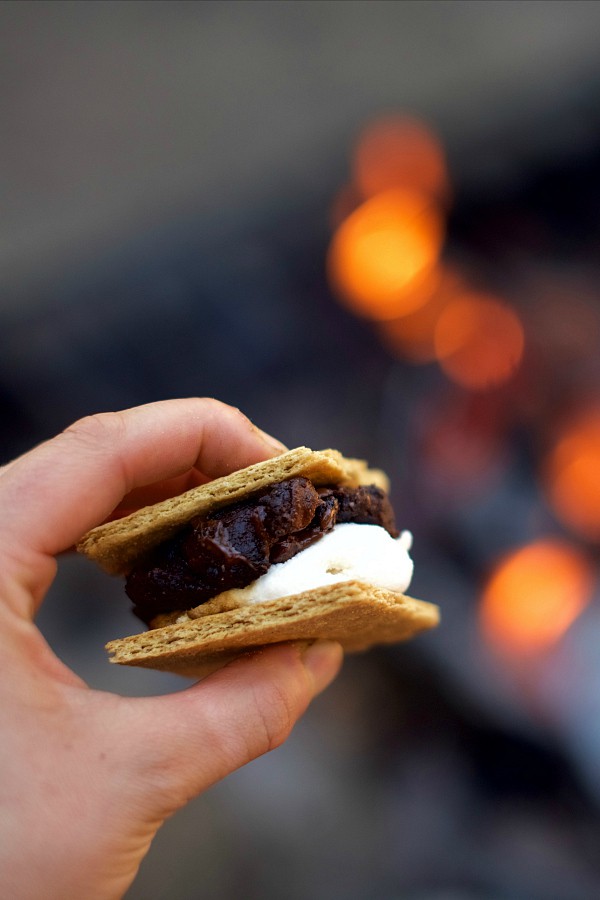 Cooking S'Mores Chocolate treats over an outdoor fire pit or bowl is relaxing and sweet!
A family favorite, perfect for summer holidays, camping, and the months ahead with friends and family. I love how we can bring the outdoors, like a fire that you'd typically enjoy when camping, into our backyards for a touch of ambience that is the focal point for entertaining! Yay!
S'mores are always a big party hit, and a family favorite–for home or away camping!
We are really enjoying our Camp Chef fire table because you can sit around the fire and serve cocktails, make s'mores, or roast foods on long forks for a casual dinner.
The quality is supurb and so easy to assemble, and the material is high quality. I'm sure we will be enjoying this for years to come!
4th of July S'Mores Chocolate Treats
Here's a FUN idea for 4th of July, to display all the s'more ingredients.
Starting with a tray and Dollar Store napkins.
Add your favorite chocolate bar pieces … have you ever tried a Symphony bar? So good!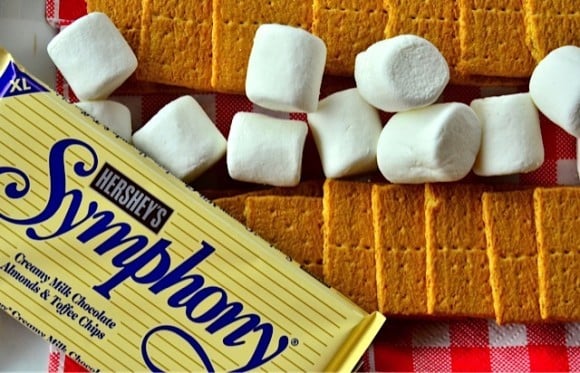 Line a tray with napkins, and then lay out and layer the ingredients (chocolate, graham crackers, marshmallows) "patriotic" style.
Here's a great way to display your drinks, with your favorite beverage and fresh blueberries.
Organized, festive, and ready to dive in … perfect for your fire pit, campfire, or next holiday summer gathering!
What's your favorite food to roast on a fire?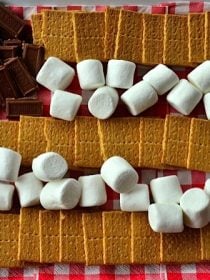 Get the Recipe: 4th of July S'Mores Chocolate Treats
Ingredients
Symphony candy bar
Graham crackers
Marshmallows
Patriotic napkins
Instructions
Line a tray with patriotic napkins. On the upper left corner, place Symphony chocoalte bar pieces together in the shape of the stars of a flag (rectangular).

Layer the graham crackers on top of each other in 3 rows (with the napkins showing through).

Place the marshmallows in between the graham crackers for a final flag style presentation!
Other S'more related posts to enjoy with your new fire pit:
Mini Toasted S'More Cheesecakes
Cookie S'mores
S'more Layered Cake
10 S'more and Camping Desserts
Simple S'mores
Bourbon Marshmallow S'mores with Bacon
Skillet S'Mores [RE]

SaveSave
SaveSaveSaveSave
SaveSaveSaveSave
Hello and welcome to my home and table!
I'm Sandy—lover of food, family, cooking, THE BIG BOARD, travel, and bringing people together. Through great recipes and connection around the table, we become better, stronger, and more courageous people. Feasting on Life is real, and every time we do it, we grow a little more. Read more...