Spring Hummus Crudite Recipe
A Spring Hummus Crudite Recipe with two favorite hummus flavors, accompanied by colorful spring blooms, delicately placed to make a small veggie platter!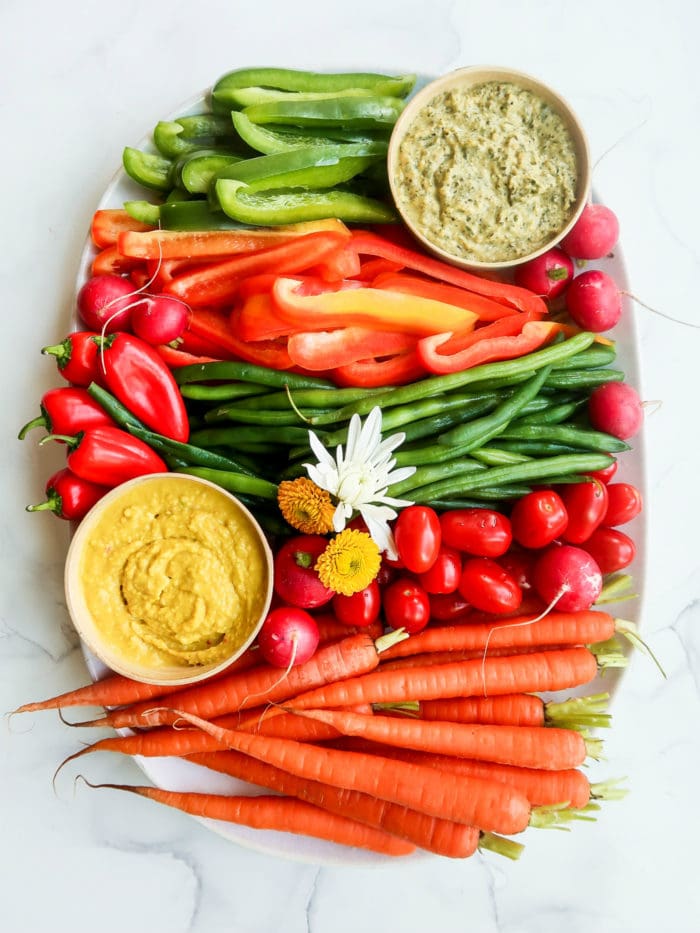 Friends, spring is in the air over here in central Oregon! Take a peek at our new kitchen (below).
Here's a smaller version of my Epic Hummus Board, and one that we just might serve for Easter this year. Or, watch the video 7 Tips to a Delicious Crudités! I also these Spring Herb Cream Cheese Appetizer Cups!!
Spring Hummus Crudite Recipe
Enjoy this Spring Hummus Crudite, a delicious, healthy appetizer. You can also grab a few of my board ideas here, or follow this Pinterest Board.
Here's what you need for this springy board today!
Carrots
Radishes
Cherry tomatoes
Blanched green beans
Mixed bell pepper strips
Mini bell peppers
Kale Pesto Hummus
Thai Coconut Curry Hummus
I will definitely say we've found a new rhythm, staying at home. My husband and I have worked from home for years, so this is not new to us. But not socializing is!
Our new daily normal is starting to change every day, but a few things remain the same!
We also buy HOPE Hummus (for the name, but also the flavor!) at Krogers (Fred Meyer). It's in the "healthy" refrigerated section. Check out all the flavors!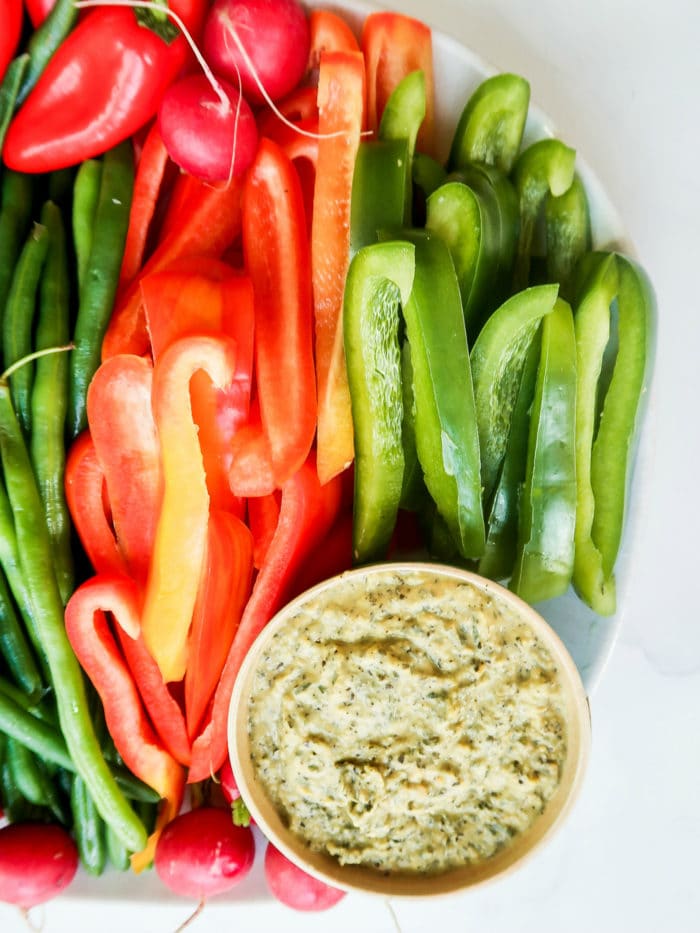 What we're doing at home:
Morning times are precious. Morning by morning new mercies I see … (I love this song). We give thanks for God's faithfulness.
Exercise is essential. We're all doing different things like yoga (I do it upstairs in my bathroom), weights in the garage, and an exercise bike in one of the bedrooms.
Cooking at home, with little eating out, has made us see how much we love it, and how much we were spending on eating out. This is a tough one, because we really want to support local restaurants (and we have a few times). For now, we are still going out and shopping, trying to get most food from our local grocery store.
Cooking creative comfort meals, like these Turkey Poblano White Bean Chili, Simple Chicken Parmigiana Recipe, One Pan Barbecue Sauce Chicken Thighs, and Apricot Greek Yogurt Chicken Thighs.
Since we just moved in a few months ago, we're still organizing this house. With four of us living here again, we are figuring out what works for us.
Organizing old photos, slides, and memory books. A big job!
And we've been listening to a lot of music!
We're also focusing on simple joys, like music, puzzles, sitting in our living room and just talking. Just talking … when is the last time we've done that?
Everyone has goals they are working toward, two of us are working on two new book ideas, one is heading to a fast-track nursing school, one is pursuing cooking and photography goals. It's been fun to see where everyone's passions lead them.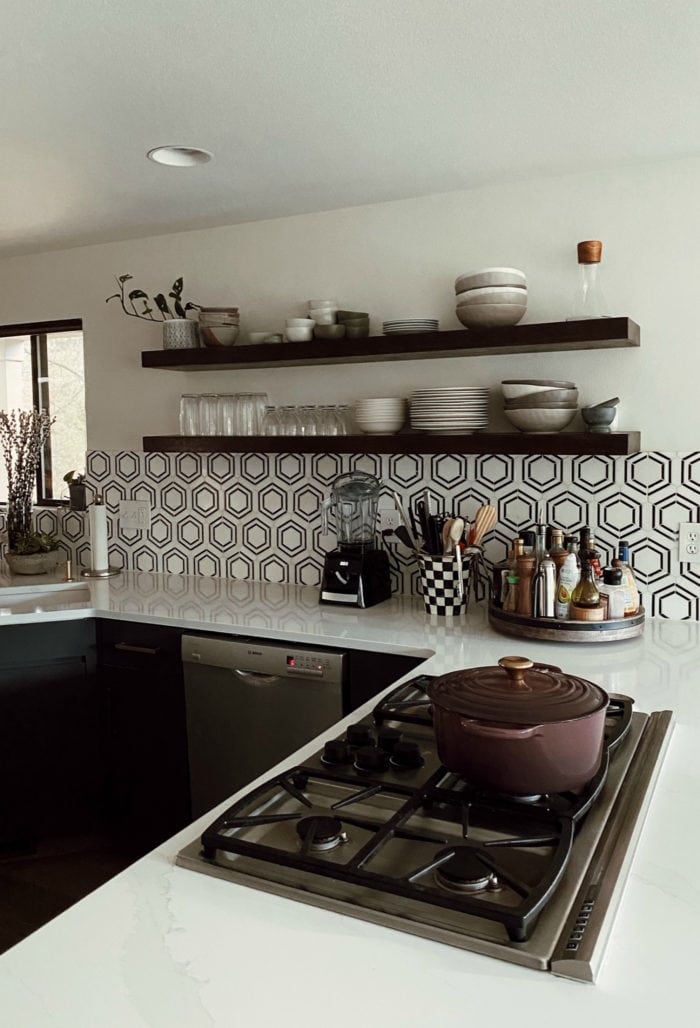 DIY Modern Kitchen (updates on Instagram!)
We're also making our home feel healthy, cozy and comforting, as we just completed our kitchen. You can see some of it in my Instagram DIY modern kitchen highlight.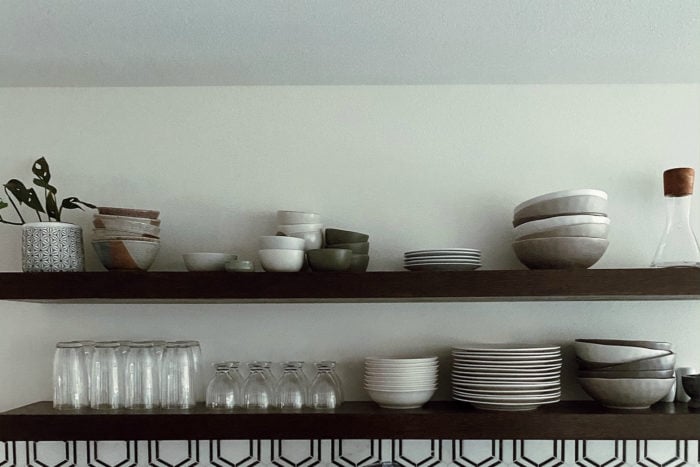 I'll be adding a complete list of what we did to the kitchen (before and after) when the time is right, here on the blog!
I hope you're inspired today, and thanks for letting me check in with you!
It's hard to believe it's the weekend! xox
Get the Recipe: Spring Hummus Crudite Recipe
Ingredients
Carrots
Radishes
Cherry tomatoes
Blanched green beans
Mixed bell pepper strips
Mini bell peppers
Kale Pesto Hummus
Thai Coconut Curry Hummus
Instructions
On a small board or tray, place 2 bowls of hummus.

Wash and cut and dry veggies and place on the board.

ENJOY!
Hello and welcome to my home and table!
I'm Sandy—lover of food, family, cooking, THE BIG BOARD, travel, and bringing people together. Through great recipes and connection around the table, we become better, stronger, and more courageous people. Feasting on Life is real, and every time we do it, we grow a little more. Read more...