Strawberry Watermelon Chicken Salad
Everyone loves Strawberry Watermelon Chicken Salad served with a light homemade basil dressing. Optional to add nuts and cheese, herbs and more berries!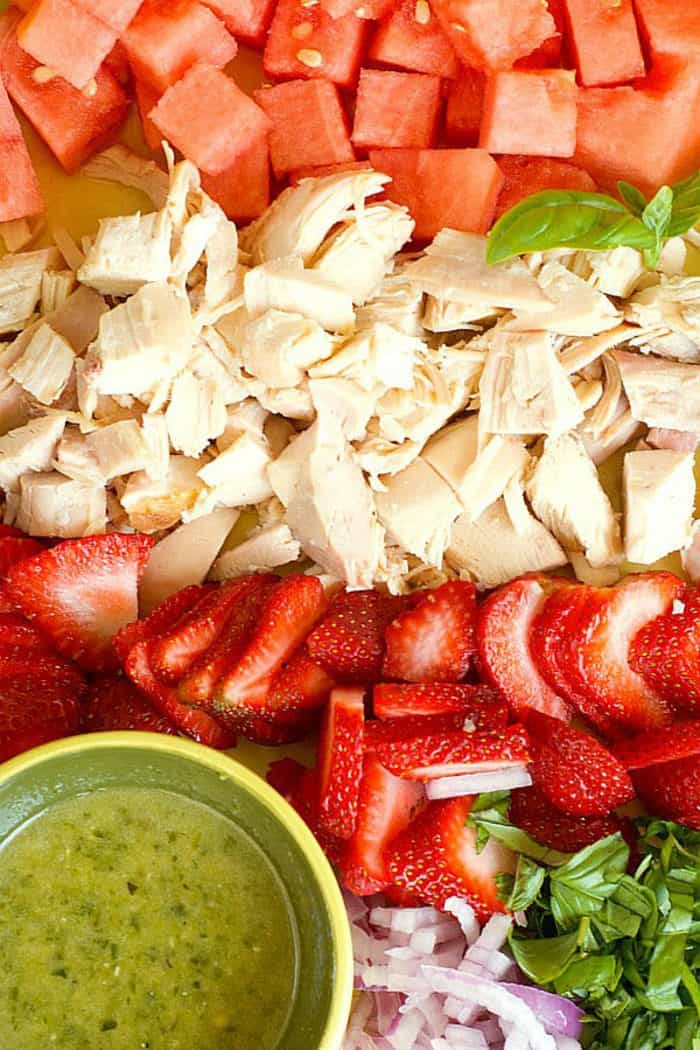 This week in Oregon the temperatures have climbed to the 90's, which means salads are on the Coughlin menu. Phew! One of our favorites?
Watermelon Chicken Salad
This chicken strawberry salad recipe, Strawberry Watermelon Chicken Salad! (If you have extra watermelon sitting around, don't forget to try my BEST Watermelon Salsa Recipe, delicious with chips, but also good on chicken and fish! Or this Watermelon Chile Lime Feta Salad – fantastic!)
In the mornings we head out to the garden to pick lettuce. Lately I've been taking a giant knife and cutting an entire head. If you wait too long, the hotter it gets, the more the lettuce wilts. It's hard to perk it up, even with cold water.
How to make chicken salad
The other thing I love to buy is rotisserie chicken. If you're on a budget, you can get several meals out of one chicken! Chop up the chicken and serve in your favorite salad!
We usually pick it off the bone, and then take the bone and make broth or soup. I have a new chicken recipe that I'll be trying tonight for dinner—a soup—and it involves lettuce. Yes, lettuce.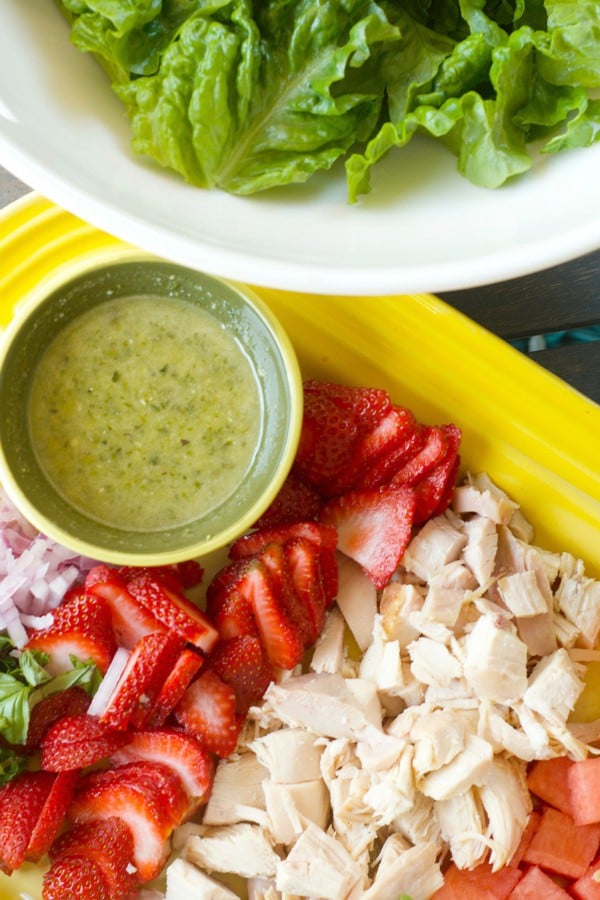 Chicken Strawberry Salad
Back to summertime entertaining. This chicken strawberry salad today is fabulous for a dinner party, a luncheon, or even a brunch. Everyone loves it at a potluck, too.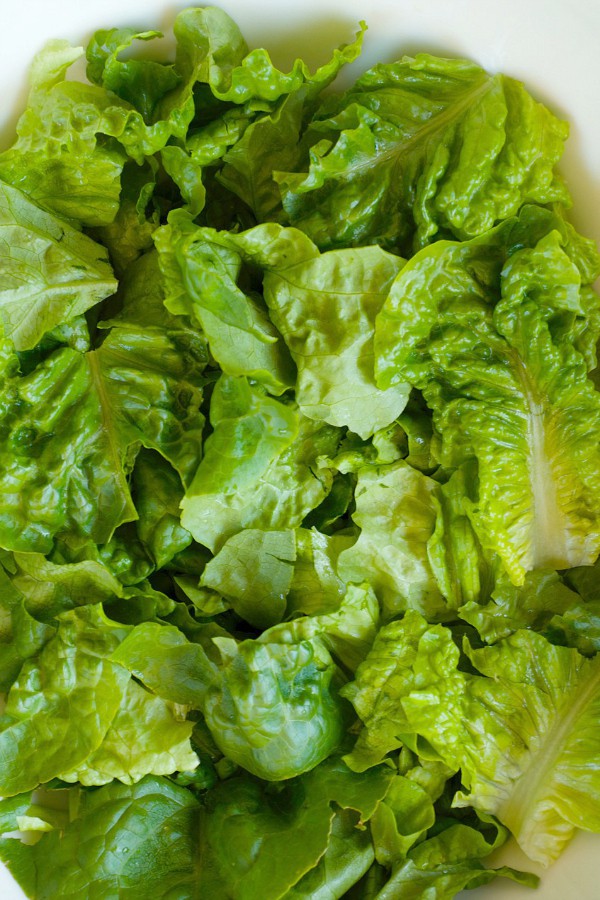 Since the heat is on its way, I say focus on a standout dish. Make sure it's healthy, not complicated, pretty (I love vibrant colors), and it tastes good.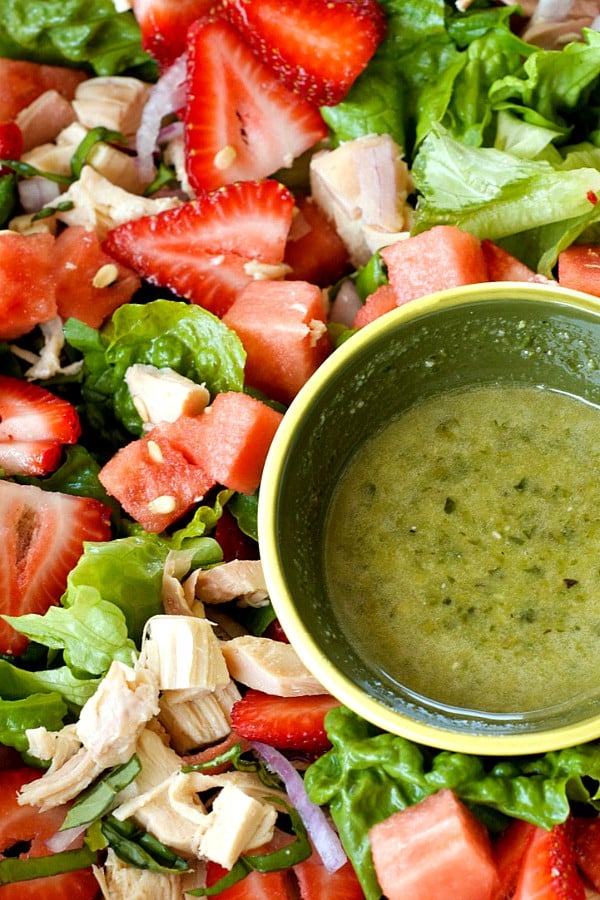 You really can't go wrong with strawberries and watermelon, right?
Strawberry Watermelon Chicken Salad
Because I had "simple" in mind, I purposely left off the nuts and cheese, which also can make a salad delicious, but sometimes can overcomplicate it with so many flavors going on. Berries are delicious, too!
Entertaining tips:

-Don't forget to delegate at least one item to each of your guests (or one per couple).

-Remind your guests to keep it simple. I think sometimes guests feel they have to get all elaborate in the kitchen when they're asked to bring something.

-Focus on one stand out dish. It's okay to not plan a full menu. Summertime entertaining should be easy!

-Supplement the menu with lots of fruit, vegetable platters, fresh baguettes and dips, and serve ice cream for dessert.
Summer meals just seem best when shared with friends over a lighter fare, tasty nibbles, grazing on healthy salads and appetizers.
What's your process for planning a small get-together when it's hot outside?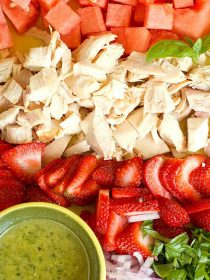 Get the Recipe: Strawberry Watermelon Chicken Salad
Keep prepared pesto in the fridge for this delicious dressing!
Ingredients
2-3 heads of lettuce, such as butter crunch, washed, dried, cut in large pieces
2 cups of watermelon, cut in small chunks
2 cups of strawberries, sliced
2 cups of rotisserie chicken, chopped in small pieces
1/2 cup red onion
1/4 cup fresh basil, finely chopped
1/4 cup pesto
2 Tbsp. honey
2 Tbsp. lime juice
Instructions
Cut the lettuce and place in a large bowl.

Cut the watermelon, strawberries, chicken, and basil. Lay on top of the greens.

Mix together the pesto, honey, lime juice.

Right before serving add the dressing; toss and serve.
More watermelon recipes: Watermelon Blackberry Lime Salad [RE], Grilled Watermelon with Smoked Salt and Jalapeno Rings [Boulder Locavore], Banana Cheesecake Watermelon Pizza [The Cookie Rookie], and Grilled Watermelon Bites [A Family Feast].
This post was originally posted May 2014.
Hello and welcome to my home and table!
I'm Sandy—lover of food, family, cooking, THE BIG BOARD, travel, and bringing people together. Through great recipes and connection around the table, we become better, stronger, and more courageous people. Feasting on Life is real, and every time we do it, we grow a little more. Read more...