Mother's Day Sunday Brunch Cheese Board
Sunday Brunch Cheese Board for Mother's Day! Add in the perfect soft boiled eggs, fruit, nuts, cheeses, bagels, Canadian bacon, crackers, and sweet treats!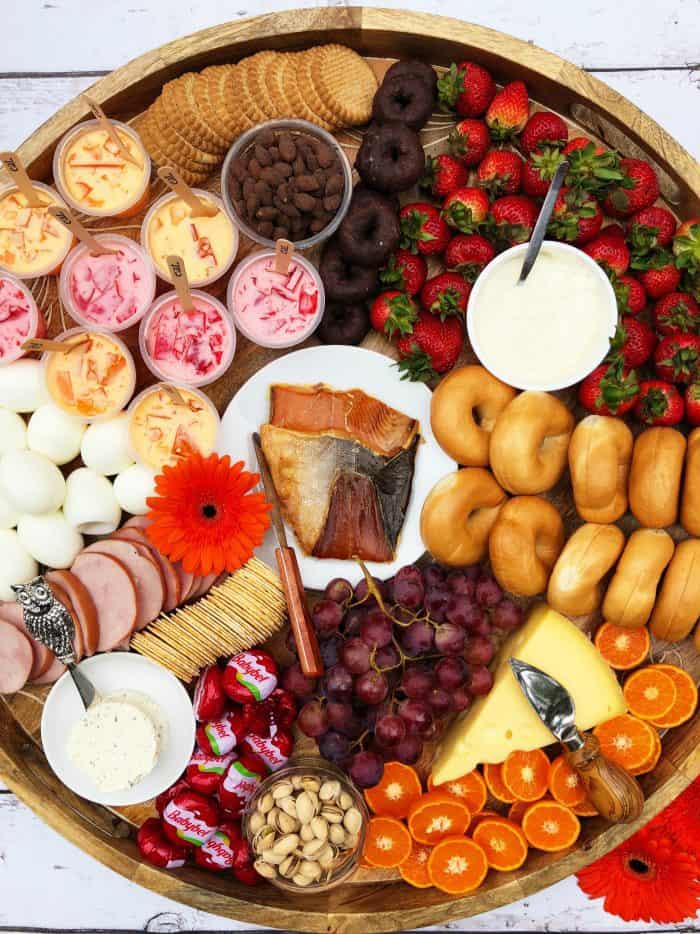 Friends, just in time for Mother's Day, this lovely Sunday Brunch Board! Make it springy and fresh, and we added little jello cups (for the kids, and because of the spring colors), but you can replace those with yogurt cups!
If you're up for it, make this gorgeous Grilled Fruit & Vegeteable Charcuterie Board. It takes some time to make, oh so elegant and delicious!
Sunday Brunch Cheese Board
Here's what you need for this board:
Ingredients
Soft boiled eggs
Canadian bacon
Jello cups or yogurt cups
Favorite cheese (we love Cabot)
Clementines, strawberries, grapes
Pistachio nuts, cocoa almonds
Mini chocolate donuts (YUM)
Favorite crackers
Babybel cheese
Boursin cheese
Cream cheese
Smoked salmon
Canelitos cinnamon cookies
In between the mundane days of life–aren't most days ordinary?—isn't life better when we watch for ways to give ourselves away?
It's life-changing when we think of others, when we extend ourselves in giving. How about hosting a Mother's Day Brunch, enjoying this cheese board with a few friends?
Mother's Day Sunday Brunch Cheese Board
This Mother's Day Sunday Brunch Cheese Board is filled with delicious foods, and the printable recipe/grocery shopping list is below. But guess what? Make it your own! What foods do you enjoy for brunch?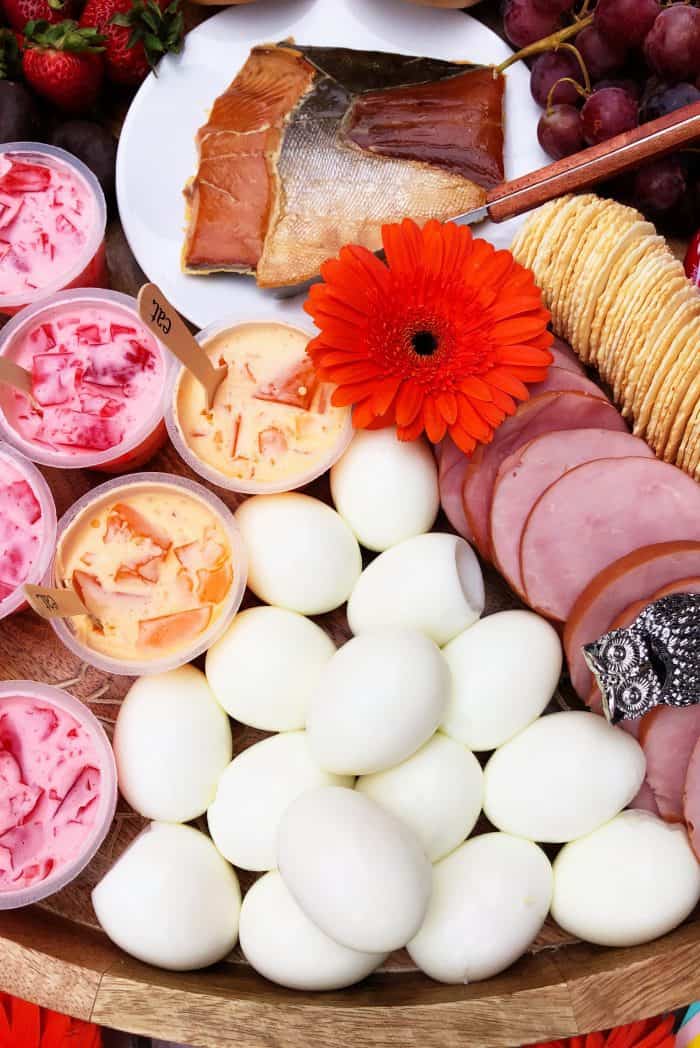 Of course we love strawberries, smoked salmon, bagels, and cream cheese. I added a few items, like jello (you can subsitute yogurt cups here) and Canelitos cinnamon cookies, but guess what else would be good?
These homemade blueberry scones.
The idea is to fill a board with great brunch foods, and gather your favorite people around it. Oh, and looking for a Virgin Mimosa? This is good, too.
There are so many ways to give, with a generosity of heart.
We miss so many opportunities when we stress about the stuff around us. Hospitality is a heart attitude, and we just need to focus, adjust, and make things happen. For me, simplicity is key.
It's fun to throw a party with all the bells and whistles, but when it comes down to it, what really counts is making an enjoyable time for my friends.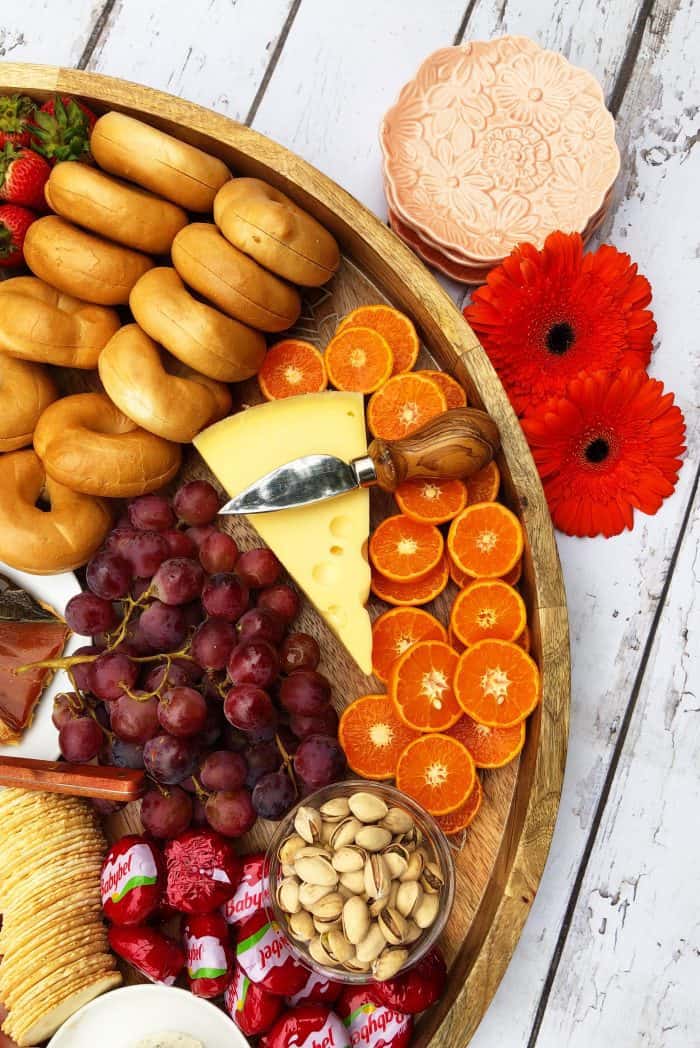 Breakfast or Brunch Cheese Board
On a somewhat boring, day, how about doing something different and bringing a few friends together to enjoy this Mother's Day Brunch Cheese Board!
The value of feeding people is that you get to see them relax, open up, just sit and be with you, and you don't owe them anything but a good time. A lot of love and fellowship!
Friends, be the people who will be kind and generous, who will care for each other, and take care of those the good Lord puts in our path.
I think the world needs more cheese boards, don't you?
They are big and round and perfect and homemade, and they are delicious for gathering people around!
More fun ideas:
Make sure and grab all of my The Big Board ideas!
Easy Baked Salami Chips [RE], Cheesy Egg Casserole Brunch Recipe [Crazy for Crust], and Smoked Salmon Brunch Taco Bar [Noble Pig].
28-inch Charcuterie Board
Friends, here are the boards that I LOVE. A "lip" is the secret to the best charcuterie or dinner board, because the food does not fall off. [This post has affiliate links. Every purchase from these links supports RE at no extra cost to you. Thank you!]
Here are the affiliate links:
LARGE Hand-Carved Gabrielle Tray, Large – 28.5 inches round.
LARGE Hand-Carved Gabrielle Tray (gray) – 24 inches round.
MEDIUM Hand-Carved Vine Round Tray (white washed)
SMALL Hand-Carved Gabrielle Tray (gray) – 18 inches.
Rememember it says it is "not food safe," so you need to prepare the board by either laying down parchment paper under the food, or you can "season" it like we did.
How to season a Charcuterie Board
If a wood board says it "not food safe," you can lightly sand it down with sand paper, and rub down with beeswax and mineral oil.
Follow along how to season a charcuterie board for the details, but we used this butcher block and cutting board oil conditioner after we lightly sanded the board down.
NEW 20″ BOARD FROM TARGET
Here's a 20-inch wood board from Target with a lip around the outside!
I also found this on Amazon, a LARGE charcuterie board, but it doesn't have a lip. This Pine Extra Large Charcuterie Board is 22 inches round.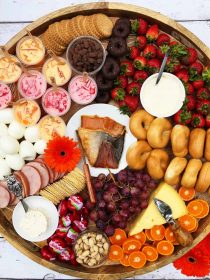 Get the Recipe: Mother's Day Sunday Brunch Cheese Board
Ingredients
12 soft boiled eggs
Canadian bacon
Parfait jello cups, or use yogurt cups
Cabot cheese
Clementines, cut in half
Pistachio nuts
Cocoa almonds
Mini chocolate donuts
Strawberries
Favorite crackers
Babybel cheese
Boursin cheese
Cream cheese
8 oz smoked salmon
Red grapes
Canelitos cinnamon cookies
Instructions
On a large platter, either lay down parchment paper or make sure the "board" is food safe. You can season with bees wax and mineral oil.

Prepare the soft boiled eggs ahead of time and refrigerate so they are chilled.

Set out small dishes and add the cream cheese, nuts, and soft cheese. Place the smoked salmon on a plate in the center of the board.

Arrange the food items in rows around the small bowls.

Garnish with a Mother's Day flower and serve!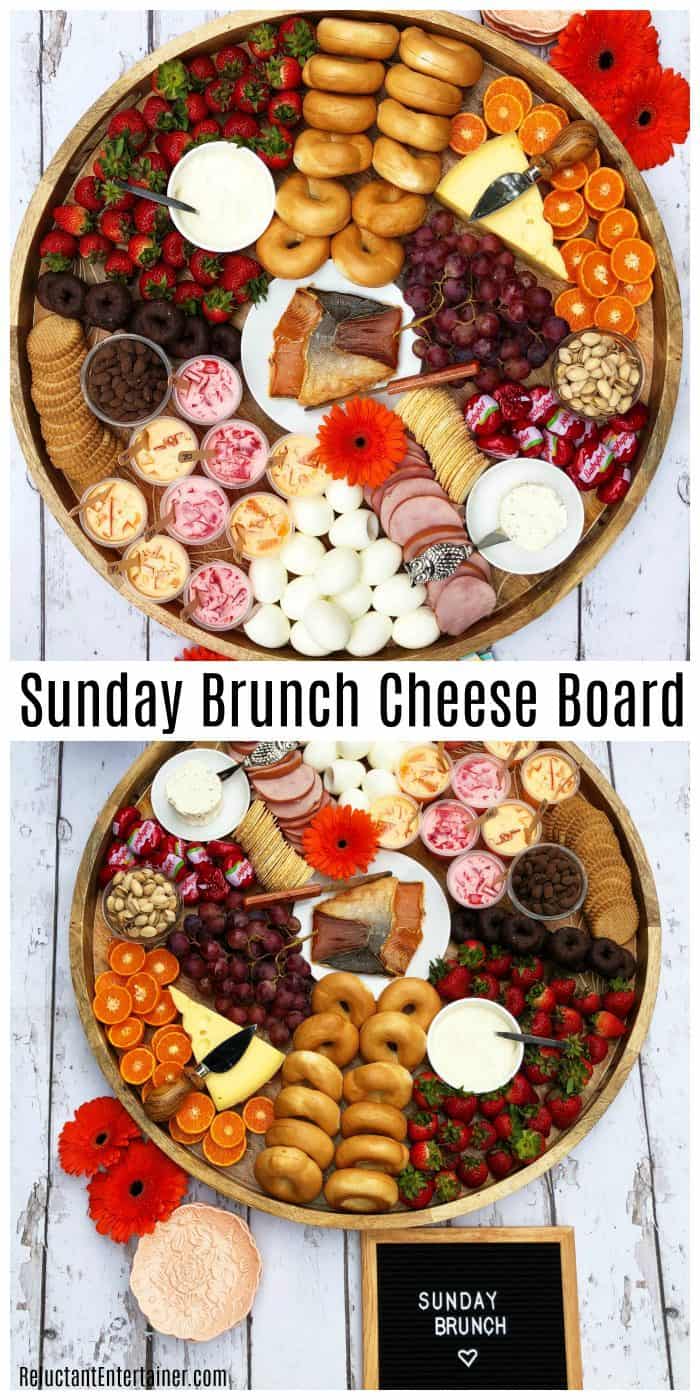 Hello and welcome to my home and table!
I'm Sandy—lover of food, family, cooking, THE BIG BOARD, travel, and bringing people together. Through great recipes and connection around the table, we become better, stronger, and more courageous people. Feasting on Life is real, and every time we do it, we grow a little more. Read more...