Texas Toast Sloppy Joes
Forget the buns, go with thick-cut bread the next time you're in the mood for comfort food! These Texas Toast Sloppy Joes are quick and easy to make, and with thick-cut bread, they're sloppy, meaty, and delicious!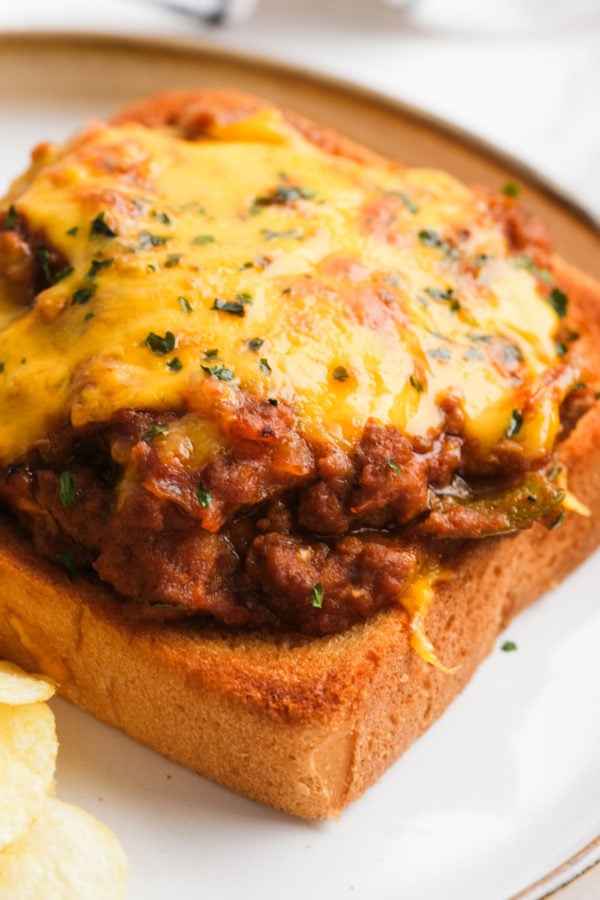 Who doesn't love a good, sloppy sandwich? I sure do, and when I'm in the mood for a meaty, saucy, and flavor-packed sammich, I make Texas Toast Sloppy Joes. I love using thick-cut soft bread for these sandwiches because the bread soaks up all the juices, and the bread is heartier than a little hamburger bun, making these sandwiches filling AND delicious.
Texas Toast Sloppy Joes
I love making a big batch of the sloppy Joe meat and keeping it hot in the slow cooker so that guests can make their own sandwiches. This is a real crowd-pleaser for potlucks and all kinds of events. It's also an affordable meal to make – your biggest expense will be the ground beef, and if you buy it on sale, you can save a few bucks.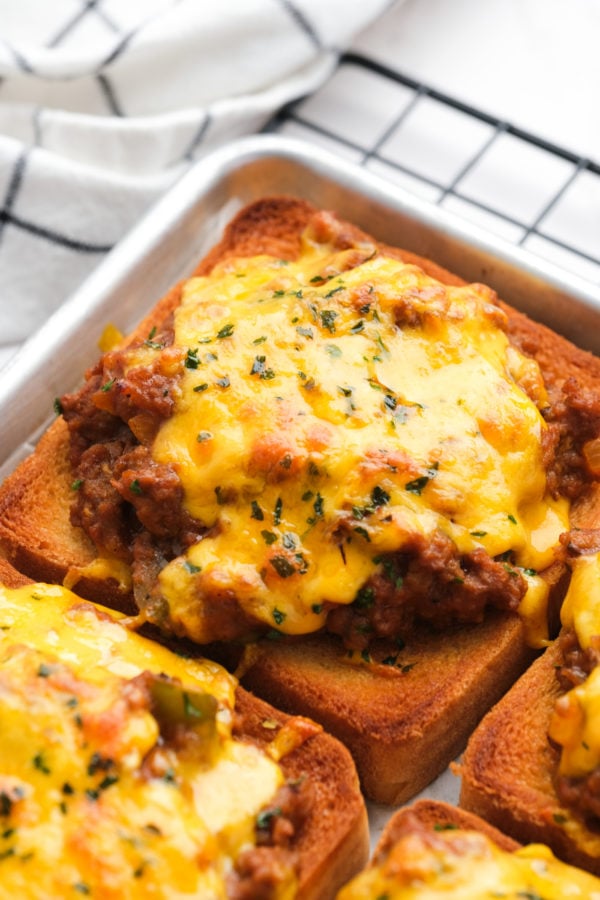 Texas toast is available just about everywhere. It is soft, flavorful bread with a nice crust on it, and the thicker slices mean that you can really load on the meat filling without worrying about the sandwich falling apart.
You can even make a double batch of the meat and freeze it for another meal later. It freezes like a dream in a freezer-safe plastic bag, or vacuum seal it to store it even longer.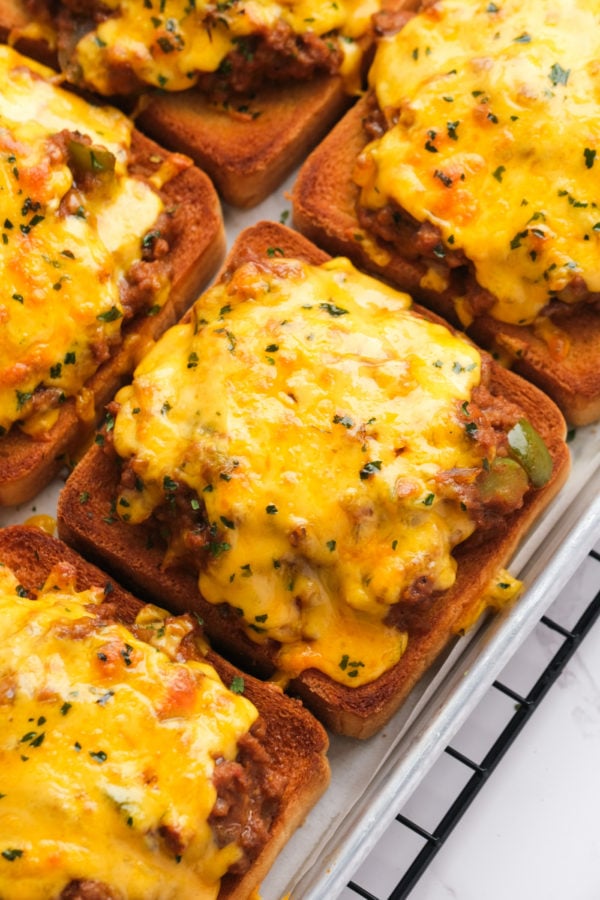 With a touch of sweetness and plenty of savory flavors, Texas Toast Sloppy Joes is a quick and easy meal that only needs 1 skillet! Wondering what to make for dinner? Try this recipe – I know you'll love it!

Why I love this recipe
It is quick and easy to make, and everyone loves it!
You can make a double batch and freeze the extra for a quick meal another time.
This is the perfect sloppy Joe recipe for potlucks, parties and gatherings of any kind.

Gather these ingredients
Lean ground beef
Onion – Yellow or white onion; chopped.
Green bell pepper – Diced.
Garlic – Fresh garlic cloves; minced.
Ketchup
Tomato sauce – 1 small can.
Brown sugar
Worcestershire sauce
Yellow mustard
Chili powder
Paprika
Salt and pepper – To taste.
Texas toast – You'll need 8 slices of thick-cut bread.
Butter – To toast the bread.
Extra sharp cheddar cheese – Grated
Dried parsley – Optional.

How to make the best Texas Toast Sloppy Joes
Brown the ground beef over medium-high heat in a large skillet until the meat is cooked.
Add the diced onions, diced bell peppers, and minced garlic to the cooked meat and saute..
Add the ketchup, tomato sauce, brown sugar, Worcestershire sauce, mustard, chili powder, and paprika and stir. Season to taste with salt and pepper.
Simmer the sloppy Joe meat mixture for 5-7 minutes.
While the meat is simmering, spread the butter on one side of each of the slices of bread and toast them butter side down in a skillet or butter side up under the broiler.
Top each slice of bread with an equal portion of meat, top with cheddar cheese, and sprinkle lightly with dried parsley, and put them under the broiler of your oven for 1 minute or until the cheese melts.
Enjoy your Texas Toast Sloppy Joes open-faced, or assemble them into sandwiches and enjoy!
Tips & substitutions
You can make the meaty filling up to 2 days in advance. Or, make a double batch and freeze half for a meal another time.
Open-faced sandwiches are a fun way to eat these, but for the real Texas Toast Sloppy Joes experience, eat them like a sandwich.
Grab some extra napkins; they're messy!
Control the sweetness by reducing the sugar.
Like spice? Add a chopped jalapeno when you add the bell pepper.
No ground beef? Try this sloppy Joe recipe with ground pork, chicken, or turkey.
You can use red, green, orange or yellow bell pepper in this recipe.

Serving suggestions
You don't need too much to make this a full meal – add some coleslaw, pickles, or a handful of chips to round out your meal. If you'd like a heartier feast, add a side of Buttermilk Cornbread, roasted vegetables, or mashed potatoes to your meal.

Storage
Store any leftover sandwiches tightly wrapped in the fridge for 3-4 days. You can keep the bread fresh by wrapping it in the plastic bag it came in and then popping it into the freezer. To keep the meat or bread longer, wrap them in freezer-safe plastic and store them in your deep freezer for up to a month.
Check out these awesome family-friendly meals while you're here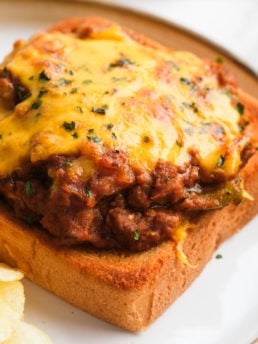 Get the Recipe: Texas Toast Sloppy Joes
Grab some napkins and dig into these Texas Toast Sloppy Joes! They're meaty, saucy, cheesy, and delish, and so easy to make!
Ingredients
1 lb. lean ground beef, or ground turkey or ground chicken
1 onion, chopped
½ green pepper, chopped (or any bell pepper)
3 cloves garlic, minced
½ cup ketchup
1 8 oz can tomato sauce
2 Tbsp brown sugar
1 Tbsp Worcestershire sauce
1 Tbsp yellow mustard
½ teaspoon chili powder
1 teaspoon paprika
Salt and pepper to taste
8 slices of thick-cut toast
Butter, for toasting the bread
2 cups extra Sharp Cheddar cheese, grated
Dried parsley
Instructions
In a large skillet, cook the ground beef over medium-high heat until browned and cooked. Add the diced onions, bell peppers, and minced garlic to the cooked meat. Sauté for about 10 minutes.

Add in the ketchup, tomato sauce, brown sugar, Worcestershire sauce, mustard, chili powder, paprika, salt, and pepper. Stir.

Allow the Sloppy Joe mixture to simmer over low heat for about 5-7 minutes,

Prepare the toast while the meat mixture is simmering.

Spread butter on 8 slices of thick bread (for open face sloppy joe's).

You can either broil in the oven or toast on the stovetop, but placing the buttered side down on a skillet or griddle. Toast them until golden brown and crispy. Repeat with the remaining slices.

To add cheese, add a layer of shredded cheddar cheese on top of the Sloppy Joe filling before assembling the sandwich. Sprinkle lightly with dried parsley. Broil for a minute or two until the cheese melts.

Assemble the buns or bread (either open face or 2-sided) with the meat.

Pair with a side of coleslaw, pickles, or your favorite chips for a delicious and satisfying meal.
Calories: 406kcal, Carbohydrates: 44g, Protein: 26g, Fat: 14g, Saturated Fat: 7g, Polyunsaturated Fat: 1g, Monounsaturated Fat: 4g, Trans Fat: 0.2g, Cholesterol: 63mg, Sodium: 796mg, Potassium: 405mg, Fiber: 2g, Sugar: 10g, Vitamin A: 552IU, Vitamin C: 8mg, Calcium: 253mg, Iron: 4mg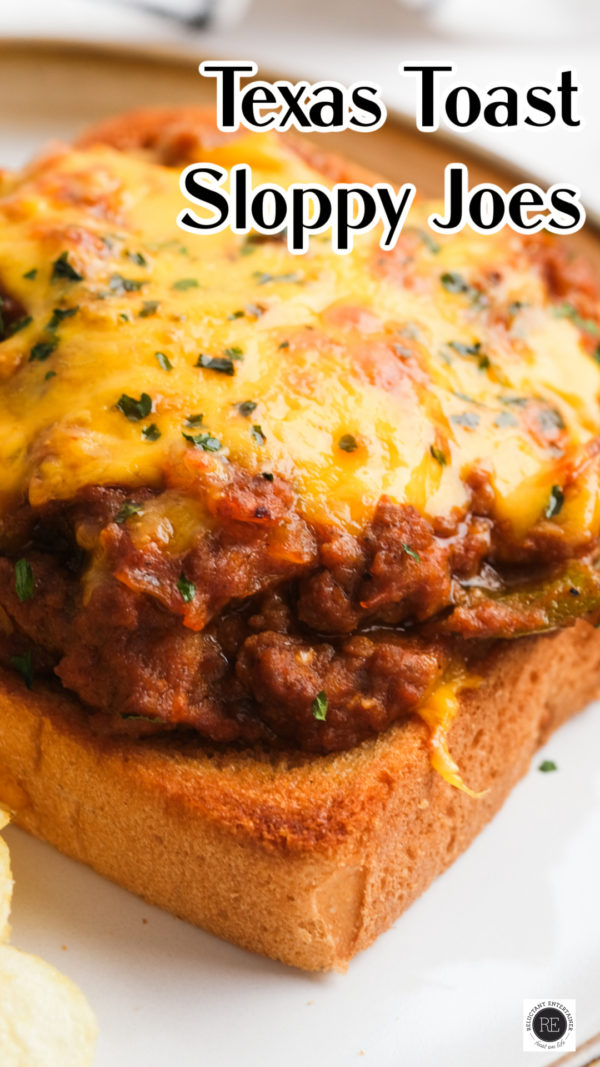 Hello and welcome to my home and table!
I'm Sandy—lover of food, family, cooking, THE BIG BOARD, travel, and bringing people together. Through great recipes and connection around the table, we become better, stronger, and more courageous people. Feasting on Life is real, and every time we do it, we grow a little more. Read more...