Italian Tortellini Skewers Recipe
This Italian Tortellini Skewers recipe is a simple, yet elegant appetizer made with fresh mozzarella, tomatoes, olives, tortellini and more!
Friends, these simple Antipasto Tortellini Skewers are made with your favorite tortellini. You can buy it fresh or frozen; cook according to package directions and cool and set aside. You may also want to try this similar recipe: Tortellini Sausage Skewers Appetizer on my blog.
How to make Tortellini Skewers
To make these tasty Italian Tortellini Skewers recipe, thread 1 piece of tortellini followed by a cherry tomato, cheese ball, sausage slice, tomato, another tortellini. Then add a piece of folder basil, another tortellini, and a mozzarella cheese ball. End with another tortellini and your favorite olive! Repeat and make a bunch of these for a fun party!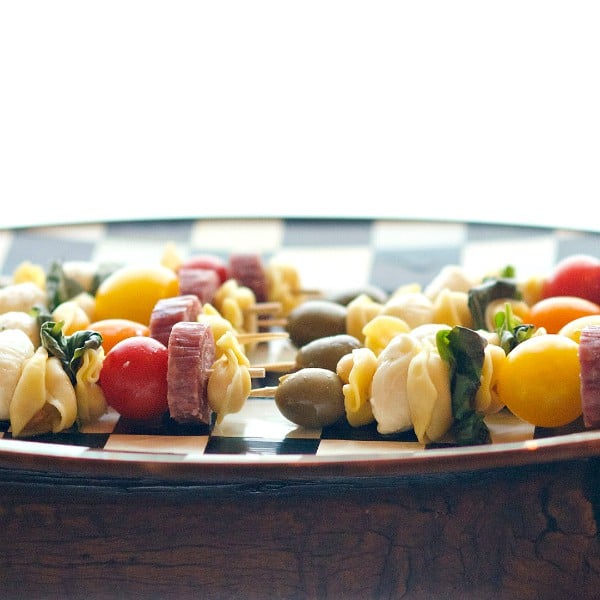 Italian Tortellini Skewers Recipe
For small appetizers, use 6″ sticks!
This Italian Tortellini Skewers recipe makes a great quick and easy appetizer for parties, cheese boards or charcuterie boards, and potlucks. We love them for summer BBQs and kids really love these!
Grab and eat on the go, each skewer is loaded a delicous bite of FLAVOR. You can drizzle with Italian Dressing or balsamic glaze! So good!
How to serve tortellini skewers
Well, my favorite way to serve these tasty treats is on a charcuterie or cheese board. Grab The Big Board for summer entertaining, if you don't have one. They are superb because not only are they food safe, but they have a lip around the outer edge so the food stays on the board. It's a brillian design.
You can also serve these on a platter by themselves, and drizzle with a Lemon Balsamic Dressing Recipe, or with Delallo's Balsamic Glaze. This glaze is amazing, if you haven't tried it. It's our go-to for appetizers. The other brands don't quite compare to the flavor, and they are runnier. The nice thick glaze that Delallo serves … just wow.
You can also serve the skewers with toasted ciabatta bread.
It's great for upcoming Mother's Day, Memorial Day, Father's Day, and Fourth of July–perfect for summer!
The skewers are easy to make, transport, and eat, if you're invited on a picnic or to a potluck. Plus, they're insanely adorable, and they are devoured quite quickly!
Oh, and did I mention, they make a delicious, light lunch?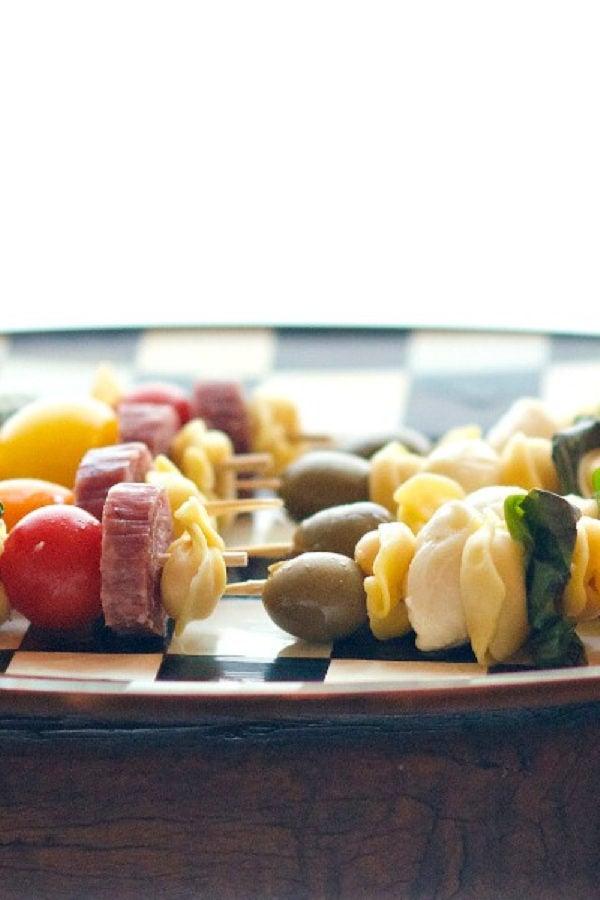 Create your own spin of antipasti skewers
Create your own spin on these Antipasti Skewers. Basically anything you like on an antipasto platter or charcuterie board, you can use mostly for this appetizer.
Tortellini–We prefer cheese tortellini, and use either fresh or frozen varieties. Optional to leave the tortellini out if you are wanting a gluten-free appetizer.
Fresh Mozzarella–Mini mozzarella balls are the best on these skewers. They are creamy and pair perfectly with the tortellini, tomatoes, and basil. I buy them at Costco! Also feel free to use cubes of Asiago, Mozzarella or Provolone if needed.
Meat–Thin slices of salami can also be used (fold into quarters), or add prosciutto. You can also make these meatless. How about making a board half vegetarian and half with meat? Then everyone at the party can enjoy them.
Basil–Fresh basil just adds to the flavor and makes the skewer very fresh. For color, if you don't have basil, you can always add arugula or a spinach leaf.
Tomatoes–use small cherry tomatoes, mix and match with yellow and red.
Olives–Kalamative olives are my favorite, but you can also add artichoke hearts, sun-dried tomatoes, roasted red peppers, and even chunks of bright colored bell pepper chunks! All great options for these skewers.
I like to mix and match textures and flavors for colorful and balanced bites of goodness!
Yes, please!
Are you stuck in a rut?
Sometimes we get stuck in a rut, myself included. It may seem that life isn't always interesting, packed with fun and adventure. But, as Bob Goff says in his book, Love Does, we need to keep our lives fueled by love. Not just thoughts and feelings of love. But true action. [Buy the book, here.]
I will continue to entertain and inspire hospitality here, and share yummy recipes. I know the art of practicing hospitality is beautiful, lasting, and meaningful. We can choose paths that are good, or we can choose paths that are not good. The next step once we choose a good path is to step out and actually take action–making something happen.
Make that invite, don't just talk about it.
And this recipe, today, is a fun appetizer to start off the party with!
Enjoy!
More antipasti appetizer recipes:
Cheesy Focaccia Charcuterie Sliders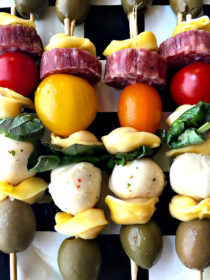 Get the Recipe: Tortellini Skewers
Ingredients
1 8 oz pkg Three-cheese tortellini (I use DeLallo)
¼ pound salami, cut in small chunks or fold into quarters
1 cup fresh mozzarella balls
1 cup green olives
Fresh basil leaves
1 cup cherry tomatoes
Small toothpicks or skewers, we use 6-inch
Balsamic glaze or Italian dressing, optional
Instructions
Cook the tortellini according to package directions. Drain and set aside.

Cut salami into bite-sized cubes or fold slices into quarters.

Arrange ingredients and pierce each ingredient onto the skewer, sliding down towards the bottom of the skewer. You'll have enough tortellini to place 3 on each skewer.

Stack skewers with ingredients and lay on a platter. Option to drizzle with Italian dressing or balsamic glaze before serving.
Hello and welcome to my home and table!
I'm Sandy—lover of food, family, cooking, THE BIG BOARD, travel, and bringing people together. Through great recipes and connection around the table, we become better, stronger, and more courageous people. Feasting on Life is real, and every time we do it, we grow a little more. Read more...