Tortellini Skewers and "Love Does"
These Tortellini Skewers are a delightful party appetizer, potluck dish, or game day snack!
I've been reading the Psalms, how God charts the roads that we take. I truly believe that, and I also can't help but think that we all have dreams of what roads we'd like to take – but we don't do it. Finishing Bob Goff's Love Does has brought great insight, laughter, and inspiration to me, because he challenges us to get to the place of finding and doing things in life that have God's footprints on them.
January seems to be the introspective month of discipline, making goals, getting organized, eating healthy — and trying to "feel good" about ourselves. But what about finding a new path, something that awakens our souls, brings happiness (without money or stuff), and grows us up a bit?
I've been following this blog, and even though the cancer hits close to home for me, having lost my mama, I have loved this man's writing about his wife, Down Syndrome baby, and the precious gift of life.
Love Does.
Sometimes we get stuck in a rut, myself included. This year, I don't want to be in a rut. It may seem that life is always interesting, packed with fun and adventure, for me. Which is true. But, as Bob says, in Love Does, I want my life to be fueled by love. But not just thoughts and feelings of love. Action.
I will continue to entertain and inspire hospitality here, and share yummy recipes. I know the art of practicing hospitality is beautiful, lasting, and meaningful. We can choose paths that are good, or we can choose paths that are not good. The next step once we choose a good path is to step out and actually take action.
The other thing I'm passionate about is helping my husband with the work he does with bullying. It's never easy, and in fact, it's one of the hardest things we've ever done, starting this organization.
It's a path that requires action, not just talking about it. It's a way to step out and make our faith simple, real, and life-changing for others.
So, what are your dreams for 2016?
My husband and I have a few, that I'll eventually share about here on RE. For now, I do plan to text a few friends and get a date on the calendar to share a meal together.
Many times, the table is where stuff really happens!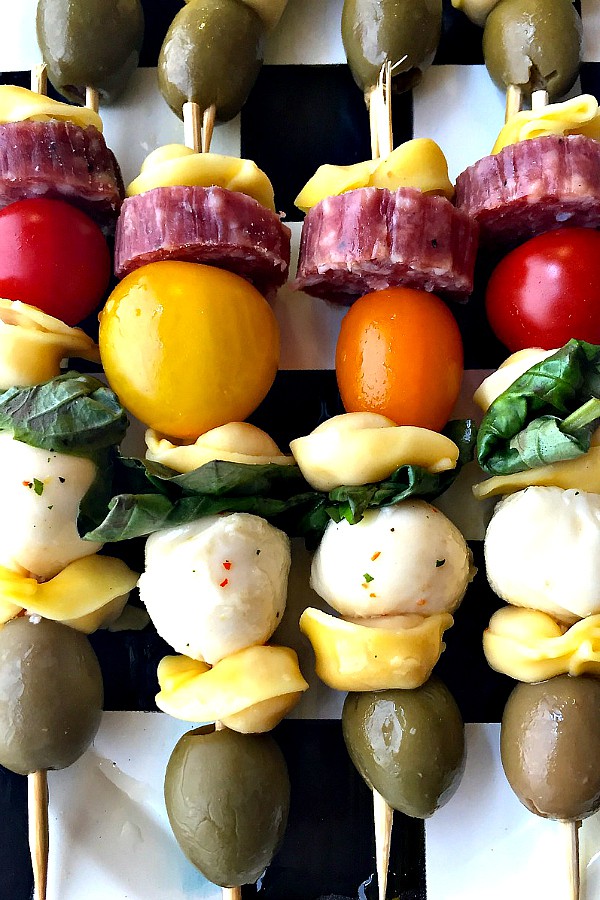 Tortellini Skewers.
I recently made these Tortellini Skewers; they're a great appetizer to serve at a potluck, or to bring to a game day party!
They are SO easy! Prep work it to boil the tortellini, and gather the rest of the antipasti ingredients.
Then, grab one of your kids, or your hubby, to help assemble the skewers.
I personally don't like the dressing on top, but that is an option to serve with Italian dressing.
ENJOY!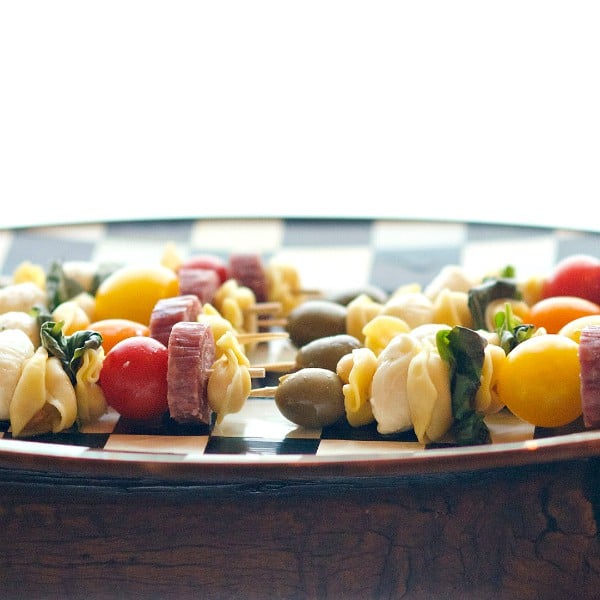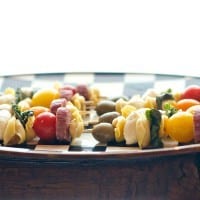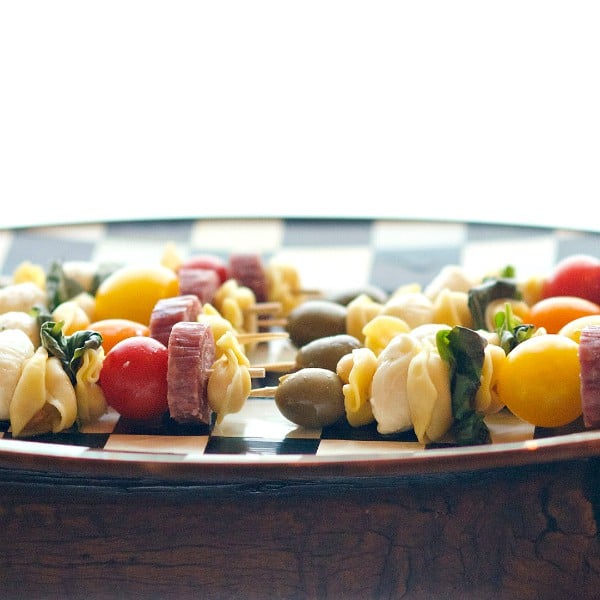 Print Recipe
Tortellini Skewers
Ingredients
1

8.8 oz pkg of three-cheese tortellini (I use DeLallo)

1/4

pound

salami

cut in small chunks

1

cup

fresh mozzarella balls

1

cup

green olives

Fresh basil leaves

1

cup

cherry tomatoes

Small toothpicks or skewers
Instructions
Cook the tortellini according to package directions. Drain and set aside.

Cut salami into bite-sized cubes.

Arrange ingredients and pierce each ingredient onto the skewer, sliding down towards the bottom of the skewer. You'll have enough tortellini to place 3 on each skewer.

Stack skewers onto a platter. Option to drizzle with Italian dressing or balsamic glaze before serving.
More easy appetizer recipes:
Walnut Endive Appetizer {gluten-free}
Pesto Goat Cheese Stuffed Mini Peppers