Spicy Coconut Curry Turkey Meatball Recipe
Enjoy Spicy Coconut Curry Turkey Meatball Recipe for a delicious weeknight meal. The rich ground turkey meatballs are cooked in a coconut curry broth, later to be served over rice. Can you freeze meatballs? This recipe is excellent for freezing extra meatballs for later use. You can also make Baked Turkey Meatballs.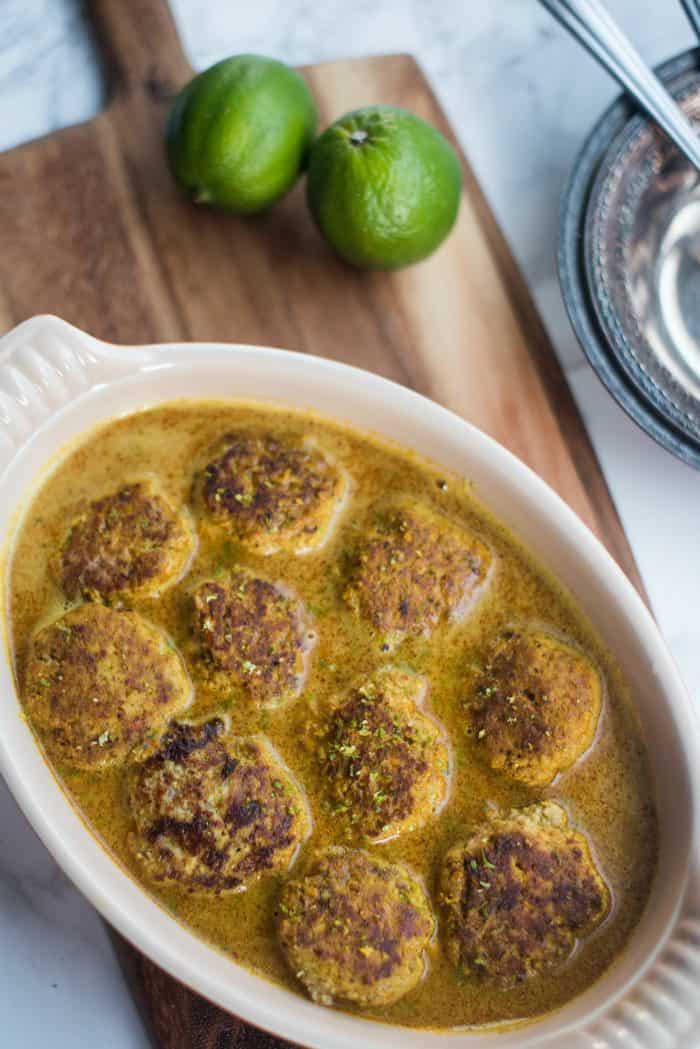 Are you a turkey meatball lover? Then you'll love this ground turkey meatballs recipe, because it not only makes a lot, you can make ahead and freeze for menu meal prep, or a future dinner party!
Ground turkey meatballs
Or, cut the recipe on half for fewer servings! Freeze and serve later. We love to use ground turkey over ground beef. (Also love these 4 Ingredient Turkey Sweet Potato Meatballs – yum!)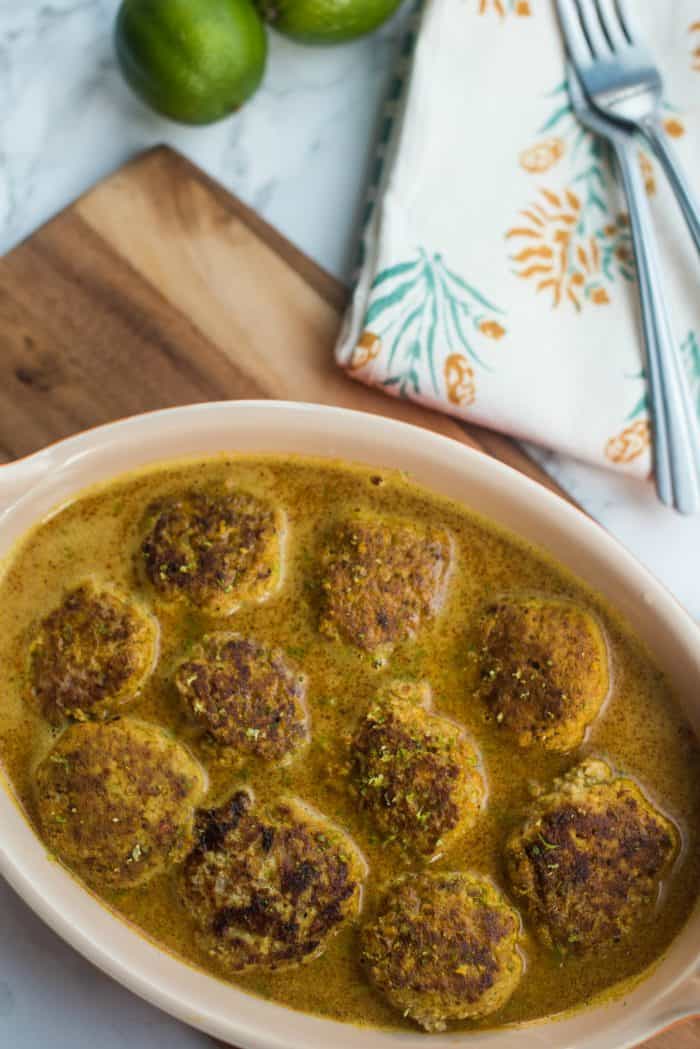 On a stovetop, cook the meatballs, spooning a delicious coconut curry broth over the top. You can serve the meatballs on rice, or add more stock for more broth.
Spicy Coconut Curry Turkey Meatball Recipe
For me, I love a spicy meatball, so this Spicy Coconut Curry Turkey Meatball Recipe is my favorite with melted Parmesan cheese on top. A meal or a snack :)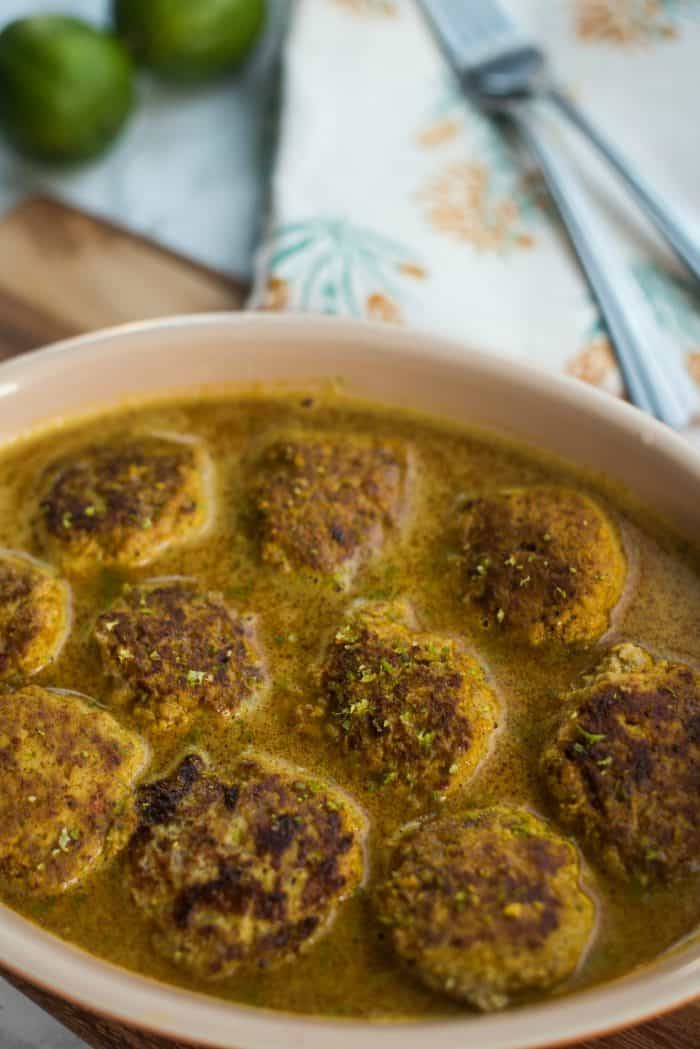 I can't believe it's April. For me, this will be the month for less. Less everything. Later this week I'm sharing about my friends new book, Simple Organizing, which has inspired me to do some spring cleaning. Our house is feeling a little cramped, so I'm working toward thinning out and reorganizing.
March was a whirlwind month full of holidays and a lot of hosting! We had so many friends come in to town for spring break, it was a blast. But now it's time to hunker down and simplify.
I'm not sure about you, but when my space is not so cluttered, I have more energy and ideas whirling around in my head. We are made to create. And the discipline that comes with creating doesn't always seem pleasant, but the rewards are great!
Shauna Niequist says, "My nature is more, but this season is less. Paring down to barer ones, making space, scraping away. We love big stories, ones that involve passports, mountains, and photo-ops. But sometimes being courageous means less, quieter, stiller, smaller."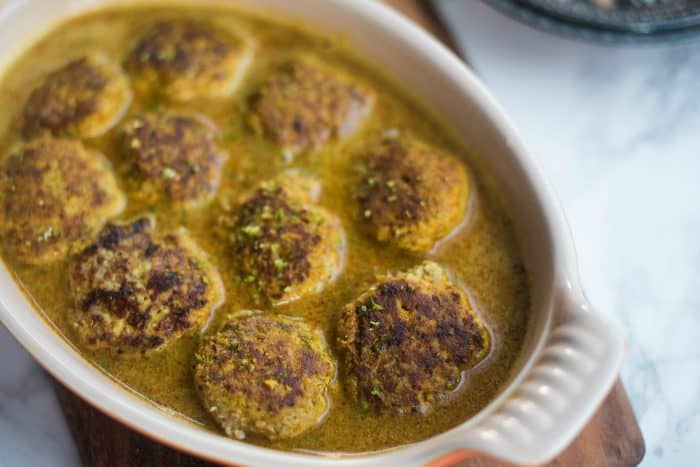 So today I"m staring with this easy, simple Turkey Meatball Recipe. Made with a delicious broth. Served over rice.
I believe in April, new ideas and opportunties will come to life, but first, I'm clearing away and making excess space for the discipline of creating.
This recipe makes quite a few meatballs, so make them for meal prep, freeze them, or make them for a dinner party! Or, cut the recipe on half for fewer servings!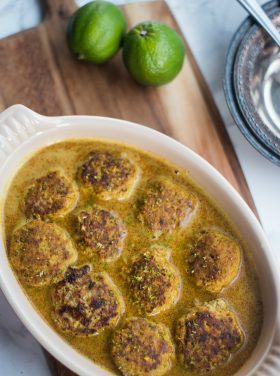 Ingredients:
Meatballs:
1 onion, finely chopped
1/4 cup olive oil
1 Tbsp. minced garlic
2 tsp. minced ginger
1 1/2 tsp. chili flakes
2 pounds ground turkey
3 eggs
2/3 cup milk
1 cup almond meal
2 1/2 tsp. salt
3 tsp. pepper
1/3 cup olive oil (for cooking meatballs in pan)
Curry Broth:
1 1/2 tsp. cardamom
2 tsp. turmeric
1/2 Tbsp. cinnamon
1 Tbsp. chili powder
1 lime, juiced and zested
2 tsp. fresh ginger
2 cup chicken stock (or more for soup)
1 can coconut milk
Garnish: Fresh lime zest
Directions:
In medium saucepan, heat 1/4 cup of olive oil and add onions, cooking until translucent. Reduce heat to medium low and add chili flakes, garlic, ginger, and salt and pepper to taste. Sauté on low, until slightly golden and size is reduced, about 5-8 minutes.
In small bowl, add almond meal, and create an indent in center. Add milk, and mix together until texture is fluffy. Set aside.
In large mixing bowl, add ground turkey, and make a crater in the center. Place almond meal mixture, eggs, salt and pepper, and the sautéed onions in the center. Mix well.
Roll turkey into 2 inch balls and place on parchment paper.
In medium sauce pan, add all curry broth ingredients, and bring to a simmer on medium-low heat. Reduce to lowest temperature and set aside.
In medium sauce pan, heat 3 Tbsp. olive oil. When hot, add in about 8 meatballs around the edges of the pan (could be more or less depending on circumference of pan)—not the center, in order to leave space for flipping—and cook on medium-low heat. Make sure the oil is evenly distributed at the bottom as meatballs are cooking. Cook for about 3 minutes before flipping. Tops should be slightly golden.
After flipping meatballs, reduce heat slightly and cook for 5-8 more minutes. During this time, add about 1/2 cup of the broth to the meatballs, spooning broth over the top occasionally. Continue on medium-low heat until meatballs are fully cooked.
Repeat this until all meatballs are done. Serve in broth with fresh lime zest on top, and your favorite rice on the bottom, or remove excess broth and place in freezer-safe container for freezing.
All images and text ©
More recipes: Ground Turkey Stroganoff Baguette Sandwiches [RE], Crock Pot Turkey Meatballs Recipe [Well Plated], and Pressure Cooker (Instant Pot) Turkey Meatballs [Pressure Cooking Today].