Tuscan Tortellini Salad
This Tuscan Tortellini Salad is not just mouth-wateringly delicious, but it's also a fun way to serve a pasta salad! Say goodbye to tossing everything into a bowl and then serving, and display it, instead, on a board! This way, everyone can mix and match to get all the ingredients they love the best, and I show you step-by-step how to do this!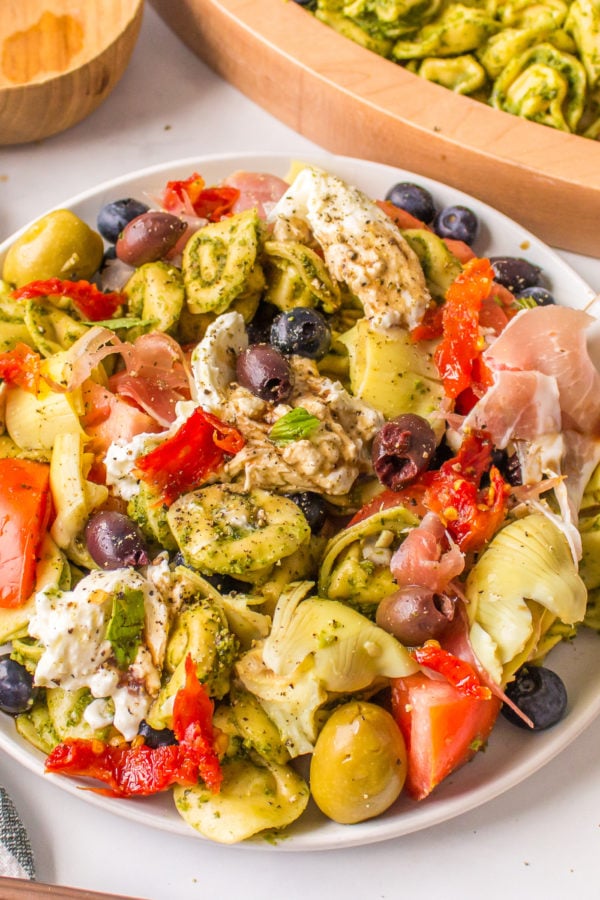 I love this salad! Not only are pasta salads one of my favorites but this particular salad is filled with big, bright Italian flavors and ingredients. From tender tortellini to artichoke hearts, sun dried tomatoes, burrata cheese, and more, there are plenty of interesting ingredients in this salad.
Tuscan Tortellini Salad
The dressing on this salad is made with pesto. You can make your own pesto or use your favorite store-bought brand. You can also add more tasty ingredients – see my suggestions below.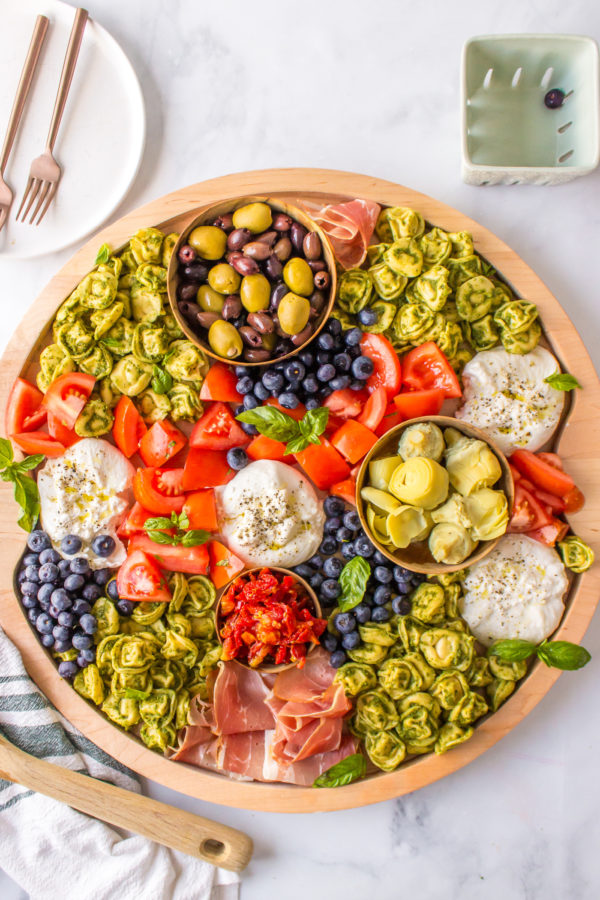 Serve this stunning Tuscan Pasta Salad on my 20-inch Big Board or another large platter, or toss it together in a large bowl and serve it that way. No matter how you present this salad, everyone will love it! [This photo below is this recipe before we came out with our food safe Big Board.]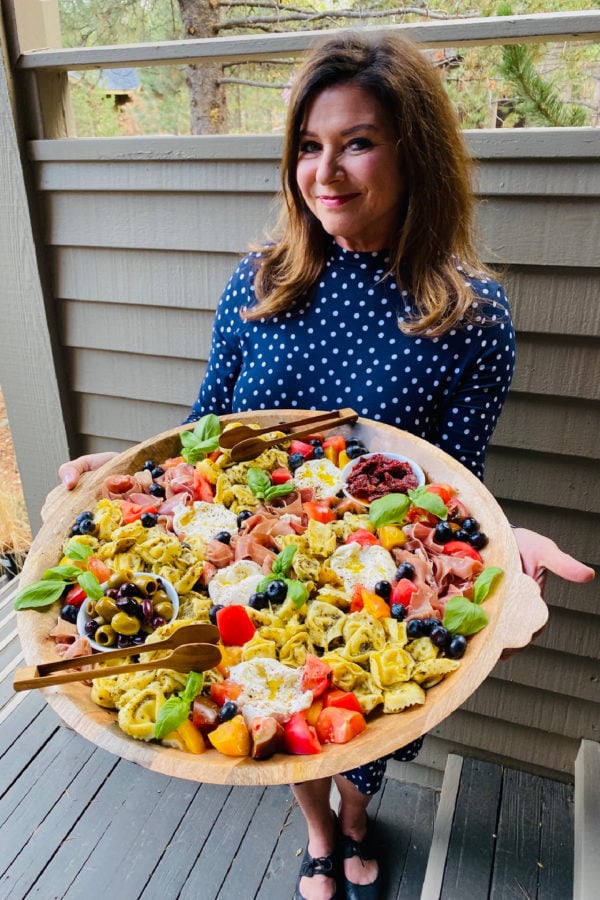 Why I love this recipe
It's packed with flavor and has so many interesting ingredients! It's almost like an Italian charcuterie salad.
I can mix and match to swap out ingredients based on what I have on hand or grab from the store. See all my suggestions below.
This is such an easy pasta recipe, and it can be served chilled or at room temperature. Get it ready in advance and serve when ready!
It's the perfect holiday salad – really for any holiday! People love this deconstructed salad where they can make their own!

Gather these ingredients
Cheese tortellini – You'll need 2 8-oz packages of 5-cheese tortellini.
Pesto
Artichoke hearts – Drained.
Olive medley – About 6 ounces; drained.
Sundried tomatoes – About 3-4 ounces.
Burrata cheese – About 1 pound.
Olive oil
Salt and freshly cracked pepper.
Prosciutto – About 8 ounces, cut the slices in half and fold.
Heirloom tomatoes – About 4 tomatoes, cut into large chunks.
Blueberries – About ½ cup of fresh blueberries.
Fresh basil
Balsamic vinegar

How to make Tuscan Tortellini Salad
Cook the tortellini according to the package directions. Drain it and place it in a large bowl.
Add the pesto to the hot tortellini and toss to coat. Set the tortellini aside to cool.
Add the sundried tomatoes and olives into small bowls and set them on the 20-inch Big Board.
Lay the tortellini on the board in 4 sections.
Place the balls of burrata down on the board and gently open them with a fork to let them ooze out a bit, then add a drizzle of olive oil and freshly ground pepper and salt to the top of the burrata.
Arrange the tomatoes, folded prosciutto, and blueberries in the empty areas to fill up the board.
Add sliced fresh basil over the top of the board and use some whole leaves for garnish.
Splash some balsamic vinegar over the top of the salad and serve it with a giant spoon.
Enjoy!

Tips & substitutions
You can serve this Tuscan pasta salad on a board or in a giant bowl. Whatever works best for you!
Add all your favorite ingredients to this salad. Other great picks include salami, pine nuts, fresh mozzarella if you can't find burrata, shaved Parmesan, capers, and all your favorite Italian ingredients.
You can serve this pasta salad recipe chilled or at room temperature.

Serving suggestions
This fabulous salad is a meal all on its own and makes an impressive display at gatherings and parties. You can offer smaller portions of the salad as a starter, followed by Caprese sandwiches, meatballs, and more. Or, make the salad the main event, followed by servings of affogato.

Storage
Store any leftover salad in an airtight container in the fridge for 3-4 days. You can enjoy the leftovers chilled or at room temperature.

Check out these awesome pasta salad recipes while you're here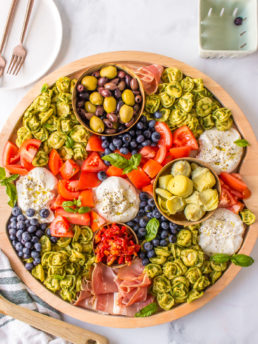 Get the Recipe: Tuscan Tortellini Salad
Tuscan Tortellini Salad is stunning and delicious, and it looks so pretty when served on a giant board or platter, but a bowl works, too!Make on the 20-inch BIG BOARD or an XL salad bowl.
Ingredients
2 8 oz packages of five-cheese tortellini
½ cup pesto
1 ½ cup artichoke hearts, drained
6 ounces olive medley, drained
3-4 ounces sun-dried tomatoes
16 ounces burrata cheese, 4 large balls - or you can use 6
Olive oil
Sea salt and freshly cracked pepper
8 ounces prosciutto, cut in half
4 large heirloom tomatoes, cut into large chunks
½ cup blueberries
Fresh basil, some chopped, some with whole leaves
Balsamic vinegar for serving
Instructions
Cook the tortellini according to package directions. Drain and place in a large bowl. Add the pesto, mix and set aside to continue cooling.

Place the sun dried tomatoes and the olives in small bowls and place on the board.

In 4 sections, lay down the tortellini.

Next, lay down the 4-6 balls of burrata. Gently open with a fork (will be soft inside), and add a drizzle of olive oil, fresh salt and cracked pepper.

Arrange the tomatoes, folded over prosciutto, and blueberries in between, to fill up the board.

Add fresh chopped basil.

Add a few basil whole leaves for garnish.

Splash some balsamic vinegar over the salad and serve with a giant serving spoon.
Notes
Adapted from Big Boards for Families Cookbook (2021)
Calories: 279kcal, Carbohydrates: 11g, Protein: 11g, Fat: 23g, Saturated Fat: 9g, Polyunsaturated Fat: 2g, Monounsaturated Fat: 5g, Trans Fat: 0.02g, Cholesterol: 40mg, Sodium: 697mg, Potassium: 388mg, Fiber: 3g, Sugar: 5g, Vitamin A: 942IU, Vitamin C: 9mg, Calcium: 238mg, Iron: 1mg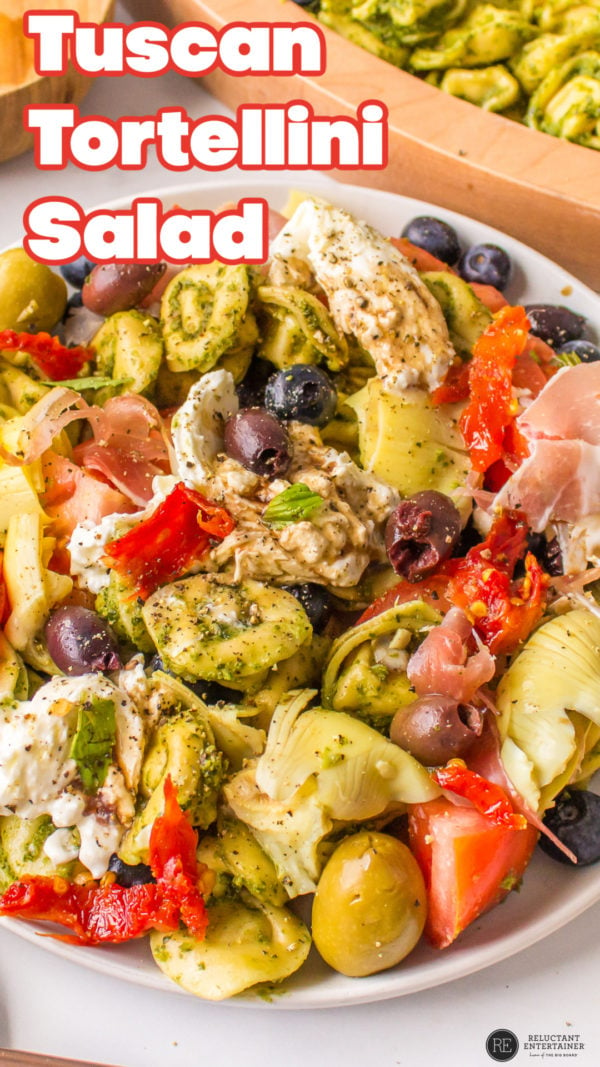 Hello and welcome to my home and table!
I'm Sandy—lover of food, family, cooking, THE BIG BOARD, travel, and bringing people together. Through great recipes and connection around the table, we become better, stronger, and more courageous people. Feasting on Life is real, and every time we do it, we grow a little more. Read more...