Classic Wedge Salad Recipe
Serve a classic simple wedge salad recipe on The Big Board (charcuterie board) with your favorite toppings. Add breadsticks to the spread.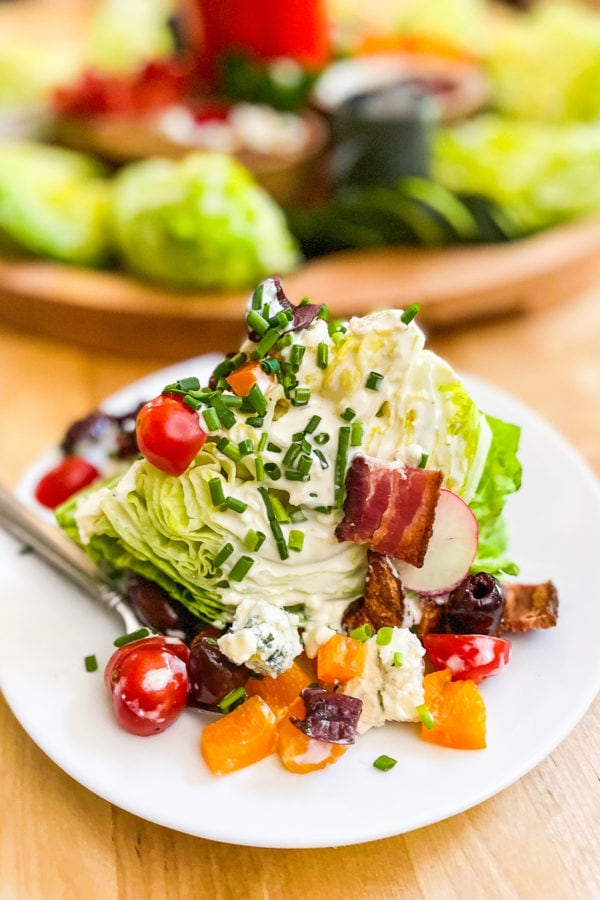 This refreshing and Classic Wedge Salad Recipe is served cold with a creamy blue cheese dressing, bacon crumbles, diced tomato and more. The beauty of a salad board is that it makes a beautiful side dish spread. It can even be served for a luncheon.
Classic Wedge Salad Recipe
This salad spread is delicious served any time of year, but especially for spring and summer parties. Everyone LOVES a wedge!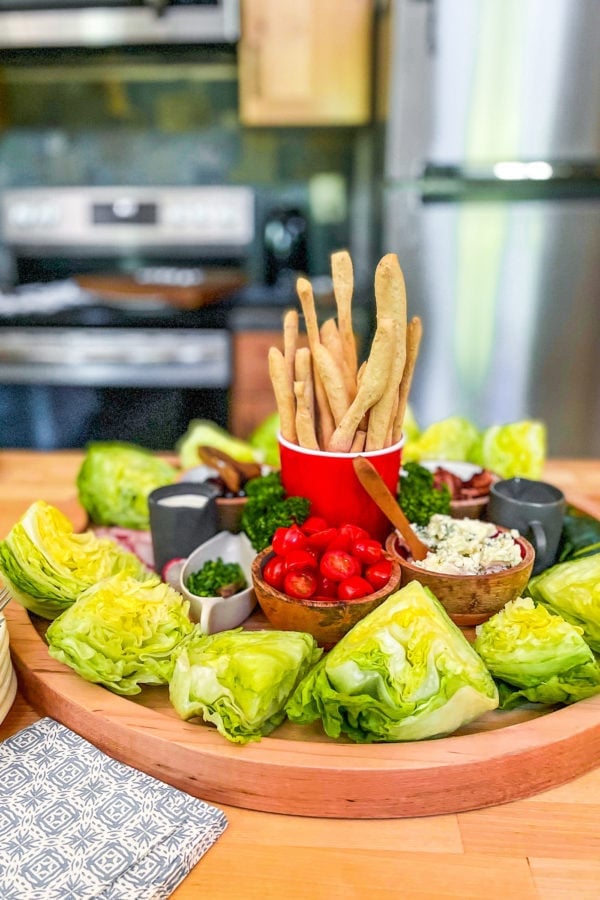 Serve a wedge salad spread on The Big Board
We love to serve it for a crowd on The Big Board. We have 7 epic sizes, and the round and the rectangle boards work beautifully for this spread. Grab your Big Board and get started!
We love the round board, but check out this Easter Wedge Salad Board on the 12×24″ board. Arrange it in rows–brilliant!
Set it out, they will come! :)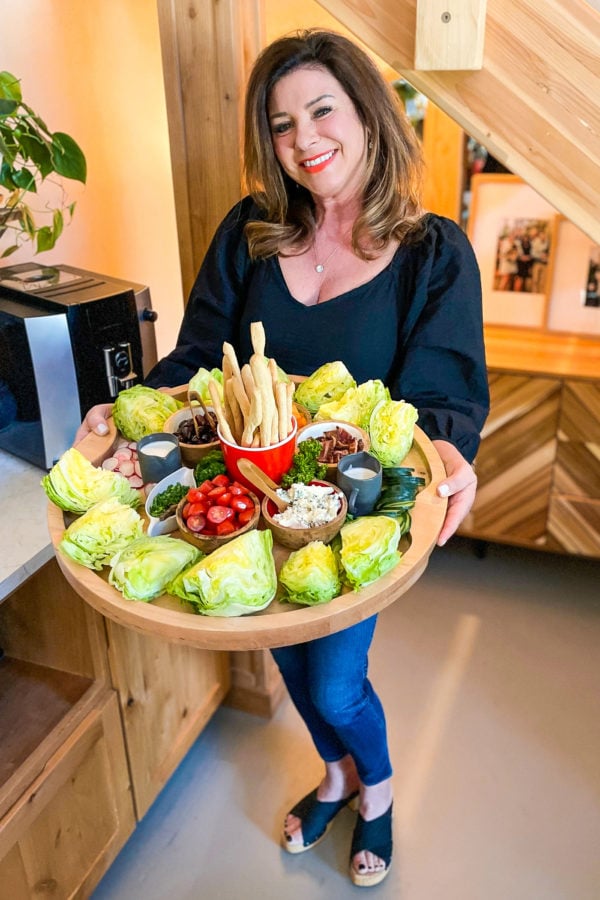 What is a wedge salad made of?
The main ingredient of a wedge salad is a head of iceberg lettuce, usually cut into quarters. But depending on how many you are feeding, you can cut one head into 6 pieces.
A wedge is usually topped with blue cheese dressing, crispy bacon, and blue cheese crumbles. But of course we love to add other toppings.
Ingredients for a classic wedge salad
Lettuce: Crisp, refreshing iceberg lettuce is the key to the best wedge salad
Cherry tomatoes
Red onion
Kalamata olives
Cooked crumbled bacon
Blue cheese crumbles (we love Rogue Creamery's Oregon Blue)
Cucumber slices
Radish slices
Bleu cheese dressing
Fresh chives, finely diced
Classic breadsticks (we bought these at Newport Avenue Market in Bend, OR)
Fresh parsely for garnish
Fresh cracked pepper
For us, it's all about the blue cheese. Living in Oregon, we love Rogue Creamery, and their award winning blue cheese. You can buy a pound of their Oregon Blue (afflink), and I promise–it's the best.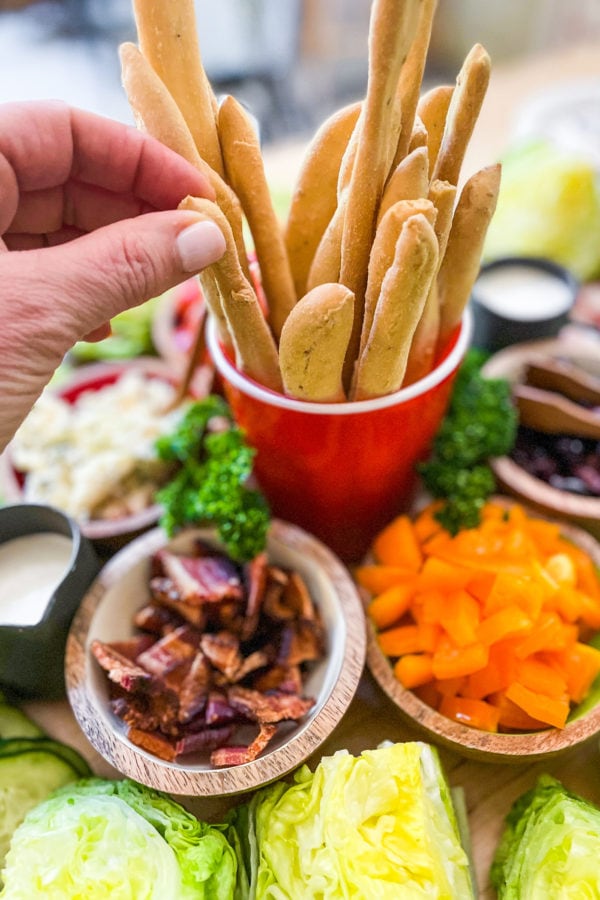 How do you wash lettuce for wedge salad?
If you want to wash each head of lettuce, first remove any brown or wilted leaves.
Next, cut it into 4 equal wedges top to bottom with the core intact.
Rinse and pat dry each wedge with a paper towel.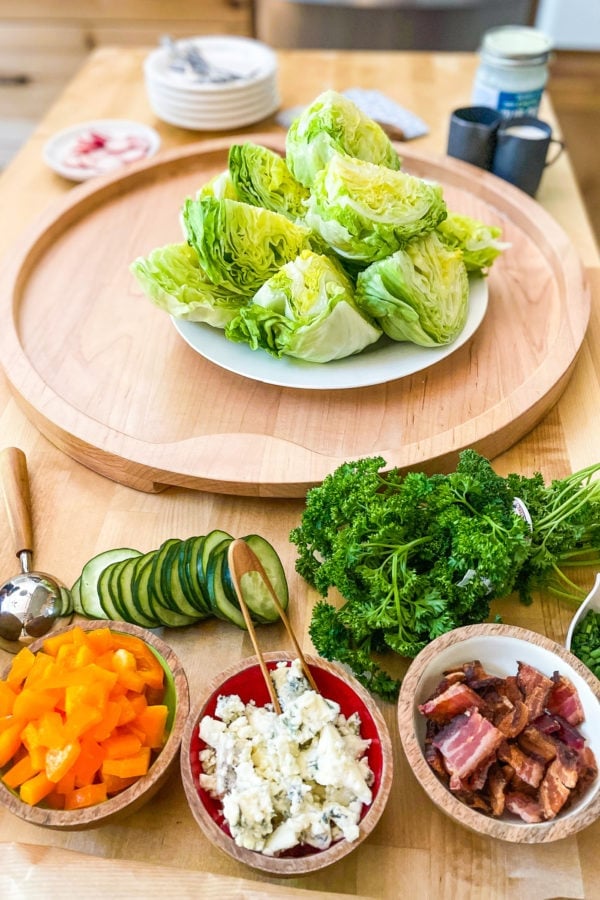 Why we love a wedge salad board
You may have already tried my Shrimp Wedge Salad Charcuterie Board or Apple Wedge Salad Board Recipe.
I love this Epic Bacon Wedge Salad Board for bridal and baby shower spreads, because it's served with hot rolls. Oh, and here's a new spin: A Mexican Wedge Salad to try!
I love how easy it is to serve a wedge board. You can also prepare the toppings in advance, and keep in the fridge. This makes for easy assemblying right before you are ready to serve it.
This is the perfect salad side dish to pair with any of your favorite meals!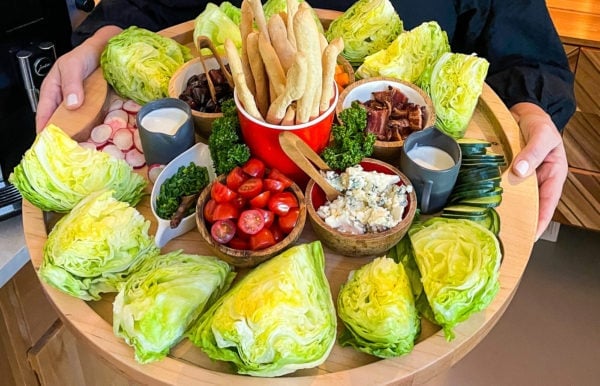 What dressing do you use?
Traditionally a wedge salad is made with a blue cheese dressing. Although, you can always serve it with your favorite dressing if you're not a lover of blue cheese. For the Easter board, we made our homemade Best Thousand Island Dressing.
Some other options include: Ranch, Caesar, or Green Goddess dressing.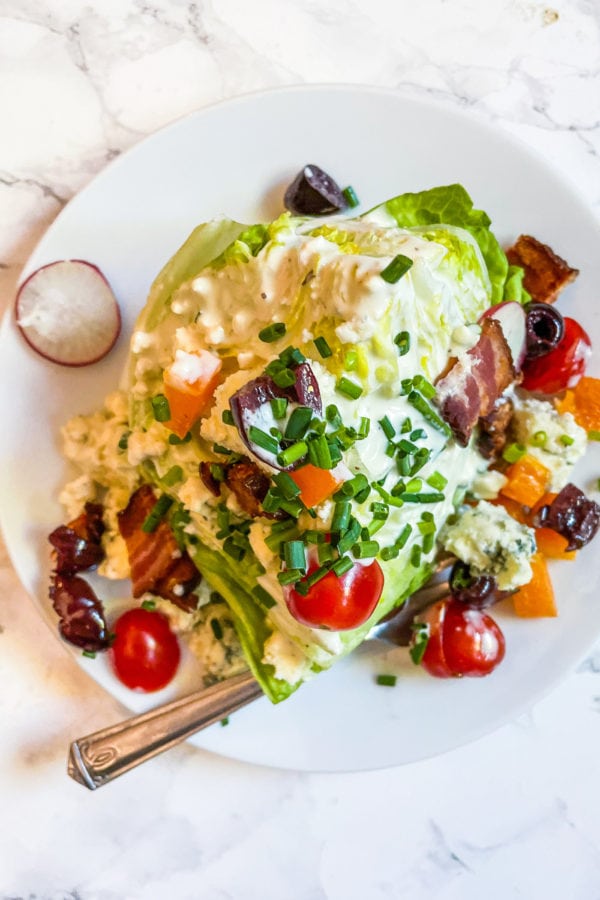 How do you eat a wedge salad?
Finally, we love to serve a wedge salad spread on The Big Board. For this recipe we used the 20-inch round board, but our most popular board is the 26-inch. This size is perfect for a crowd.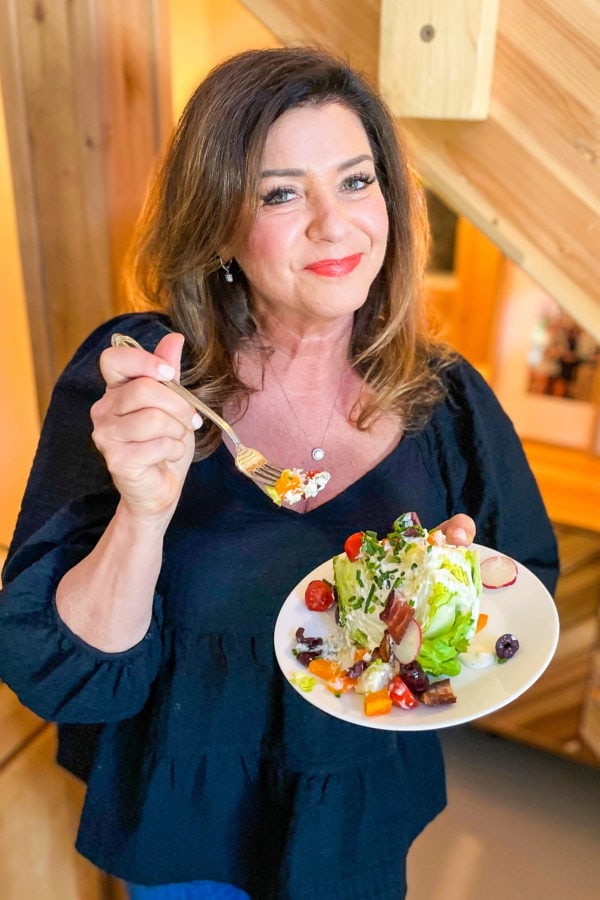 Walk through the door with this Wedge Salad spread, and watch the look on your guests' faces! Everyone loves a wedge!
What's your favorite spin on a wedge salad?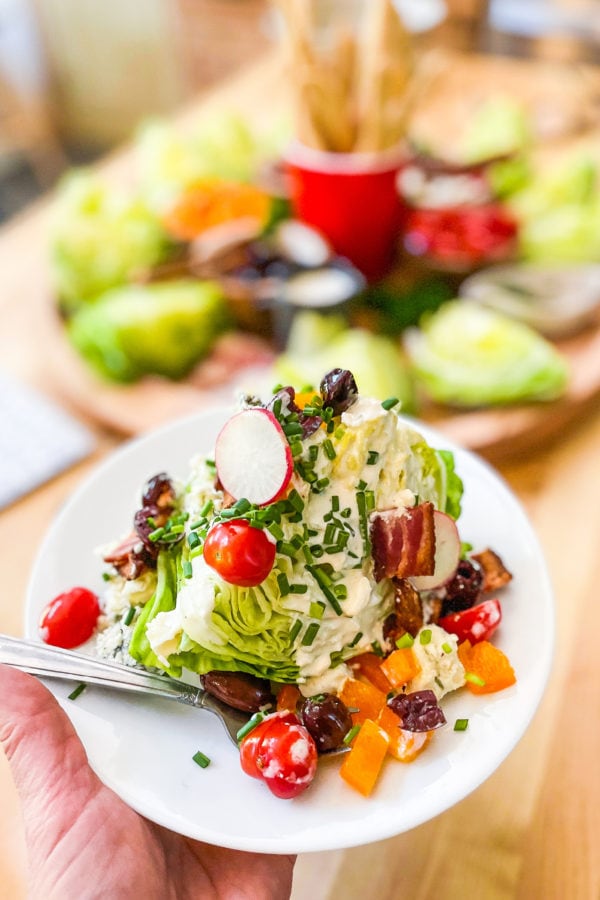 Friends, The Big Board® is here! Yes, I've partnered with JK Adams, the premier woodmaking company in Vermont, with my own line of RE boards!
20-inch round, maple
26-inch round, maple
12 x 36-inch maple
12 x 24-inch maple
NEW 12×24" travel board
26-inch ebonized BLACK, cherry
12 x 36-inch ebonized BLACK, cherry
A board with a lip (or raised edged) so the food doesn't fall off
FOOD SAFE
Made in the USA
Undercut handles (a unique design)
Thank you for your support, as we've sold out so many times already!
Order The Big Board® today!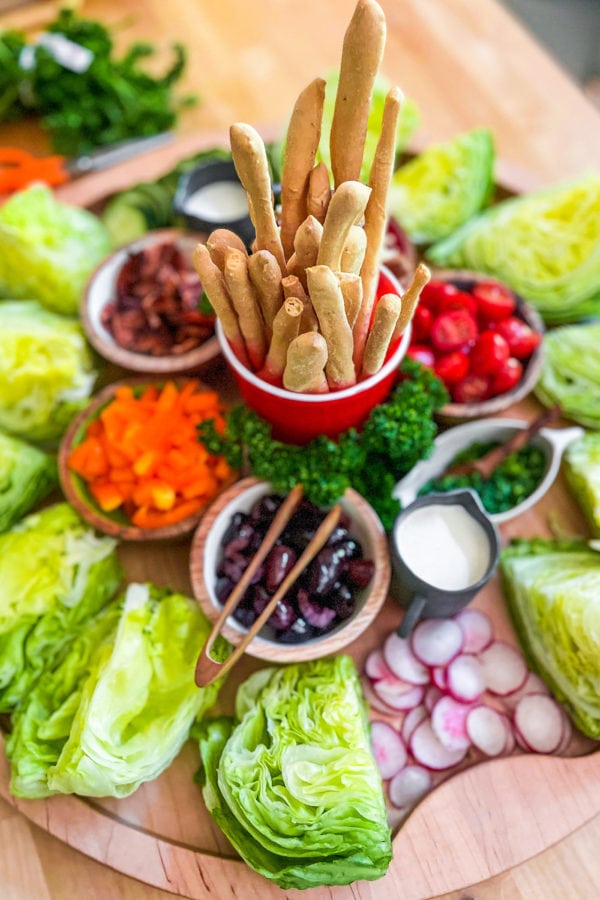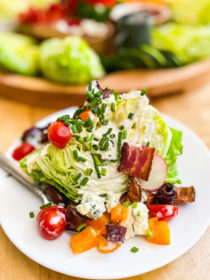 Get the Recipe: Classic Wedge Salad Recipe
Made on 20-inch The Big Board
Ingredients
3 large heads iceberg lettuce, cut into quarters
1-2 cups cherry tomatoes, halved
1-2 cups red onion, chopped
1 cup Kalamata olives, chopped
1-2 cups blue cheese, we love Rogue Creamery's Oregon Blue
Cucumber slices
Radish slices
1-2 cups Blue cheese dressing
1 cup fresh chives, finely diced
Fresh parsley, garnish
1-2 packages of classic breadsticks
Fresh cracked pepper
Instructions
Trim out the core from the bottom stem of the iceberg lettuce and discard. Quarter the head and set aside.

Chop the remaining ingredients and fill small bowls; arrange on a board.

Fan out the radishes and cucumbers.

Fill a low-line wide drinking glass with bread sticks. Place in the center of the board.
To made a wedge salad:
Assemble by placing a quarter of the lettuce head on a plate, adding the dressing, then adding the toppings. End with fresh cracked pepper and fresh chives.
Hello and welcome to my home and table!
I'm Sandy—lover of food, family, cooking, THE BIG BOARD, travel, and bringing people together. Through great recipes and connection around the table, we become better, stronger, and more courageous people. Feasting on Life is real, and every time we do it, we grow a little more. Read more...