Zero Point Foods Charcuterie Board
Making a Zero Point Foods Charcuterie Board is easy! Grab your favorite dip and veggies and assemble your own beautiful, healthy snack board.
I love a charcuterie board. I mean what's not to love? Especially with cured meats, cheeses, and delicious fruits! But today's board is a little different. For spring or Easter, you may also love my Spring Hummus Crudite or Poached Prawn Crudite Platter!
Zero Point Foods Charcuterie Board
By popular demand, I've been asked to create some Weight Watcher-friendly snack boards. And the good news is, they are so easy to make, and so delicious. This board is made on the 23-inch LAZY SUSAN! And don't forget my new book Big Boards for Families is now OUT in the big world. Order a copy!
Ingredients for Zero Point Foods Charcuterie Board
Turkey breast lunch meat
Endive
Pico de gallo
Cherry tomatoes
White mushrooms
English cucumber
Bell peppers
Sugar snap peas
Heart celery
Fresh dill
Greek yogurt
Ranch dressing mix (dry)
Luckily this lightened-up board graced our table this past weekend. :)
What do you do with the leftovers?
We never let food go to waste, so often we'll save the veggies and put back in the fridge. Perfect for a quick snack to grab later on.
You can also repackage crackers, etc.
It's not quite as easy to salvage cheese and meat from a board, especially if it's been sitting out for a long time. Solution? If you're like my friends Barb and Joan, give to the dog or the backyard hens!
And ultimately take the word "diet" out of your vocabulary. Find an eating lifestyle that keeps you at your healthiest but doesn't make you feel deprived.
Healthy eating and snacking is about finding a sustainable balance with realistic goals!
It may seem a little intimidating, but today I'm going to show you step by step how to create your own Zero Points Charcuterie Board. You may even impress some of your friends when they find out that this board has ZERO points (if you follow Weight Watcher's).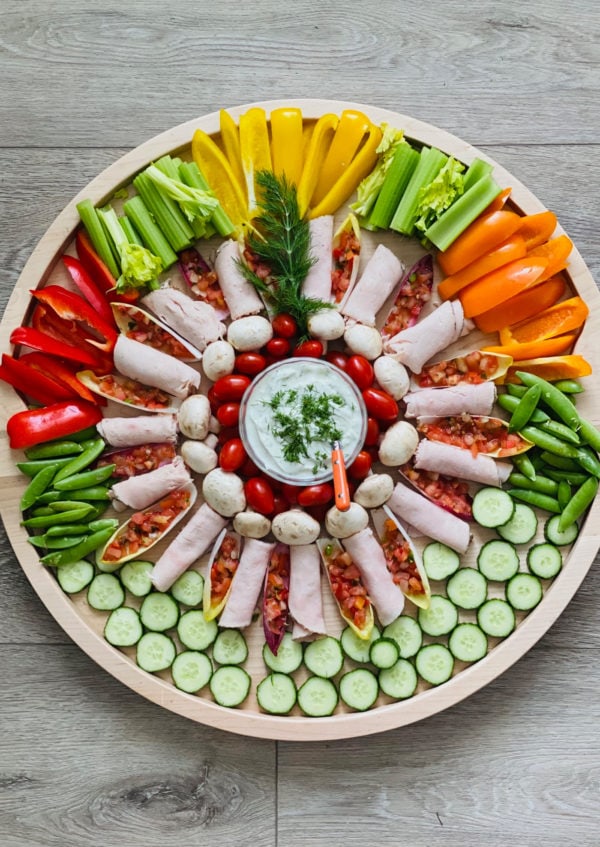 What are zero points Weight Watchers?
What are ZeroPoint foods? No matter which color you're on—Green, Blue, or Purple—you have a list of foods that are healthy, easy to have on hand, and—you guessed it! —have zero SmartPoints®. That means you can enjoy them without weighing, measuring, or tracking!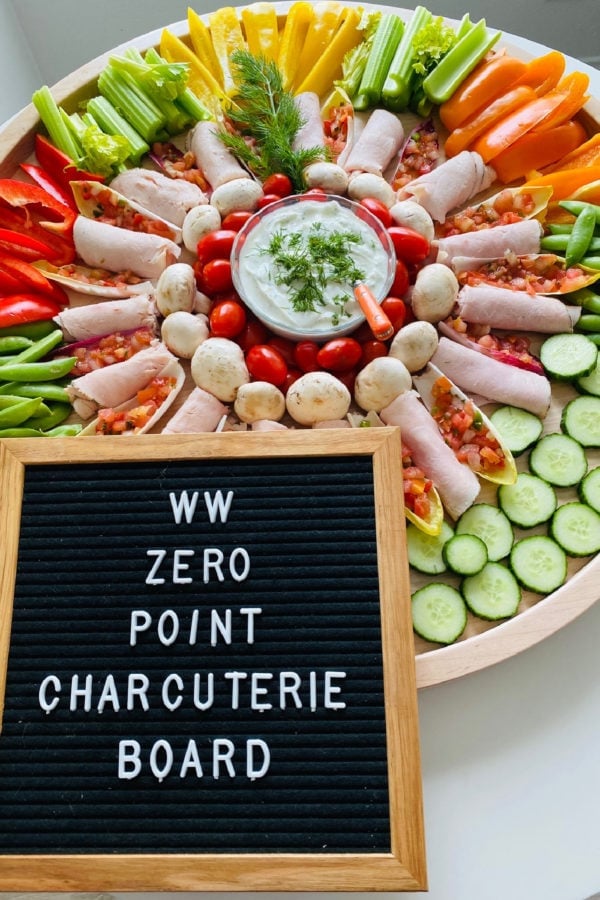 It's been a long winter, so we've been dipping into a Greek yogurt dip with lots of yummy veggies! I was inspired by some of the recipes on my friend Lori's site, and great for anyone who is on Weight Watcher's. I personally am not currently, but we are changing up our snacking habits and reaching for really healthy foods this month.
Here are a few of her recipes to try:
Weight Watchers Spaghetti Bolognese
Or take a look at her full list of WW recipes!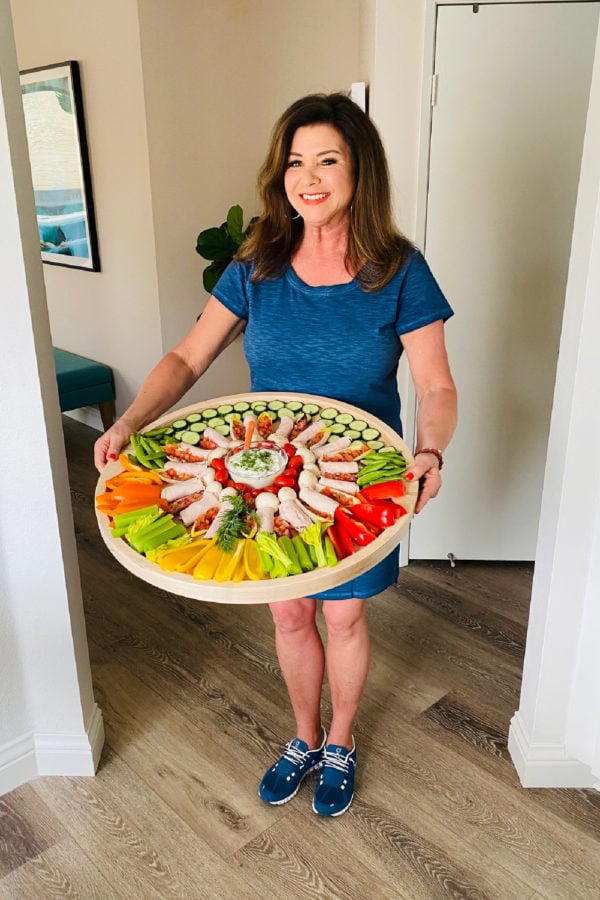 How to make a Weight Watcher friendly charcuterie board
Start off with zero point, healthy foods, such as these delicious vegetables. For this board, we went with bell peppers, celery, snap peas, cucumbers, etc. Any fruit or vegetable you love can be used in this step, just be sure to slice it up into thin pieces to easily enjoy.
Easy Greek Yogurt Dip
We've fallen in love with this new dip (new to us), which only has two ingredients: Greek yogurt and ranch dressing (dry mix). How easy!
The beauty of charcuterie boards is the ability to customize them to your liking. There's no right or wrong way to make them.
So what I've learned about the Weight Watcher's zero points plan is that they have 3 colors food tiers with zero points: Purple, green and blue. The most popular is green and blue, so that is what we used on this board (thus the meat and dip).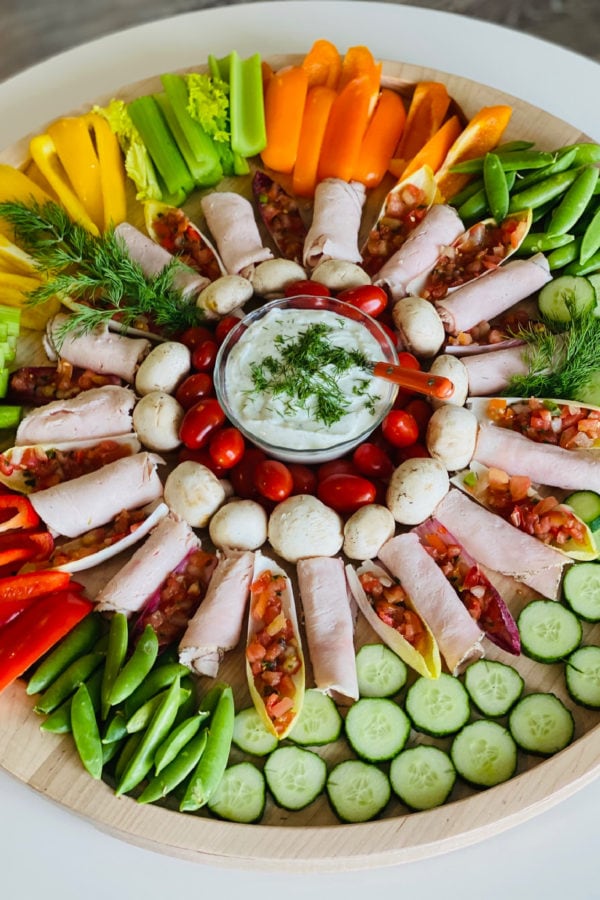 It's true, turkey is not a cured meat, and there is no cheese on this board, but it's a "healthy version" of a charcuterie board! And we love it.
Today we put together a delicious snack board, which will be great for any time of year, but summer is coming, Friends!
Friends, The Big Board® is here! Yes, I've partnered with JK Adams, the premier woodmaking company in Vermont, with my own line of RE boards!
20-inch round, maple
26-inch round, maple
12 x 36-inch maple
12 x 24-inch maple – COMING SOON
23-inch Lazy Susan
26-inch ebonized BLACK, cherry
12 x 36-inch ebonized BLACK, cherry
A board with a lip (or raised edged) so the food doesn't fall off
FOOD SAFE
Made in the USA
Undercut handles (a unique design)
Thank you for your support, as we've sold out so many times already!
Order The Big Board® today!
Get the Recipe: Zero Points Charcuterie Board
Ingredients
16 oz turkey breast lunch meat, rolled
3 endive
4 oz pico de gallo
6 oz cherry tomatoes
8 oz white mushrooms
1 English cucumber, sliced
3 bell peppers, sliced
8 oz sugar snap peas
1 heart celery, sliced
Fresh dill
Greek Yogurt Dip:
12 oz Greek yogurt, plain
3 1/2 tsp dry ranch mix
Instructions
Mix together the Greek yogurt and the ranch dressing mix; refrigerate until ready to serve.

On a prepared round board, place the dip in the center of the board. Around the outside edge, lay down the rolled turkey. Between the turkey and the dip, place the cherry tomatoes and white mushrooms.

In between the turkey rolls, place the endive leaves (fill with a tiny bit of pico de gallo).

Around the outside of the board, one one side, lay down the cucumber slices. On the other, arrange the peppers and celery. In between on both sides add the snap peas.

Add fresh dill for garnish. Chop some fresh dill to add to the dip and serve!
Hello and welcome to my home and table!
I'm Sandy—lover of food, family, cooking, THE BIG BOARD, travel, and bringing people together. Through great recipes and connection around the table, we become better, stronger, and more courageous people. Feasting on Life is real, and every time we do it, we grow a little more. Read more...