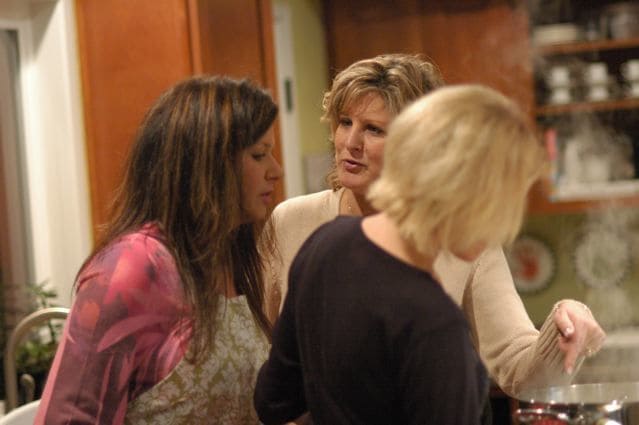 Years ago when I started my blog, I came up with my own set of hospitality rules to help keep me focused and not caught up in the things that can lead women astray … like image, perfectionism, over-doing, worrying …. You know, the things that keep us from becoming a hospitable person. The photo above is of me and my sisters cooking together. We learned years ago to not stress-out over entertaining, particularly from our Mother, who led by example.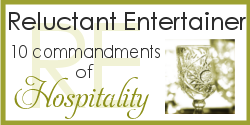 When I wrote my book, The Reluctant Entertainer, I decided to put my Ten Commandments in PDF form, for my readers to print out and use.
Why did I feel this was important? Because when I wrote this series about 4 years ago, I got email after email from women who were inspired by my list.
Many women said they printed this list out and hung it inside their kitchen cupboard, or put it on their fridge, to help remind them that hospitality is within reach.
Today I am offering this list to you, for FREE, to print out and do what you need to with it. Hang it, Share it, Use it …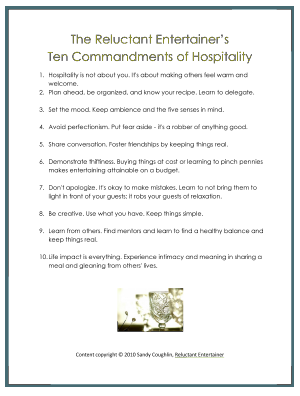 Click on this LINK to print: Reluctant Entertainer's Ten Commandments, courtesy of Bethany House Publishers
During this 31-Day Series, I'd love to hear what tips you've picked up on, and especially if you've enjoyed the comments from other readers?

I know I've really appreciated the authenticity and openness of everyone! I've tried to email many of you back personally, but obviously on yesterday's post (giveaway!) I had a hard time replying to all the comments. Which brings me to the winner. Nish, from The Outdoor Wife, has won a copy of RE! Congrats, Nish!
Thank you Deanna Garretson, for your fine work in helping me prepare my 10 C's, and don't forget to visit my 31-Day Friends …
Chatting at the Sky, Nesting Place, Balancing Beauty and Bedlam, My First Kitchen, Life With My 3 Boybarians, Remodeling This Life, The Inspired Room