Roasted Sweet Potatoes with Rosemary
These Roasted Sweet Potatoes with Rosemary are delicous as a side dish, any time of year!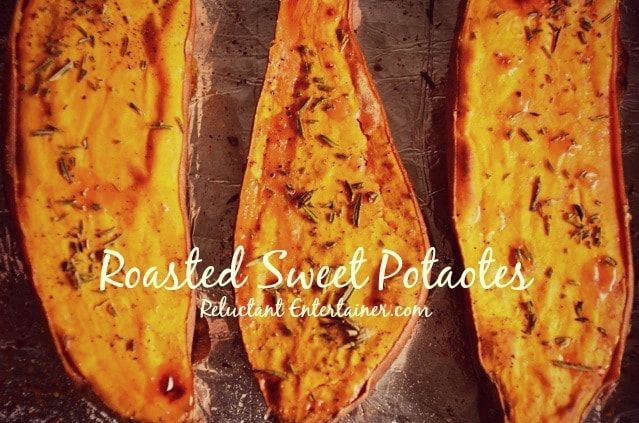 When I think of baked potatoes, I think of Russets wrapped in foil and baked to perfection by my mother. There's something very special when I think about my mother growing up, apron on cooking in the kitchen, because she took cooking for her family quite seriously. She took it to heart and wanted well-balanced meals for my dad and her 3 girls.
Move forward another 40+ years, and I see myself doing as my mother taught me. Cooking for my family! (Roasted Sweet Potatoes, pork loin, sweet orange carrots, with my apron on from Ali–one of my favorite bloggers at Gimme Some Oven.)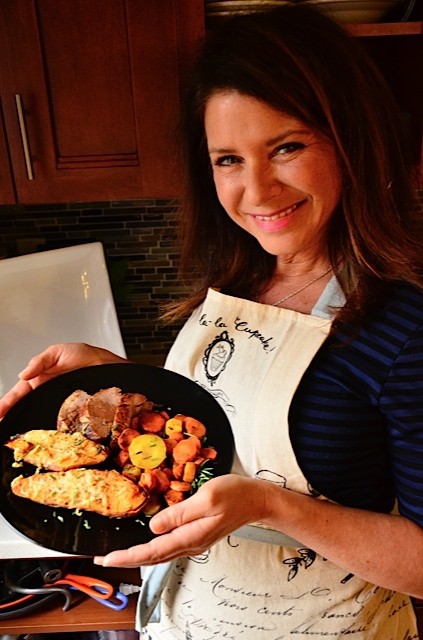 Sadly, we live in a time where people are so  busy, we opt to buy prepared meals, or eat out-on the run. Sometimes we barely get the table set. I know, because I was that busy mom for many years.
It's love and food that keeps a family together, along with community, faith, courage, and grit. Homemaking and good old-fashioned cooking, is a way to nourish our family's souls and hopefully keep us connected at the hip. Tight, strong, an act of love. And so much happens around the family table!
Roasted Sweet Potatoes with Rosemary.
Back to baked potatoes. Wrapped in foil.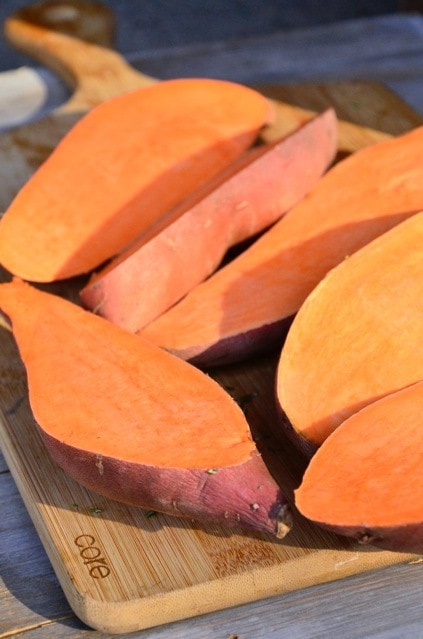 Lately we've been enjoying roasted sweet potatoes (or sometimes yams). Leaving the skins on, they are crisper on the outside, because they are rubbed with olive oil, coarse salt, and a light touch of pepper. Then the specialty is finely chopped, fresh rosemary sprinkled on top!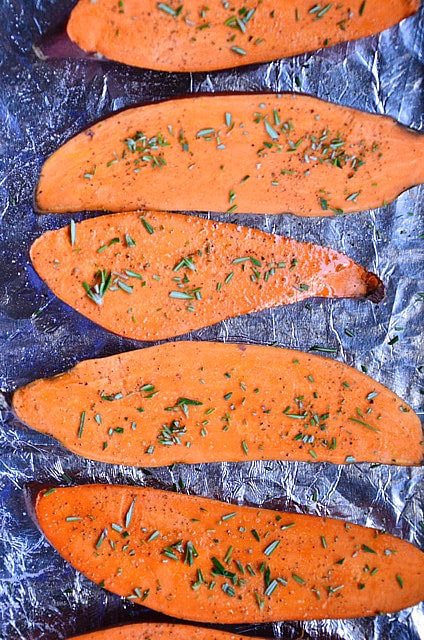 They are so sweet and delicious, you don't even need butter. Who needs the extra calories, anyway? But IF you do want a little something extra, our family loves brown sugar mixed with cinnamon.
Delicious.
I'm glad I grew up with baked potatoes. It's a good memory, watching that butter and sour cream melt all over the potato and dinner plate, probably running in to meatloaf or a hamburger patty, or a piece of chicken.
Or, have you tried roasting them with your favorite cheese grated on top? Oh, boy!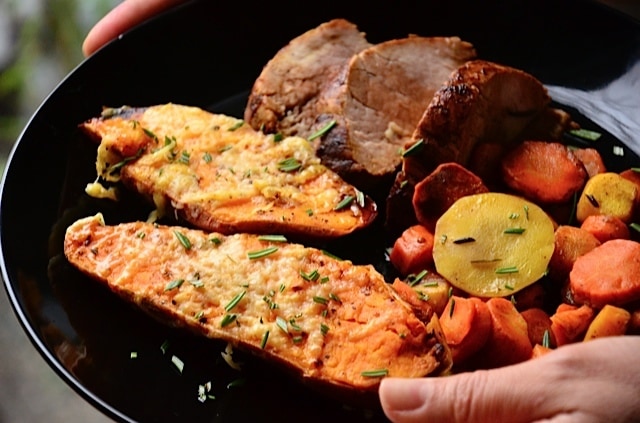 Enjoy!
Baked Sweet Potatoes with Rosemary Recipe
Yield: 4 servings
Prep Time: 10 minutes
Cook Time: 45 minutes
Total Time: 55 minutes
Delicious served with brown sugar and cinnamon, and butter.
Ingredients:
3-4 medium sweet potatoes
Olive oil
2 Tbsp. course salt
1 tsp. pepper
2 Tbsp. fresh rosemary, finely chopped
Directions:
Preheat oven to 400 degrees. Wash and scrub the potatoes and slice them in half.
Line a cookie or baking sheet with foil. Using your hands rub the potatoes completely in olive oil. Rub the potatoes in salt.
Lay the potato halves skin side down on the baking sheet. Sprinkle lightly with pepper.
Sprinkle lightly with finely chopped fresh rosemary.
Bake for 40-45 minutes, or until potatoes are tender.
Serve alone, or with honey, butter, or cinnamon and brown sugar (1/2 cup brown sugar + 1/2 tsp. cinnamon mixed together).