Bacon Wrapped Turkey Meat Loaf
Dive in to hosting with a meatloaf recipe. If you love the flavor of bacon, then this Bacon Wrapped Turkey Meat Loaf recipe is delicious for dinner tonight!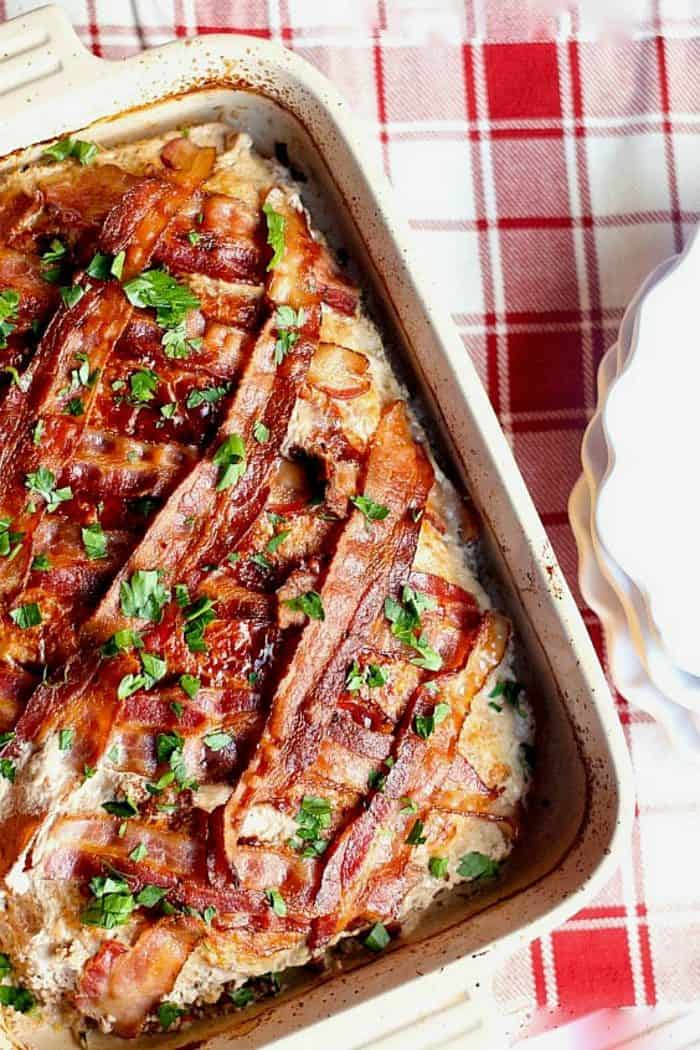 If you're looking for a delicious weeknight meal, or hosting this weekend, below you can watch my new Bacon Wrapped Turkey Meat Loaf video, for a little recipe inspiration!
You may also love my Sweet Potato Mushroom Ground Turkey mixture (so good in taco bowls) or this Cheesy Ground Turkey Ramen Skillet Recipe. Looking for a great sandwich recipe? Ground Turkey Stroganoff Baguette Sandwiches … oh, yum!

Turkey Meatloaf Recipe
Doesn't everyone love a turkey meatloaf, and with bacon? A done deal!
Friends, did you know that I started my blog 12 years ago? I cannot believe it. What an experience and a delight to host so many parties in my home, create some delicious recipes for my family, work with some awesome brands, and what a lucky girl I am to have such a loyal following. I feel very blessed! I also started this blog to help those who are reluctant to entertain, to learn more about the art of hospitality.
For me, hospitality is intentional, something I know I'm called to do, something bigger than myself, and something I'll keep doing as long as I can. I also believe in seasons of life. For example, when my mom was dying, I remember months of not opening my home to others. I was sad, didn't feel like doing it, I took a break, and that was all good.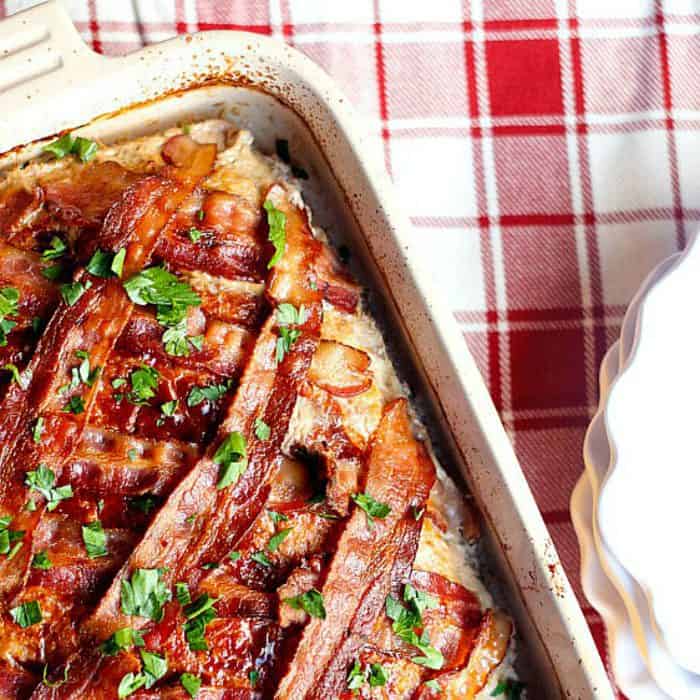 Being intentional with hospitality is important, getting dates on the calendar early enough to plan. My husband and I really enjoy being with people. I know we need them, and they (may) need us. Some are old friends, some are brand new friends. Some people you just invite, and you take the chance that it was meant to be. Each dinner party for us has its own story. And now, living in a new town, it's taken on a new flavor!
Bacon Wrapped Turkey Meat Loaf
This recipe today is so easy! And yummy! I love the fresh veggies in it, and the flavor of bacon on top! Make it pretty (I used precooked bacon) before you pop it inot the oven!
ENJOY, whether you're making for your family or serving to your guests!
Print Recipe
Bacon Wrapped Turkey Meat Loaf
Bacon Wrapped Turkey Meat Loaf recipe, a pretty presentation of ground turkey meatloaf baked with criss-cropssed bacon in a 9x13 pan.
Ingredients
1/2

red bell pepper

seeded and coarsely chopped

1

medium carrot

coarsely chopped

1

medium onion

coarsely chopped

1

garlic clove

3

pounds

ground turkey

1/2

cup

Panko bread crumbs

2

eggs

1 1/2

teaspoons

salt

4

tablespoons

Worcestershire sauce

divided

6

tablespoons

ketchup

divded

12-15

strips of bacon

I use Costco's fully cooked slices
Instructions
Preheat the oven to 375 degrees. Place the red bell pepper, carrot, onion and garlic in a food processor and pulse until the mixture is finely chopped.

In a large mixing bowl, combine the vegetables, turkey, bread crumbs, eggs, salt, 2 Tbsp. Worcestershire sauce and 3 Tbsp. ketchup; mix well. Place the meat mixture in a 9-by-13-inch baking dish (spray with cooking spray first) and, using your hands, form it into a loaf. Mix together remaining 2 Tbsp. Worcestershire sauce and 3 Tbsp. ketchup and spread on top of the meat loaf.

Cover the loaf with the bacon strips, weaving them across the top.

Bake uncovered, until cooked through, about 1 hour. Check it near the end and using a baster, remove the melted fat and juices.

Transfer to a platter and serve!
More ground turkey recipes: Southwestern Macaroni and Cheese with Ground Turkey [Rachel Cooks], and Ground Turkey Instant Pot Lasagna [Living Locurto].