Baked Brie with Peach Jam
Hot, bubbly, Baked Brie with peach jam, is topped with toasted almonds. Serve this appetizer at parties with crackers and ginger snaps.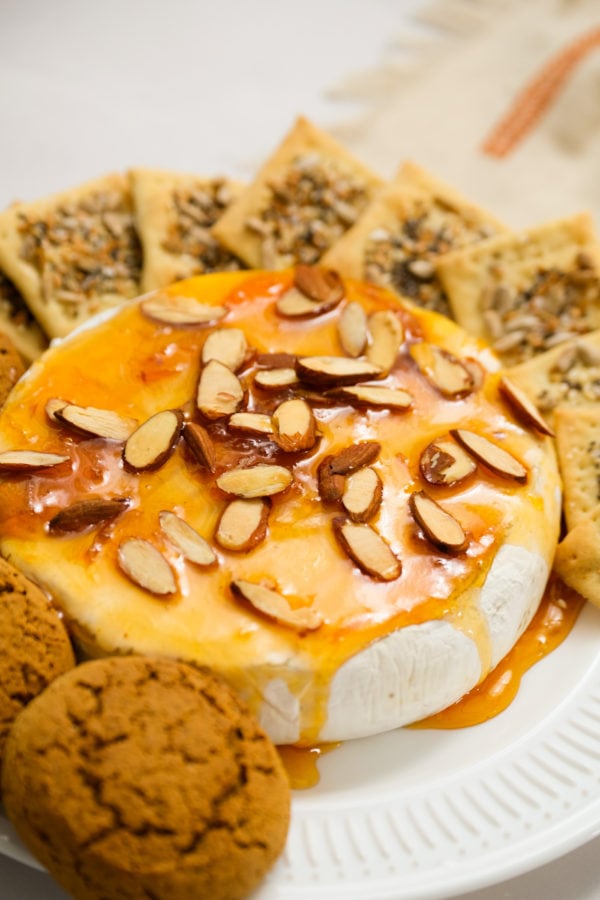 Perfect for anytime hosting, enjoy this Baked Brie with Peach Jam Appetizer. It's on the table in 15 minutes, served with your favorite crackers (or even cookies!). Last week we enjoyed this for dessert with ginger snaps–so good!
Baked Brie with Peach Jam
This is our go-to easy appetizer recipe because who doesn't have peach jam and sliced almonds stocked in the pantry? Also for fall, you can try this Pear Brie Bruschetta Recipe!
The peach jam is pure sweetness and absolutely delectable on this baked Brie recipe! I love adding various fruits and even jams and jellies. You could certainly swap the peach jam for your favorite flavor. We swapped out this Baked Marmalade Brie with Spicy Pecans recipe (with marmalade).
Why we love Baked Brie
Brie is easy to make for company!
I love to serve this appetizer with a special cracker, or even ginger snaps, for a sweeter taste! You may not think of it as a dessert, but it's delish served with cookies!
If you're looking for a simple appetizer to bring to a party, potluck, or holiday meal, all you need is three simple ingredients.
It's also super easy instructions to prepare (less than five minutes), and then to bake (for ten minutes). [Love these little Brie Toasts with pinenuts and golden raisins, too!]
The most difficult aspect of this elegant recipe is waiting for it to cool! HA! Because everyone wants to dive into warm, gooey Brie.
We call this recipe our "anytime" Brie appetizer, because it's literally delicious any time of year! But don't forget about Thanksgiving, Christmas, or any occasion!
Ingredients for Peach and Almond Baked Brie Appetizer
Here's what we used in our recipe today:
Brie cheese
Peach preserves
Sliced toasted almonds
Crackers and ginger snaps
How to make Baked Brie
Prepare it ahead by lining a baking sheet with parchment paper (easy clean up), and getting the Brie ready for the oven.
Preheat the oven. When the guests walk through the door, pop the Brie in the oven for ten minutes.
After ten minutes, pull it out of the oven and prepare it on a large plate with crackers and cookies. And enjoy!It comes out of the oven bubbling and ready to dive into!
Not only is Brie one of our favorite "go to" appetizer foods for last-minute guests, it's also delicious on a charcuterie or cheese board. You can check out this Winter Brie Charcuterie Board.
How do you serve Peach Baked Brie?
Let sit for about five minutes before serving.
We love to serve this Peach Pecan Baked Brie (and most other flavored brie recipes) with crostini, pita chips, bagel chips, crackers, etc. As mentioned above, it's so tasty with ginger snaps and other sweet crackers or cookies.
Tips and substitutions:
Use any flavor of jam, jelly, or preserves.
Add a dash of cinnamon and drizzle of honey!
If you want a little "kick," try a spicy honey.
Swap honey for balsamic glaze – so good.
You can bake a half a Brie wheel by wrapping it in aluminum foil.
Swap out the toasted almonds for toasted pecans, walnuts, or even hazelnuts. They toast up perfectly in the oven and add a delicious crunch to the creamy baked Brie!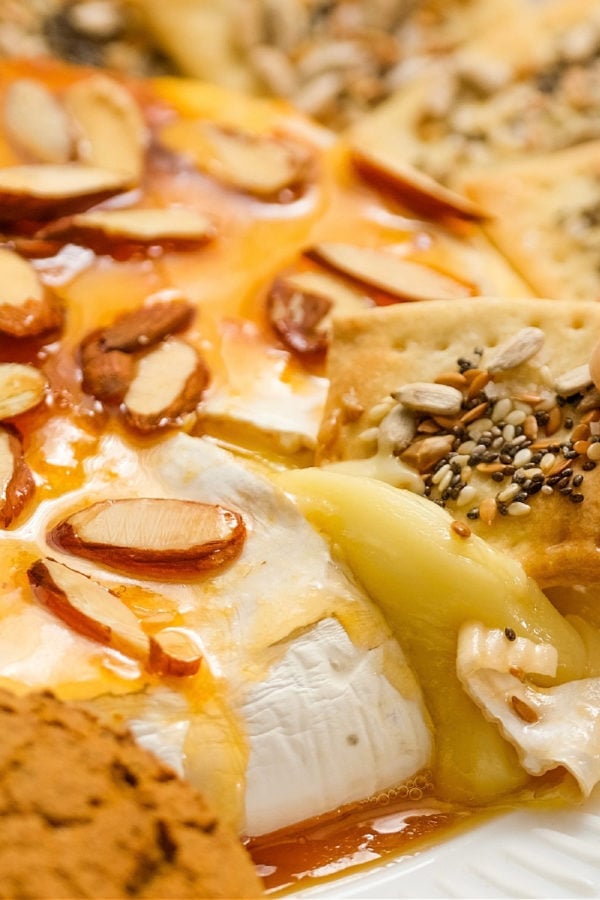 Do you take the rind off Brie before baking?
Brie cheese comes with a white rind on the outside. It looks like white mold, but it isn't. Unwrap it, cut the cheese in half, and fill with your yummy sweet and spicy jam mixture.
The rind is edible so no need to remove! If you wish, you can carefully slice off the top of the rind with a sharp knife, or leave it as is and slice into it when ready to serve. Follow my recipe, Cranberry Pistachio Brie Appetizer.
ENJOY!
Check out these other awesome Brie appetizers while you're here:
Mini Sausage Onion Brie en Croute
Strawberry Brie Crostini Appetizer
Caramelized Onion Brie En Croute
Chili Fig Brie Charcuterie Board
Vanilla Fig Bourbon Brie Recipe
Get the Recipe: Baked Brie with Peach Jam
Hot, bubbly, Baked Brie with peach jam, is topped with toasted almonds. Serve this appetizer at parties with crackers and ginger snaps.
Ingredients
1 8 ounce round of Brie cheese
½ cup peach preserves
⅛ cup sliced toasted almonds
Crackers or ginger snaps
Instructions
Preheat oven to 400 degrees.

Line a small baking sheet with parchment paper. Remove the wrapper from the cheese and place on the sheet. Spread the top of the Brie with jam; sprinkle with almonds.

Bake 10-12 minutes until cheese melts, and the Brie becomes very soft.

Let sit for about 5 minutes; serve with crackers, grapes, or ginger snaps!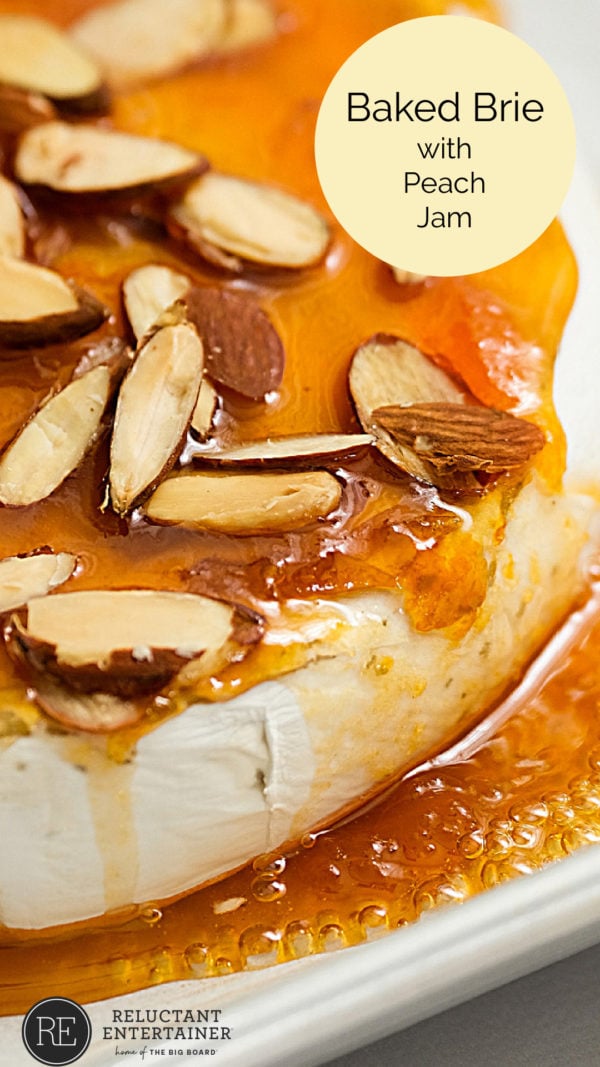 Hello and welcome to my home and table!
I'm Sandy—lover of food, family, cooking, THE BIG BOARD, travel, and bringing people together. Through great recipes and connection around the table, we become better, stronger, and more courageous people. Feasting on Life is real, and every time we do it, we grow a little more. Read more...