Best Holiday Cheese Board
Make a Best Holiday Cheese Board, with Cypress Grove Cheese and beautiful holiday fruits and roasted vegetables, meats, crackers, and chocolate! This post is sponsored by Cypress Grove Cheese!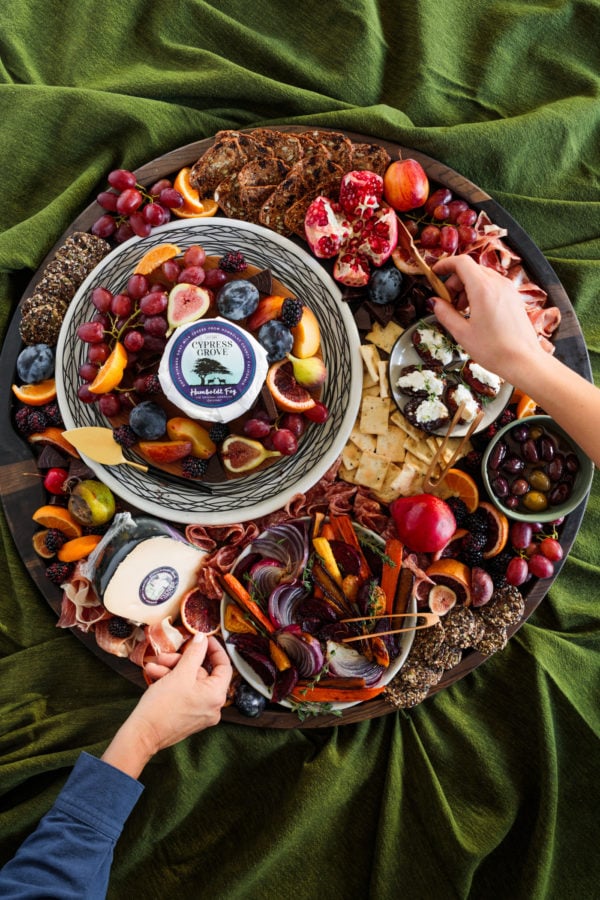 Hello, Friends! We're sharing a beautiful board today, featuring Cypress Grove Cheese (from California), on a beautiful 26-inch BIG BOARD. This Best Holiday Cheese Board is perfect for fall and winter—Halloween, Thanksgiving, and Christmas!
MAKE MAGIC THIS HALLOWEEN with your change to WIN CHEESE! See details below!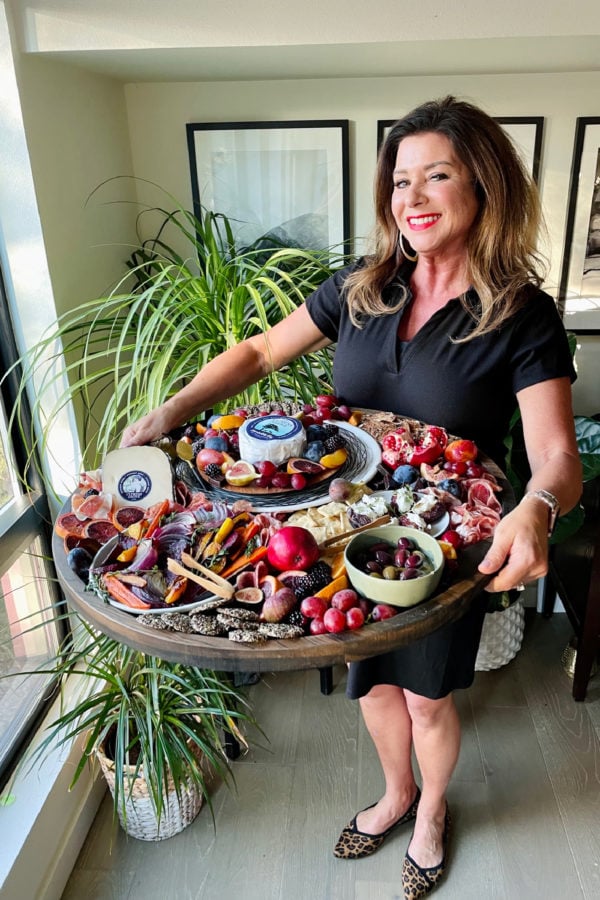 We roasted the veggies (yum), and added some of our favorite cheese, the Humboldt Fog Cheese, Midnight Moon Cheese, and then we stuffed dates with the Purple Haze Goat Cheese. OH SO GOOD!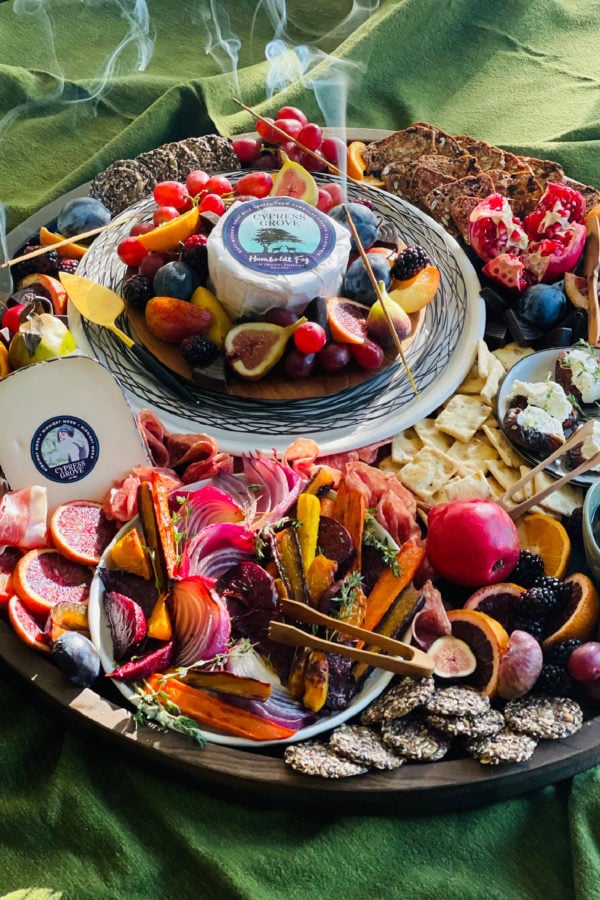 Ingredients for holiday cheese board
All you need are these ingredients, but with any cheese board, feel free to mix and match.
Roasted veggies (grab the details below)
Salami slices + prosciutto
Olive medley
Red grapes + backberries + plums
Blood oranges + regular orange
Figs
Olina's Simply Seed Crackers
Lesley Stowe Raincoast Crisps=
Bello Rustico Sea Salt & Pepper Crackers'
Extra Dark Chocolate wedges (we buy at Trader Joe's)
How to roast the veggies
Roasted veggies are delish on a cheese board. It only takes a minute to prepare them, and pop in the oven to roast while you're making the rest of the board.
Preheat oven to 425. Arrange the roasted veggies, separated out, on a large baking sheet (parchment lined).
Drizzle with oil and salt. Toss with hands to coat, and bake for 30-40 minutes, depending on size of vegetables.
Garnish with thyme sprigs.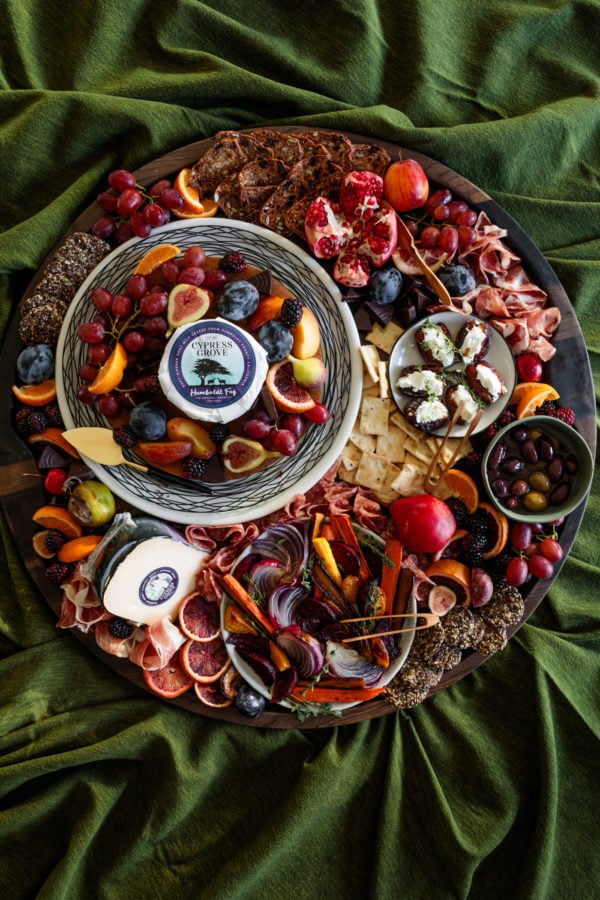 Why serve a cheese board for the holidays
As most of you know, my boards have a raised edge around them to keep the food on the board. At a party, we really like to keep the food contained, lest it spill over onto the table.
This is why we designed with JK Adams a board with a raised edge, food safe, and with a unique design of undercut handles. Which are AWESOME!! This makes for very easy carrying and handling. See the video here on THE BIG BOARD.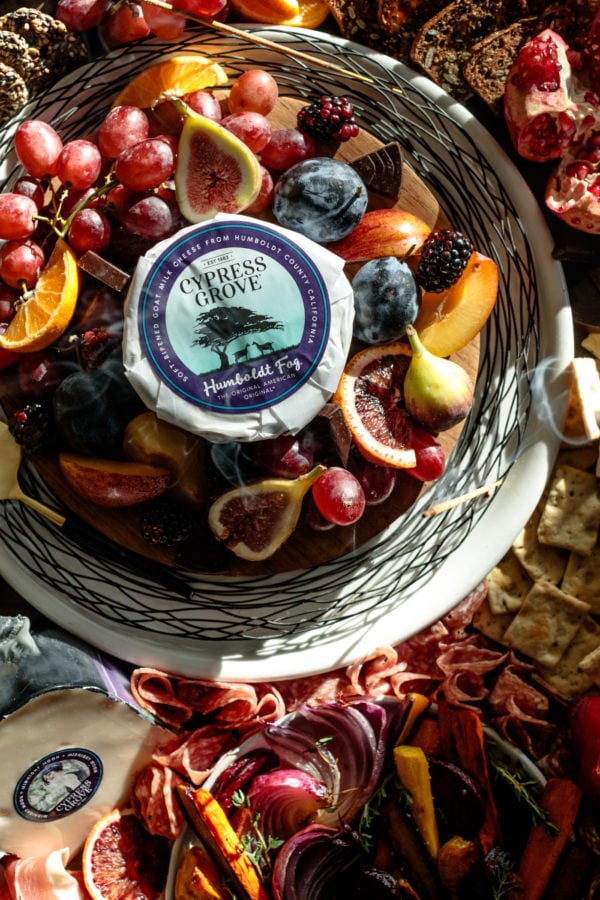 For this board today, it's all about the cheese. Cypress Grove in California makes fresh and tangy cheeses, from soft-ripened signature classics to buttery aged cheeses. You can read their story, here.
They carry our favorite soft-ripened cheese. We used Humboldt Fog for this holiday board.
Fresh cheese. For this board, we used a fresh disk of Purple Haze.
Aged cheeses, like Midnight Moon.
Oh, and how do you garnish a big board like this?
Easy! Add a beautiful Anjou red pear, a small green pear, a yellow plum, and 2 red crabapples. You can visit your local specialty market (for me here in Bend, we love Newport Avenue Market), for special fruits, cheese, and more!
ENJOY!
#SlayCheese Sweepstakes
For this #SlayCheese Sweepstakes you have two opportunities to win big and celebrate your cheese tooth over your sweet tooth.
How to Enter:
Post a pic of your Halloween cheese board–whether spooky, magical or other-worldly–on Instagram with #slaycheese and tag @cypressgrovers by Nov. 1. Then you'll be entered for a chance to win an Ultimate Cheese Board Kit ($500+ value!) including:

A variety of Cypress Grove Cheese
One $250 Visa gift card
One Cheese Board Deck from @ainttooproudmeg
A Big Board from @reluctantentertainer (me!)
A free virtual charcuterie board class from @modern_brie

Pledge to donate Halloween candy to a charity in exchange for a Cypress Grove coupon download and a chance to win free Cypress Grove cheese for a year! ENTER at Cypress Grove.
Visit Cypress Grove for some inspiration. The Slay Cheese Sweepstakes closes on Nov 1st at 11:59 p.m. PST Must be a U.S resident and 18+ years old to enter. Sweepstakes not associated in any way with Instagram. Good luck!
More boards for the holidays:
Winter Burrata Charcuterie Board
I do love this holiday cheese board by my friend, Tieghan!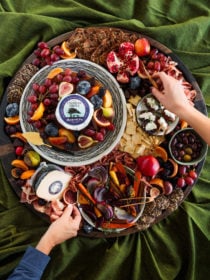 Get the Recipe: Best Holiday Cheese Board
Ingredients
1 pound wheel Cypress Grove Humboldt Fog Cheese
1 pound wedge Cypress Grove Midnight Moon Cheese
2 oz Purple Haze Goat Cheese
6 Medjool dates
4 oz salami slices
4 oz prosciutto
8 oz olive medley
4 clumps red grapes
6 oz blackberries
4 small plums
2 blood oranges
1 small orange
4-6 figs, cut in half (or leave whole)
2 oz Olina's Simply Seed Crackers
5.3 oz Lesley Stowe Raincoast Crisps
6 oz Bello Rustico Sea Salt & Pepper Crackers'
3.5 oz Extra Dark Chocolate wedges
Roasted veggies
1 small red onion
4 carrots, cut into equal-size pieces
1 medium red beet
1 small yellow beet
3 Tbsp olive oil
Kosher salt
Fresh thyme sprigs
Garnish
1 large Anjou red pear
1 small green pear
1 small yellow plum
2 red crabapples
Instructions
Preheat oven to 425. Arrange the roasted veggies (LIST HERE), separated out, on a large baking sheet (parchment-lined). Drizzle with oil and salt. Toss with hands to coat, Bake for 30-40 minutes, depending on size of vegetables. Garnish with thyme sprigs.

Place the cheese on the board. Arrange the roasted veggies on a plate. Lay down the crackers, fruit, meat, and olives. Garnish and serve!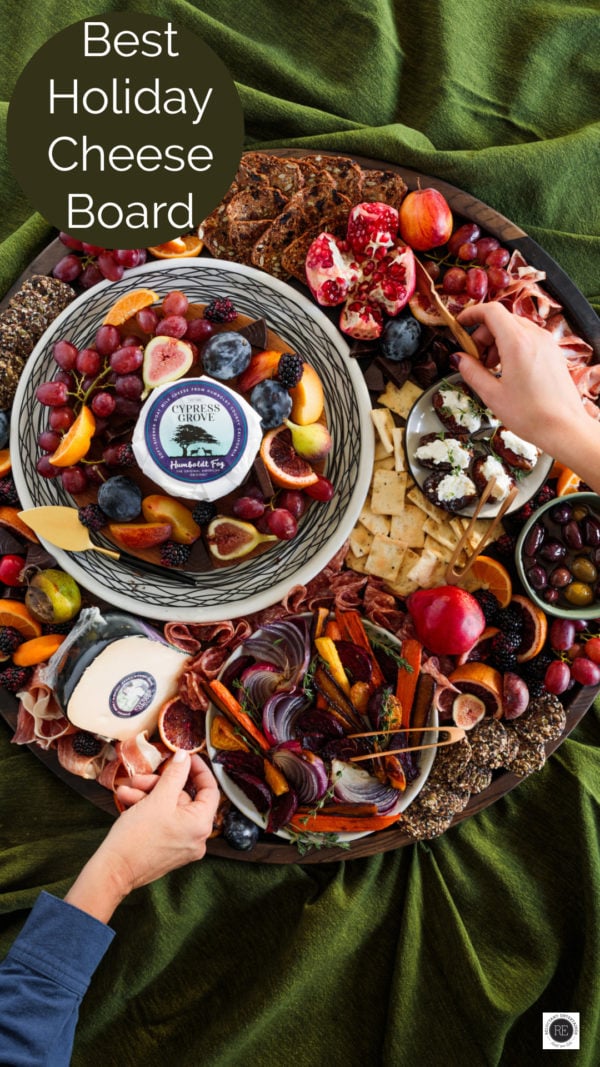 Hello and welcome to my home and table!
I'm Sandy—lover of food, family, cooking, THE BIG BOARD, travel, and bringing people together. Through great recipes and connection around the table, we become better, stronger, and more courageous people. Feasting on Life is real, and every time we do it, we grow a little more. Read more...