Candy Cane Pie
Nothing says the holidays quite like Candy Cane Pie; It's festive, delicious, and easy to make. It's also a pretty dessert, and you can make it ahead of time so that it's ready to go when you are. I love serving this to friends and family, and they love eating it. I'm sure your guests will love it, too!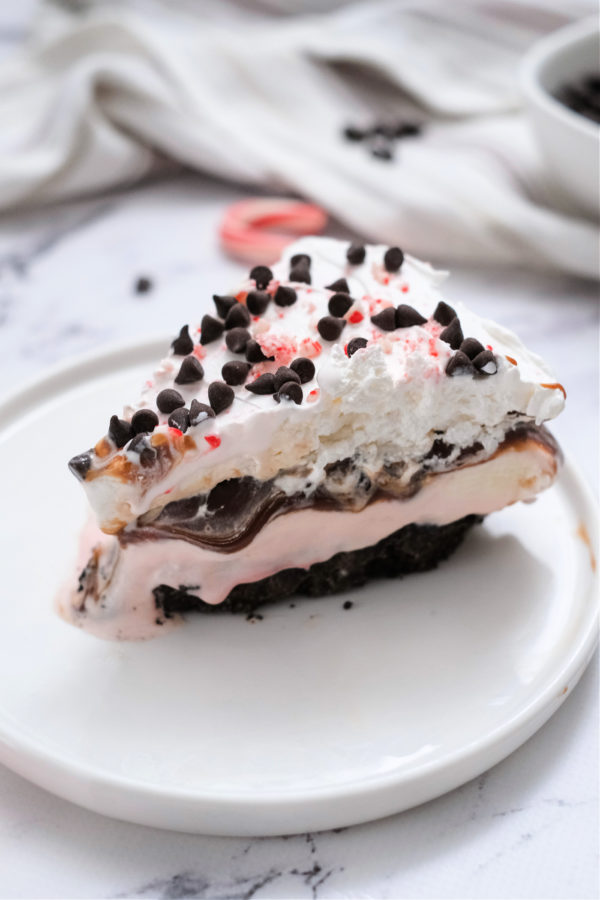 Candy Cane Pie is one of my most requested holiday desserts. It's perfect for Christmas or any winter party or gathering, and it's the perfect grab-and-go dessert if you're taking something to a potluck or a shared meal.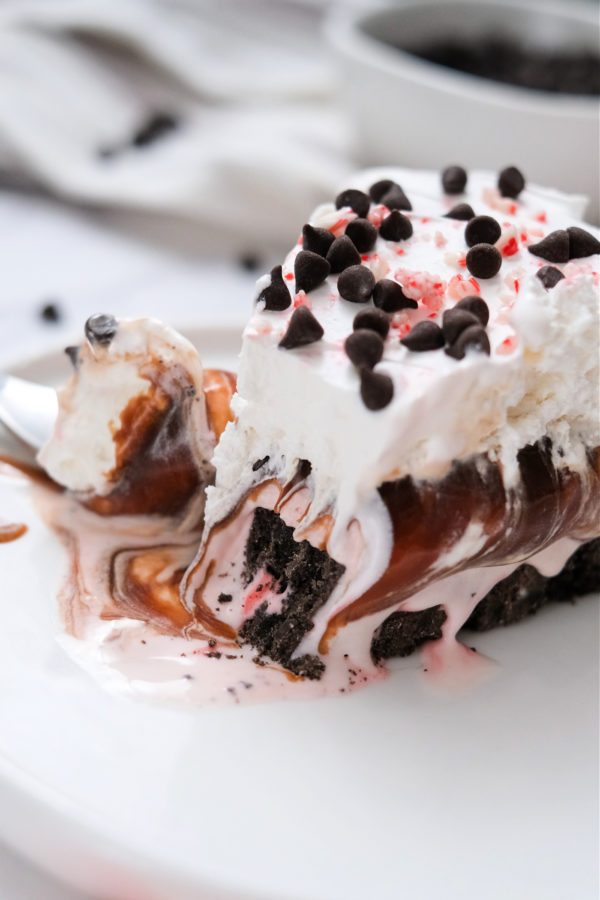 Candy Cane Pie
This layered dessert recipe is so easy to make, and there are no fancy ingredients in it. And you can take a few shortcuts when making this Candy Cane Pie recipe to make it even easier – be sure to see my notes below.
This Candy Cane Pie recipe tastes amazing! It's not too sweet, and the peppermint flavor really shines through. Plus, with pretty layers, it looks stunning on a plate. It is Christmas on a plate!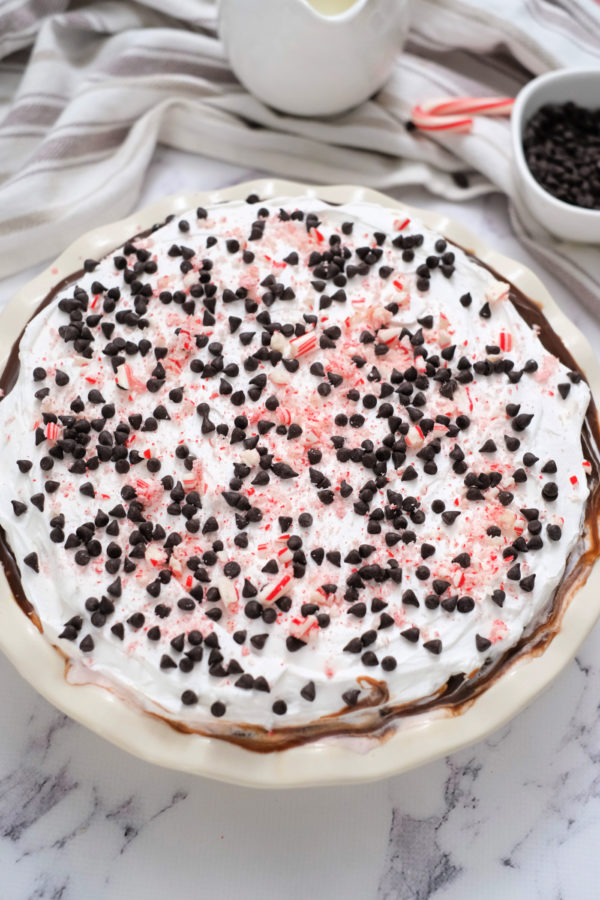 Want an impressive – but still easy to make – dessert? This Candy Cane Pie is a must-try!

Why I love this recipe
I can make it ahead of time and keep it in the freezer until I'm ready to serve.
It's so pretty! With lovely layers and garnished with candy cane bits and chocolate chips, this dessert is stunning!
This is a no-bake holiday dessert recipe!

Gather these ingredients
Oreo cookies – You'll need a 1-pound package.
Butter – Melted.
Peppermint ice cream
Unsweetened baking chocolate – You'll find this in the baking section of your supermarket.
Sugar
Evaporated milk – NOT sweetened condensed milk.
Vanilla extract – Pure or artificial vanilla extract is fine.
Heavy whipping cream
Powdered sugar – Also called icing sugar or confectioners sugar.
Peppermint candies – Or candy canes; crushed.
Mini chocolate chips – Semi-sweet are fine.

How to make this Candy Cane Pie recipe
You'll be making this recipe in a few steps, so leave yourself plenty of time because it needs to freeze solid before serving.
Remove the ice cream from the freezer for about 10 minutes to soften up a bit.
Pulse the Oreo cookies in a food processor until they are fine crumbs.
Mix the crushed cookies with ½ cup of melted butter, then press the crumb mixture firmly and evenly into the bottom of a pie dish.
Spoon the softened ice cream evenly over the cookie base, then freeze it for about 2 hours or until solid and firm.
Melt ¼ cup of butter and 2 squares of unsweetened baking chocolate in a saucepan until combined.
Stir the sugar into the chocolate-butter mixture, and then add the evaporated milk. Mix to combine.
Bring the chocolate-butter-evaporated milk mixture to a simmer and stir constantly for about 5 minutes or until slightly thickened. Stir in the vanilla and set this aside to cool.
Pour 1 cup of the chocolate sauce evenly over the frozen ice cream pie and pop it back into the freezer for at least 6 hours or up to 2 weeks.
Before serving, whip the heavy whipping cream until stiff peaks form, then whip in the sugar and vanilla. Spread this evenly over the top of the pie.
Garnish the Candy Cane Pie with crushed peppermints or candy canes and a sprinkle of mini chocolate chips.
Cut into wedges and serve!

Tips & substitutions
Peppermint ice cream is recommended, but you can also use mint chip ice cream.
Skip a step and use a box of Oreo crumbs instead of making your own in the food processor.
Instead of making chocolate sauce, you can use a jar of fudge sauce. Warm it slightly in the microwave, so it's easy to pour and spread.
Store the leftover sauce in the fridge, then just before serving, warm it up and drizzle it over the dessert.
Some stores carry crushed candy canes – especially around the holidays. Or, to crush your own, add them to a resealable plastic bag and crush them with a rolling pin. You can also chop them in a food processor.

Serving suggestions
This Candy Cane Pie dessert is the hit of every meal, and I love serving it at the end of hearty feasts. It is the perfect finish to a meal of braised pork, slow cooker chuck roast, or crowd-pleasing meatloaf.
Or, put this dish out as a part of a holiday buffet or dessert buffet. It'll pair fabulously with other holiday-inspired dishes like M&M cookies, Mexican wedding cookies, trifle, and brownies.

Storage
Keep any leftover Candy Cane Pie in the freezer for up to 2 weeks.
Check out these awesome frozen dessert recipes while you're here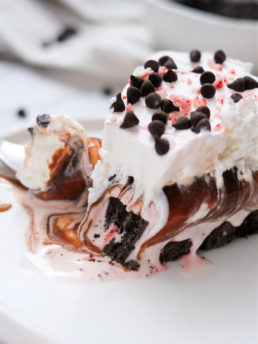 Get the Recipe: Candy Cane Pie (aka Peppermint Ice Cream Pie)
Ingredients
1 pkg 1 lb OREO cookies
¼ cup butter, melted
1.5 quart peppermint or mint chip ice cream, softened
¼ cup butter, melted
2 oz unsweetened baking chocolate, melted
1 cup sugar
½ can 6 oz evaporated milk
1 teaspoon vanilla
Cream
1 cup heavy whipping cream
¼ cup powdered sugar
½ tsp vanilla
⅓ cup crushed peppermint candies or candy canes
¼ cup mini chocolate chips
Instructions
In a medium bowl, mix crushed cookies and 1/2 cup melted butter. Press mixture firmly in a pie pan.

Pull ice cream out of the freezer for 5-10 minutes to soften (if the box has already been opened, but may take a minute or two longer to soften than an unopened box).

Spoon softened ice cream evenly over the cookie crust. Freeze for about 2 hours or until firm.

In a small saucepan, melt 1/4 cup butter and 2 squares (2 oz) chocolate over low heat, stirring constantly. Stir in sugar; gradually stir in evaporated milk.

Heat to boiling over medium-high heat, stirring constantly. Cook and stir for 5 minutes or until slightly thickened; stir in vanilla. Cool completely, about 2 hours.

Optional to use a jar of fudge (like Trader Joe's fudge), softened in the microwave, but not hot (to melt the ice cream).

Pour 1 cup of the chocolate sauce evenly over the frozen ice cream pie. [Cover and refrigerate remaining sauce.]

Place back in the freezer and freeze for at least 6 hours but no longer than 2 weeks.
To serve:
Whip the cream until stiff; add in the powdered sugar and vanilla. Gently mix together.

Spread over the pie.

Top with the chopped peppermint pieces and mini chocolate chips.

Cut into pie-shaped pieces and serve!

Optional to reheat the remaining sauce and drizzle over each serving.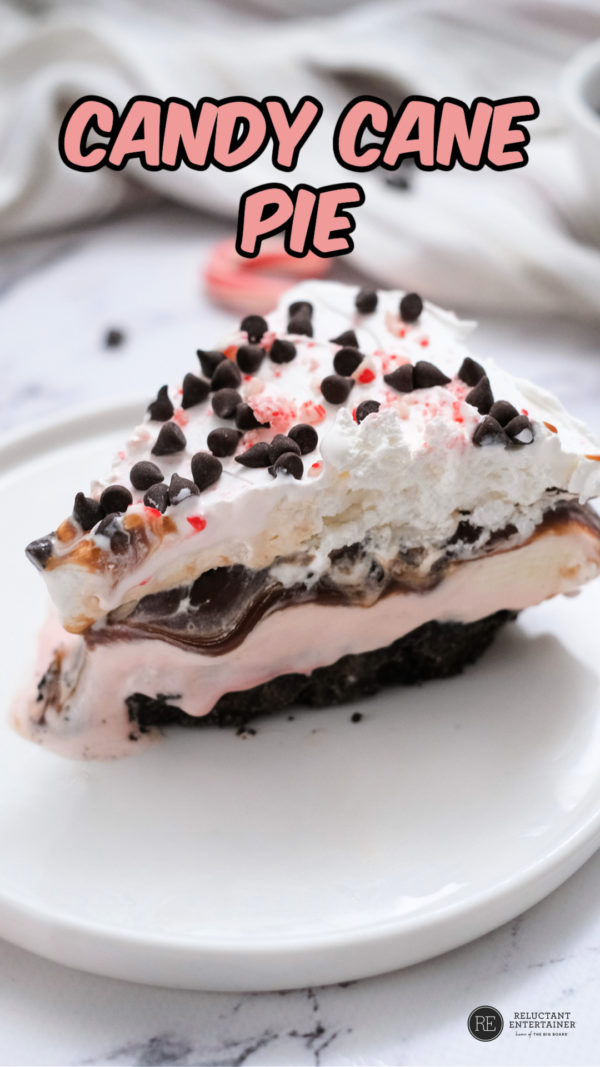 Hello and welcome to my home and table!
I'm Sandy—lover of food, family, cooking, THE BIG BOARD, travel, and bringing people together. Through great recipes and connection around the table, we become better, stronger, and more courageous people. Feasting on Life is real, and every time we do it, we grow a little more. Read more...