Easy Chicken Rice Layered Salad
A delicious weeknight meal or potluck dish, enjoy this Easy Chicken Rice Layered Salad, made with fresh ingredients. Serve with chips and salsa!
Last week we sat outside and at a casual bowl of this easy Chicken Rice Layered Salad for dinner, amazed at what we were seeing!
Easy Chicken Rice Layered Salad
We love layered salads. Maybe you've tried my Barbecued Chicken Layered Pasta Salad or this basic Layered Vegetable Salad or my friend Aubrey's 7 Layer Salad.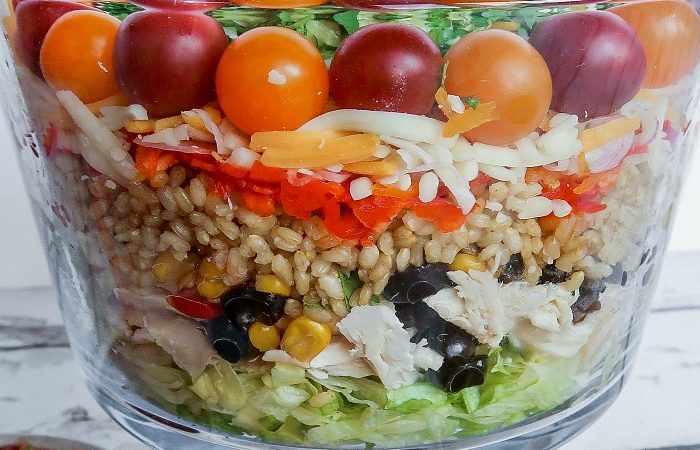 Friends, we had our first snow this past weekend … in September!! Now that is a first for me! I'm still daydreaming about fall, and the beauty of the meadows, the warm sunshine in the afternoon, the cool autumn breezes, and the aspens in full color.
I also love the sunset down at the lodge, and the beautiful Sunriver horses.
This is my favorite meadow to visit where I live.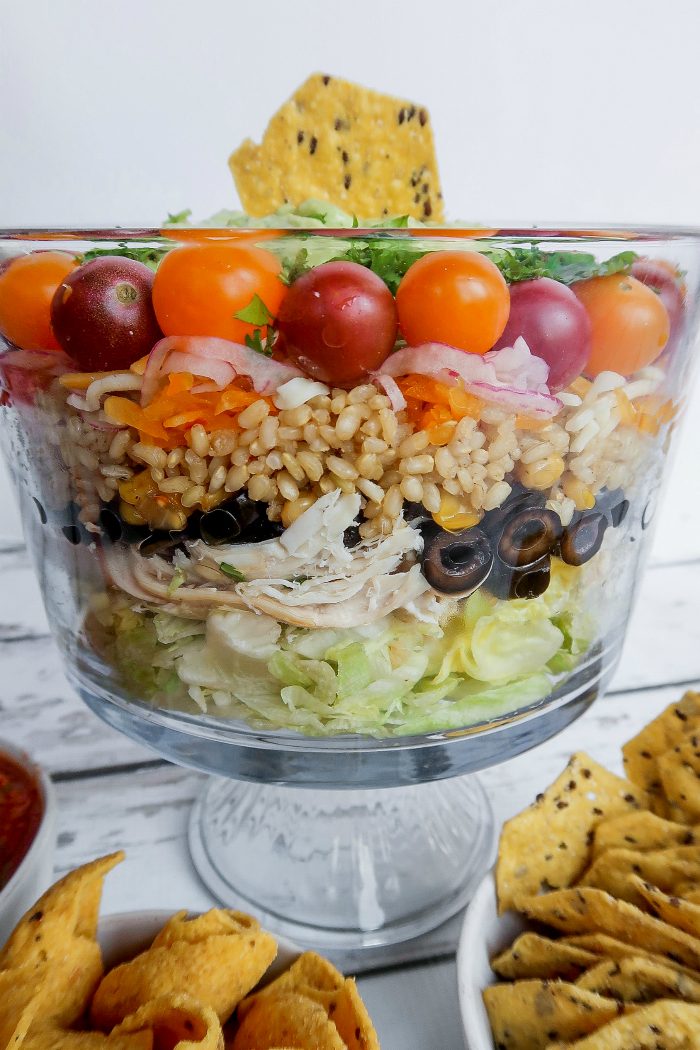 Ingredients for Chicken Rice Salad
Shredded lettuce
Rotisserie chicken
Black olives
Corn salsa (Trader Joe'or regular corn, drained)
Cooked brown rice
1 red or yellow bell pepper, red onion, cherry tomatoes
Mexican cheese
Guacamole
Cilantro
Favorite salad dressing

Chicken Rice Layered Salad
Today we're sharing one that is great for a weeknight dinner!
When I'm cooking, I'll often take leftovers (like rice and chicken) and grab my glass parfait dish.
Then layer ingredients I have in the fridge, and serve it for dinner that night.
How to serve a layered salad
Of course, you may ask, but how do you serve this salad?
I get it made, refrigerate it, and then right before serving, I dump it into a very large bowl.
Then it's up to you, as you can either toss it lightly with dressing, or set out dressing and let everyone dress their own.
Anchor Hocking Trifle Bowl with Stand
I use this bowl for so many salad!
You can buy this glass dish [AFFLINK], HERE.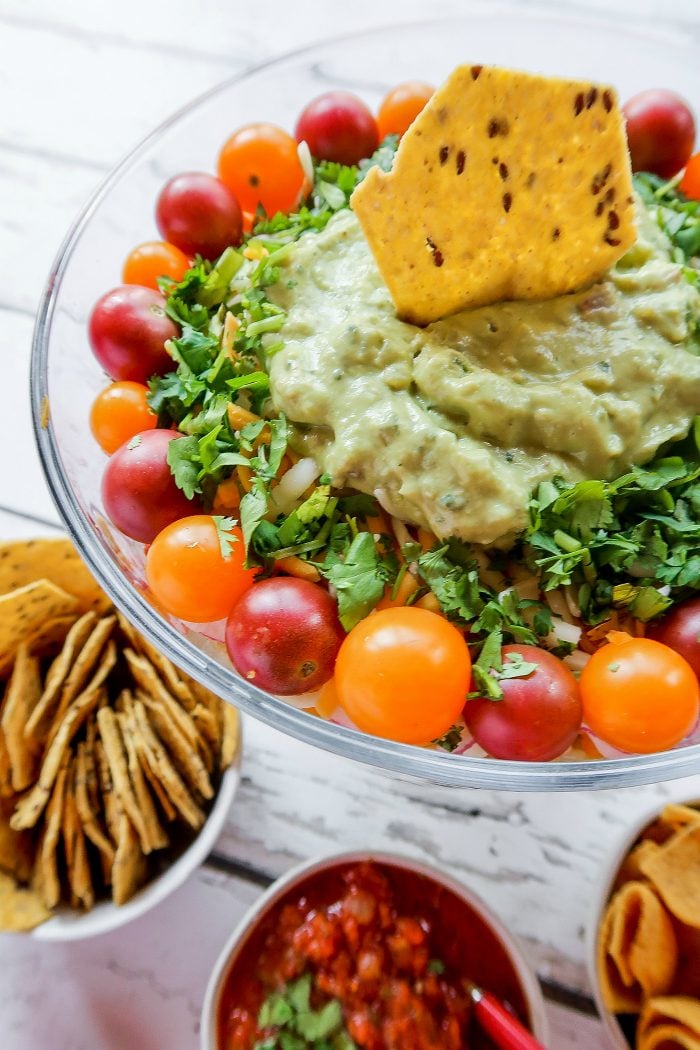 Back to the beautiful meadows. I found this hymn that warmed (literally) my soul, as it was snowing yesterday.
I hope you'll enjoy it.
A true song of praise!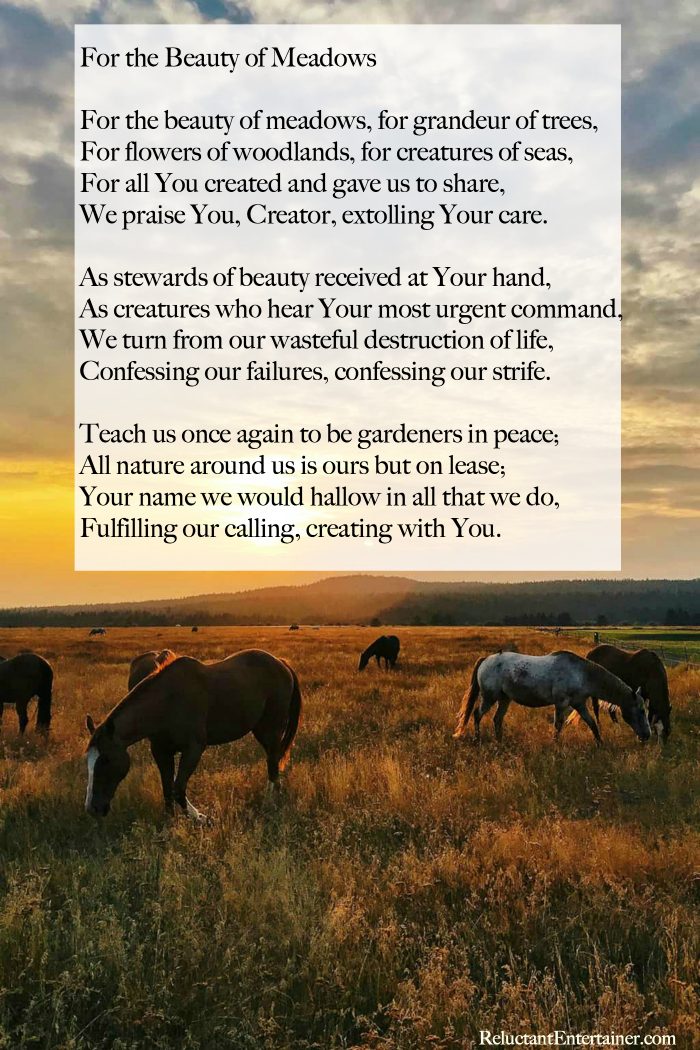 For the Beauty of Meadows

For the beauty of meadows, for grandeur of trees,
For flowers of woodlands, for creatures of seas,
For all You created and gave us to share,
We praise You, Creator, extolling Your care.

As stewards of beauty received at Your hand,
As creatures who hear Your most urgent command,
We turn from our wasteful destruction of life,
Confessing our failures, confessing our strife.

Teach us once again to be gardeners in peace;
All nature around us is ours but on lease;
Your name we would hallow in all that we do,
Fulfilling our calling, creating with You.
Get the Recipe: Chicken Rice Layered Salad
Ingredients
3 cups shredded lettuce
2 cups rotisserie chicken, chopped
1 cup sliced black olives
1 cup corn salsa (Trader Joe'or regular corn, drained
2 cups cooked brown rice
1 red or yellow bell pepper, thinly sliced
1 small red onion, thinly slices
2 cups shredded Mexican cheese
1 cup guacamole
Red and yellow cherry tomatoes
Fresh cilantro, finely chopped
Favorite salad dressing, such as Lime Cilantro, Poppyseed, or Thousand Island
Instructions
In a large glass parfait dish, layer the above ingredients, ending with the guacamole on top.

Garnish with fresh cilantro; cover with foil or plastic wrap and refrigerate until ready to serve.

Lightly toss with your favorite dressing. Serve with chips and salsa!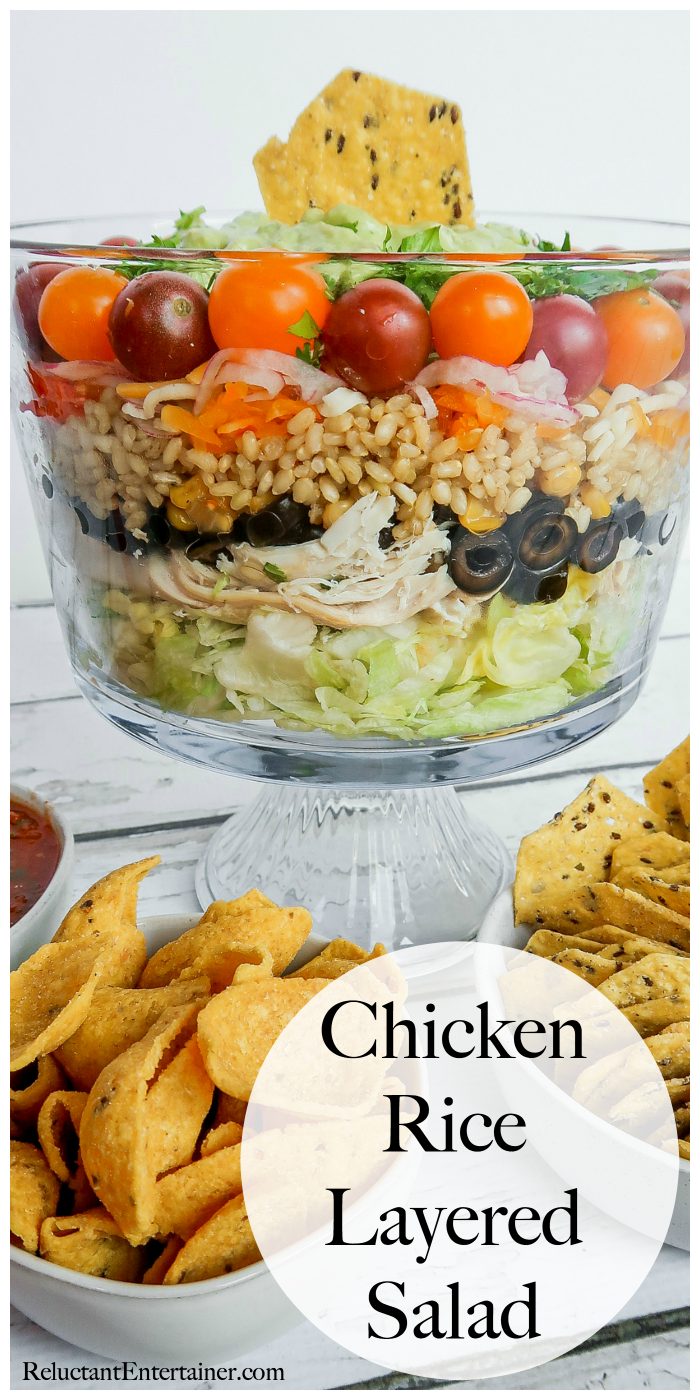 Hello and welcome to my home and table!
I'm Sandy—lover of food, family, cooking, THE BIG BOARD, travel, and bringing people together. Through great recipes and connection around the table, we become better, stronger, and more courageous people. Feasting on Life is real, and every time we do it, we grow a little more. Read more...