How to Make a GIANT Chocolate Cheese Board
Hosting a large party? Here are the details How to Make a GIANT Chocolate Cheese Board, including a few hospitality tips. Use a good quality chocolate, cheeses, and fresh fruit to make the board, with a delicious hazlenut chocolate spread for dipping.
Dark Chocolate with Sharp Cheddar or Brie cheese? OH. MY. GOODNESS. Today I'm sharing How to Make a GIANT Chocolate Cheese Board, just in time for the holidays! Check out more of my charcuterie/cheese board ideas!
Giant Cheese Board
Speaking of cheese and chocolate, don't you love pairing the right combinations together? It's truly the ultimate way to end a meal, if you have good quality foods! Oh, and while I was making this and photographing it, these 2 were not invited in.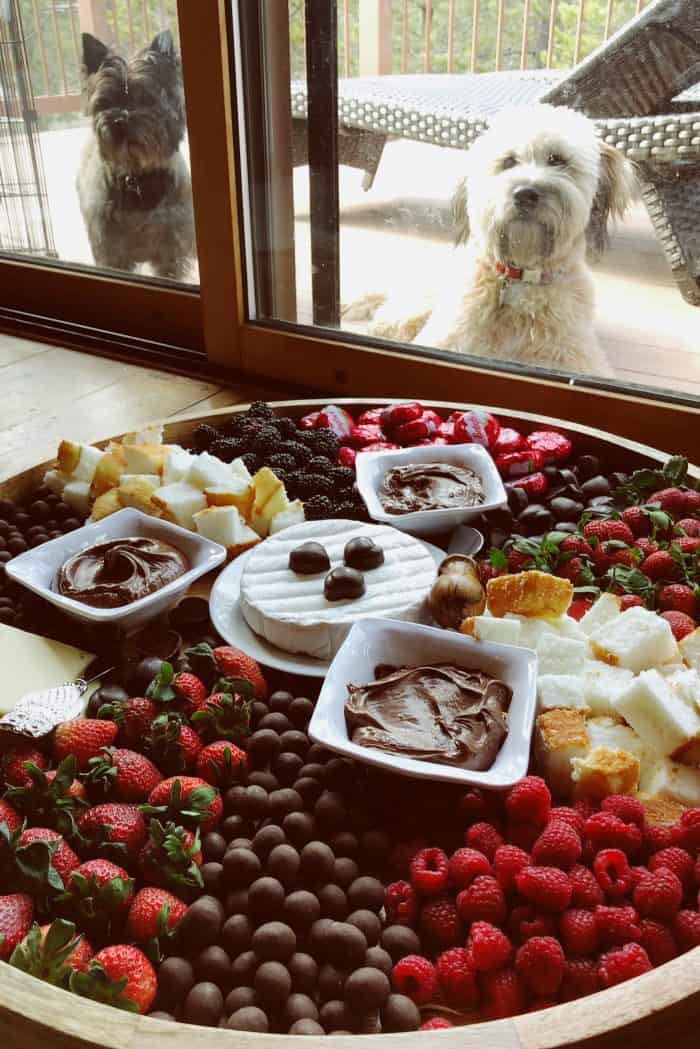 Cheese boards are versatile, easy to put together, and great for company. It can get quite spendy, so feel free to provide chocolate and fruit, and ask your guests to bring their favorite cheese! Or, the other way around. You provide the cheese and fruit, and let them bring the chocolate.
Oh, and these 3 little bowls? You can use a chocolate fondue, but I cheated and used Costco's new Hazelnut Spread with Cocoa. Did you know they have their own now? Delicious, and less expensive than comparable products.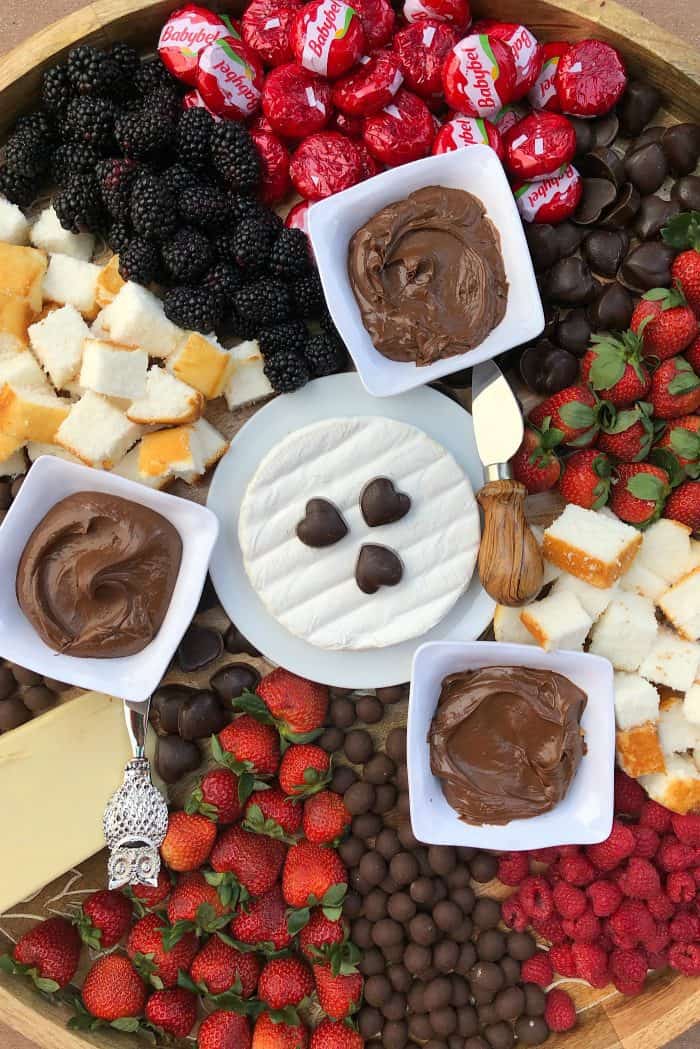 How to Make a GIANT Chocolate Cheese Board
Here's what I love about this post today, How to Make a GIANT Chocolate Cheese Board:
Since hosting a party is all about getting to know others better, why not serve something that will generate good conversation the minute your guests walk through the door?
Have a large Giant Chocolate Cheese Board ready, with your favorite drinks. THIS will get the party started! (This giant board is from Pier 1.)
Who would guess that two wildly different tastes could come together to create such a fabulous flavor combination? Chocolate and cheese are BIG winners!
It's okay to make this board ahead (believe me, this size of board takes time to assemble), and we all know that cheese tastes best at room temperature anyway!
Pop this Baked Cherries Pecan Brie recipe in the oven the minute your guests walk through the door. It only takes 10 minutes to bake, enough time to serve your guests their drinks!
Place the brie back in the center of the board once cooked, and SERVE! Yes, brie is DELISH with angel food cake!
Skip the crackers and bread and meats, and just make it simply sweet for Valentine's Day!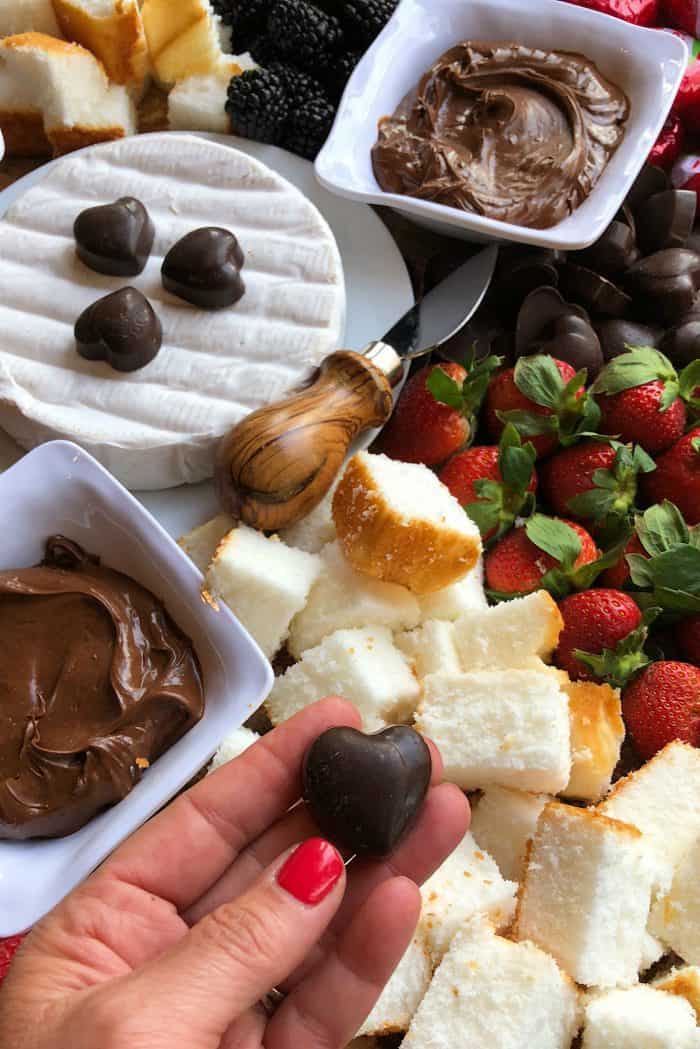 Oh, and the leftovers? People ask me all the time if can you freeze cheese? Especially if you have a lot of leftover cheese from a board this size.
24-inch Charcuterie Board
Friends, here is the board that I LOVE. It's 24-inches in diameter with a 2-inch lip. A "lip" is the secret to the best charcuterie or dinner board, because the food does not fall off.
You can buy in 2 sizes.
Here are the LINKS:
LARGE Hand-Carved Gabrielle Tray – 24 inches round. Buy >> HERE (affiliate link)
SMALL Hand-Carved Gabrielle Tray – 18-inches round. Buy >> HERE (affiliate link)
Rememember it says it is "not food safe," so you need to prepare the board by either laying down parchment paper under the food, or you can "season" it like we did.
Here are a few other options:
Courtland Wooden Lazy Susan – 18-inch round. Buy >> HERE (affiliate link)
LAZY SUSAN is a board that spins. It does NOT have a lip, but it's cool for the center of the table.
Here's an 18-inch wine barrel wood board or a 24-inch hammered large round tray or a 26-inch stainless steel serving platter that you may also like! Check out the weight on these boards.
How to season a Charcuterie Board
If a wood board says it "not food safe," you can lightly sand it down with sand paper, and rub down with beeswax and mineral oil.
We used this butcher block and cutting board oil conditioner after we lightly sanded the board down.
Or, lay down parchment paper! Easy peasy!
I say don't freeze the cheese. Freezing cheese compromises the texture and will be super crumbly. Unless you're grating it or using for a dish like enchiladas or mac and cheese, for gourmet purposes, never freeze cheese.
Just eat it, until it's gone. (We love cheese in our home so much, end of story).
Enjoy Friends, and Happy Dipping!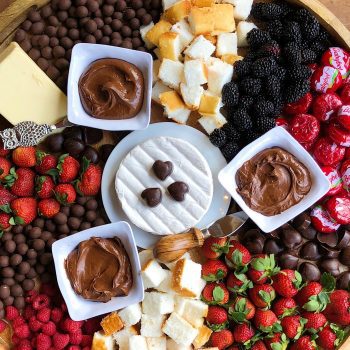 Print Recipe
How to Make a GIANT Chocolate Cheese Board
Ingredients
2

11 oz angel food loaves, cut in squares

3

cups

Nutella

or other hazelnut spread

1 32

oz

bag Coconut Almonds with Dark Chocolate

14

oz.

Godiva Masterpieces

Dark Chocolate Ganache Hearts

1

pound

fresh raspberries

1

pound

fresh blackberries

2

pounds

fresh strawberries

16

oz.

brie

24.

oz.

individual Babybel cheese packets

1

large brick sharp cheddar cheese
Instructions
On a giant food-safe board (if not, lay down parchment paper), arrange the ingredients above.

Place the hazlenut spread in 3 small bowls.

Bake the brie using your favorite recipe. This

Baked Cherries Pecan Brie

is fantastic! Place hot in the center of the board right before serving.

ENJOY!
More charcuterie and cheese board recipes: Asian-Inspired Cheese Board [FoodieCrush], Olive, Meat, Cheese Board Recipe [RE], Almond Summer Berry Cheese Board [RE], How to Create an Epic Cheese Plate [Brown Eyed Baker], Tortellini Sausage Skewers [RE], and Kid Friendly Charcutier [Love From the Oven].
This post has affiliate links. Every purchase from these links supports RE at no extra cost to you. Thank you!