Lemon-Rosemary Roasted Chicken Tenders with Potatoes
Lemon-Rosemary Roasted Chicken Tenders with Potatoes is a savory chicken potato meal, ready to serve in 45 minutes!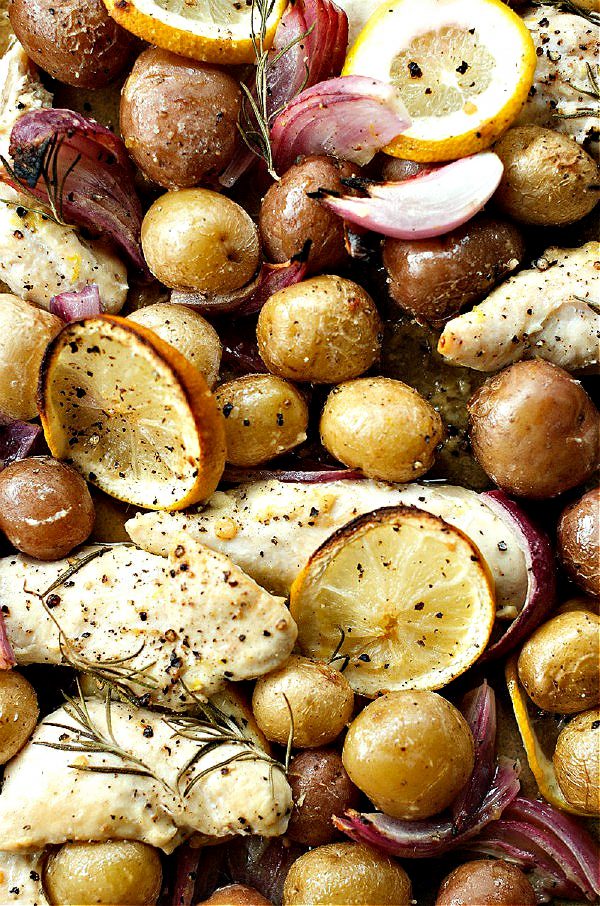 A delicious one-pot meal for dinner this week, we love this Lemon-Rosemary Roasted Chicken Tenders with Potatoes.
Lemon-Rosemary Roasted Chicken Tenders with Potatoes
For weeknight cooking, we love a good chicken meal. I adapted this chicken recipe from Rachael Ray Magazine, September 2015.
Here are a few of my favorites:
Also also try my Lemongrass Curry Coconut Chicken Thighs.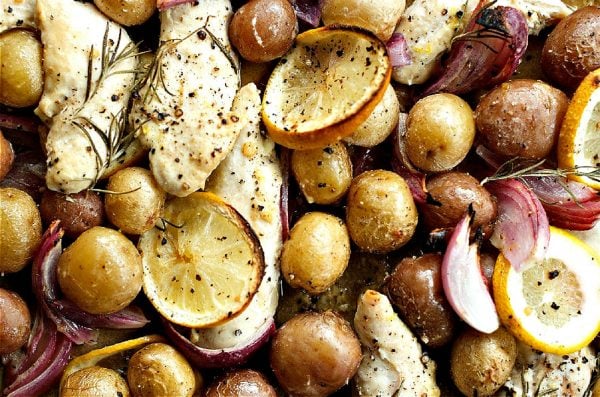 All you need for this dish are these ingredients:
It's a delicious chicken and potato dish ready to serve in 45 minutes!
Olive oil
Lemons
Dijon mustard
Garlic
Baby potatoes
Red onion
Chicken tenders (I buy at Costco)
Rosemary
Salt and pepper
Thoughts on waiting
I love this quote. It reminds me of how many times I've waited to do something, and I should have just "jumped in" and done what I was supposed to do.
"It's a terrible thing, I think, in life to wait until you're ready. I have this feeling now that actually no one is ever ready to do anything. There is almost no such thing as ready. There is only now. And you may as well do it now. Generally speaking, now is as good a time as any." –Hugh Laurie
Of course, being a blog about hospitality, I'll share a simple story that happened awhile back. I was out walking with a friend and we ran into another friend, who was having surgery. We chatted, and I promised I'd bring her a meal. Do you ever do that? Promise to do something, but then you either forget, or you just … procrastinate. Finally, two weeks later, I contacted her to bring her a meal. I wanted to keep my word!
Bringing a meal to others
Each day didn't feel like a "good day" to put my energy into it, so I kept putting it off. But on this day I sent a quick text, said I'd be there at 6 pm, and I did it.
What did I bring? Easy — rotisserie chicken, green salad in a bag (with fresh garden tomatoes), a salad, bread, and of course, a chocolate candy bar.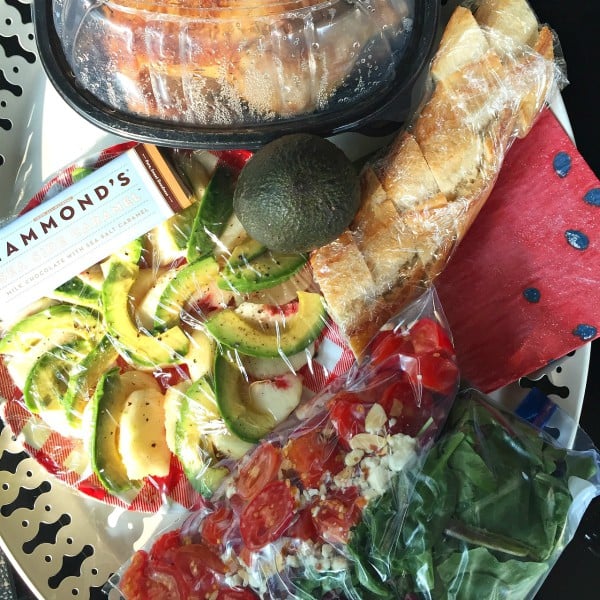 How hard is that?
Many times I'll bring easy chicken meals, but this week I didn't have time to get this hot dish in the oven.
Rotisserie chicken and salad meal
Here's why I love to take the meal that I brought: You can heat up a rotisserie chicken and serve the other dishes on the side, OR, you can make one giant salad, with chicken on top! It's a win-win meal. It's been my go-to for many years.
(By the way, are you following me on Pinterest?)
People just appreciate the thought, the nourishment, that someone else is actually cooking for them, thinking about them, waiting on them (in a sense), and the chocolate candy bar?
My rule: There has to be a bite of something sweet for dessert or later.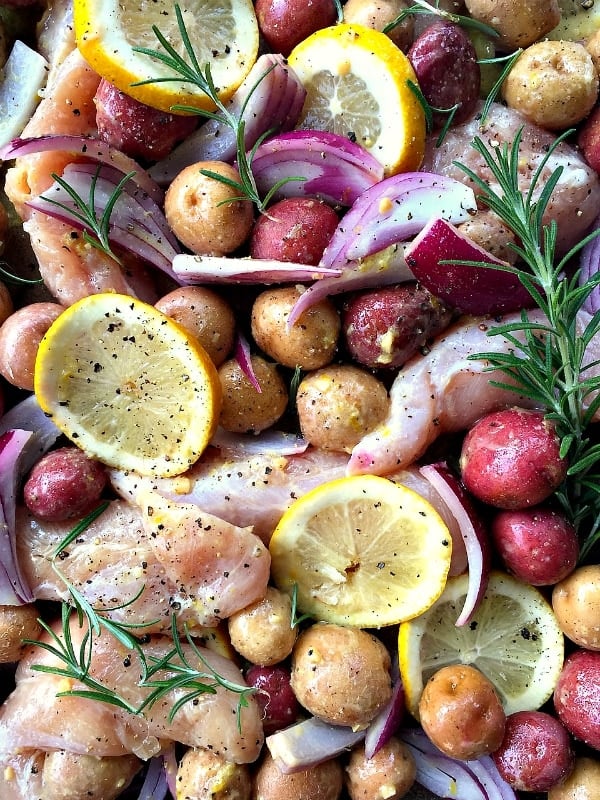 Lemon-Rosemary Roasted Chicken Dish
Friends, this easy chicken dish is a good meal to add to your "taking a meal to others" recipe file.
There's nothing spicy (for nursing moms) and everyone seems to love chicken, potatoes, and lemon!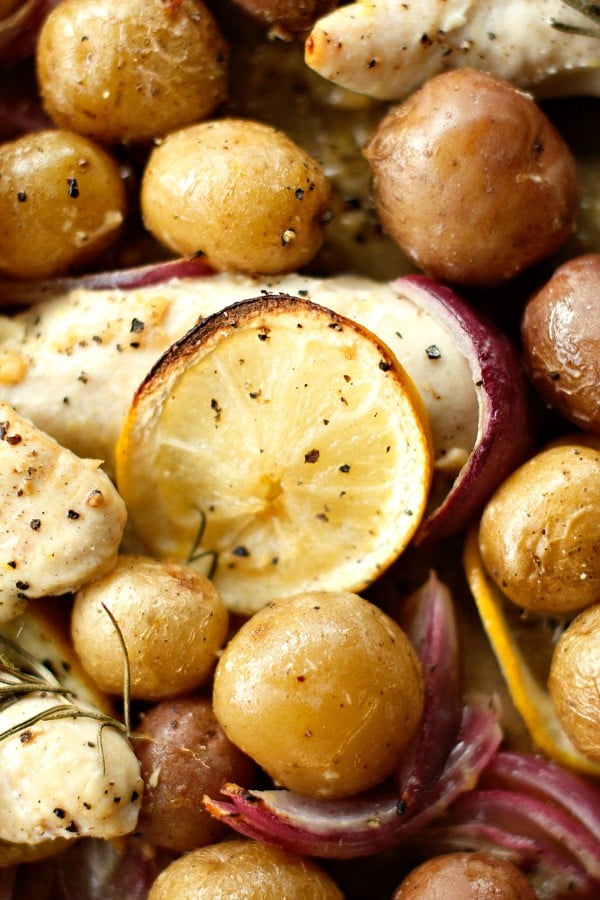 Add a salad in a bag (buy it store-bought or make your own in a ziploc bag), some bread, and a bite of something yummy for dessert = the perfect hospitality meal.
Looking for some homemade lemon desserts?
Easy Baked Lemon Ricotta Custard
Lemon Ricotta Pie with a Ritz Cracker Crust
Lemon Almond No Churn Ice Cream with Candied Almond Sesame Topping
Make it happen
Reaching out to people with food is easy to think about, but actually doing means that you have to get in touch with the person you know could benefit from your hospitality, and go the extra mile to make the meal and bring it to them.
My advice: Just do it. You'll be blessed!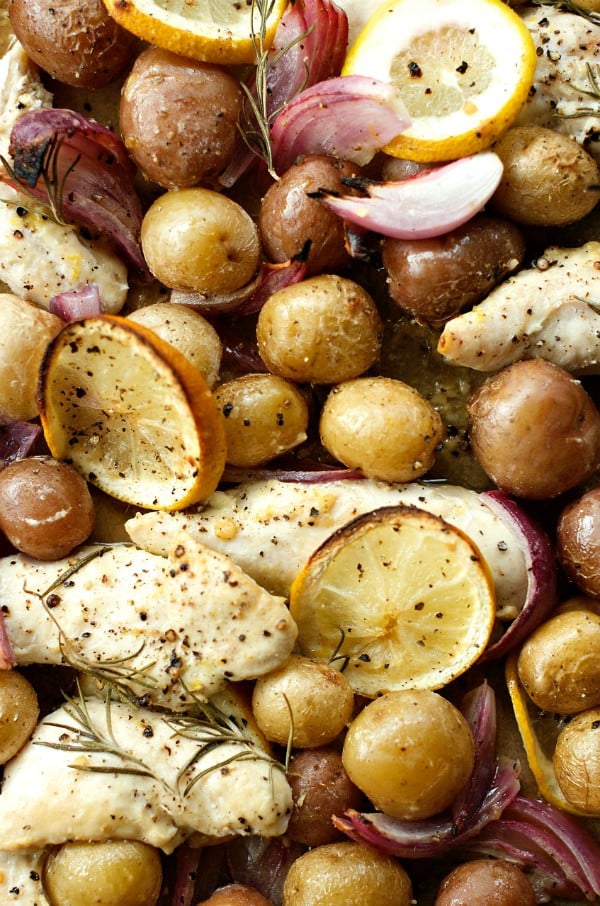 Get the Recipe: Lemon-Rosemary Roasted Chicken Tenders with Potatoes
Ingredients
1/4 cup olive oil
2 lemons–1 zested and juiced, about 1 1/2 tsp. zest, 4 tbsp. juice and 1 thinly sliced
1 tablespoon Dijon mustard
2 cloves garlic, minced
1 1/2 pounds small baby potatoes, or larger cut into 1-inch cubes
1 small red onion, cut into wedges
1 1/2 pounds chicken tenders
4 sprigs fresh rosemary
Salt and pepper
Instructions
Preheat the oven to 425 degrees. In a small bowl, whisk the oil, lemon zest and juice, mustard and garlic; season the dressing with salt and pepper.

On a rimmed baking sheet, toss the potatoes, onion, chicken, rosemary and sliced lemon with the dressing; season.

Roast, turning the potatoes once, until the potatoes are golden-brown and tender and the chicken is cooked through, 35 to 40 minutes.
Notes
Adapted from Rachael Ray Magazine, September 2015. Reposted on RE from August 2015.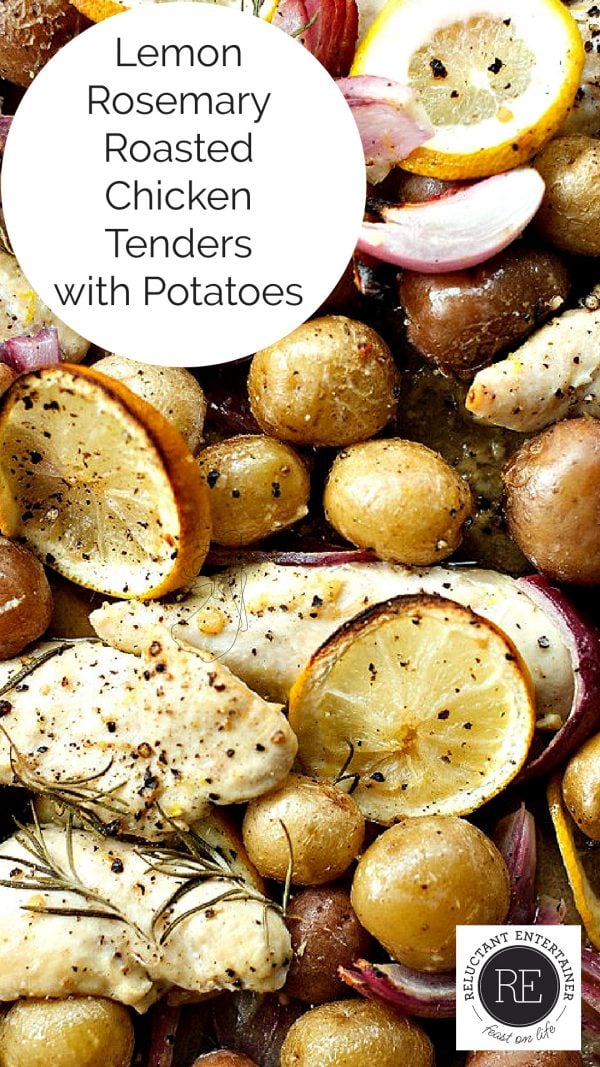 Hello and welcome to my home and table!
I'm Sandy—lover of food, family, cooking, THE BIG BOARD, travel, and bringing people together. Through great recipes and connection around the table, we become better, stronger, and more courageous people. Feasting on Life is real, and every time we do it, we grow a little more. Read more...