Ritz Cracker Lemon Ricotta Pie
This pie is delicious! Learn how to make a Lemon Ricotta Pie with a Ritz Cracker Crust, a light and refreshing lemon pie. Make ahead to enjoy the next day!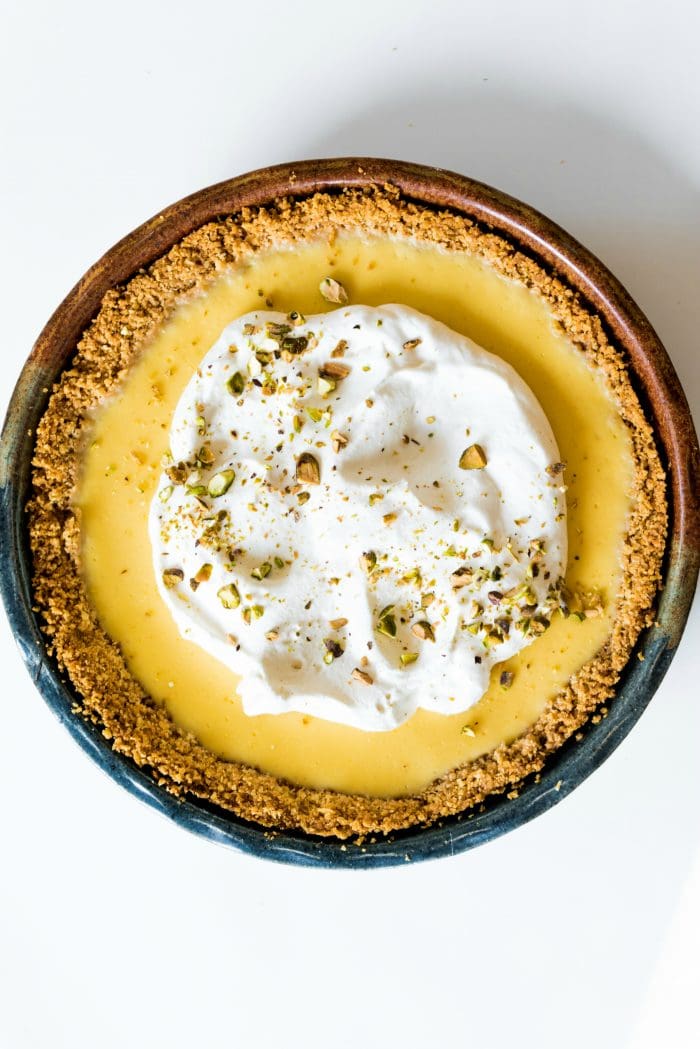 Friends, Mother's Day is almost here! I told my family, keep it simple this year. Which means, wholesome, delicious food. Something simple, like this Ritz Cracker Lemon Ricotta Pie.
Ritz Cracker Lemon Ricotta Pie
Talk about a creamy pie with perfect textured pie crust. Not too sweet–make ahead and enjoy the next day! Or, you may want to try my Sour Cream Lemon Pie (in easy press crust), or this very easy Oregon Marionberry Galette Recipe.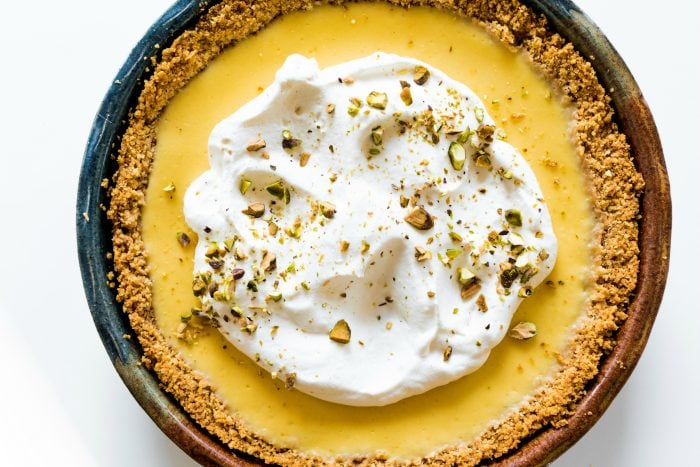 I love Mother's Day, not only because it reminds me of my dear Mother, but how blessed I am with my children.
So today … we will sit back, keep it simple (maybe a family hike, in this unusual time we are living in) and eat pie :)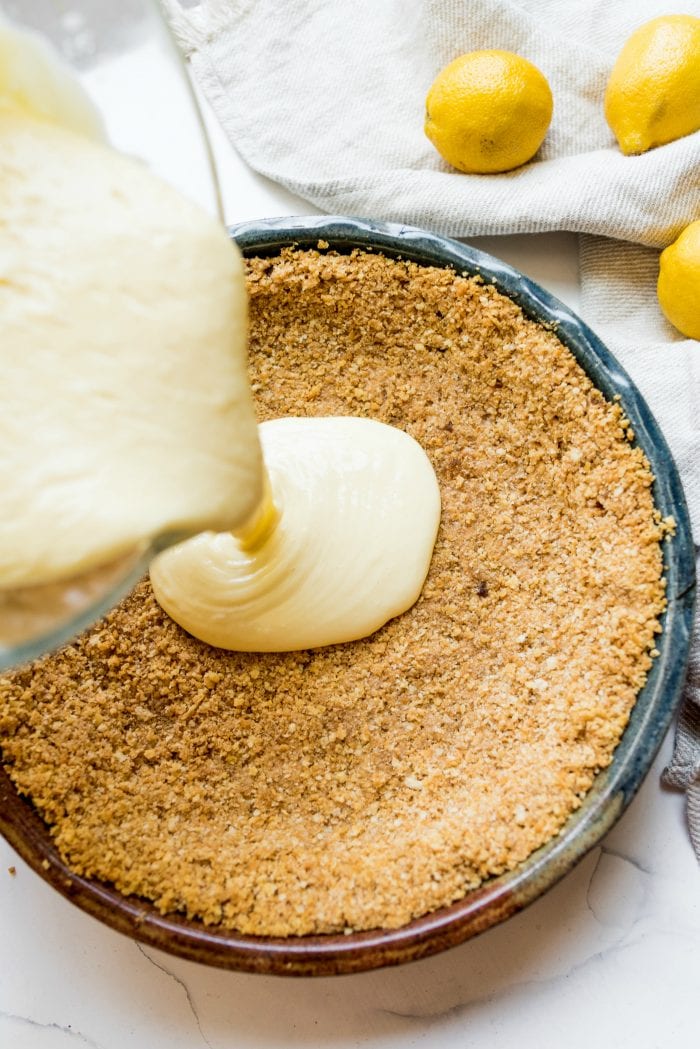 Ingredients for Ritz Cracker Crust
Ritz Crackers
Unsalted butter
Kosher salt
Brown sugar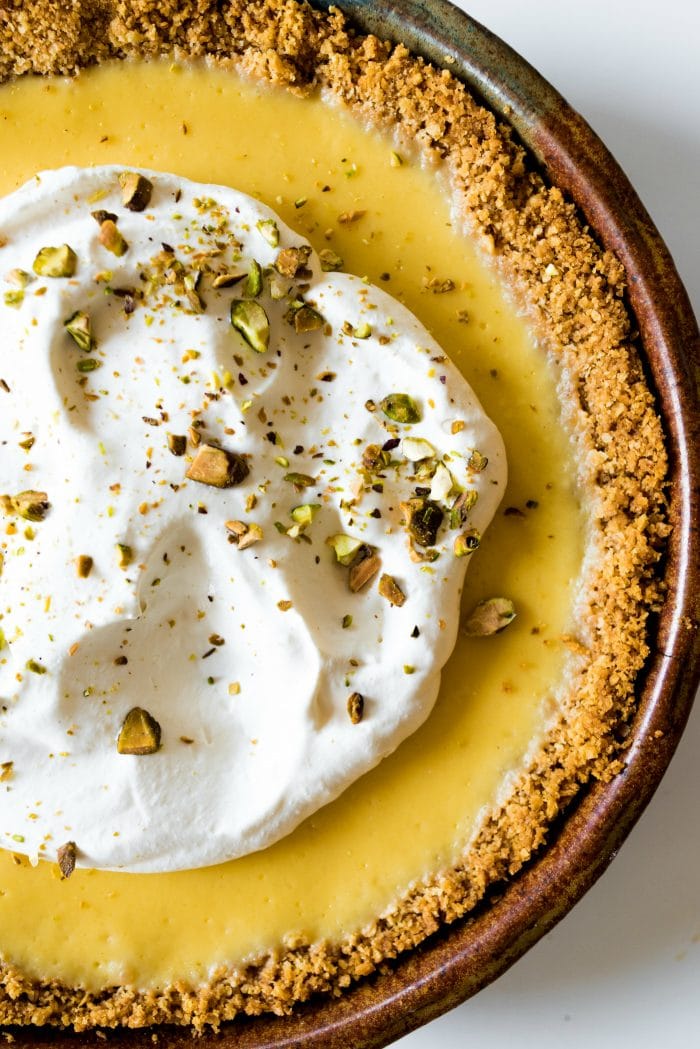 Ingredients for Lemon Ricotta Pie
Whole milk ricotta cheese
Sweetened condensed milk
Fresh lemon juice
Vanilla extract
Eggs
Whipped cream
Pistachios
How long does ricotta pie last in the fridge?
Once you open a container of ricotta cheese, it lasts 1-2 weeks in the fridge. Close the container and refrigerate it promptly.
How long does Lemon Ricotta Pie last in the fridge?
This pie is great up to about 5 days. The flavors settle in, the longer it sits.
Can Ricotta Pie be frozen?
We have frozen a Lemon Ricotta Pie, but it definitely changes the texture. The flavors are still good though! Freeze without the whipped cream topping on top!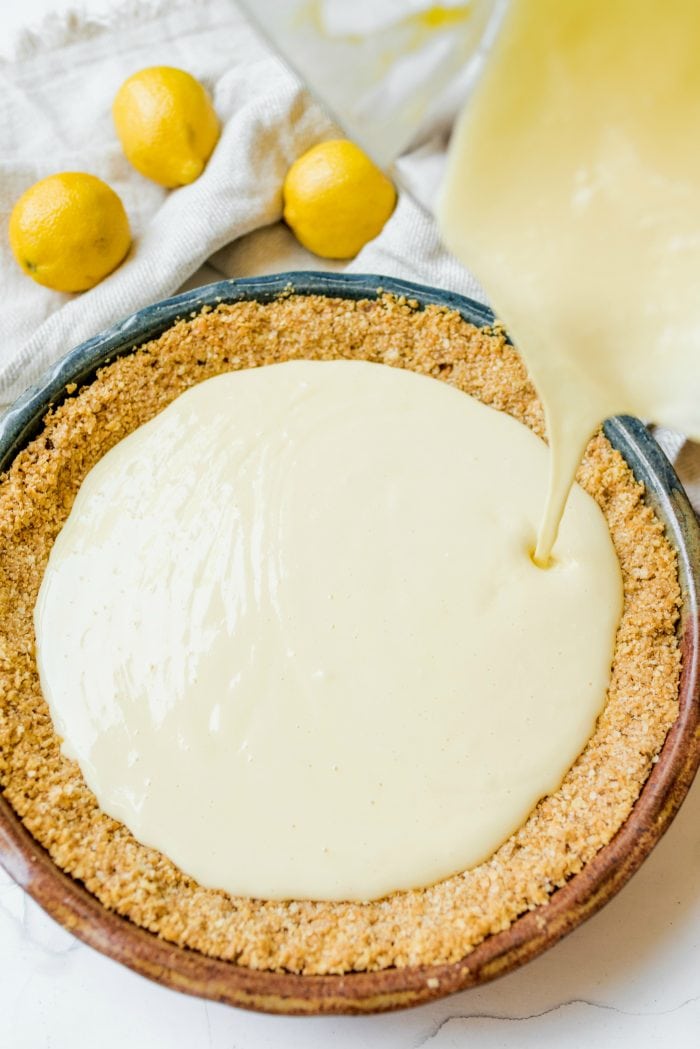 How to make Lemon Ricotta Pie
I would recommend that you make this pie the night before serving—the longer it sits, the more the crust and custard meld together.
Make the pie crust first and bake.
While pie crust is baking, make the lemon filling.
Assemble, cool, and allow to set up in the fridge.
The Ruthless Elimination of Hurry
We miss so many opportunities when we stress about the stuff around us. I think it's a heart attitude, and sometimes it just takes a focus adjustment. It's fun to throw a party with all the bells and whistles, but when it comes down to it, what really counts is making the most of today.
Today looks much different than six months ago. Entertaining is way more simple. Yes, the day will come to have big parties again. But for today … we're all sizing up recipes according to our family size.
I also want to recommend a great book for Mother's Day, a spiritual book. The Ruthless Elimination of Hurry, by John Mark Comer. Get the book, HERE [afflink]
It's a book I'm really enjoying, how to stay emotionally healthy and spiritually alive in the chaos of the modern world. WOW. This book was written last year, but oh how relevant today!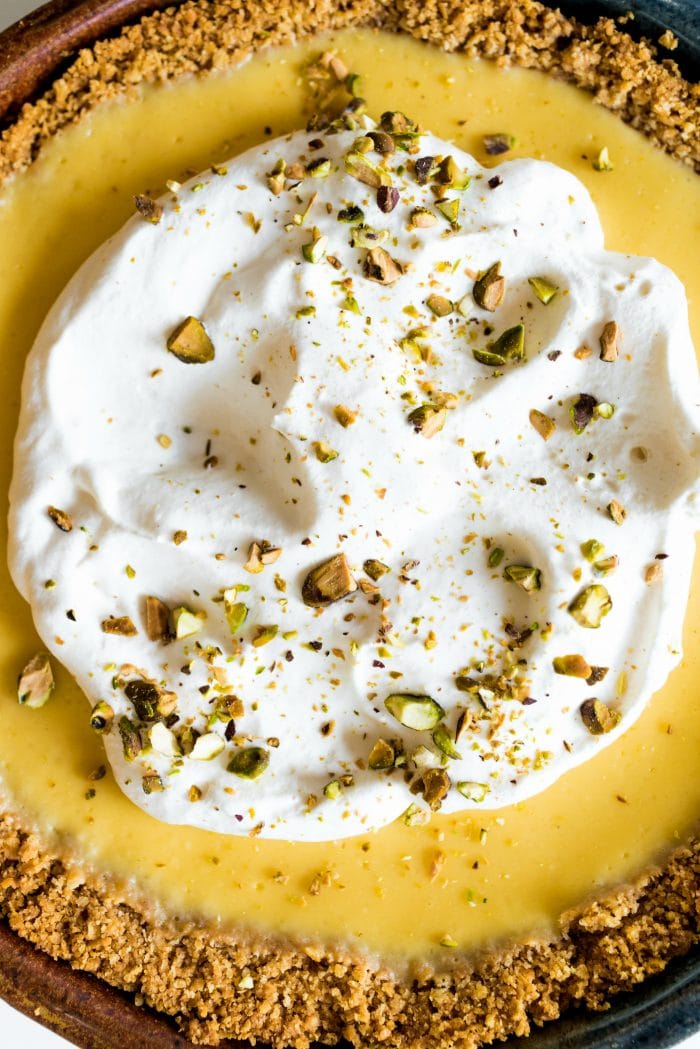 Happy Mother's Day week, Friends!
And happy spring and summer! Oh, and here's another pie to try: No Bake Margarita Pie with Ritz Cracker Crust.
Get the Recipe: Ritz Cracker Lemon Ricotta Pie
I would recommend that you make this pie the night before serving—the longer it sits, the more the crust and custard meld together.
Ingredients
Pie crust:
5 oz Ritz Crackers
½ c unsalted butter, very cold, cut into 1/2'' cubes
¼ tsp kosher salt
3 Tbsp brown sugar
Pie filling:
½ c whole milk ricotta
1 14 oz can sweetened condensed milk
½ c lemon juice, about 2 large lemons
1 tsp vanilla extract
2 eggs
2 yolks
Whipped cream:
¾ c whipped cream
2 Tbps. powdered sugar
2 Tbsp pistachios, chopped
Instructions
Preheat oven to 350°F

In a food processor, or by hand, pulse or crush the Ritz Crackers into coarse shards, then mix in the butter, sugar,, and salt--pulsing with your processor or breaking the cubes apart with your fingers until the crackers and butter stick together when squeezed, but the texture remains rough and crumbly.

Transfer the crust into a standard pie dish and press into the center and sides. Bake for 15 minutes, or until golden and browned.

While the pie bakes, make the filling. In a large mixing bowl, combine the ricotta, sweetened condensed milk, eggs, yolks, vanilla, and lemon juice. Mix until smooth and thick.

When the crust has baked, pour in and smooth the lemon ricotta mixture. Return pie to the oven for for 18-20 minutes, or until edges are firm but center jiggles. When the edges have appeared to set, turn off the oven and prop the door open just slightly, using a heatproof spoon or spatula (or open the door as little as possible if you don't have a heatproof spoon). Allow the pie to sit in the oven for 20 minutes or so, until the center no longer wiggles.

In a small bowl, whip the cream for a few minutes until thick. Add the powdered sugar.

Transfer the pie to the refrigerator for at least 6 hours before serving with whipped cream and chopped pistachios!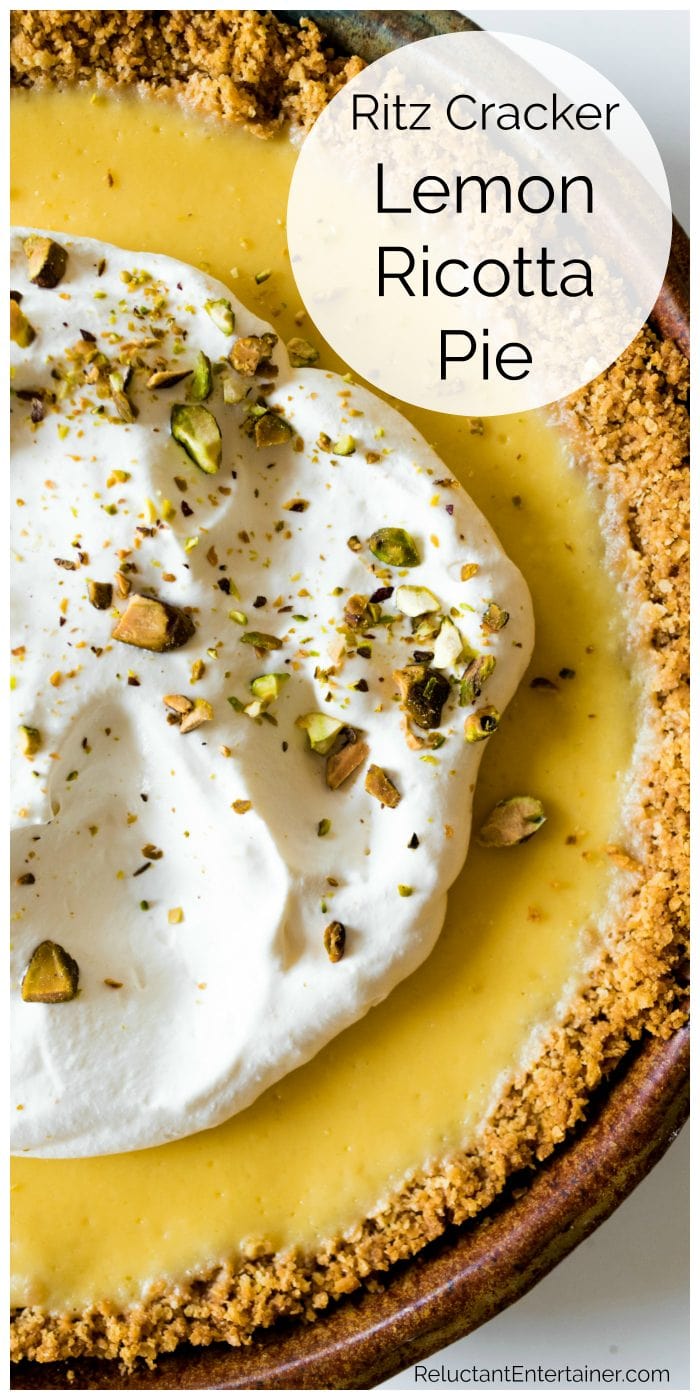 Hello and welcome to my home and table!
I'm Sandy—lover of food, family, cooking, THE BIG BOARD, travel, and bringing people together. Through great recipes and connection around the table, we become better, stronger, and more courageous people. Feasting on Life is real, and every time we do it, we grow a little more. Read more...