Peanut Butter Pie with Oreo Crust
If you love peanut butter and chocolate, this delish Peanut Butter Pie with Oreo Crust will be your new favorite! Made with an Oreo cookie crust and with even more chocolate on top, this silky pie is easy to make and is oh-so-good!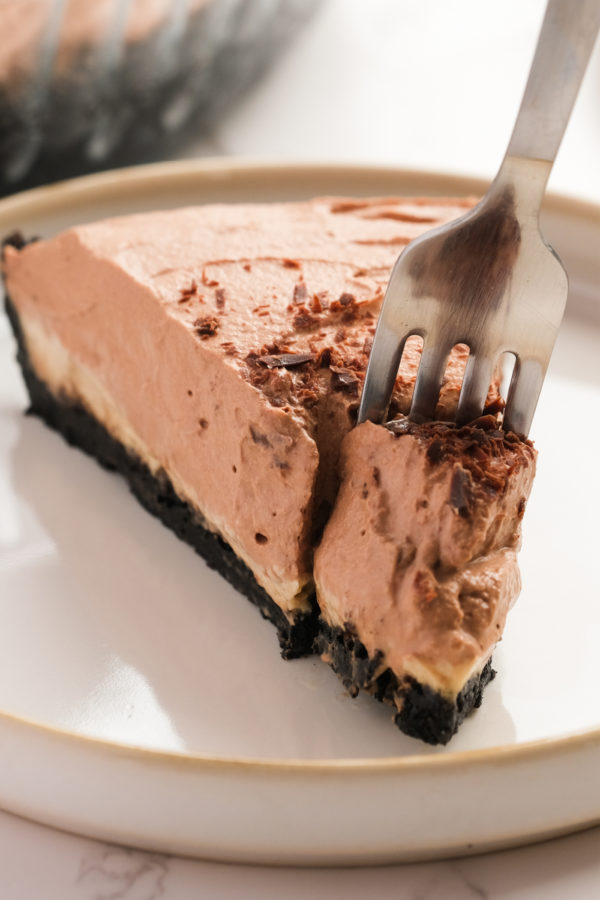 This is such a great dessert! It's sweet and savory at the same time, with the unmistakable and delicious flavor of peanut butter in every bite. It's an easy and impressive dessert for any occasion.
Peanut Butter Pie with Oreo Crust
I especially love this Peanut Butter Pie with Oreo Crust in the fall. It just says fall to me, with the rich peanut butter and chocolate combination. But I've certainly served it other times of the year, too. In fact, it's often recommended for potlucks, parties, and other kinds of gatherings.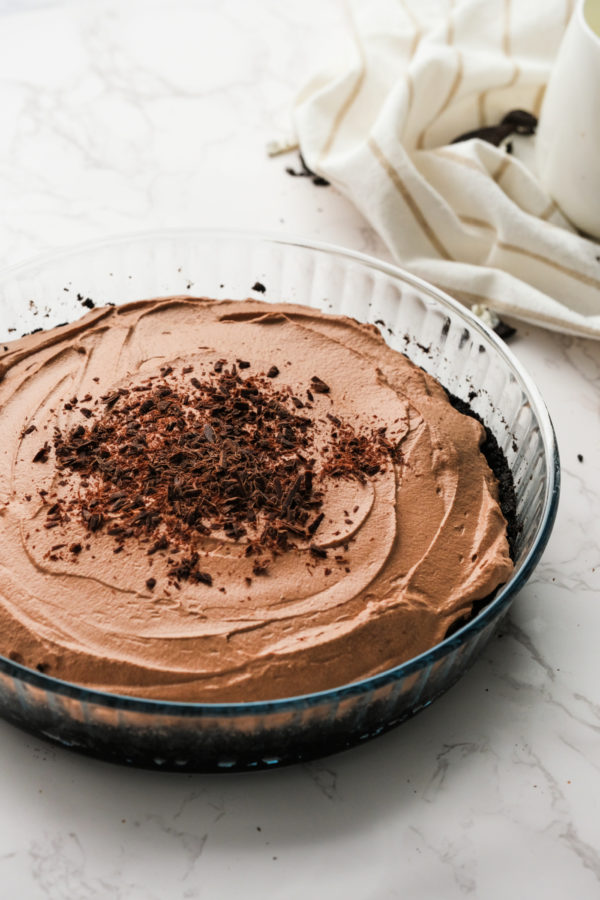 Kids and adults alike love this recipe! And with a delicious creamy chocolate topping and a sprinkle of chocolate shavings on top, it's so pretty and inviting!

Why I love this recipe
This Peanut Butter Pie with Oreo Crust looks much harder to make than it actually is!
It's perfect for dark chocolate fans – you can use dark chocolate in the topping instead of semisweet chocolate.
It has the perfect balance of sweet and savory, and it's oh-so-good!

Gather these ingredients
Oreo cookies
Unsalted butter
Cream cheese – Softened.
Creamy peanut butter – Use a good brand.
Dark brown sugar
Heavy whipping cream
Chocolate – Milk or dark chocolate; roughly chopped.

How to make the best Peanut Butter Pie with Oreo Crust
Preheat your oven to 350-F.
Pulse the Oreo cookies and their cream filling in a food processor until they're fine crumbs. You'll need about 2 cups of crumbs.
Transfer the crumbs to a large bowl and add the melted butter. Stir to combine.
Pour the buttery-crumbs into an ungreased 8- or 9-inch pie dish and press the crumbs into the bottom of the pie dish to make the crust. You want to compact the crumbs along the bottom and up the sides of the pie dish.
Bake the crumbs at 350-F for 10-12 minutes, then cool completely.
Combine the softened cream cheese, peanut butter, and brown sugar in a medium bowl and beat with a mixer until smooth.
Whip the heavy whipping cream in a second bowl until stiff peaks form, then combine the whipped cream and peanut butter mixture until combined.
Transfer the peanut butter and whipped cream mixture to the cooled pie dish and refrigerate.
For the topping, add the chopped chocolate and heavy whipping cream to the top of a double boiler and turn the heat to medium. Whisk until the chocolate is melted.
Refrigerate the chocolate-cream mixture for 2 hours or until chilled. Then, beat the chocolate cream with a hand or stand mixer until thick and spreadable.
Spread the topping gently over the peanut butter pie and garnish with reserved chocolate shavings.
Serve right away, or refrigerate until ready to serve.

What's a double boiler?
A double boiler is a cooking tool that consists of two pots, or a pot and a heat-resistant bowl, one fitting inside the other. The bottom pot is filled with water, which is brought to a simmer or a gentle boil. The top pot or bowl, which holds the ingredients, sits above the simmering water, allowing for gentle, indirect heat. This allows you to melt the chocolate without burning or breaking. To use a double boiler, fill the bottom pot with water and bring it to a bare simmer, then place the top pot with your ingredients over it, making sure the bottom of the top pot does not touch the water.

Tips & substitutions
To ensure there are no lumps in your filling, the cream cheese should be quite soft, and the peanut butter should be at room temperature, too.
You can use light cream cheese to trim a few calories from this decadent peanut butter and chocolate pie recipe.
No food processor to make Oreo crumbs? Add the cookies to a zipper-top bag and smash them with a rolling pin. You could also make the crumbs in a blender, but work in batches.
Save some of the chocolate – just a few pinches – to chop into crumbs to garnish the top of your pie.
This pie can stay in the fridge for hours until you're ready to serve.

Serving suggestions
This Peanut Butter Pie with Oreo Crust is the perfect finish to so many meals! I love serving this peanut butter dessert when there are kids around, but adults love it, too! And it doesn't need any last-minute prep, so once it's in the fridge, you're good to go. Serve it after a casual meal of soup and sandwiches or after a more formal meal of roasted pork or one of my all-time favorites, roasted chicken with pears.

Storage
Store your leftover peanut butter and chocolate pie in the fridge for 1-2 days. It won't freeze well – this recipe is best eaten fresh.

Check out these awesome dessert recipes while you're here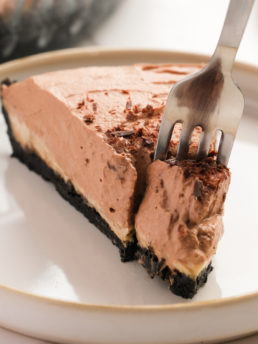 Get the Recipe: Peanut Butter Pie with Oreo Crust
Makes 1 (8 or 9 inch) pie Peanut butter and chocolate pair deliciously in this creamy, silky and easy Peanut Butter Pie with Oreo Crust.
Ingredients
CRUST:
24 regular Oreo cookies
5 Tablespoons unsalted butter, melted
FILLING:
½ cup cream cheese, softened (we use light)
⅓ cup creamy peanut butter
¼ cup dark brown sugar
½ cup heavy whipping cream, whipped
CHOCOLATE TOPPING:
¾ cup roughly chopped chocolate, you can use milk or dark chocolate
2 cups heavy whipping cream
Chocolate shavings, garnish
Equipment
1 pie plate 8 or 9 inches
Instructions
Make the crust:
In a food processor pulse 24 Oreos (including the cream filling) until they are a fine crumb, to make about 2 cups of crush Oreos. TIP: If no food processor, place in a Ziplock bag and crush (use a rolling pin).

Place the crumbs into a large bowl.

Add the melted butter to the cookies and stir until combined.

Pour the crust mixture into an ungreased 8-inch or 9-inch pie dish.

Press the cookies into a flat crust, using your hand or the bottom of a glass, until compact. Press with your fingers up the sides to make a nice, thick crust.

Bake at 350°F (177°C) for 10-12 minutes. Cool the crust completely before using.
Make the filling:
Combine the light cream cheese, peanut butter and brown sugar in a medium bowl and beat with a mixer until smooth. Add in the whipped cream and stir. Scrape the filling into the cooled pie shell, cover and refrigerate.
Make the chocolate topping:
Meanwhile, for the chocolate whipped topping, add both the chocolate and heavy whipping cream in the top of a double boiler over medium heat. Whisk until melted.

Cover and refrigerate the topping for 2 hours until cooled. Next, beat the chocolate cream with a mixer until thick and you are able to spread onto the pie.

Spread the chocolate whipped cream onto the pie. Garnish with chocolate shavings.

Option to serve right away, or place back in the fridge until ready to serve.
Calories: 706kcal, Carbohydrates: 48g, Protein: 8g, Fat: 57g, Saturated Fat: 31g, Polyunsaturated Fat: 4g, Monounsaturated Fat: 18g, Trans Fat: 0.3g, Cholesterol: 117mg, Sodium: 256mg, Potassium: 293mg, Fiber: 2g, Sugar: 34g, Vitamin A: 1503IU, Vitamin C: 0.4mg, Calcium: 87mg, Iron: 5mg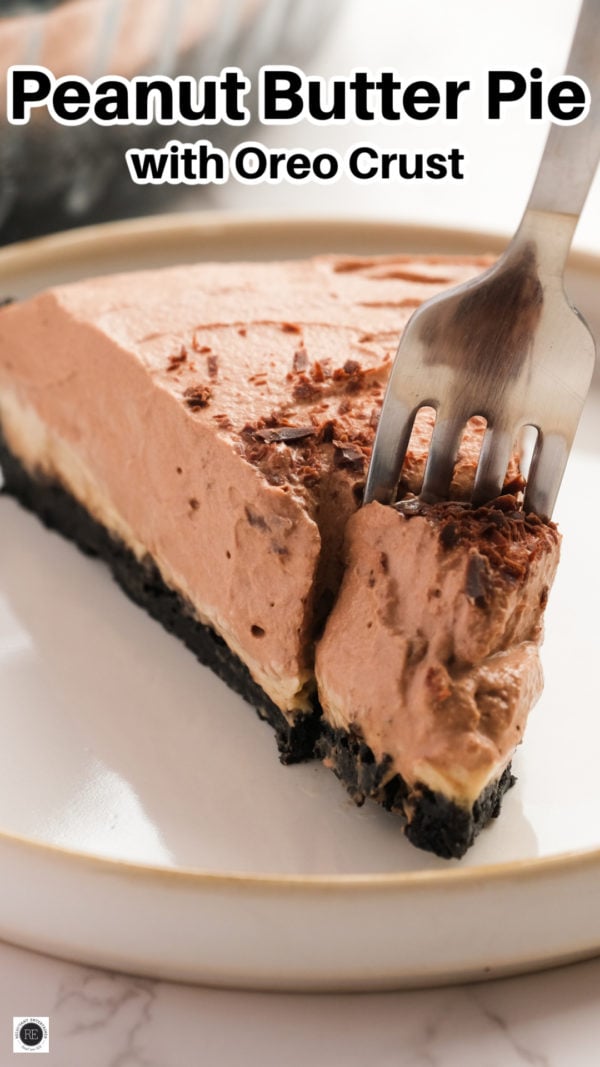 Hello and welcome to my home and table!
I'm Sandy—lover of food, family, cooking, THE BIG BOARD, travel, and bringing people together. Through great recipes and connection around the table, we become better, stronger, and more courageous people. Feasting on Life is real, and every time we do it, we grow a little more. Read more...