Maple Pecan Lava Cake Board
A delicious Maple Pecan Lava Cake Board for an autumn dessert—filled with mini fall-flavored lava cakes, fresh fruit, and whipped cream!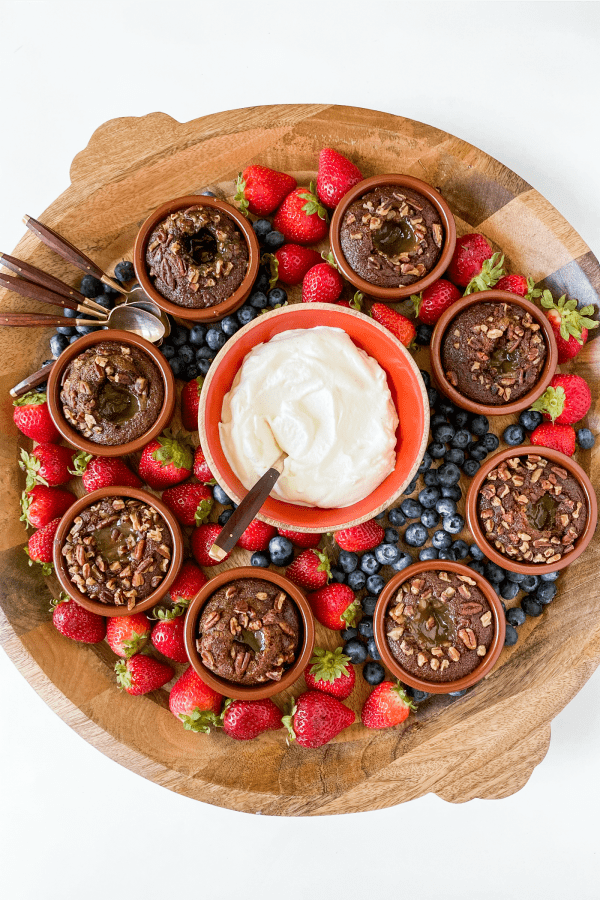 Friends, look what I found at Costco? These maple pecan lava cakes are out of this world in flavor, plus you can reuse the pottery! [Grab more of my "The Big Board" ideas!]
Maple Pecan Lava Cake Board
This Maple Pecan Lava Cake Board a great entertaining idea (even for a smaller group), that only takes minutes to put together! You can also check out my Epic Summer Mini Pie Board or Fall Mini Pie Dessert Board.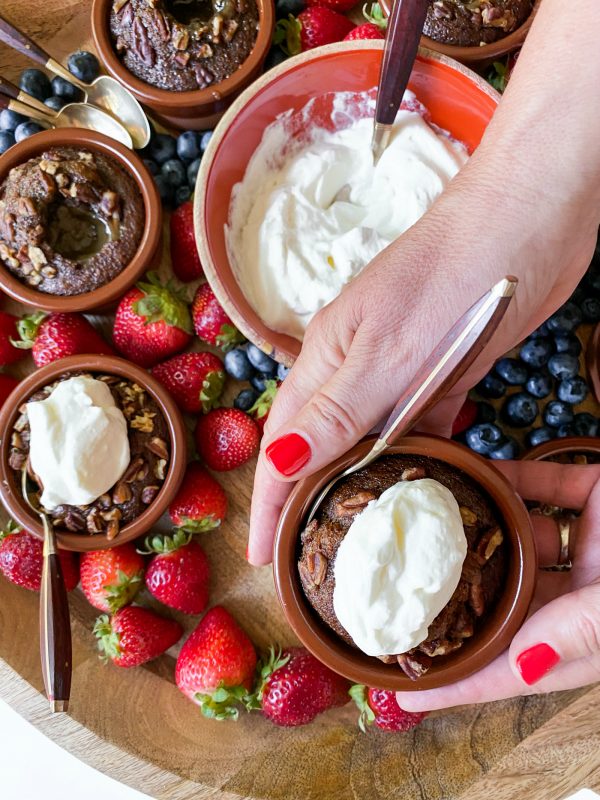 I love quick and easy!
Grab this easy entertaining idea for fall and Thanksgiving! Serve these adorable maple and pecan LAVA CAKES on a Lava Cake Dessert Board, with whipped cream and fresh fruit.
Last week was so chilly, as a cold front came through. I'm whispering as I say this, but it felt like a little bit of "fall" was in the air. Now I'm not ready for summer to end, trust me, but I must admit, fall flavors excite me.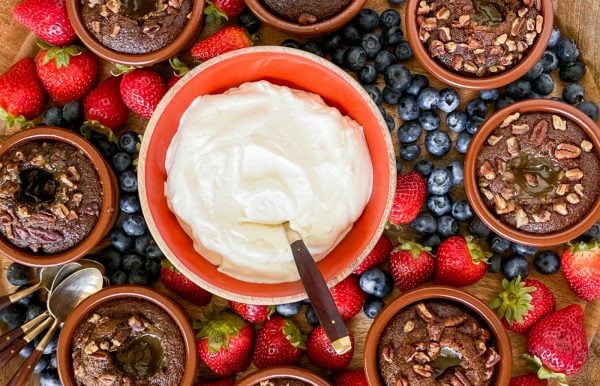 What is lava cake made of?
Think cinnamon, pecans, caramel, and maple syrup? Yes! These delicious ingredients are in these handmade lava cakes, with no preservatives!
Is Lava Cake just undercooked cake? But these cakes are pre-cooked with a ganache like filling for the "lava".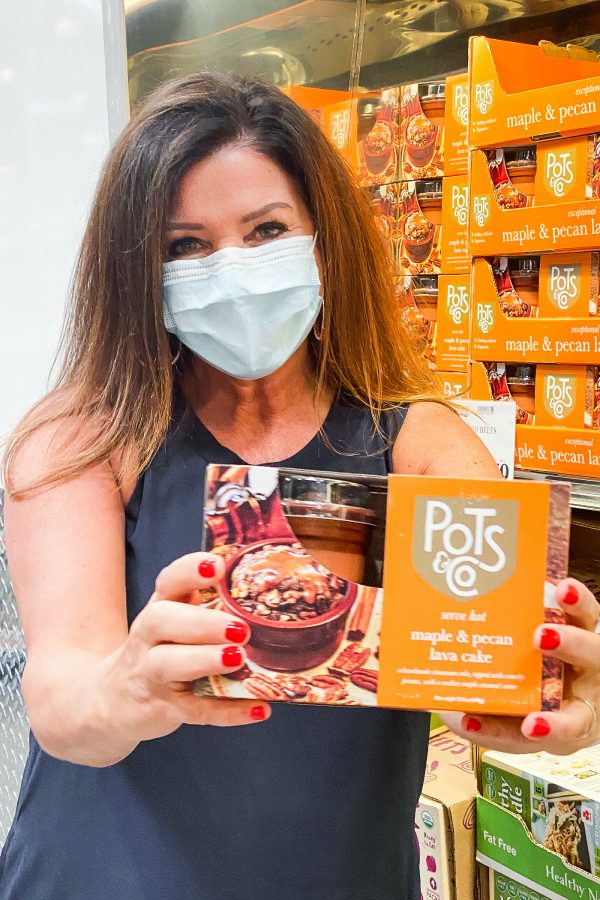 I love the quality ingredients of these little pots, that come four in a pack.
The little handmade pots are filled with cinnamon cake, topped with crunchy pecans, and made with a molten caramel center with 100% maple syrup.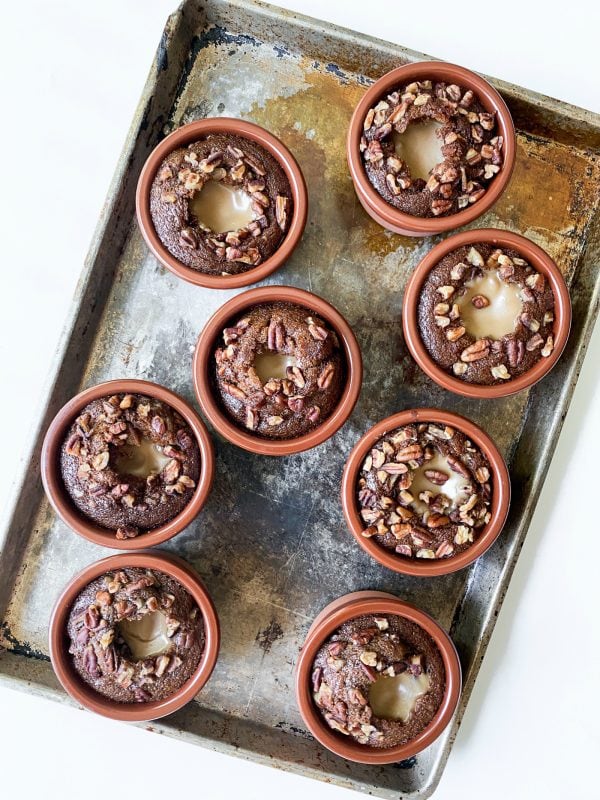 How do you cook the pots
Pop in the oven and serve! This is the way we did it.
Or, there are also microwave directions.
The gooey lava center is the shining star of this fantastic dessert.
We served with fresh fruit and whipped cream—oh so good.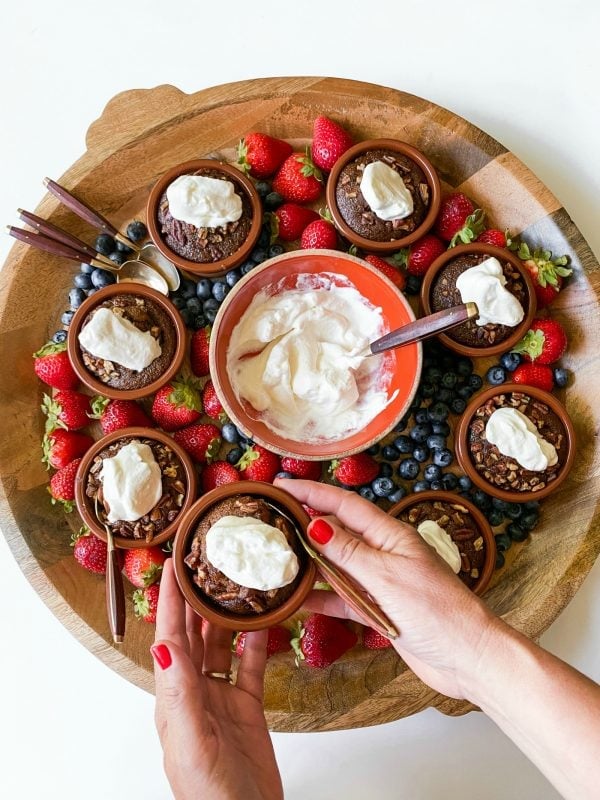 Reuse the pots
These little pots are great for reusing, too–the perfect size for a charcuterie board! You can use them for dipping sauces, or even for organization in one of your drawers!
They are dishwasher safe … so cute!
Oh, and want to make your own lava cakes? Here's a great recipe to try: Chocolate Molten Lava Cakes.
ENJOY!
Friends, make sure and get your big board before inventory runs out. Buy it, here.
20-inch
26-inch
Made in the USA at JK Adams in Vermont
A board with a lip so the food doesn't fall off
FOOD SAFE!
Beautiful design with undercut handles
Thanks for all of your love and support!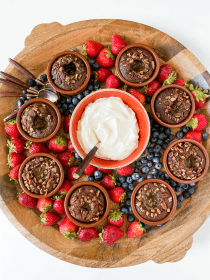 Get the Recipe: Maple Pecan Lava Cake Board
Ingredients
2 boxes Pots and Co Lava Cakes, buy at Costco
Fresh fruit, berries
1 cup heavy whipping cream
1/4 cup powdered sugar
1 tsp vanilla
Instructions
On a baking sheet, cook the mini lava cake pots according to package directions.

While the pots are baking, prepare a large tray or board.

In a small bowl, whip the cream until it is thick (for a few minutes), and then add the powdered sugar and vanilla. Place in a small bowl.

Arrange the hot pots, whipping cream, and fresh fruit on the board and serve!
Hello and welcome to my home and table!
I'm Sandy—lover of food, family, cooking, THE BIG BOARD, travel, and bringing people together. Through great recipes and connection around the table, we become better, stronger, and more courageous people. Feasting on Life is real, and every time we do it, we grow a little more. Read more...