Summer Ham Cheese Brunch Board
Enjoy a Summer Ham Cheese Brunch Board. Make your own cracker, cheese, and ham sandwiches, and grab a soft-boiled egg with a muffin! A great summer breakfast treat!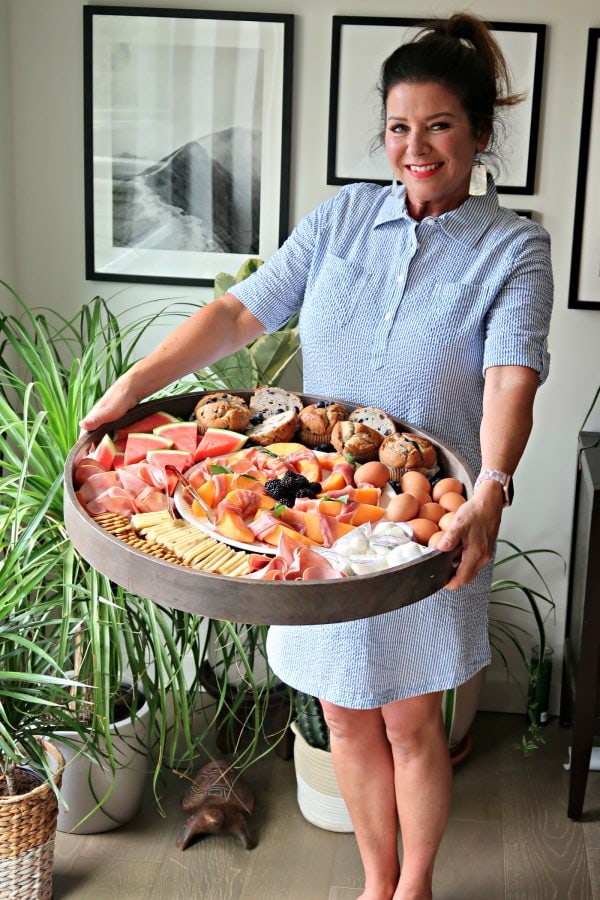 I love this Ham Cheese Brunch Board because you can make little sandwiches with a cracker, a slice of cheese, and a slice of Canadian bacon (or ham).
And what's not to love about hickory smoke, cheddar, and bacon? Have you tried Smoky Bacon Cheddar Cheese? They have the best flavors for food boards!
Ham Cheese Brunch Board
And then, of course, make this easy Prosciutto-Wrapped Melon recipe that everyone loves! And don't forget fresh blackberries!
Serve it together for breakfast or brunch this summer!
Buy muffins at your favorite bakery and cut in half (if they are the big ones).
List of ingredients for Ham Cheese Brunch Board
Prosciutto-Wrapped Melon (grab recipe)
Canadian bacon or ham
Hard or soft-cooked eggs (in shells)
Salt shaker (for eggs)
Blueberry muffins
Anna's Swedish Orange Thins
Belgioioso mozzarella ball packages
Place it all on a big board, and you've got a delicious breakfast!
Remember to grab the recipe for this amazing Prosciutto-Wrapped Melon!
Sunrise … sunset?
Sunrise …. sunset …. what's your favorite to take in?
For me, it's both. We have had some pretty spectacular displays here in central Oregon lately!
They are beautiful right where we live. But last week we were in Yellowstone, up at 5 am, to witness some of the most beautiful sunrises! Be still my heart. You can follow along on my Instagram highlights!
Summer brunch board
But if you're an early riser, and thinking about breakfast or brunch, today I'm sharing a new summer brunch board. You may also want to try my Epic Summer Waffle Brunch Board or Scrambled Egg Brunch Charcuterie Board. You can also try this Risotto Brunch Bowl.
And for the record, I'm never disappointed when I wake to see a glorious sunrise!
Make your soft-boiled eggs the night before, make some muffins (or storebought's fine, too!), and grab some fruit from the farmer's market.
New boards (4 sizes)!
As I always say, Friends, size this board according to the number you are feeding.
I'm very very excited to share we have 4 new boards we are selling.
The height of the lip (I rarely serve any board here on my blog without a lip:) is perfect so the food doesn't fall off.
They have cutout handles underneath.
And of course, the boards are FOOD SAFE!
Friends, The Big Board is here! Yes, I've partnered with JK Adams, the premier woodmaking company in Vermont, with my own line of RE boards!
20-inch
26-inch
12 x 36-inch
23-inch Lazy Susan
A board with a lip (or raised edged) so the food doesn't fall off
FOOD SAFE
Made in the USA
Undercut handles (a unique design)
Thank you for your support, as we've sold out so many times already!
Order The Big Board today!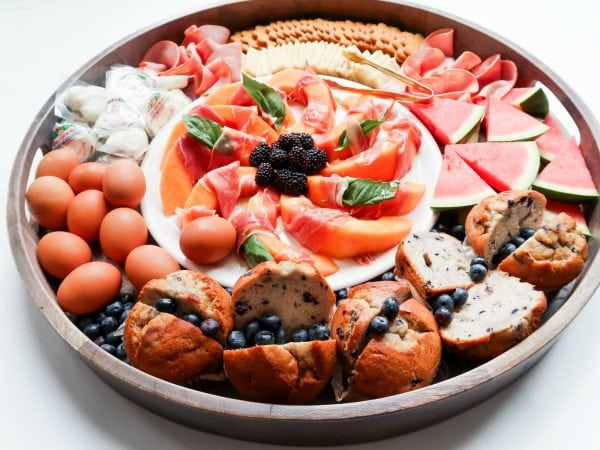 Grab more of my "The Big Board" ideas on the blog (link).
So again, sunsets and sunrises … a way to slow down, pay attention to the preciousness of life, and where we're all going.
And of course, turn off the screens!
ENJOY!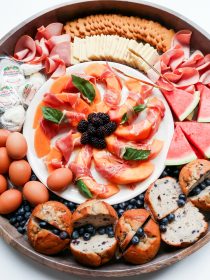 Get the Recipe: Summer Ham Cheese Brunch Board
Ingredients
Platter of Prosciutto-Wrapped Melon, grab recipe
8 oz Canadian bacon or ham
10 hard or soft-cooked eggs, in shells
Salt shaker, for eggs
5 large blueberry muffins, cut in half
8 oz Cabot Smoky Bacon Cheese, sliced
5 oz pkg Anna's Swedish Orange Thins
12 small pkg Belgioioso mozzarella balls
Instructions
Cook the eggs (optional to serve them cold (hard-cooked), or hot (soft-boiled).

Prepare the Prosciutto-Wrapped Melon, slice the watermelon.

Arrange the remaining food on the tray and serve!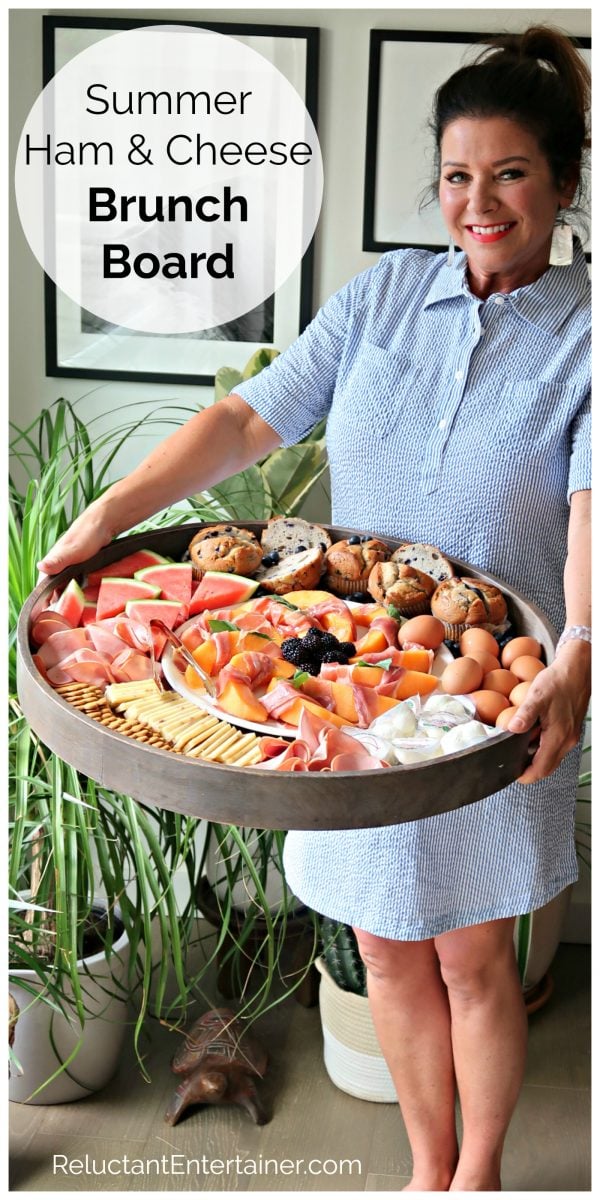 Hello and welcome to my home and table!
I'm Sandy—lover of food, family, cooking, THE BIG BOARD, travel, and bringing people together. Through great recipes and connection around the table, we become better, stronger, and more courageous people. Feasting on Life is real, and every time we do it, we grow a little more. Read more...