Epic Summer Mini Pie Board
A delicious summer treat, enjoy this Epic Summer Mini Pie Board, with peach, lemon, berry, and cherry mini pies. Serve with fresh fruit and whipped cream!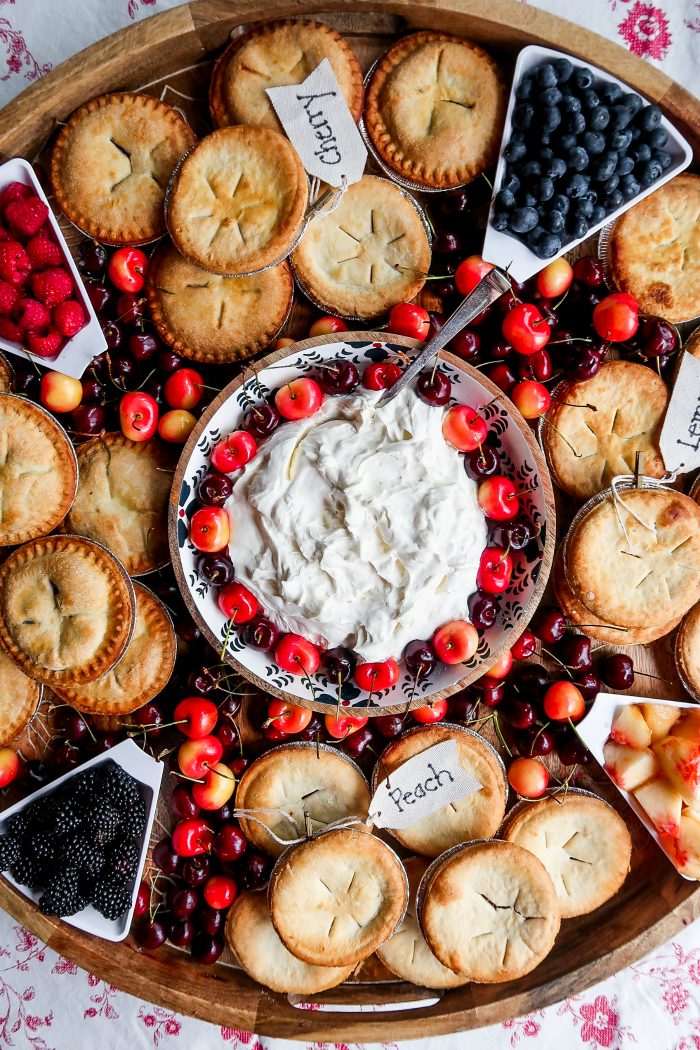 Friends, here's a really fun summer treat to serve at your next picnic or potluck meal. Whip up this Epic Summer Mini Pie Board, with peach, lemon, berry, and cherry mini pies. [Find more of my charcuterie/cheese boards for hosting ideas!]
Epic Summer Mini Pie Board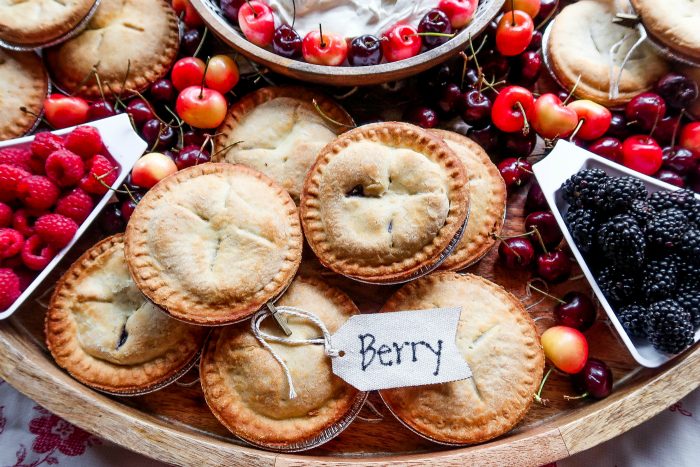 Or, maybe you've already made my Summer Fruit Upside Down Cake for a small gathering (so good!)
My friend Kristy and I were so happy when we found these little gems–cute little fruit pies right in the tin pie pans, ready for serving. Have you seen these at WalMart?
Summer Mini Pies
Oh, my gosh. So cute!
If you don't want to serve whole pies, and the mess of cutting them at a party, try this.
Actually, the taste is pretty good. The crust is nice and flakey.
Pies are a classic and quintessential American dessert!
Of course, serve with fresh fruit and whipped cream!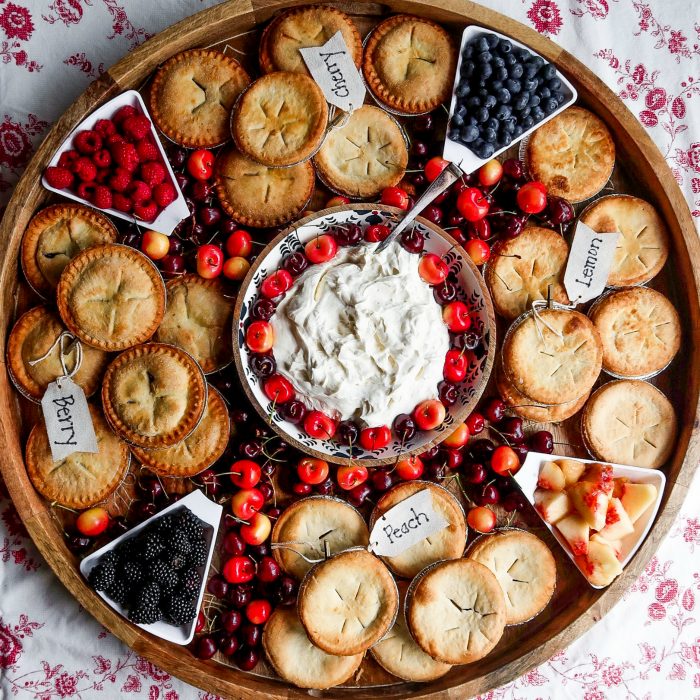 Creating a gathering
Creating a gathering can be as simple as you make it. Friends, I've spent years hosting, and my favorite thing about having people over to dinner is really not the food. I know, I make these great epic boards and easy recipes, and it's true. We do love food.
And then a dessert like this for a larger gathering, an Epic Summer Mini Pie Board? Come on! (Hello, summer!)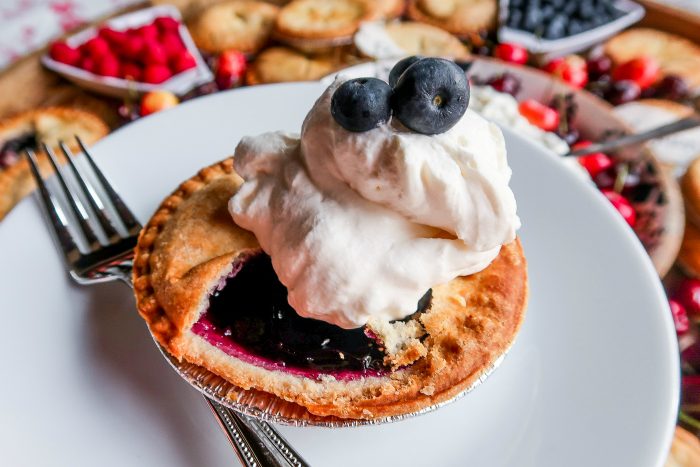 I love that you can make buy these little pies ahead, and they don't even need to be stored in the fridge (let's say you're taking this to a potluck).
The best part of hosting
But the best part of hosting, I'd say for most people, is the people. the guests? Catching up, loving on people, treating them with kindness and respect. Listening and learning.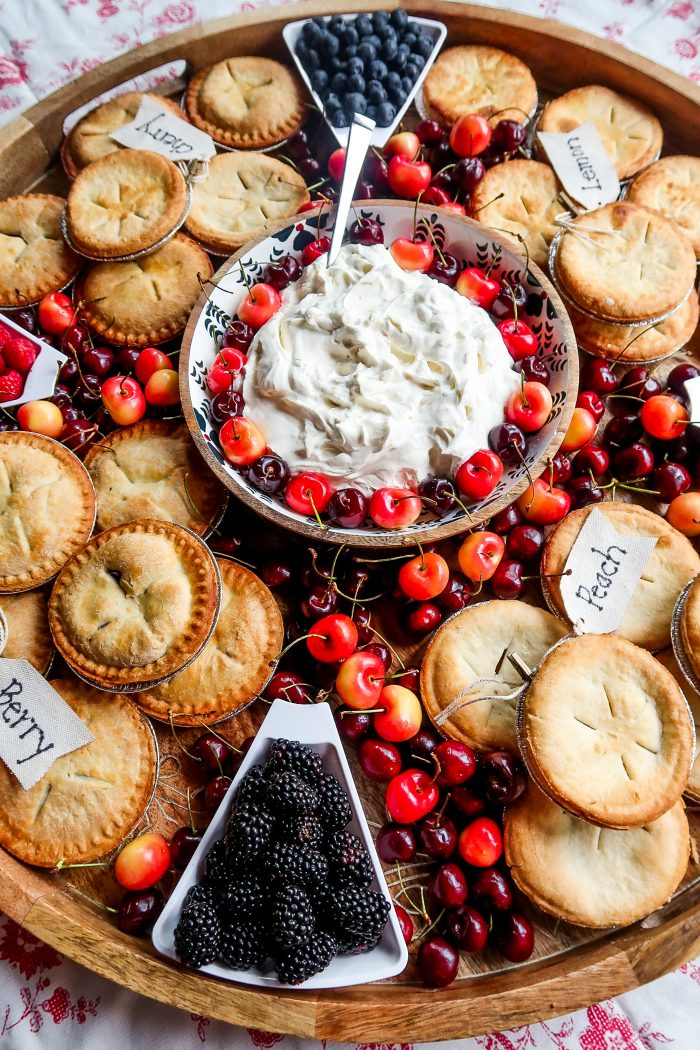 It's not about you, it's all about them
Here's the deal about hosting. It's really not about you, it's all about them [read the post]. Which means, think about all the guests around the table. Are they having a good time? Or is one person dominating and making it worse for everyone?
You have to be strategic when you're a host. Do you have someone pouting or ruining it for everyone? These are situations we've dealt with over the years. You have to step in and change up the conversation, or possibly move everyone to a new place for dessert, or do something to get things back on a positive track. It's wrong for the host to just sit there and let one person talk on and on.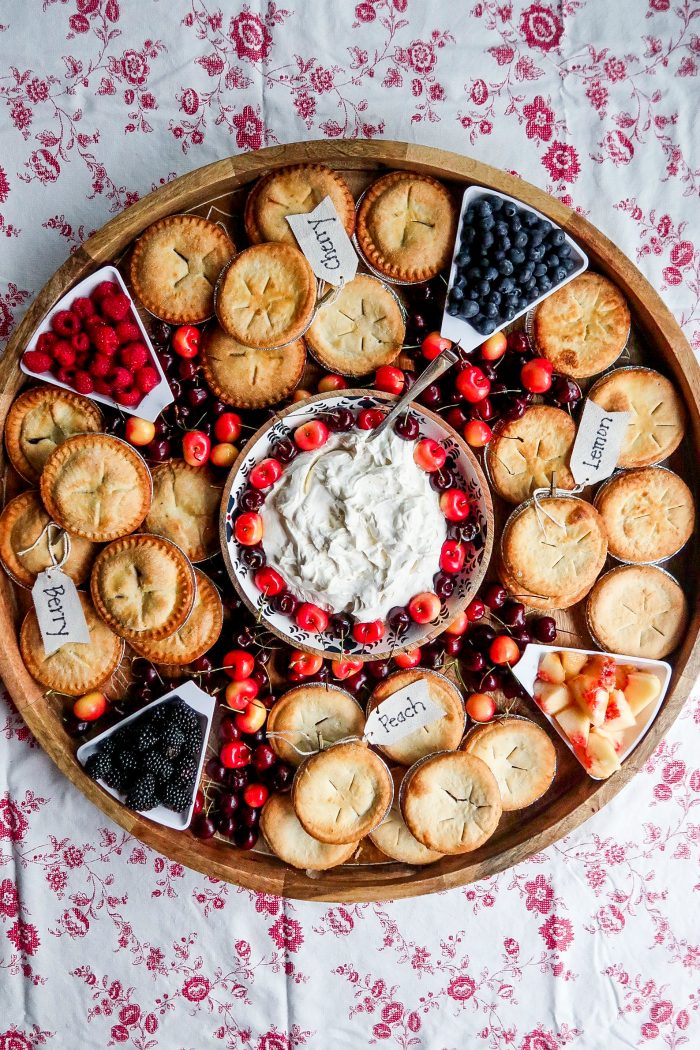 Tough table situations
But guess what, Friends? We rarely deal with these situations. Most of the time hosting for us is a dream. Great people, great conversation, that revolves around the popular quote that we all love.
"Great minds discuss ideas; average minds discuss events; small minds discuss people." — Eleanor Roosevelt
I hate to write about negative experiences, but I feel I need to be honest here on RE. Because we all deal with these kinds of people sometime or somewhere in our lives. I'm always thankful for my husband and the work that he does. He can sniff out a bully in no time. Bullies like to come across charming and wonderful at first, but eventually the tide changes when their true colors arise. NOT FUN.
It should never stop us from hosting. Make a change, go in a different direction, possibly even make new friend connections!
24-inch Charcuterie Board
Friends, here is the board that I LOVE. It's 24-inches in diameter with a 2-inch lip. A "lip" is the secret to the best charcuterie or dinner board, because the food does not fall off.
You can buy in 2 sizes.
Here are the LINKS:
LARGE Hand-Carved Gabrielle Tray – 24 inches round. Buy >> HERE (affiliate link)
SMALL Hand-Carved Gabrielle Tray – 18-inches round. Buy >> HERE (affiliate link)
Rememember it says it is "not food safe," so you need to prepare the board by either laying down parchment paper under the food, or you can "season" it like we did.
Here are a few other options:
Courtland Wooden Lazy Susan – 18-inch round. Buy >> HERE (affiliate link)
LAZY SUSAN is a board that spins. It does NOT have a lip, but it's cool for the center of the table.
Here's an 18-inch wine barrel wood board or a 24-inch hammered large round tray or a 26-inch stainless steel serving platter that you may also like! Check out the weight on these boards.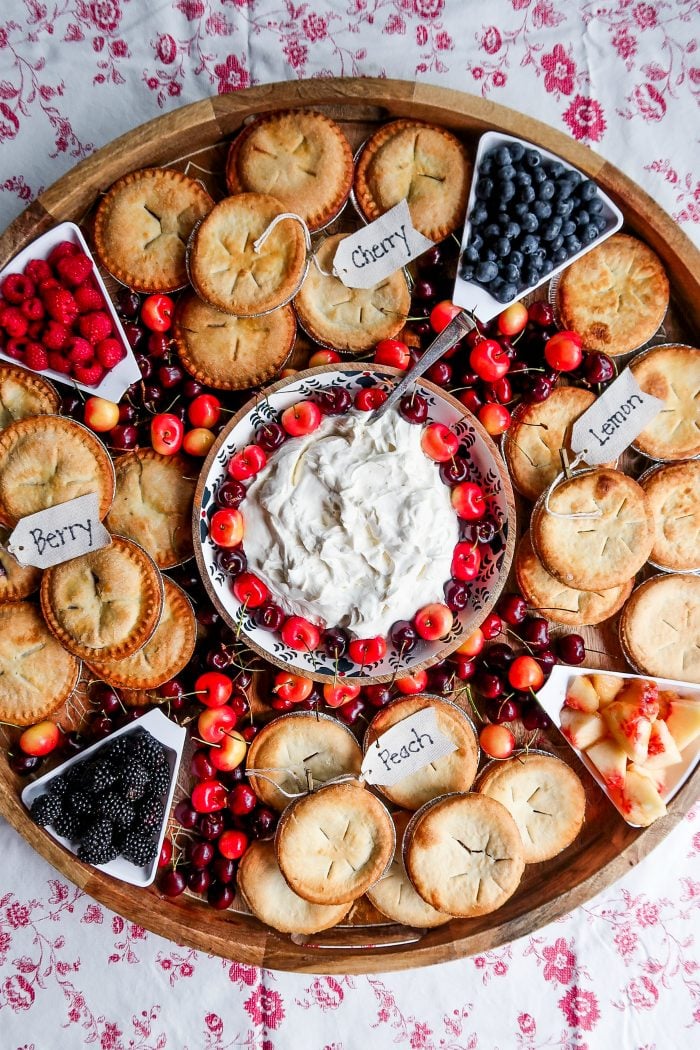 How to season a Charcuterie Board
If a wood board says it "not food safe," you can lightly sand it down with sand paper, and rub down with beeswax and mineral oil.
We used this butcher block and cutting board oil conditioner after we lightly sanded the board down.
Or, lay down parchment paper! Easy peasy!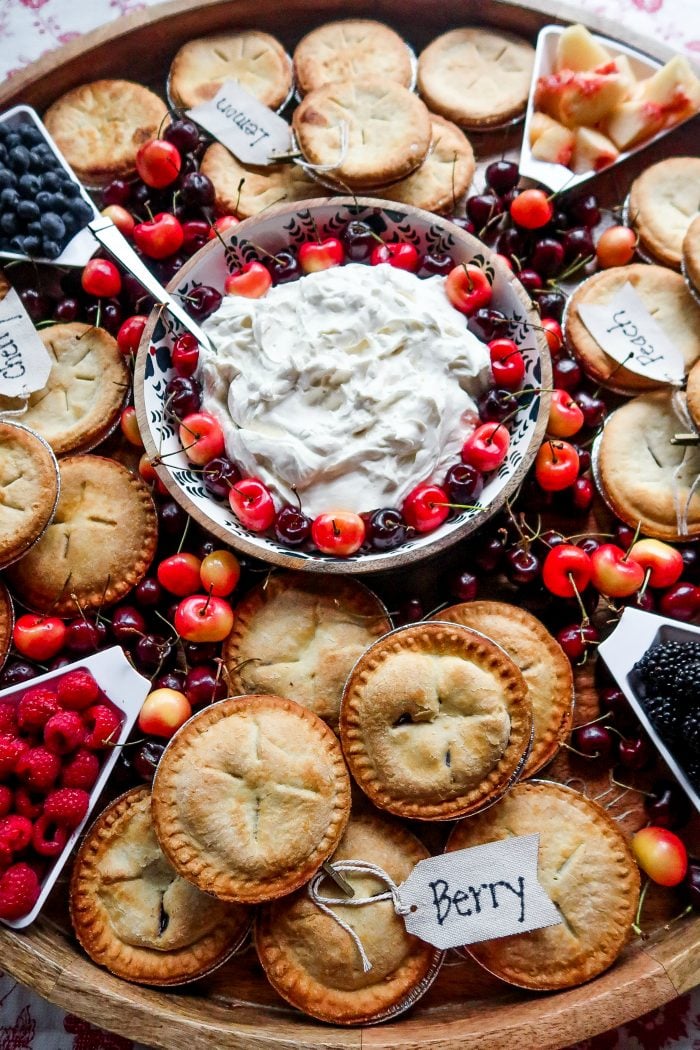 Mini Pie Board
I'd love to hear any tips that you've found to work with difficult guests.
I have spent years gathering people, and I want to be wise with not only my menu, but how I delegate (who can afford to create the entire meal?) and also the conversation.
Now for the awesome shopping list to make a mini pie board!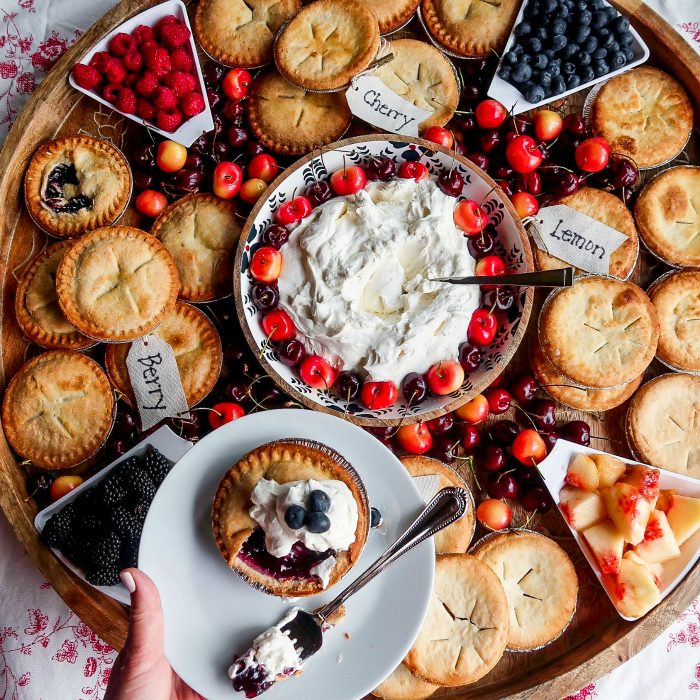 Each 4-inch pie comes in its own box.
Ready to eat, they can be served cold or heated in an oven or microwave.
Come back and tell me if this Epic Summer Mini Pie Board was a hit at your party?
Happy hosting!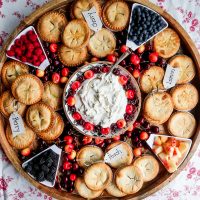 Print Recipe
Epic Summer Mini Pie Board
Ingredients
6 4-

inch

The Bakery Mini PEACH Pies

6 4-

inch

The Bakery Mini LEMON Pies

6 4-

inch

The Bakery Mini BERRY Pies

6 4-

inch

The Bakery Mini LEMON Pies

1

pint

blueberries

1

pint

raspberries

1

pint

blackberries

2

peaches

peeled and diced

2

cups

fresh cherries
Whipping cream
2

cups

heavy whipping cream

1/4

cup

powdered sugar

2

tsp.

vanilla extract
Instructions
On a large prepared board, arrange a large bowl in the center (to hold the whipped cream).

Next, arrange the pies and fruit around the whipping cream.

To whip the cream, pour the heavy cream in a bowl and using a hand mixer, whip the cream for 2-4 minutes, until thick.

Add in the powdered sugar and vanilla and gently mix with a spoon. Pour the cream into the large bowl and place in the center of the board.

Garnish the whipping cream with cherries or fresh fruit.
Notes
Optional to add tags or labels for the kinds of pies (ex: lemon, cherry, berry, peach).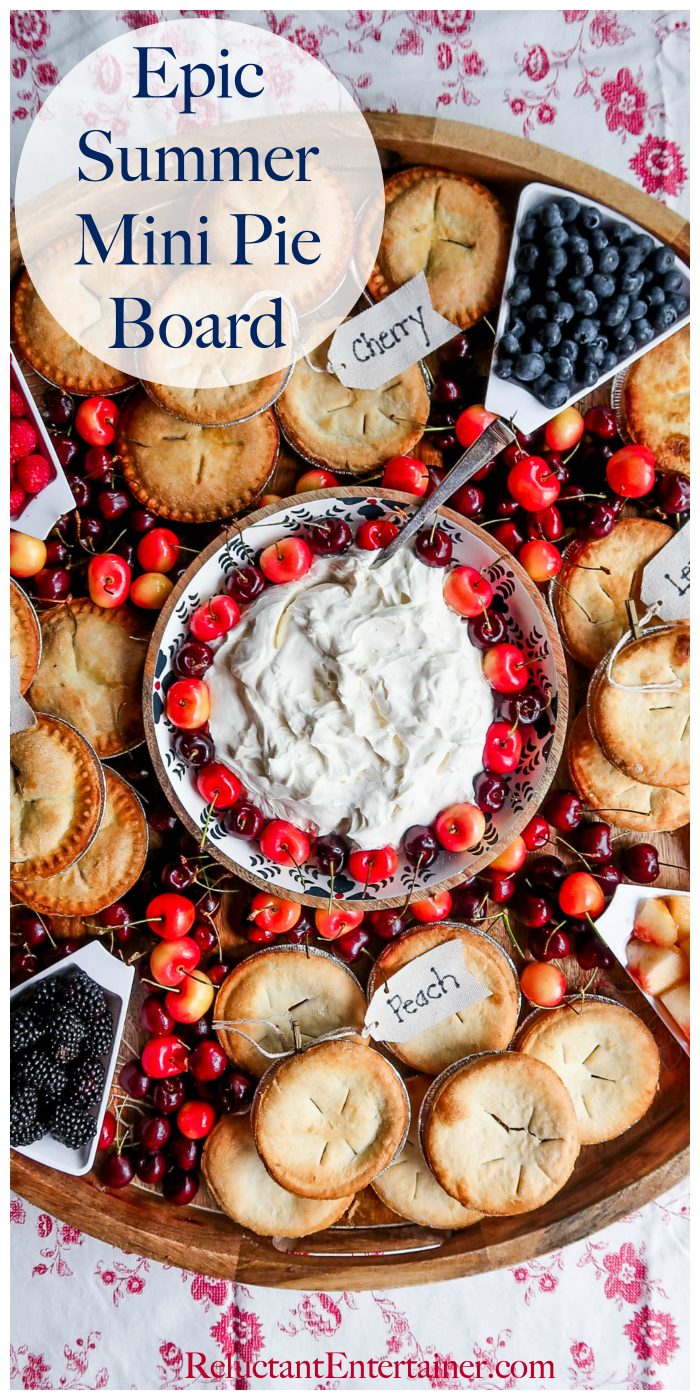 This post has affiliate links. Every purchase from these links supports RE at no extra cost to you. Thank you!