Sriracha Strawberry Spinach Salad
Enjoy our all-time favorite summer salad, BEST Sriracha Strawberry Spinach Salad Recipe, for your next summer potluck, picnic, holiday, or party!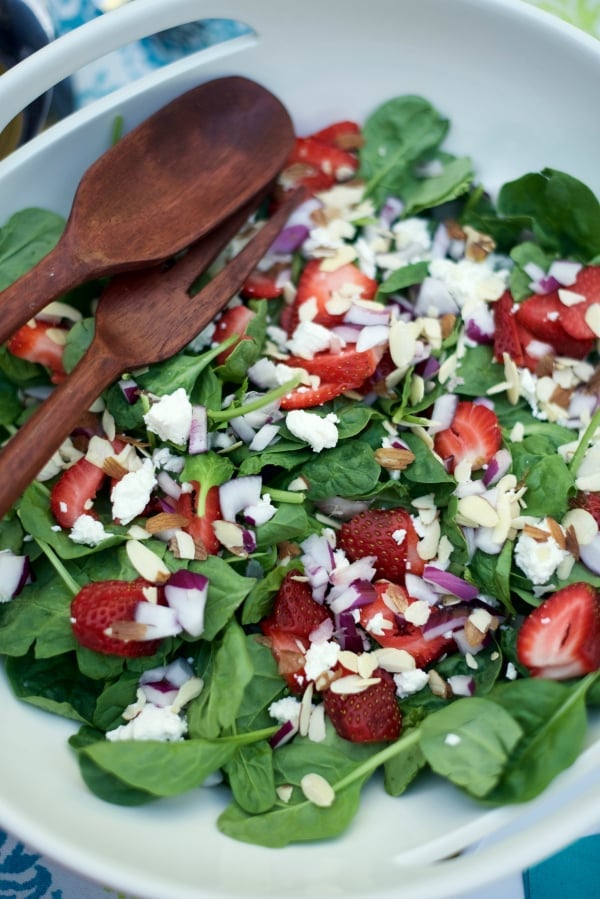 It's been one year since we finished our white kitchen in our mountain home, our fixer upper! This is my first time to ever have a white kitchen, so the jury was out … would I like it or not?
Honestly, I love the look, but I hate the upkeep! White kitchen cupboards can get messy!
But I don't hate it enough to not do it again. I truly do love my white kitchen.
Love and hate.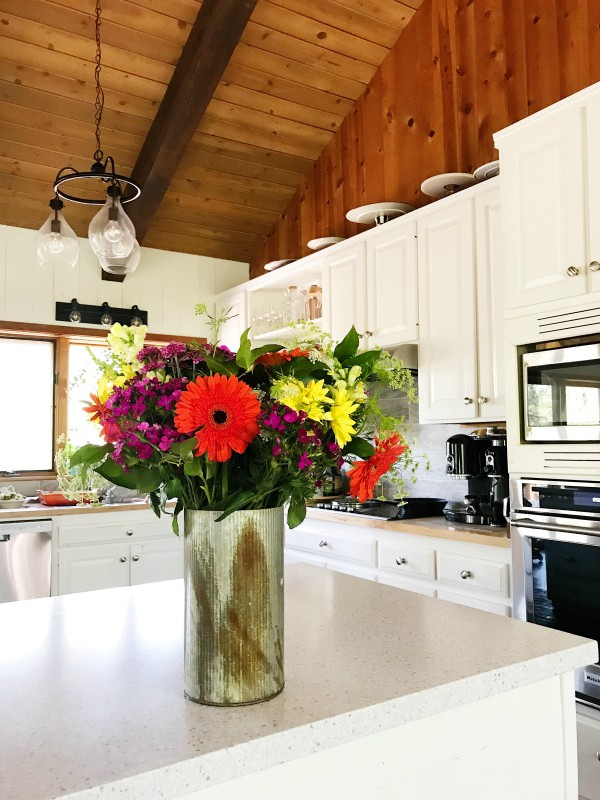 It reminded me of when I saw strawberries and coffee running down one of the cupboards, the night before last.
Sriracha Strawberry Spinach Salad
Now, for THIS amazing, classic, Sriracha Strawberry Spinach Salad. The idea and recipe has been around for decades, but this dressing?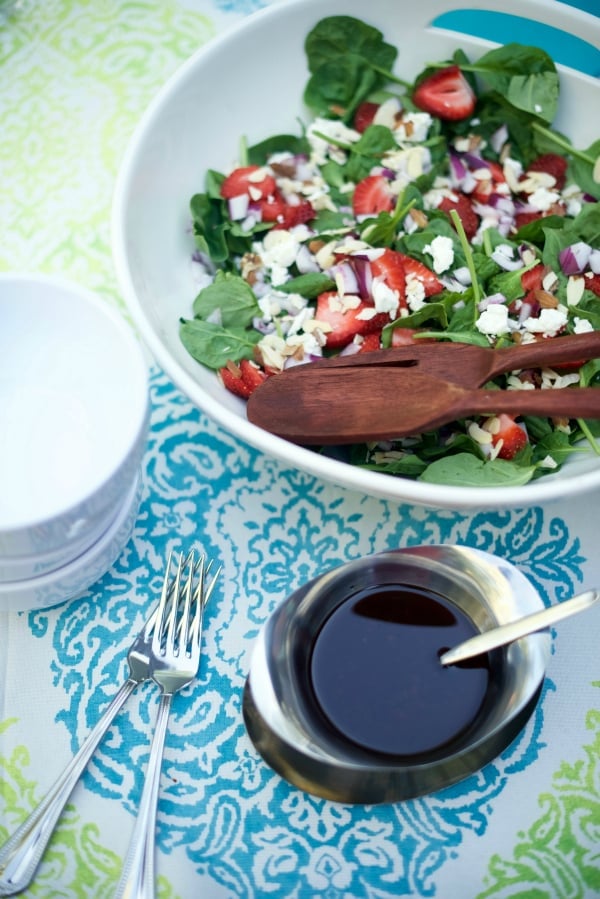 KILLER! With a kick of sriracha!
The dressing makes enough for 2 salads (if you like lighter dressing).
ENJOY!
Take a peek at my kitchen window. I want to share a deja vu moment that I had a year ago when we moved into this home.
Every time I stand in my kitchen, I picture the original owner of this house (we are the second owners in 30+ years), standing in the same place.
It brings me back to being younger and riding bikes along the path behind the house.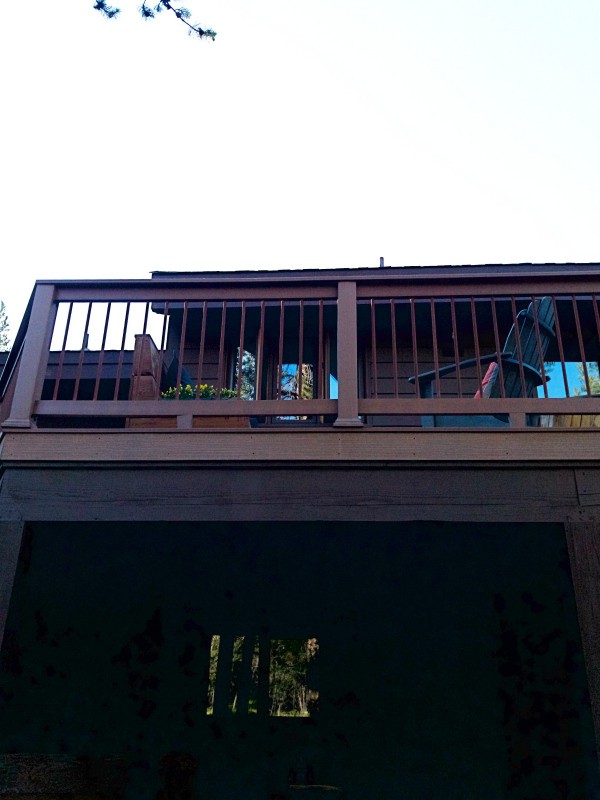 Often I think about prior owner Janie standing in front of the same window doing dishes. I know in my younger days, I was riding behind this very house, looking up and seeing her in this window.
Now it's me … doing dishes, cooking up a storm, enjoying life with our 3 20-somethings home for the summer. A real blessing.
Doing dishes is not the enemy, I tell myself.
Neither is having to wipe down the white cabinets on an almost daily basis.
I'm learning not to complain. Complaining just brings people into your pity party, and it sucks the joy out of the moment.
As a mom, it's easy to complain.
Or, just suck it up and be happy! :)
I want to be a happy person, because it's inspiring and contagious!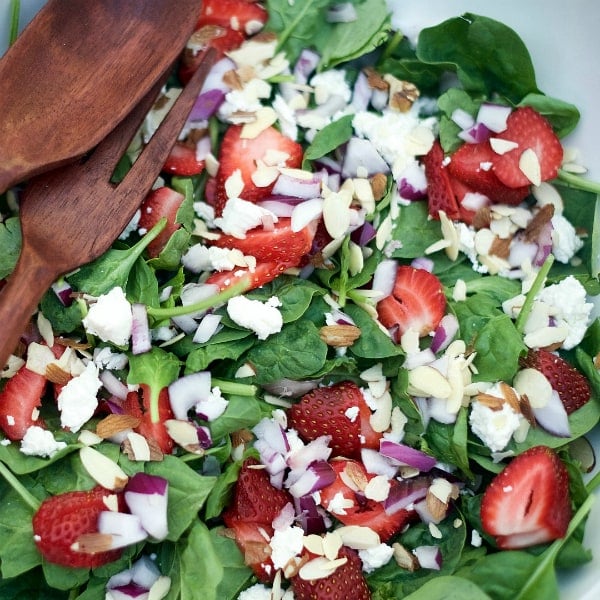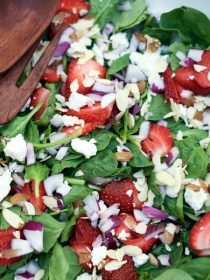 Get the Recipe: Sriracha Strawberry Spinach Salad
The dressing makes enough for 2 salads (if you like lighter dressing).
Ingredients
6 cups spinach
8-10 large strawberries, about 1 1/2 cups, sliced
1/4 small red onion, diced
1/2 cup goat cheese, crumbled
1/2 cup sliced almonds
1/4 cup olive oil
1/4 cup raspberry vinegar, I used DeLallo brand
1 1/2 Tbsp. sugar
1/2 tsp sriracha sauce
1/4 tsp salt
1/8 tsp pepper
1/4 tsp cinnamon
Instructions
Combine dressing ingredients in a jar and shake until blended. Set aside so the flavors can mingle.

Combine the salad ingredients in a large bowl, add half the dressing and toss well.

Serve with remaining dressing on the side.
More summer salad recipes: Corn Spinach Salad, Curried Orzo Salad, Balela Salad [most popular on RE], Strawberry Watermelon Chicken Salad, Incredible Watermelon Salad [Noble ig], and Spinach Artichoke Pasta Salad [Two Peas and Their Pod].

SaveSave
SaveSaveSaveSaveSaveSaveSaveSaveSaveSaveSaveSaveSaveSave
Hello and welcome to my home and table!
I'm Sandy—lover of food, family, cooking, THE BIG BOARD, travel, and bringing people together. Through great recipes and connection around the table, we become better, stronger, and more courageous people. Feasting on Life is real, and every time we do it, we grow a little more. Read more...