Waldorf Brussels Sprout Salad
Perfect for fall and holidays, this Waldorf Brussels Sprout Salad recipe is made with apples, cranberries, Brussels sprouts, and bacon.
Friends, remember for holiday hosting, you don't have to do it all. Make the main dish and one salad, and delegate the rest of the side dishes. Right? You can get store-bought desserts if time is short.
Waldorf Brussels Sprout Salad
Here's my #1 choice of salad: Waldorf Brussels Sprout Salad.
It's a low calorie salad with a flavorful, light vinaigrette drizzled over the top!
This recipe is fabulous for all fall gatherings! Great for potlucks, parties, or an intimate dinner party! Of course, delish for Thanksgiving dinner, too! Or, you may love my Asian Chicken Cranberry Salad or my mom and Aunt Barb's BEST Fresh Cranberry Grape Walnut Salad.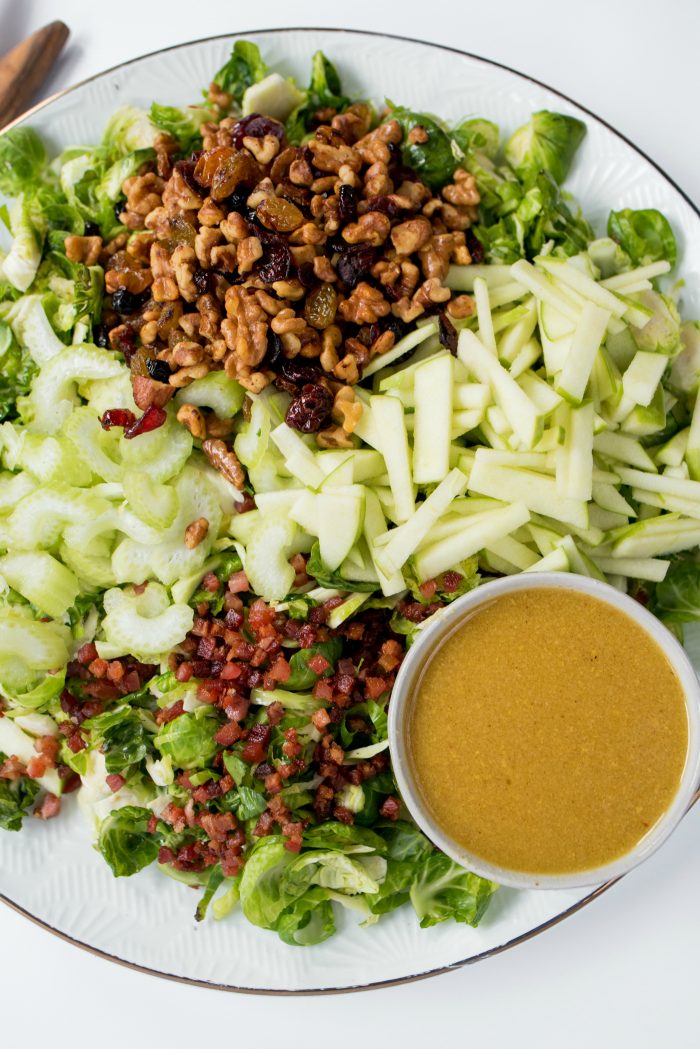 What is a Waldorf Salad?
A Waldorf salad is a fruit and nut salad, generally made of fresh celery, apples, walnuts, and grapes, dressed in mayonnaise, traditionally served on a bed of lettuce, as an appetizer or light meal.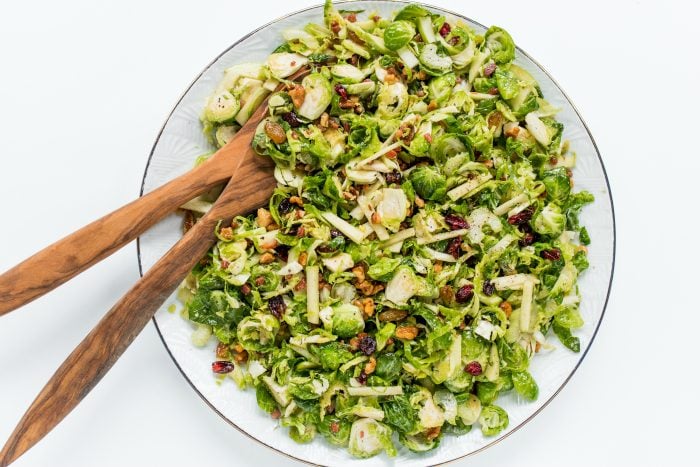 The apples, celery, and grapes can all be green, which harmonizes the color palette of the dish.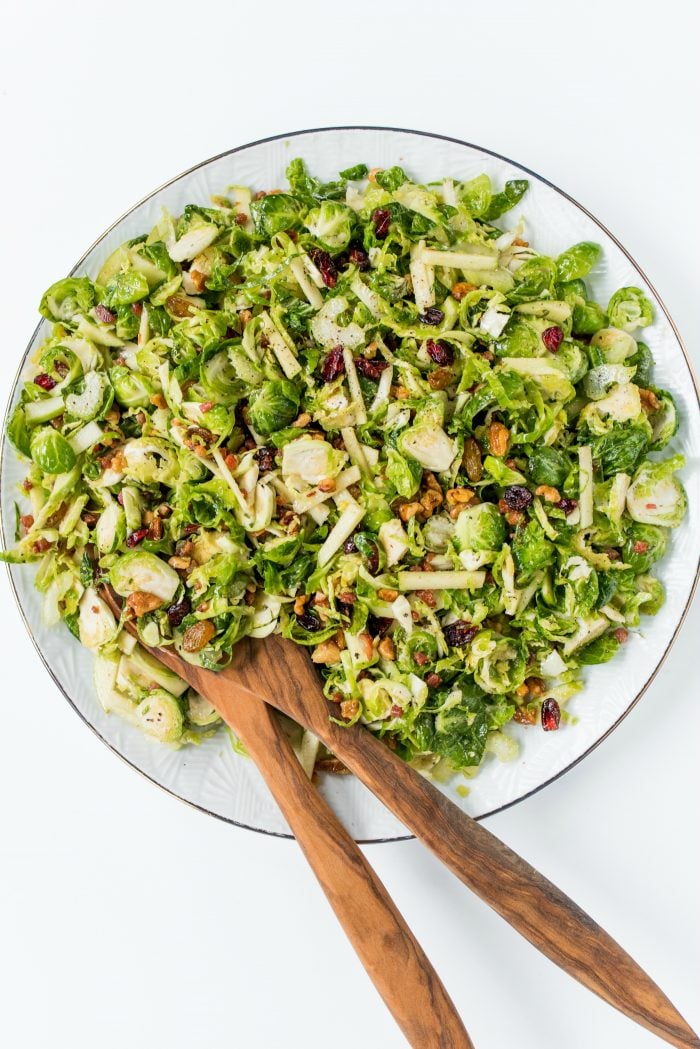 Ingredients for Best Waldorf Salad
All you need for this recipe is:
Pancetta or chopped bacon
Brussels sprouts
Walnuts
Celery
Craisins (or even raisins work, like golden raisins – Yum)
Then of course, Granny Smith (tart) apples really make this salad
Serve with a light vinaigrette! If you want a classic waldorf salad, check out my friend Lori's recipe, HERE.
Hosting tips
You may be the host, but you don't have to do everything. I love these words, this reminder, because it can be daunting when you don't ask for help.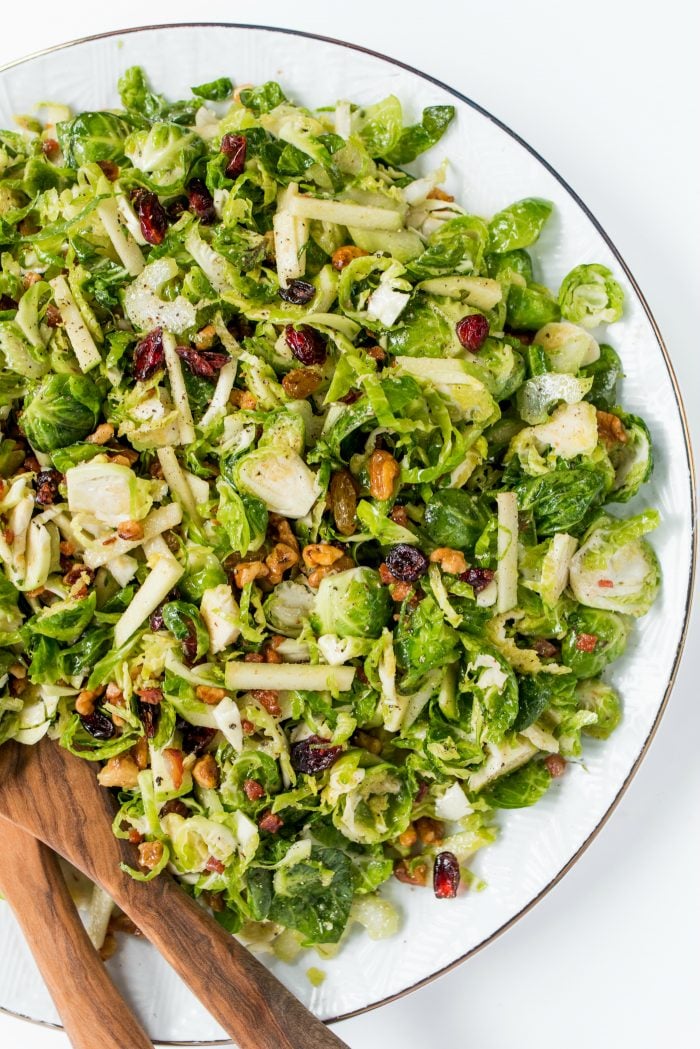 Set the table
Varied candlesticks, a table runner, dried or fresh florals, and customized place settings help make your table feel intentional and tailored to your guests.
When it's time to serve the meal, feel welcome to remove or push aside the decor in order to make space for the food.
I don't like sitting down to a table that is so full, you can't see across the table to interact with the guests on the other side.
A clear table is best, especially if you set the food on and everyone serves themselves.
The food is the centerpiece and the most important anyway!
Oh, and no dining table? No problem! Set up a buffet on your kitchen counter or even coffee table or on top of a piano.
Grab your plate and sit wherever! :)
ENJOY!
Get the Recipe: Waldorf Brussels Sprout Salad
Ingredients
8-12 oz. pancetta or chopped bacon
1 lb Brussels sprouts, trimmed and shaved into about 1/2'' slices
1/2 cup walnuts, toasted and roughly chopped
2 stalks celery, sliced about 1/4" thick
1/4 cup cranberries or mixed raisins
1/2 small Granny Smith apple, cored and cut into thin ¼" matchsticks
Dressing
Dressing
1/8 cup champagne, red, or white wine vinegar
1 1/2 tablespoon spicy brown mustard
1 tablespoon honey
1/2 teaspoon kosher salt
1/2 garlic clove or 1 1/2 teaspoons garlic powder
1/8 cup extra-virgin olive oil
Sea salt to taste
Instructions
Shave or finely slice the Brussels sprouts and set in large mixing bowl.

Cook your bacon or pancetta on the stovetop according to package directions. When pancetta is crisp and cooked, remove from pan, but keep the fat to toast your nuts and raisins together. Over medium-low heat in the same pan with the pancetta fat, add your chopped walnuts and raisins.

Cook until nuts are toasted and raisins are soft and rehydrated—5 minutes.

Pour hot pancetta and walnuts into the sprouts and toss. This will allow the leaves to wilt and soften ever so slightly.

In a small bowl, combine olive oil, vinegar, dijon, honey, garlic, and salt to taste.

Add the dressing, celery, and apples to the Brussel sprouts. Toss to combine, and salt to taste. Serve warmed or cool.
Notes
Updated from NOV 2019
Hello and welcome to my home and table!
I'm Sandy—lover of food, family, cooking, THE BIG BOARD, travel, and bringing people together. Through great recipes and connection around the table, we become better, stronger, and more courageous people. Feasting on Life is real, and every time we do it, we grow a little more. Read more...