Best Taco Dip Board
A Best Taco Dip Board is a simple appetizer board made with a taco dip with favorite toppings, surrounded by lettuce and chips!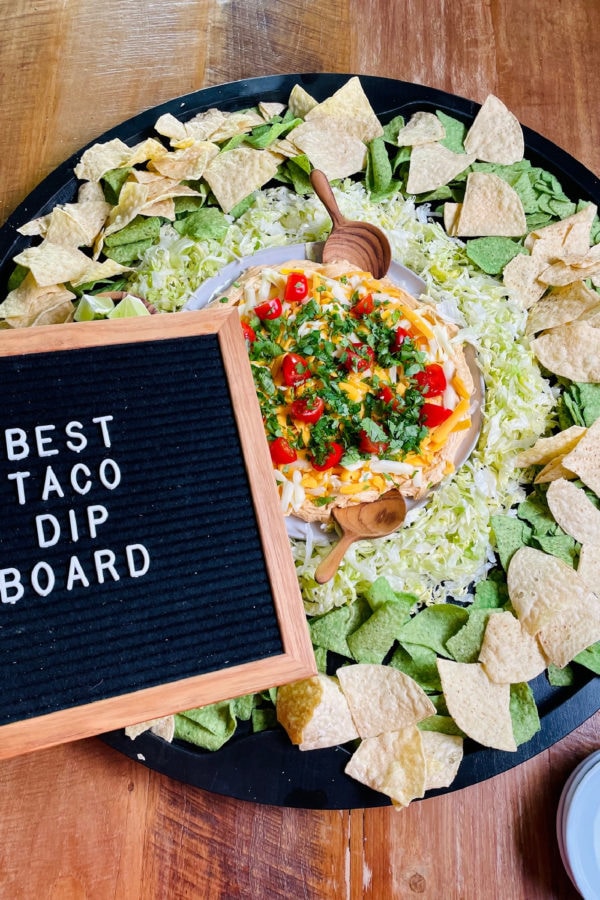 Friends, if you want to get a BIG BOARD in time for Christmas, this is the last weekend! Order your BIG BOARD today! I love this board because it's Christmasy (red and green colors) and shaped like a wreath.
Best Taco Dip Board
The dip is made with a cream cheese and sour cream base, and then topped off with classic taco toppings.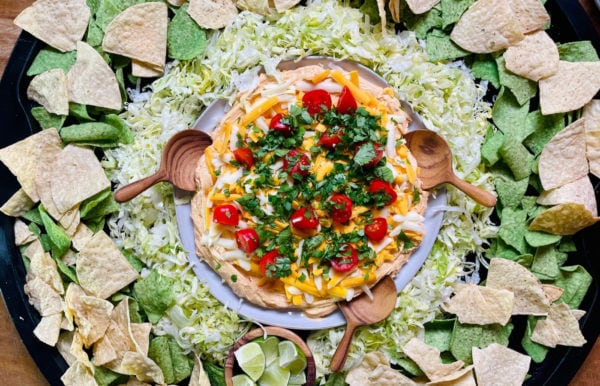 The perfect dip for a large gathering
You're in charge of appetizers this year? Here's a very fun family recipe to make and serve to a large gathering. Everyone loves a taco dip, so make a BEST TACO DIP BOARD. You can use your own 7 Layer Bean Dip Recipe, or grab the recipe below.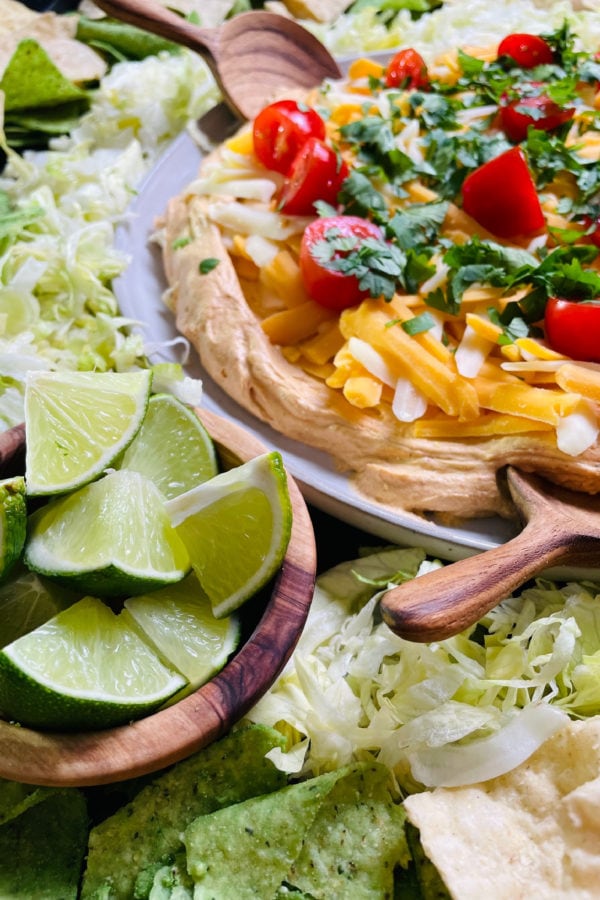 Ingredients for a board with TACO DIP:
Cream cheese
Sour cream
Taco seasoning packet (I only use 1/2)
Shredded cheddar cheese (I like Tillamook's Mexican mix larger shreds)
Tomatoes
Shredded lettuce
Lime
Fresh cilantro, chopped
Hot jalapeños (optional)Avocados (optional)
Pomegrante seeds (a touch for Christmas)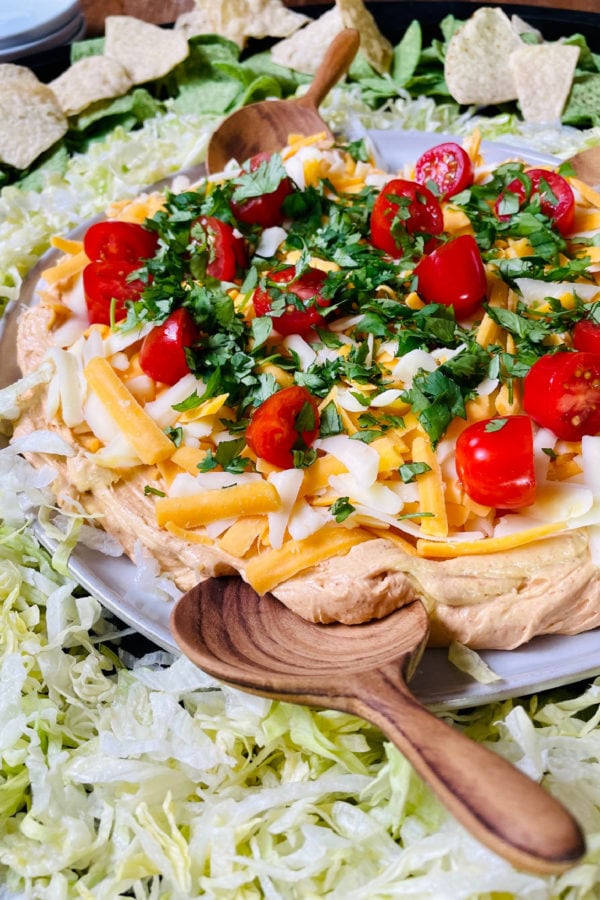 What is taco dip made of?
Taco dip is made with sour cream and cream cheese, with taco seasoning (you can use a storebought packet or make your own taco seasoning), and is topped with all of your favorite taco toppings.
Crisp shredded lettuce, shredded Mexican cheese and tomatoes always are toppings on my dip, but you can also add green onions and olives, too! Don't forget the cilantro!
If you're looking for a Vegan recipe, try this Vegan 7-layer dip!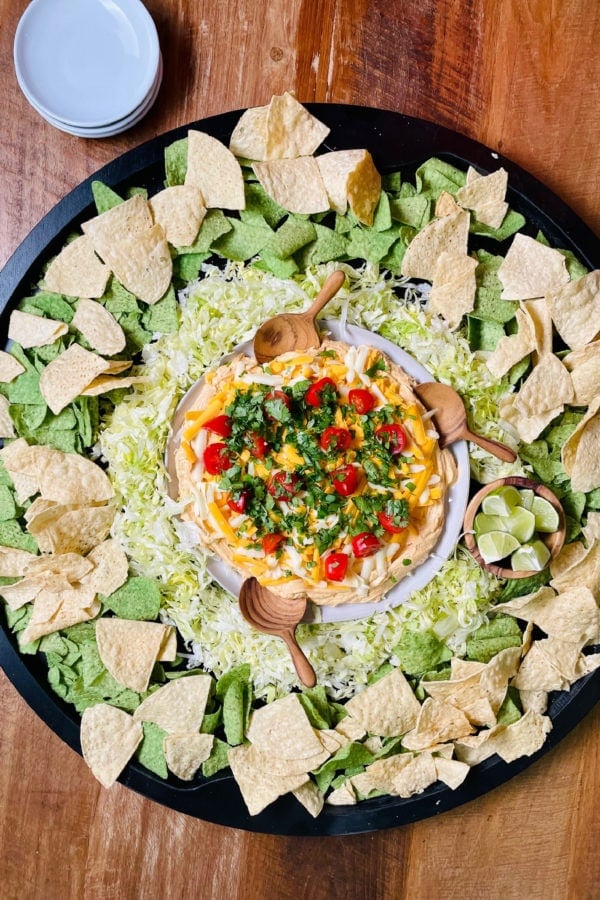 What is 7 layer dip made of?
7 Layer Bean Dip may be one of my favorite dip recipes. Here's my healthy version (made with heriloom tomatoes). It's the ultimate combo of refried beans, guacamole, sour cream, cheese, tomatoes green onions, and black olives—all your favorite Mexican flavors!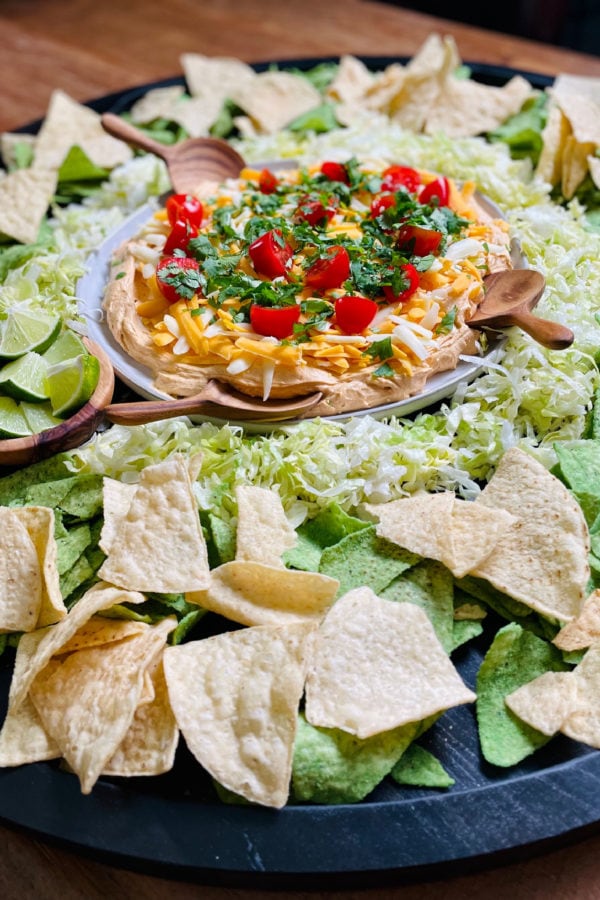 Why does my taco dip get watery?
Here's a tip about this dip. You can make it up the day of the party, but don't let is sit in the fridge too long; thus it will get watery.
And always top it right before serving.
I buy pre-shredded lettuce, but you can finely chop your own lettuce, or use darker greens. Just make sure if you wash it first, it's completely dry before putting on the board.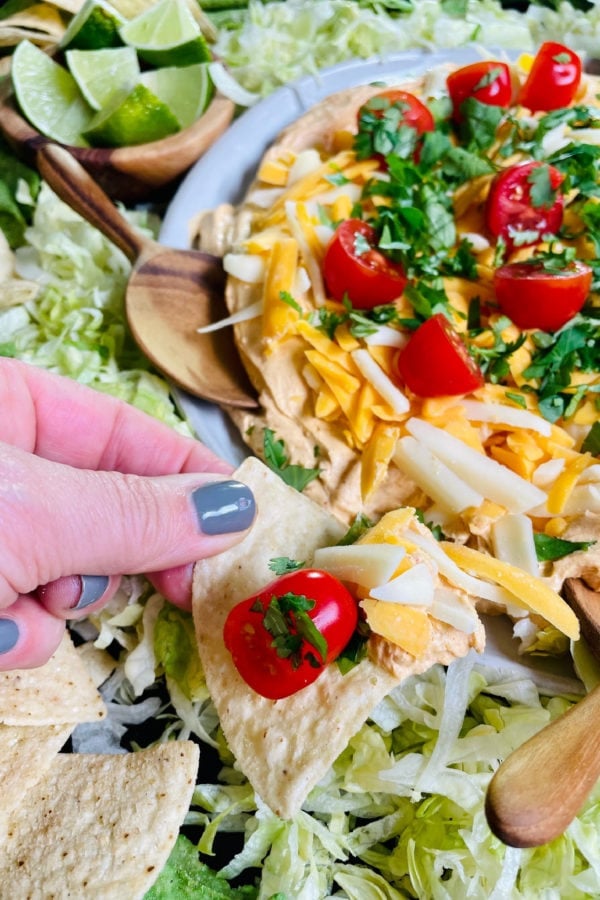 How much taco seasoning is in a packet?
The seasoning packet that you buy in the grocery store has 12 tsp. of the taco seasoning. I like to use 6-8 tsp. We don't like it to be too salty, so don't go overboard with the seasoning!
Serve a Taco Dip Board any time of the year!
So guess what? This board is not just for Christmas, it's loved throughout the year for any big gathering! Think game day, any holiday, birthdays, or a potluck meal.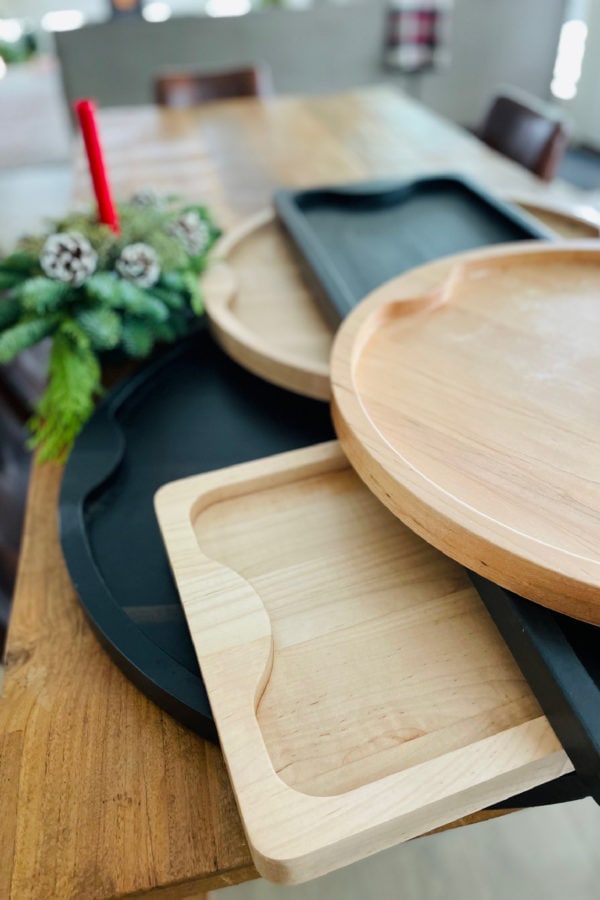 Everyone is going to love this easy dip, so let's get dippin'!
Friends, The Big Board® is here! Yes, I've partnered with JK Adams, the premier woodmaking company in Vermont, with my own line of RE boards!
20-inch round, maple
26-inch round, maple
12 x 36-inch maple
NEW 12 x 24-inch maple
23-inch Lazy Susan
26-inch ebonized BLACK, cherry
12 x 36-inch ebonized BLACK, cherry
A board with a lip (or raised edged) so the food doesn't fall off
FOOD SAFE
Made in the USA
Undercut handles (a unique design)
Thank you for your support, as we've sold out so many times already!
Order The Big Board® today!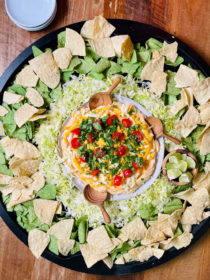 Get the Recipe: Best Taco Dip Board
Make on the 26-inch board (ebonized black)
Ingredients
16 oz cream cheese, softened
16 oz container sour cream
6-8 tsp. from a taco seasoning packet
2 cups shredded cheddar cheese, I like Tillamook's Mexican mix larger shreds
1 cup cherry tomatoes, halved
2 avocado, diced (optional)
Fresh cilantro, finely chopped
Pomegrante seeds
Shredded lettuce
Instructions
Mix together cream cheese, sour cream, and taco seasoning in a large bowl until light and creamy. I like to use my small KitchenAid or a hand mixer, to make it as creamy as you can get in, with no lumps.

Spread the mixture on a large round plate. Top with shredded cheese, tomato, avocado, and pomegrante seeds (if in season), or your favorite toppings. Sprinkle with chopped cilantro.

Place the dip in the center of a board. Around the outside of the plate, arrange the shredded lettuce.

Serve with tortilla chips on the outside!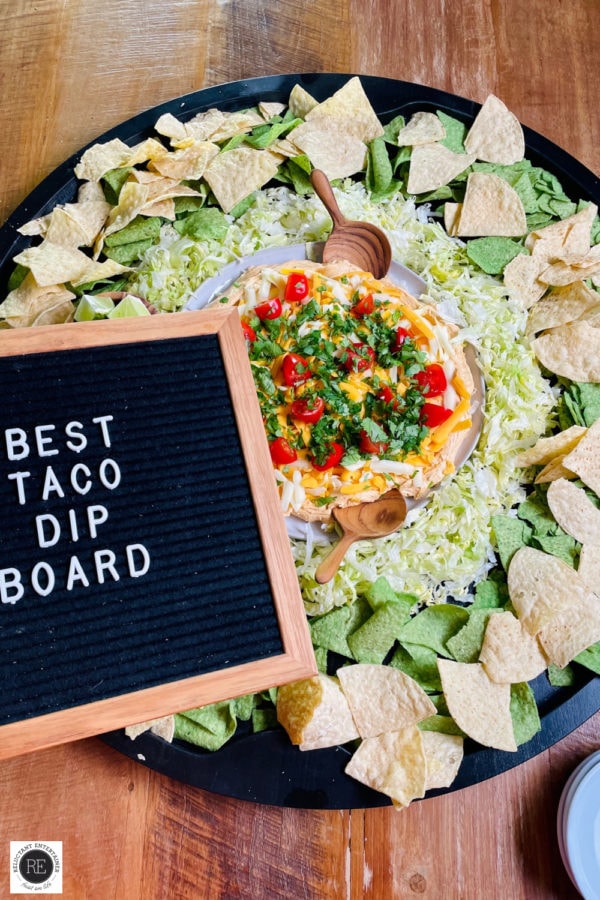 Hello and welcome to my home and table!
I'm Sandy—lover of food, family, cooking, THE BIG BOARD, travel, and bringing people together. Through great recipes and connection around the table, we become better, stronger, and more courageous people. Feasting on Life is real, and every time we do it, we grow a little more. Read more...