Best 7 Layer Bean Dip Recipe
This 7 Layer Bean Dip Recipe is the best party snack made with fresh ingredients. Add refried beans layered with guacamole, sour cream, veggies, and cheese!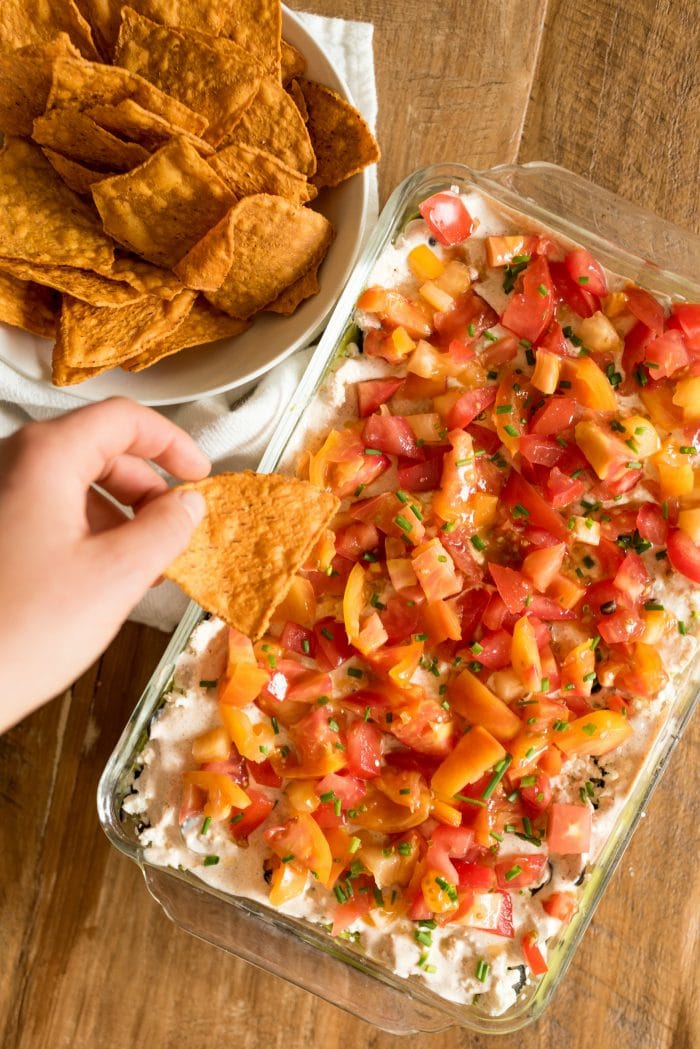 Friends, here's a delicious version of 7-Layer Dip with summer, juicy, heirloom tomatoes! Be prepared for it to be scooped up into chips and devoured by the end of your party! It's the ultimate party snack! You could easily serve this in the center of this Easy Pork Carnitas Taco Board, too!
Best 7 Layer Bean Dip Recipe
What's In 7 Layer Dip? This 9×13 pan of deliciousness has 7 layers to it. The layers in 7 Layer Dip are:
Guacamole
Sour cream with taco seasoning
Black refried beans
Corn (fresh off the cob or canned)
Queso Fresco
Heirloom tomatoes
Black olives (and cilantro or chives for garnish)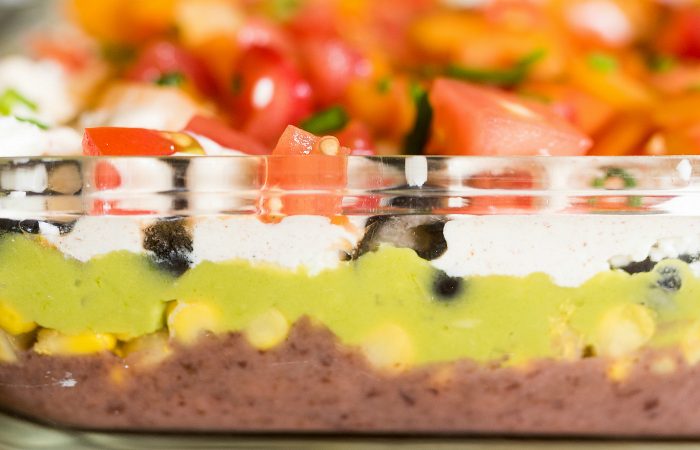 It's nice to have a few yummy appetizers to graze on, for holiday celebrations!
Cooking with summer's freshest corn, tomatoes, and avocados, I've come up with a favorite 7 Layer Bean Dip, perfect for the Fourth of July (or any summer party!)
How to serve bean dip
Unlike the traditional bean dip, this 7 Layer Dip is served cold. Make and chill until right before serving, and set out with your favorite crackers or chips!
Our favorite chips right now in our kitchen is Fred Meyer's (Kroger's) Organic Sweet Potato Chips. Have you tried them?
More Tex Mex dips to try:
Tex Mex Enchilada Dip
How to assemble 7 layer dip
To assemble this recipe, grab a 9 x 13 glass dish. Glass is great because then you can see the layers!
Starting with the refried beans at the bottom, spread each layer of the beans, guacamole and sour cream one at a time. Use a spatula to spread each layer before adding the next layer.
My favorite topping for this dip is heirloom tomatoes. We love this dip during the summer months because the tomatoes taste soooo much better!
Cover the dip with plastic wrap and place in the fridge to chill for 30 minutes before setting out to serve. You can also make this head and chill overnight.
Serve the layered dip cold with tortilla chips or crackers!
Summer is the season for dips and yummy appetizers, and I tend to get a little out of control with how much I eat.
Especially when you're grazing, munching, mingling, and having a great time!
We took snacks and drinks to an open field to tailgate with friends for my 57th birthday last night. Thanks to all my family and friends for all the special wishes and birthday love throughout the day! Birthdays are very special, and my heart is grateful for another year of blessings!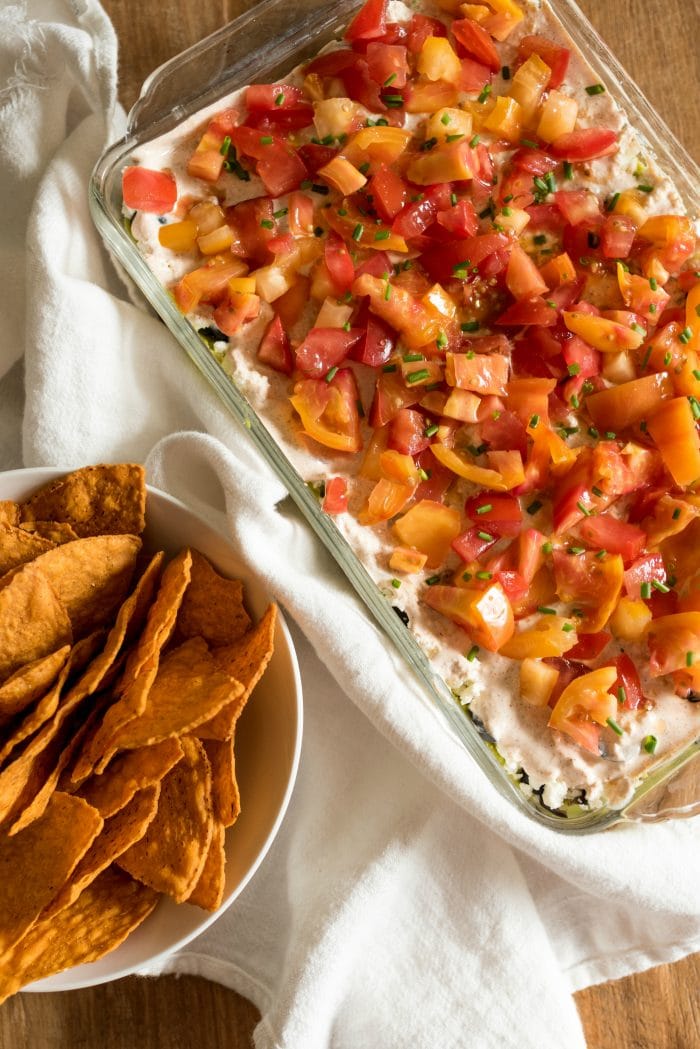 I love cooking fresh!
This dip is made with fresh summer heirloom tomatoes. Use fresh corn if you can, and add your favorite taco seasoning to the sour cream. Layer it together and enjoy!
Which, by the way, if you plan on making this Root Beer Float Cake with Cream Cheese Frosting for dessert, you might as well try these recipes, too:
Pedro's Special Mexican Casserole
Mexican Pasta Shells Salad Recipe
I couldn't wait to serve this dip to my guests – Dig in, friends!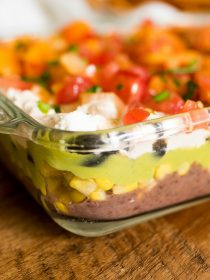 Get the Recipe: 7 Layer Bean Dip
Ingredients
12 oz guacamole
1 cup sour cream, heaping
1 tsp. taco seasoning
1 15 oz can Organic Refried Black Beans
1 15 oz can corn, or fresh corn, cut off the cob
1 small can olives, drained and sliced
8 oz Queso Fresco, crumbled
1-2 heirloom tomatoes, cut into small chunks
Cillantro or chives, for garnish
Instructions
Spread refried black beans on the bottom of a 9x13 glass dish.

Mix the sour cream with the taco seasoning.

Layer on the beans the corn, guacamole, olives, sour cream and cheese.

Sprinkle chopped heirloom tomatoes on top.

Garnish with chopped cilantro or chives.

Cover the dip with plastic wrap and place in the fridge to chill for 30 minutes before setting out to serve. You can also make this head and chill overnight.

Serve with your favorite chips or crackers!
Notes
Updated from JUNE 2014
Hello and welcome to my home and table!
I'm Sandy—lover of food, family, cooking, THE BIG BOARD, travel, and bringing people together. Through great recipes and connection around the table, we become better, stronger, and more courageous people. Feasting on Life is real, and every time we do it, we grow a little more. Read more...