Blueberry Patriotic Charcuterie Board
Celebrate summer holidays and parties with a red, white, and blue Blueberry Patriotic Charcuterie Board featuring fresh Oregon blueberries!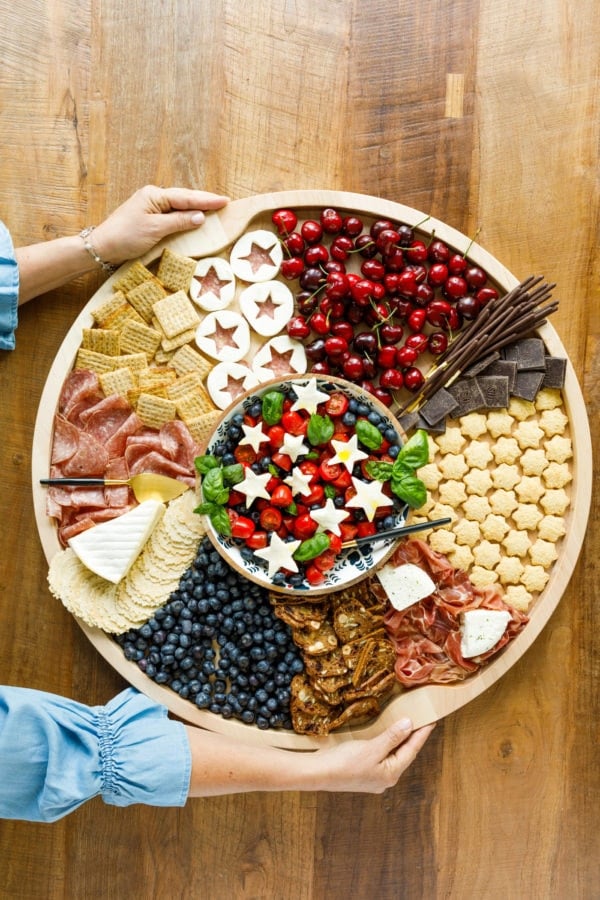 Friends, fresh Oregon blueberries are one of the joys of summer! And July is National Blueberry Month and the peak of Oregon's harvest, so today we are sharing this Blueberry Patriotic Charcuterie Board. This post is sponsored by the Oregon Blueberry Growers.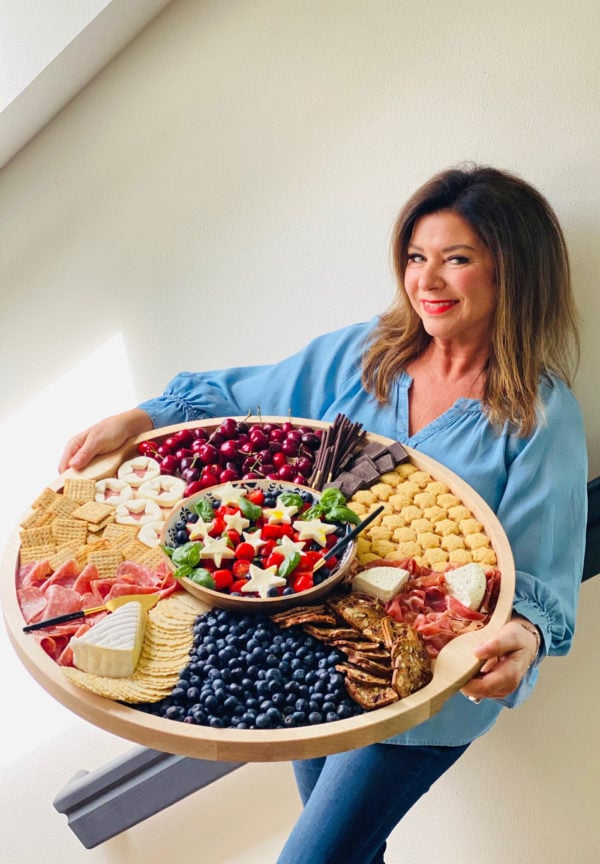 Blueberry Patriotic Charcuterie Board
What better way to celebrate summer and patriotism than with a patriotic themed charcuterie board!? Today my board is full of summer fresh Oregon blueberries that we cannot get enough of.
Grab The Big Board and let's get started!
Red, white, and blue Charcuterie Board
Everyone loves caprese salad, so with a small star cookie cutter, we made a delicious Caprese salad with blueberries in the center of the board.
Cut out small stars of mozzarella cheese, for a festive holiday salad! The flavors of fresh blueberries, cherry tomatoes, mozzarella cheese, and basil are incredible!
Here's a spin that we love for Caprese salads:
Instead of normal balsamic vinegar, that can make a salad a little messy, use white balsamic instead!
In addition to the beautiful, plump blueberries, drizzle the salad with oil and balsamic, add some sea salt and a crack of pepper, and don't forget the fresh basil sprig!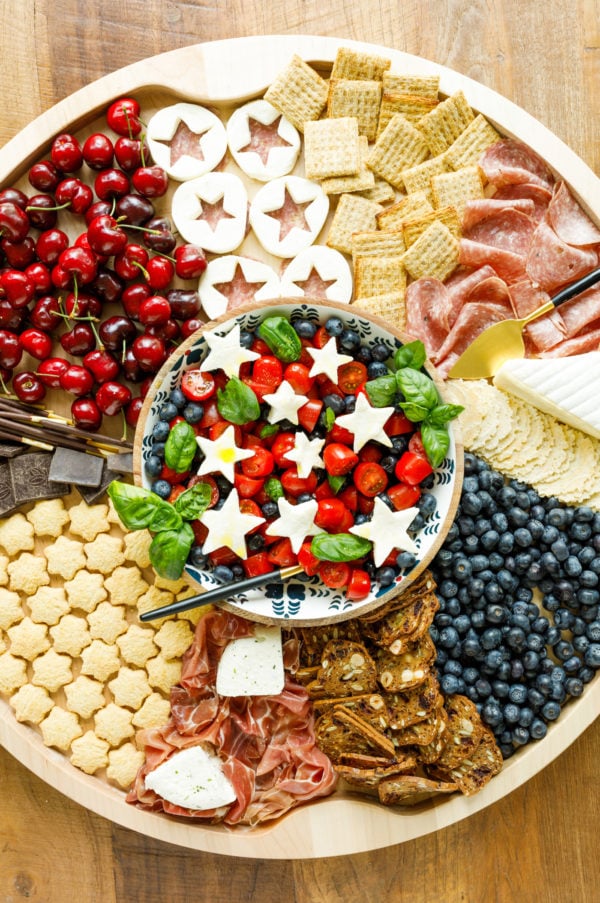 July 4th Charcuterie Board ingredients
To put this board together, think red, white, and blue! All you need are these ingredients:
Oregon blueberries
Prosciutto + salami
Salami
Soft goat cheese + Fromager French Brie
Rain Coast Crisp Crackers + lace wafer crackers + Triscuit crackers
Cherries
Walkers Mini Festive Stars shortbread cookies
Pocky sticks + chocolate pieces
Fresh basil
Carpese salad in a bowl with cheese pieces cut into stars
Pick your own Oregon blueberries
Did you know now is the season to visit Oregon to pick your own blueberries? Visit a local farm in your area, by checking it out, HERE.
This is one of our favorite things to do in the summertime!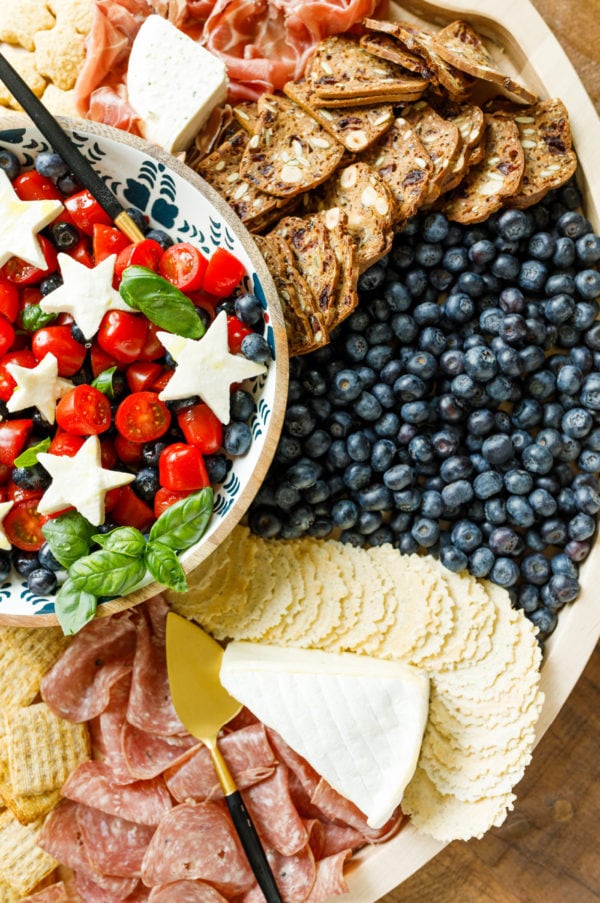 Can you put blueberries on a charcuterie board?
Now is the prime time for fresh Oregon blueberries, which pair perfectly on a summer cheese or charcuterie board. For a little healthful goodness, they are the perfect addition for a quick nosh or handful, with plenty of vitamin C. Honey and olives are classic components of the charcuterie board, too.
Which cheese goes with blueberries?
We like to serve mild cheeses, like mozzarella and goat cheese or Brie cheese, that pair so well with sweet and tangy notes of blueberries.
Blueberries are a great way to add excitement to backyard picnics and grilling!
So here are some blueberry recipes to enjoy this summer:
Buttermilk Blueberry Cake Board
4th of July Blueberry Caprese Skewers
What are the health benefits to eating blueberries?
Blueberries pump up your immune system.
As powerful disease fighters, blueberries carry four essential nutrients, including fiber, vitamin C, vitamin K & manganese.
They contain anthocyanins (this is what gives blueberries their blue color), which are cell-protecting anti-oxidants associated with reducing the risk of cancer, diabetes and heart disease.
And finally, blueberries help maintain brain function, reduce damage to the brain cells and improve memory.
Now is the prime time for fresh Oregon blueberries!
What will you be putting on your patriotic cheese board this summer?
This post is sponsored by the Oregon Blueberry Growers website (www.oregonblueberry.com) but as always, all opinions are my own.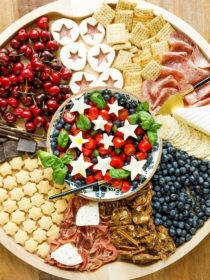 Get the Recipe: Blueberry Patriotic Charcuterie Board
A patriotic charcuterie board featuring fresh blueberries and a festive caprese salad.
Ingredients
3 cups fresh Oregon blueberries, divided
6 oz prosciutto
6 oz salami
4 oz soft goat cheese
1/2 pound Fromager French Brie
1 pkg Rain Coast Crisp Crackers
1/2 pkg lace wafer crackers
1 box Triscuit crackers
1 pound cherries
8 oz Walkers Mini Festive Stars shortbread cookies
2 small pkg Pocky sticks
Favorite chocolate pieces
Fresh basil
Carpese salad
3 cups cherry tomatoes, halved
4-6 oz mozzarella cheese, thick slices for star cut-outs
Olive oil, drizzle
White balsamic vinegar, drizzle
Kosher salt
Fresh basil
Instructions
On a prepared board, in the center, place a large bowl to hold the Caprese salad.

To make the Caprese salad, mix together fresh Oregon blueberries and cherry tomatoes. Place on top the mozzarella shaped star pieces. Refrigerate.

Right before serving, drizzle with olive oil and white balsamic vinegar. Season with kosher salt and fresh cracked pepper, and serve with fresh small leaves of basil (optional to chop).

Prepare the board with fresh blueberries and cherries, cheese, meats, and crackers. Add the cookies and chocolate.

Place the chilled salad in the center of the board right before serving.

Serve and enjoy!
Hello and welcome to my home and table!
I'm Sandy—lover of food, family, cooking, THE BIG BOARD, travel, and bringing people together. Through great recipes and connection around the table, we become better, stronger, and more courageous people. Feasting on Life is real, and every time we do it, we grow a little more. Read more...