Cheesy Mushroom Kale Challah Bread Pudding
Enjoy this savory Cheesy Mushroom Kale Challah Bread Pudding recipe, a delicious vegetarian main dish or a great potluck side dish.
Friends, we took this Cheesy Mushroom Kale Challah Bread Pudding a recent potluck, and it was devoured before we knew it. If you're looking for a "sweet" bread pudding, you must try my Irish Dark and White Bread Pudding Recipe!
Cheesy Mushroom Kale Challah Bread Pudding
Are you hosting a potluck any time soon? There are so many ways to host a potluck! You can keep it really organized and tell people what to bring. Or, you can wing it and just let it be a free-for-all.
"Small cheer and great welcome make a merry feast." — William Shakespeare

Ingredients for cheesy bread pudding
Unsalted butter
Extra virgin olive oil
Yellow onion
Cremini mushrooms
Fresh thyme leaves
Dry white wine
Eggs
Whole or 2% milk
Freshly grated nutmeg + ground cayenne
Challah bread
Gruyère or cheddar cheese
Tuscan kale leaves
Salt and freshly ground black pepper
Easy side dish: Cheesy Bread Pudding
A delicious side dish for your favorite potluck, or holiday meat (like Pepper Crusted Prime Rib or Cornish Game Hens), this recipe is moist and everyone's side or main dish.
So good, you can make this with your favorite bread.
What is the best bread to use for bread pudding?
Brioche. Brioche is most likely the classic choice when it comes to French toast and bread pudding, because of its high egg and butter content. (Can you say YUM?)
Challah. Like ultra-buttery brioche, challah (which typically is dairy-free) is a delicious, cozy bread for pudding and French toast.
French Bread. French Bread is a long thin loaf of white bread, usually on the crispier side (because it's so long and skinny).
What can I use in place of challah bread?
If you can't find challah bread, there are many sweet, eggy, rich breads that are similar in flavor and texture. Brioche is the closest you'll get.
But then there's Hawaiian sweet round bread. I've used Hawaiian bread in these recipes: Turkey Pesto Onion Cheese Poppyseed Sliders Recipe and Pizza Sliders.
How do you make bread pudding?
For this recipe you prepare and saute the vegetables until tender.
Then you whisk the eggs, egg yolk, milk, nutmeg, and cayenne; season with salt and pepper
In a giant bowl, you mix the chunks of bread with the vegetable mixture, and with mushrooms and cheese.
You mix it all together and put in a baking dish, adding more cheese on top.
Truly it is the best savory, cheesy mushroom bread pudding you've ever tasted!
Host a potluck
People love to bring food and show off their cooking! I don't mean that in an arrogant way, but in a humbler attitude. Most people seem to have a "favorite dish" that they have mastered and they love to bring to a party!
I love a potluck where people bring their cooking skills, mixing with a diverse group of people, into a common space to eat together. This is a beautiful thing.
A potluck encourages people who aren't into "formal dinners" to open their homes to others! For this time of year, if you're not hosting Thanksgiving, you may want to host a Friendsgiving party.
More sweet bread pudding recipes:
Cookie Butter Bread Pudding [Wine and Glue]
Classic Cinnamon Raisin Bread Pudding [Belly Full]
Pear Bread Pudding with Caramel Sauce Recipe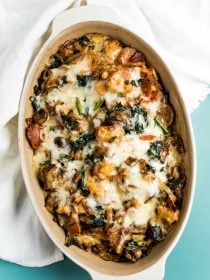 Get the Recipe: Cheesy Mushroom Kale Challah Bread Pudding
Ingredients
¼ cup unsalted butter
¼ cup extra virgin olive oil
1 large yellow onion, thinly sliced
6 cup cremini mushrooms, about 1/4 inch slices
1 Tbsp. fresh thyme leaves
2 Tbsp. dry white wine
2 large eggs plus 1 large egg yolk
1 cup whole or 2% milk
½ tsp freshly grated nutmeg
½ tsp ground cayenne
8 oz challah bread, cut into 1 inch cubes (about 5-6 cups)
2 cup shredded Gruyère or cheddar cheese
4 cup Tuscan kale leaves, stems removed and cut into smaller pieces
Salt and freshly ground black pepper
Instructions
Preheat oven to 375 degrees.

Grease the inside of a 9x9-inch baking dish and set aside.

In a medium skillet, melt the butter over medium heat. Add the onions, and season lightly with salt and pepper. Lightly stir onions to evenly coat in butter. Cook for about 4 minutes, until onions are soft, then lower the heat to medium-low. Stir onions frequently until they are browned, about 35 minutes. Transfer to a small bowl, and return the skillet to the stove top.

In the skillet, heat the olive oil over medium-high heat. Add the mushrooms and allow to brown, 10-12 minutes, stirring occasionally until they become tender.

Mix in the thyme leaves and kale—cook for about 4 minutes more (until kale wilts slightly), then add in the white wine. Stir until almost completely evaporated, 2-4 minutes. Remove from the heat and return the caramelized onions to the pan. Allow to cool for 5-7 minutes.

In a large bowl, whisk the eggs, egg yolk, milk, nutmeg, and cayenne; season with salt and pepper. Add the bread cubes and gently push into milk mixture. Next, add mushrooms and 1 1/4 cup of the cheese—gently mix with hands to combine.

Transfer the bread pudding to the prepared baking dish and top with the remaining cheese.

Cover pan with foil and bake on the center rack for about 25 minutes. After time is up, remove foil from pan and bake for another 10 minutes.

Serve hot!
Notes
Reposted from JAN 2019
Hello and welcome to my home and table!
I'm Sandy—lover of food, family, cooking, THE BIG BOARD, travel, and bringing people together. Through great recipes and connection around the table, we become better, stronger, and more courageous people. Feasting on Life is real, and every time we do it, we grow a little more. Read more...