Chicken Quinoa Black Bean Bake
This easy Chicken Quinoa Black Bean Bake is a simple one-pot dish with quinoa, chicken, and black beans. It's easy, gluten-free, and freezer-friendly.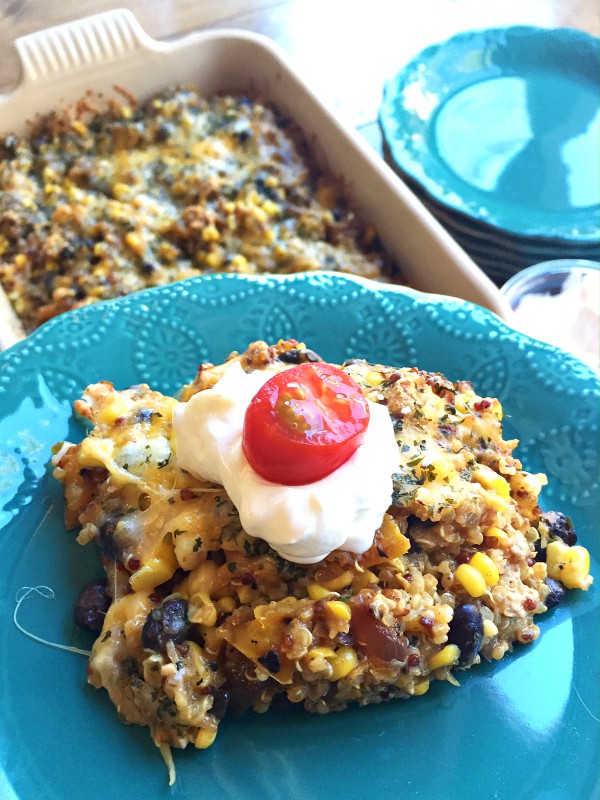 Happy Monday, Friends! I hope you enjoy this Chicken Quinoa Black Bean Bake recipe today!
I had a great chat on the phone over the weekend, while I was out walking our dog, Haggis. Who, by the way, is the happiest little pup on the face of the earth. He loves living over here in central Oregon, because he gets several walks a day and lots of adventures. Being 12 years old, we often joke about how he's reverted back to a puppy while living here. We're in deep with our dog.
On my walk, I was chatting with my friend about how important it is to reevaluate our commitments in life. Having been in a new environment for over 3 months now, I can see where it's easy to get stuck doing things because we feel obligated, or trapped. I'm not talking about the things that are non-negotiable.
Life is always changing and shifting, causing us to re-prioritize, and to realize that it's okay to change things up!
It doesn't mean that we don't extend ourselves, it means that we may give something up, or just say no. And then say "yes" to something new!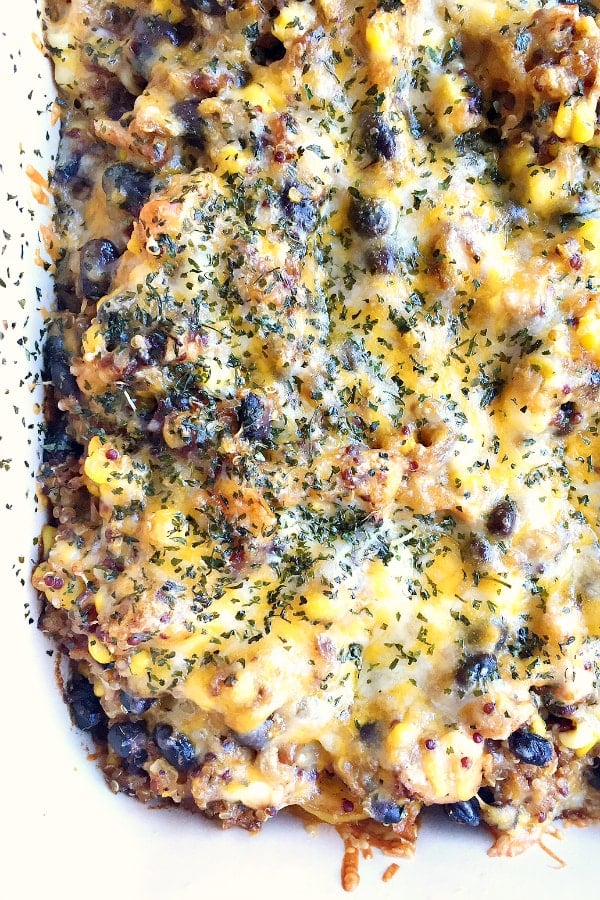 I read this this week: Just because you have always done something doesn't mean you should always do it. Very true.
It's good to re-evaluate our schedules, commitments, and take things off our plates … and then say "yes!"
It is easy to cut things that you don't want to do, but what about when God asks you to lay something down your emotions are not ready to give up? What if it is something you have helped birth and build, and feel attached to and even responsible for? Would you be willing to let go of something you still enjoy, in order to simplify your life? – Joyce Meyer
For me, moving away from my "home" took courage. It makes me feel brave to be open to what comes next, my next step in life, whatever that may be.
Chicken Quinoa Black Bean Bake
So … in the meantime, in the midst of all this walking I've been doing over here, on our beautiful paths surrounding our home, occasionally I get recipe inspiration, and then I come back and cook for my family. :)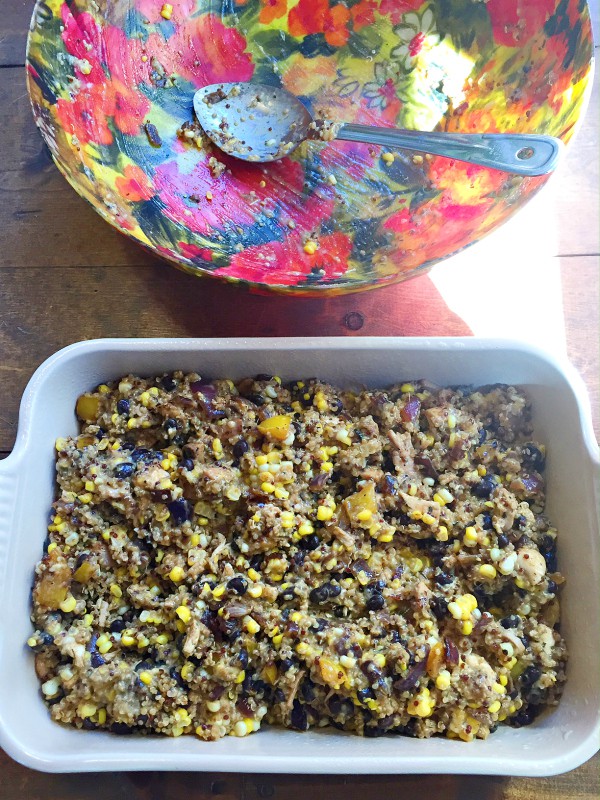 Last week I made a big pan of this delicious Quinoa Chicken Black Bean Bake, and I wish I would have doubled it to make more – it was that good. But it's great for leftovers!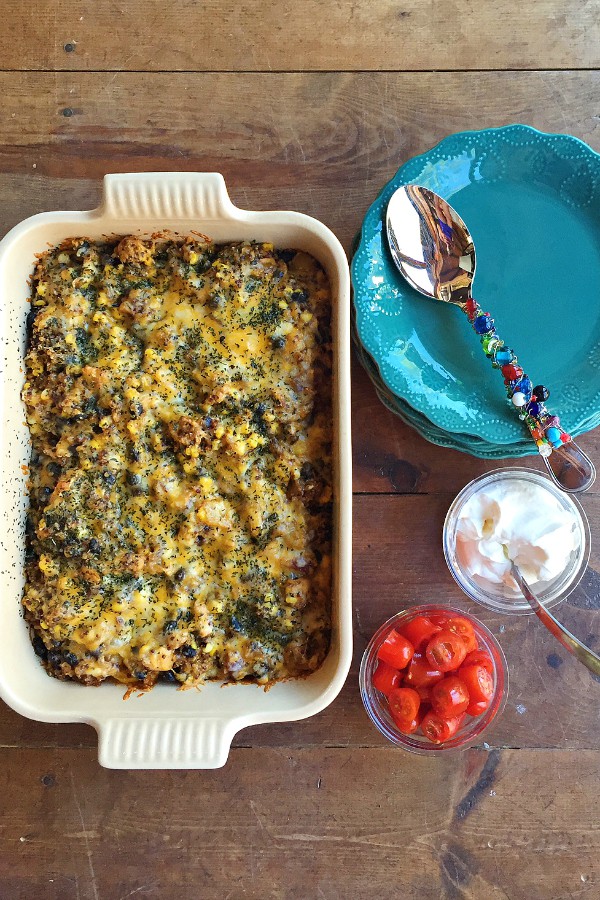 Serve with a dab of sour cream and fresh tomatoes.
Take it to a potluck this fall.
Or, better yet, host a small Mexican-themed dinner party. Have your guests bring their own beverages and a dish, and you can make a pan or 2 of this Bake. Serve this dessert – oh, yum!
Wah-lah.
Company's coming, and you'll be ready for them!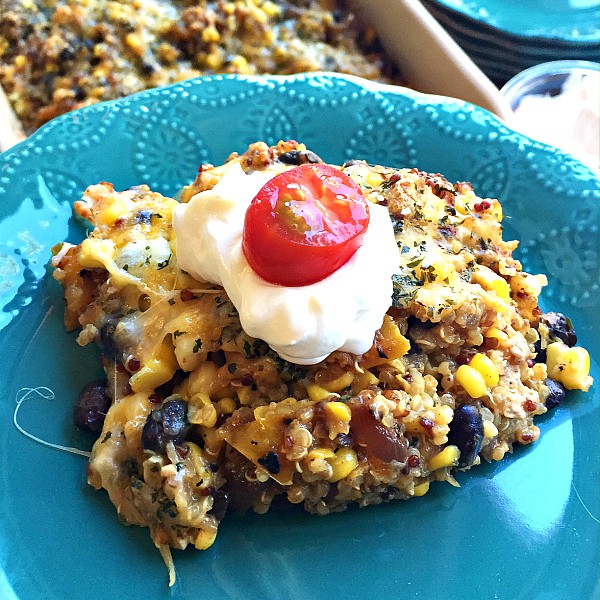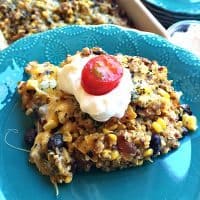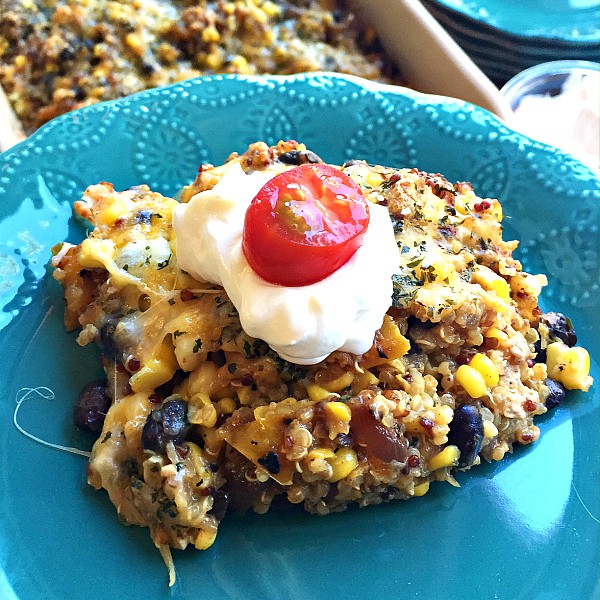 Print Recipe
Chicken Quinoa Black Bean Bake
Make ahead; freeze, thawing in the fridge overnight.
Ingredients
4

cups

chicken broth

divided

1 1/2

cups

uncooked quinoa

1

Tbsp.

olive oil

2

cups

Rotisserie chicken

chopped

1

can Bush's Black Beans

drained

1

teaspoon

kosher salt

divided

1/2

teaspoon

black pepper

divided

2

teaspoon

taco seasoning

2

cups

fresh corn

cut from the cob

1

red or orange bell pepper

seeded and diced

1

red onion

diced

3

cloves

garlic

minced

2

Tbsp.

unsalted butter

2

Tbsp.

gluten-free flour

or use regular purpose flour

1

cup

1% milk

2

teaspoon

dried oregano

2

Tbsp.

dried cilantro

3

cups

freshly grated Mozzarella cheese

or Mexican blend
Instructions
Bring 3 cups chicken broth to a boil in a saucepan, then add the quinoa. Reduce heat to a simmer, cover, and let cook until the liquid has been mostly absorbed and the quinoa is tender, about 15 minutes, depending on the brand of quinoa you purchase. Keeping the pan covered, remove from heat and let stand 10 minutes. Uncover, lightly fluff with a fork, and set aside.

Preheat oven to 350 degrees. Spray an 9×13-inch baking dish with nonstick spray.

Heat 1 Tbsp. olive oil in a large, deep skillet over medium heat. Add onion, diced bell pepper, corn, and garlic. Add the salt and pepper and taco seasoning. Cook for about 5 minutes. Add in the chicken and beans; mix well, and remove to a large bowl.

In the same pan, melt the butter; sprinkle the flour over the top and briskly whisk (it will be gooey). Cook for 30 seconds, and then pour in the remaining 1 cup chicken broth and the milk. Salt and pepper to taste.

Whisk constantly, breaking up any lumps; add 2 cups of cheese and mix well. Add the oregano. Increase the heat to bring the mixture to a simmer, then reduce the heat and let gently bubble until the sauce has thickened slightly, about 5 minutes, stirring often.

Remove skillet from heat, and pour into the quinoa and chicken mixture. Pour into the prepared baking dish; sprinkle the top with the remaining 2 cups of cheese. Sprinkle with dried cilantro.

Bake for 20-25 minutes, until the top is golden and bubbly. Let cool 10 minutes, then serve with your favorite toppings, such as sour cream, salsa, green onions, or fresh tomatoes.
More casserole recipes: Green Chili Enchilada Quinoa Bake [Two Peas and their Pod], Cheese Zucchini Pasta Quinoa Bake [Sugar Free Mom], Pedro's Special Mexican Casserole, Green Enchilada Chicken Bake Casserole.