Raspberry Cobbler
Just in time for summer, enjoy a classic Raspberry Cobbler, a cobbler recipe topped with vanilla ice cream, whipped cream, or gelato.
Friends, this Classic Raspberry Cobbler recipe is the perfect dessert for a picnic or to bring to a potluck. It's sweet and tart, and delicious served with fresh whipped cream or vanilla gelato or ice cream.
Raspberry Cobbler
This Raspberry Cobbler is made from scratch with simple ingredients. This cobbler taste amazing and you just may want to serve this on the Fourth of July this year, or any summer party.
Serve this cobbler for a summer party with Hawaiian BBQ Chicken, this salad, and this bread. Delish!
Why we love this recipe
You won't find an easier or more delightful summer dessert than this simple raspberry cobbler. I say that, because raspberries are my favorite berries. And the biscuit-like crust on top of this raspberry cobbler recipe gives way to a creamy, juicy center, bursting with bright berry flavor.
It has simple ingredients
You can make ahead
Use fresh or frozen raspberries
What is cobbler?
Cobbler is a dish made of fruit or a savory filling, poured into a large baking dish. It's covered with a biscuit dough on top, and then baked!
Here's a tip: If you are working with super ripe raspberries, like in the heat of summer-type-berries that are fresh off the vine, then feel free to cut back on the added sugar. Substitute other summer berries or peaches into this easy cobbler recipe as well.

Ingredients for Raspberry Cobbler
Fozen or fresh raspberries
Lemon
Butter
Milk
Sugar
Salt
Baing powder
Flour
Vanilla
Almond extract
Cornstarch
Boiling water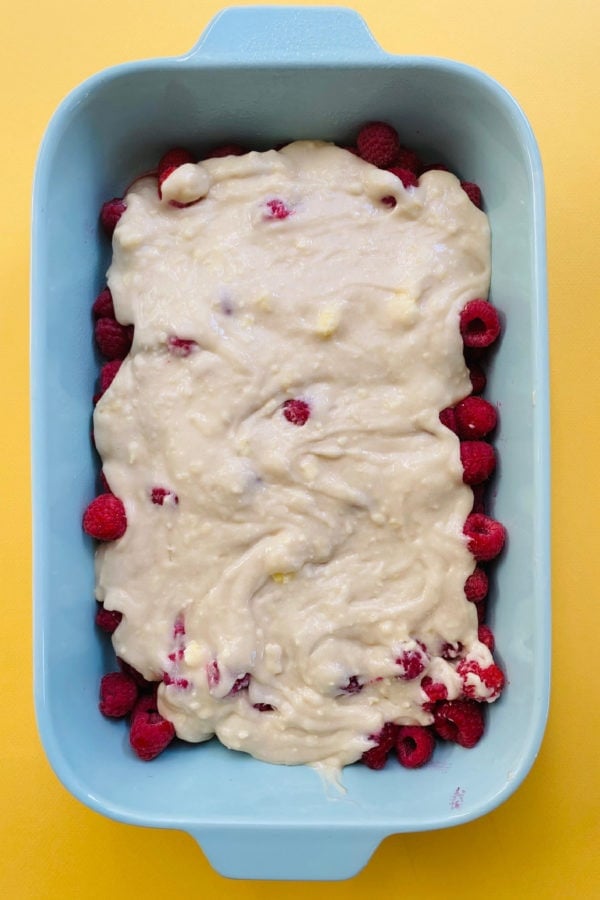 How do you make Raspberry Cobbler from scratch?
On the bottom of a 9×13 pan, lay the fresh raspberries, and squeeze juice of emon over the berries.
Mix together the melted butter, milk, sugar, salt, baking powder, flour, and vanilla. Pour over the berries.
Mix together the remaining sugar and cornstarch.
Sprinkle on top of the cobbler mixture.
Pour boiling water over entire cobbler.
Bake and serve warm.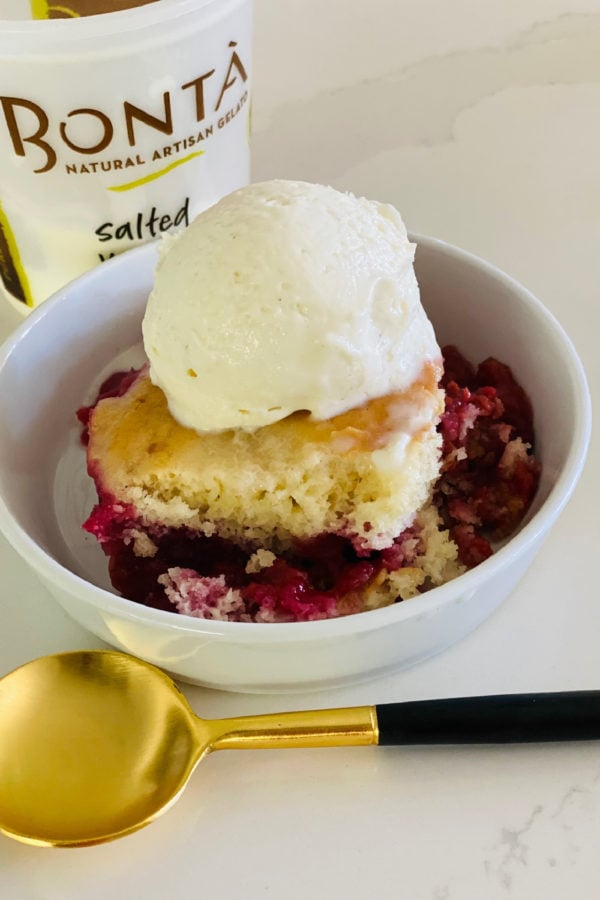 How to serve cobbler?
Make sure each serving is warm (I just zap in the microwave for 30 seconds per serving), so the ice cream or whipped cream or gelato melts right into the crust. OH, so good.
This recipe is much better served warm, trust me. Oh, and what is Bonta Salted Vanilla Gelato? It's made right here in Bend, Oregon.
Can you freeze cobbler?
Yes, you can freeze cobblers.
Bake the cobbler, allow to cool, then cover tightly in plastic wrap. Add foil on top and freeze for up to one month.
It's easy to reheat in a 350-degree oven.
Quite delicious for your family or company!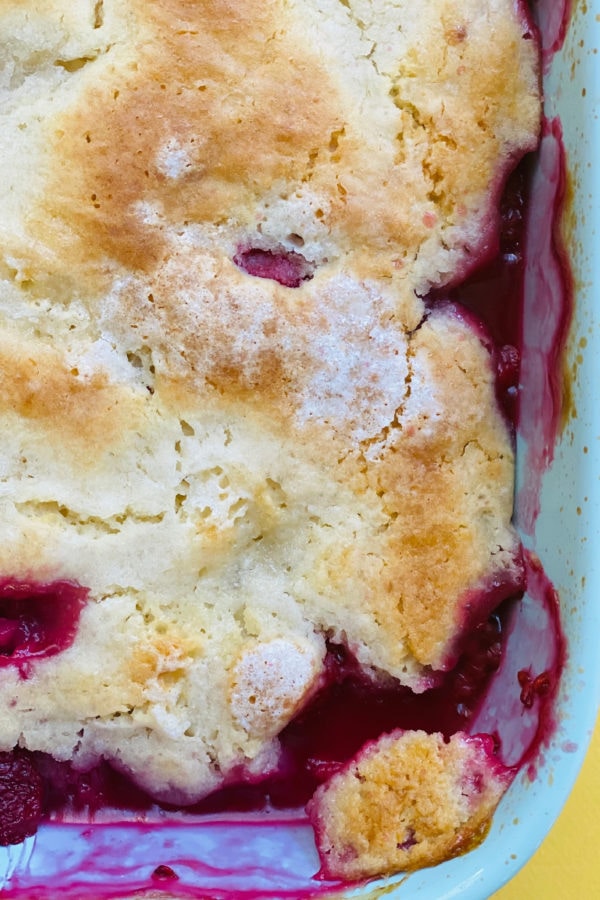 More desserts for potlucks or cookouts:
Here are more of my favorite desserts to make for a cook-out, or bring to a potluck:
Peach Blueberry Cobbler Recipe
Easy cobbler for company
This past weekend we had out-of-town company! We do not eat dessert every night in our house, so I'm always looking for any excuse to make a new dessert.
My friend had left town and left me a bunch of raspberries, so I added some (from the freezer) to make 5 cups. So yes, you can make with frozen or fresh raspberries!
Enjoy!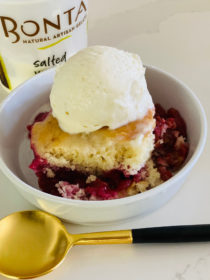 Get the Recipe: Raspberry Cobbler
Just in time for summer, enjoy a classic Raspberry Cobbler, a cobbler recipe topped with vanilla ice cream, whipped cream, or gelato.
Ingredients
6 cups frozen or fresh raspberries, or more--the more berries, the juicier the cobbler
1 lemon juiced
6 Tbsp butter melted
1 cup milk
1 cup sugar
½ tsp salt
2 tsp baking powder
2 cups flour
1 tsp vanilla extract
1 tsp almond extract
Topping:
½ cup sugar
2 Tbsp cornstarch
2 cups boiling water
Instructions
Preheat oven to 375 degrees.

Spray a 9x13 pan with cooking spray. On the bottom, lay the raspberries, and squeeze juice of 1 lemon over the berries.

In a medium bowl, mix together the melted butter, milk, sugar, salt, baking powder, flour, vanilla, and almond extract. Pour over the raspberries.

In the same bowl, add the remaining 1/2 cup of sugar and 2 Tbsp cornstarch. Mix together and sprinkle on top of the cobbler mixture.

Over the entire cobbler, pour 2 cups of boiling water.

Bake for 1 hour (or more to get it nice and brown on top). Serve warm with vanilla ice cream, gelato or fresh whipped cream.
Notes
Reposted from June 2021.
Calories: 413kcal, Carbohydrates: 77g, Protein: 6g, Fat: 11g, Saturated Fat: 6g, Polyunsaturated Fat: 1g, Monounsaturated Fat: 3g, Trans Fat: 0.3g, Cholesterol: 26mg, Sodium: 336mg, Potassium: 239mg, Fiber: 7g, Sugar: 43g, Vitamin A: 344IU, Vitamin C: 31mg, Calcium: 132mg, Iron: 2mg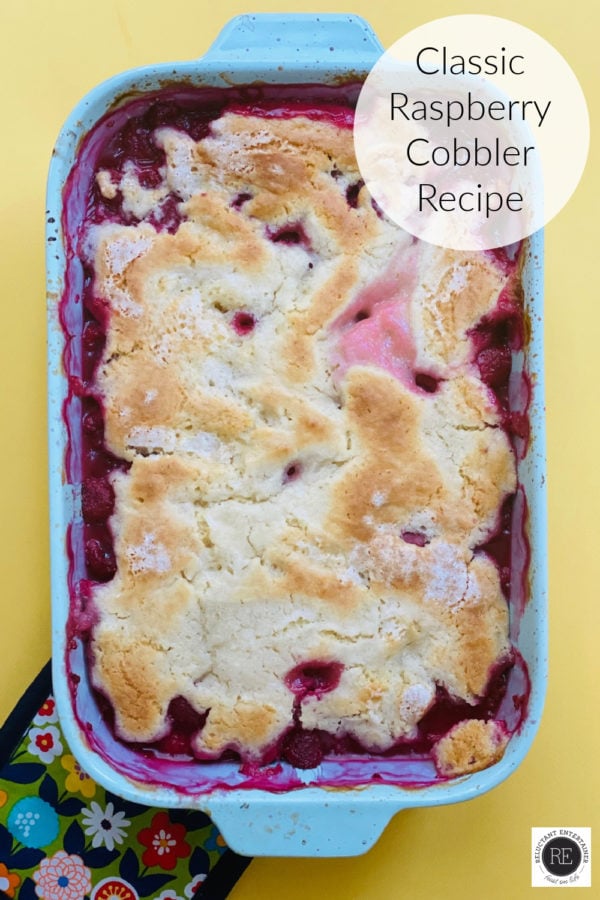 Hello and welcome to my home and table!
I'm Sandy—lover of food, family, cooking, THE BIG BOARD, travel, and bringing people together. Through great recipes and connection around the table, we become better, stronger, and more courageous people. Feasting on Life is real, and every time we do it, we grow a little more. Read more...