EPIC Baked Potato Dinner Board
A delicious Baked Potato Dinner Board with all your favorite toppings, perfect for a casual party! Serve a hot bowl of chili in the center!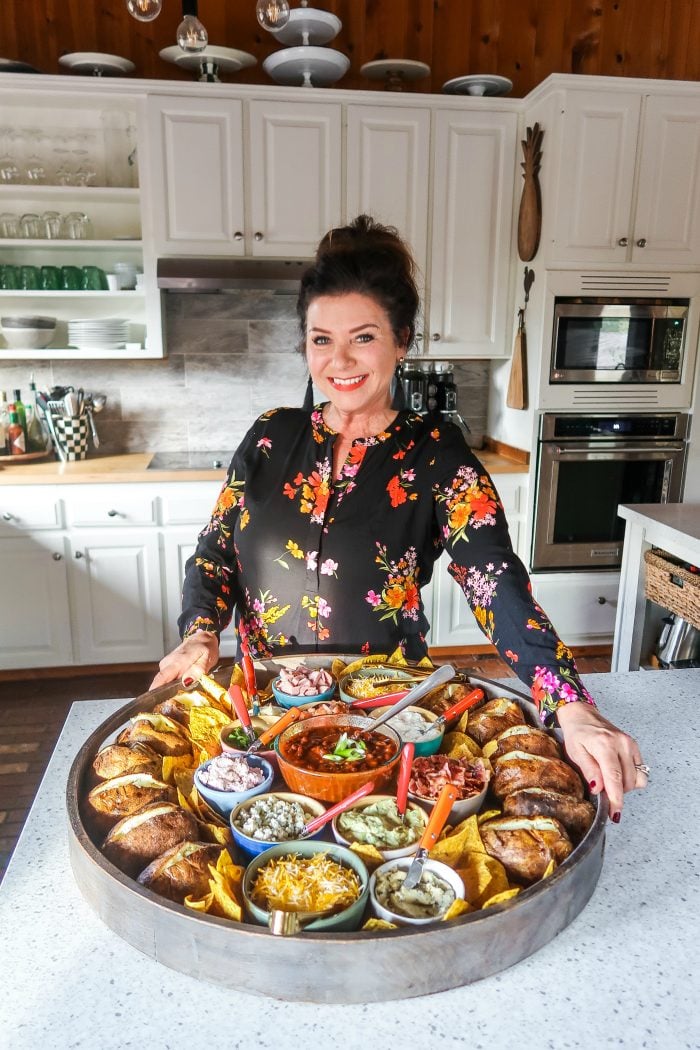 Friends, earlier this week I shared a simple recipe, Baked Russet Potatoes Recipe. Easy weeknight dinner, right? Fully loaded or keep deconstructed with a pat of butter, everybody gets to make their own potato. Or, if you're looking for a great Baked Potato Recipe in Air Fryer, we have some great tips!
Baked Potato Dinner Board
Just like the old-fashioned baked potato bars that our Mom's made. You'll get dinner on the table in no time, and you'll spend minimal time cleaning up once the meal is done, which is what I love about a "baked potato charcuterie board." Grab THE BIG BOARD info below for 7 epic sizes.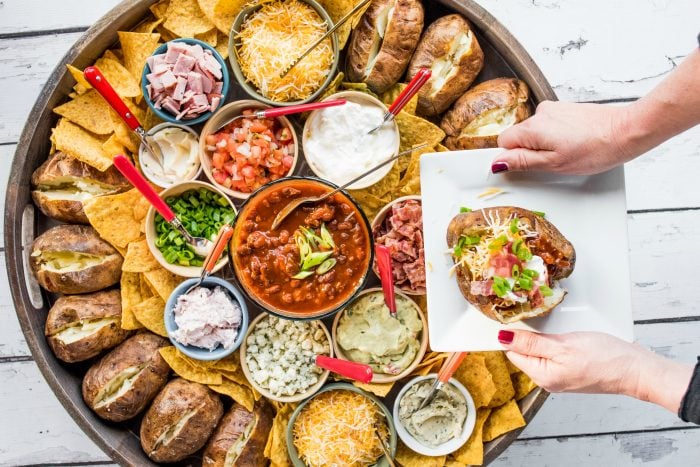 A cozy baked potato bar
This baked potato dinner board is the coziest dinner board around! You may have also tried my popular Epic Chili Dinner Board or Epic Taco Dinner Board. WOW. They are all fun and cozy for a casual meal to serve to family or friends.
This is what I love about serving a potato board, everyone builds their own potato.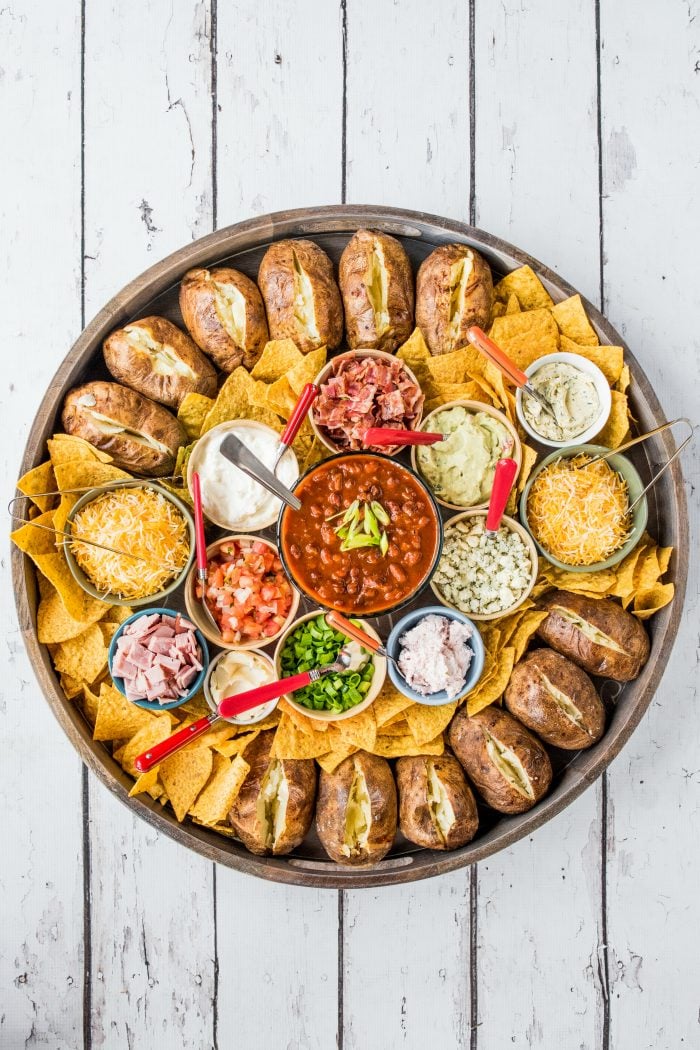 How to build a potato board
For now, I love this illustration that my friend Jeannine made for me. Makes me want to dive right in! So many options how to serve a board, too. We also recommend you put the potatos on a large serving plate in the center of the board, and build around it.

Here are the fixin's we'll be putting on ours.
Ingredients for baked potato board:
Baked potatoes (learn how to bake them in this Baked Russet Potatoes post)
Chili, heated up and chopped bacon (try my Easy Homemade Chili Recipe)
Bacon and ham, chopped
Sour cream, guacamole, pico de gallo, blue cheese crumbles, and grated cheese
Roasted garlic and herb butter and Back truffle butter(Trader Joe's) – have you tried these yet? They come in little tubs!
Cranberry Jalapeno Dip (or a cream cheese dip)
Tortilla chips

What to serve with baked potatoes
Here are a few other ideas to serve with your potatoes!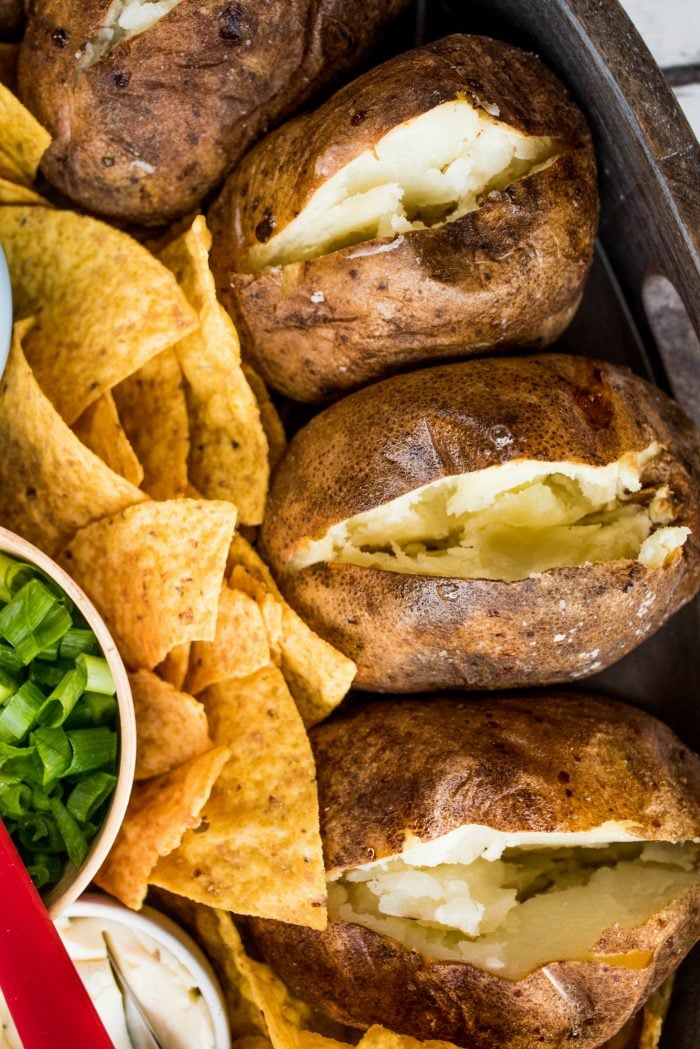 What goes on a baked potato?
Other optional toppings are:
Cooked broccol or roasted veggies
Ranch dressing
Barbecue sauce
Cornbread
Ground beef or turkey
Baked beans
Pizza toppings (meats, pizza sauce, and cheese)
Olives
All about the boards
Since I've started sharing boards over the last three years, 99% of my recipes and ideas have been on a board with a small 1-2 inch lip.
The reason being, with all the entertaining that we have done, the other boards just don't make sense.
THE FOOD FALLS OFF, right? Am I the only one that has had this happen? I don't even look for boards anymore unless they making serving easy! Grab my new EPIC size board info at the bottom of this post!
How do you keep the food warm?
It's simple, I prepare the board with all the toppings without the baked potatoes. Plan ahead by making room for them first. Right before you serve, place the hot potatoes on the board!
In other words, I always keep hot food in the oven until right before serving! Easy!
On my new boards, place all the hot potatoes on a large plate. You can arrange it differently than these photos, with the potatoes in the center, and toppings surrounding it.
TIP: Each guest can slice their own potato before stuffing, to keep them nice and hot.

Friday night potato board
It's Friday night? If you're looking in the fridge and wondering what to serve with baked potatoes, I have you covered. Baked potatoes are such an easy and incredible side, or a main dish. Remember to use my method of baking the potato, so the skin is slightly crisp and salty, with fluffy, buttery insides. Perfection!
Or, if you're a sweet potato lover, grab all the info for my Epic Sweet Potato Dinner Board.
Ask your friends to bring a giant salad and a dessert. Or, if you have a minute, pop my Zucchini Banana Cake with Maple Frosting in the oven!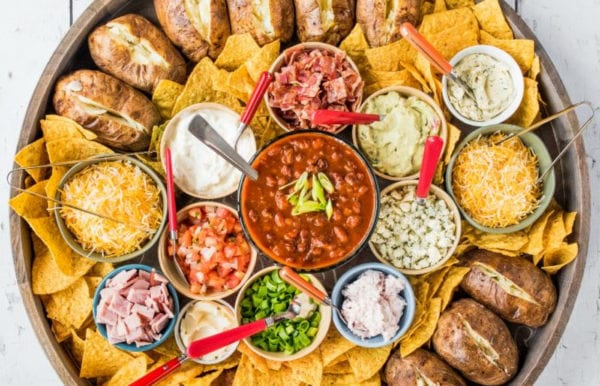 What a simple meal!
Set out the big board … they will come!
And friends, have you bought my new cookbook? Buy Big Boards for Families today! It's "editor's pick" on Amazon this month!

The Big Board®
Friends, The Big Board® is here! Yes, I've partnered with JK Adams, the premier woodmaking company in Vermont, with my own line of RE boards!
20-inch round, maple
26-inch round, maple
12 x 36-inch maple
NEW 12 x 24-inch maple
23-inch Lazy Susan
26-inch ebonized BLACK, cherry
12 x 36-inch ebonized BLACK, cherry
A board with a lip (or raised edged) so the food doesn't fall off
FOOD SAFE
Made in the USA
Undercut handles (a unique design)
Thank you for your support, as we've sold out so many times already!
Order The Big Board® today!
Happy Hosting!
Get the Recipe: Baked Potato Dinner Board
A delicious Baked Potato Dinner Board with all your favorite toppings, perfect for a casual party! Serve a hot bowl of chili in the center!
Ingredients
12 large Russet potatoes, baked (link to my recipe)
2 cans chili, heated up
12 pieces bacon, chopped
Sour cream
Guacamole
Pico de gallo
Blue cheese crumbles
2 cups grated cheese
Roasted garlic and herb butter, Trader Joe's
Back truffle butter, Trader Joe's
Black Forest ham, chopped
Cranberry Jalapeno Dip, or a cream cheese dip
1 bag tortilla chips
Instructions
Bake the potatoes and set aside.

On a large prepared board, in the center, leave a space to add the bowl of the hot chili, right before serving.

Place the chili toppings in small bowls and arrange around the chili bowl area.

Arrange the hot potatoes around the outside of the board.

Right before serving, slice each potato (to make easy for adding toppings). Add the hot bowl of chili to the center. Fill in the open areas with chips!

Serve and enjoy!
Hello and welcome to my home and table!
I'm Sandy—lover of food, family, cooking, THE BIG BOARD, travel, and bringing people together. Through great recipes and connection around the table, we become better, stronger, and more courageous people. Feasting on Life is real, and every time we do it, we grow a little more. Read more...