Epic Charcuterie Board for Two
Enjoy this Epic Charcuterie Board for Two (or Date Night Cheese Board for Two), the perfect snack or appetizer for two people!
Friends, here's a no-cook dinner or snack board to make, an Epic Charcuterie Board For Two, with delicious savory snacks!
Epic Charcuterie Board For Two
This post is about how to make a charcuterie board for two, for the ultimate snack dinner! Paul and I love grazing boards, or a snack dinner—for dinner! A snack for dinner! When we visited Australia a couple summers ago, we soon learned that the Aussies were all about "snacks," and we quickly caught on. If you're wanting a larger board for more people, then grab this recipe: Epic Charcuterie Board.
Date Night Cheese Board
Instead of a big dinner, we often sit out in the front of our house for a snack dinner.
This Date Night Cheese Board is perfect for two people. It can easily be customized with whatever types of crackers or breads you like, and is so quick to put together.
Delallo is a brand I write about a lot here on RE. I believe they have the best quality Italian products. In fact, I'd love to go back to the east coast and visit their Delallo Italian Marketplace. Maybe one day.
Their food is superior to any other Italian brands we've tried!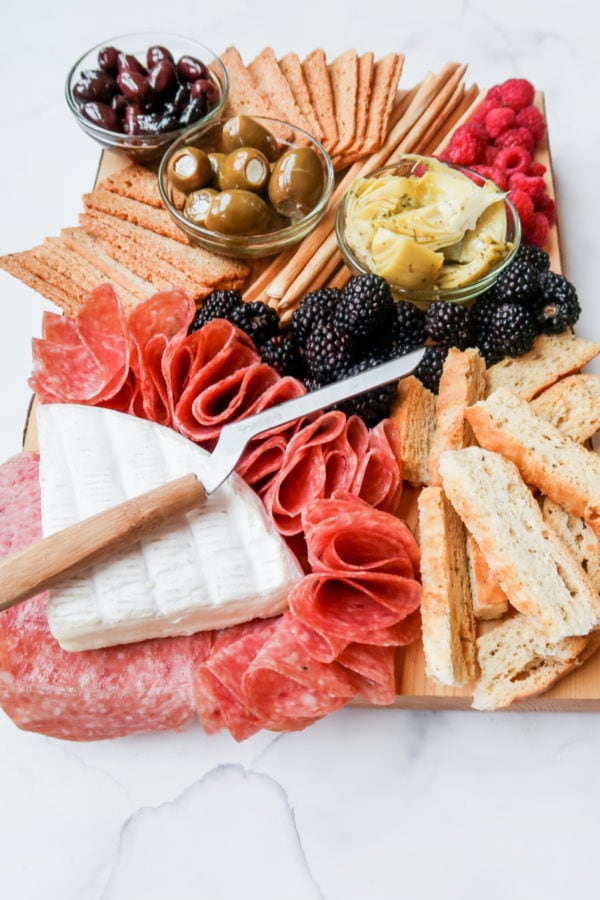 What Is on this Cheese Board for Two?
Cheese: Soft brie cheese wedge (Camembert soft cheese)
Olives and marinated food: Delallo Bleu Cheese Olives + Kalamata olives
Meat: Delallo Hard Salami
Crackers: Sturdy enough to spread the cheese
Fresh fruit – raspberries and blackberries
Nuts – optional
This quick Cheese Board is perfect for date nights
Wanting to make a fun date night dinner? This is perfect to make and bring with you to the river, for a picnic, to a park—or your back or front yard! We have a lovely little sitting area in our front yard, where we love to sit at night and eat dinner.
Put together in less than 15 minutes
I like to keep things cozy, but also jazz them up a bit. Not every night, but when it's warm outside, or really cold outside, this snack board is great for either! It's just fun to make it special.
Making a cheeseboard is classy, and the flavor combinations are endless.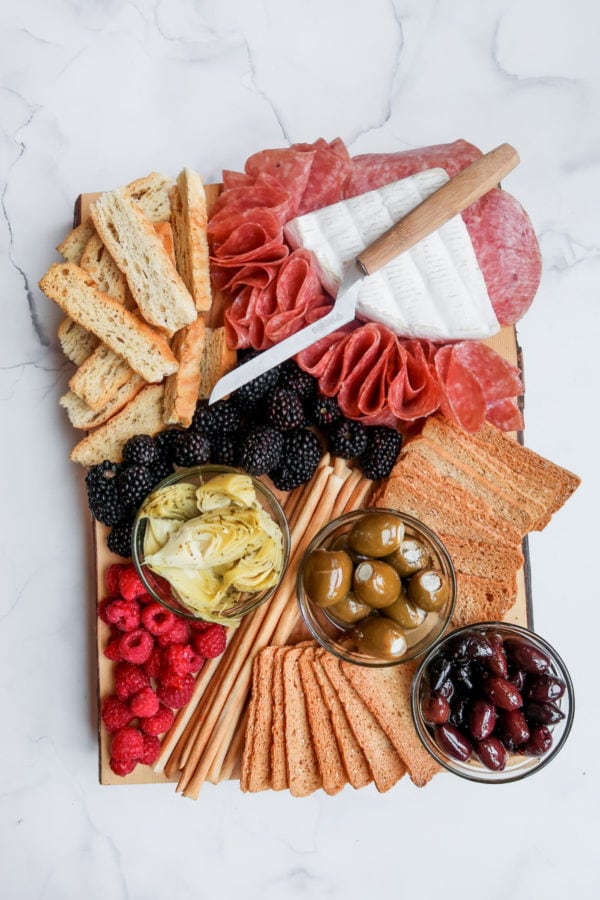 How do you make a small charcuterie board?
Step One: Fill 3 small bowls with olives and artichokes.
Step Two: Add the cheeses and meats. First, place down the wedge of cheese, then the salami.
Step Three: Add Delallo crostini crackers and breadsticks (or crackers).
Step Four: Add fruits, veggies, and herbs (raspberries and blackberries).
Don't forget the cheese knife!
Want to buy a good cheese knife?
You can get some good ones that are fairly inexpensive, but I find the wood starts looking dingy! So this is why we are selling this BLACK & GOLD CHEESE SET over on my store page. You can toss in the dishwasher, and there are 3 of them that are stunning on a cheese board.
Buy cheese set, HERE.
So cozy up to your best friend (husband, BFF, dog, neighbor …) and ENJOY! Oh, and take a peek at our amazing sunsent last week!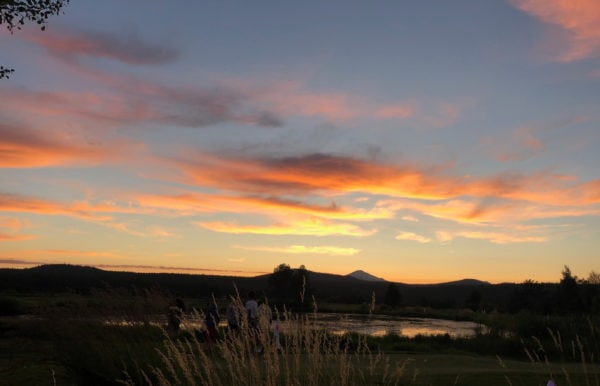 More charcuterie boards:
Best Charcuterie Boards to Buy
How to Season a Charcuterie Board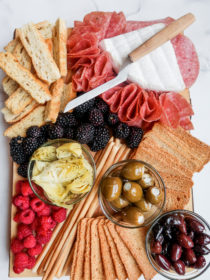 Get the Recipe: Epic Charcuterie Board for Two
Ingredients
6 oz Delallo Hard Salami
½ pound Camembert soft cheese
7 oz Delallo Bleu Cheese Olives
7 oz Delallo Kalamata Olives
7 oz Delallo Marinated Artichokes
1 pkg. Delallo Sesame Crostini
1 pkg. Delallo Focaccia Toasts
1 pkg. Delallo Grisini Breadsticks
6 oz fresh raspberries
6 oz fresh blackberries
Instructions
On a small board arrange the 3 bowls of olives and artichoke hearts.

Lay down salami slices in one corner, and place the triangle of cheese on top.

Place down the crackers and fruit.

Fill in open areas with more folded pieces of salami.

Optional to add a sprig of herbs (rosemary, thyme, or basil). Serve!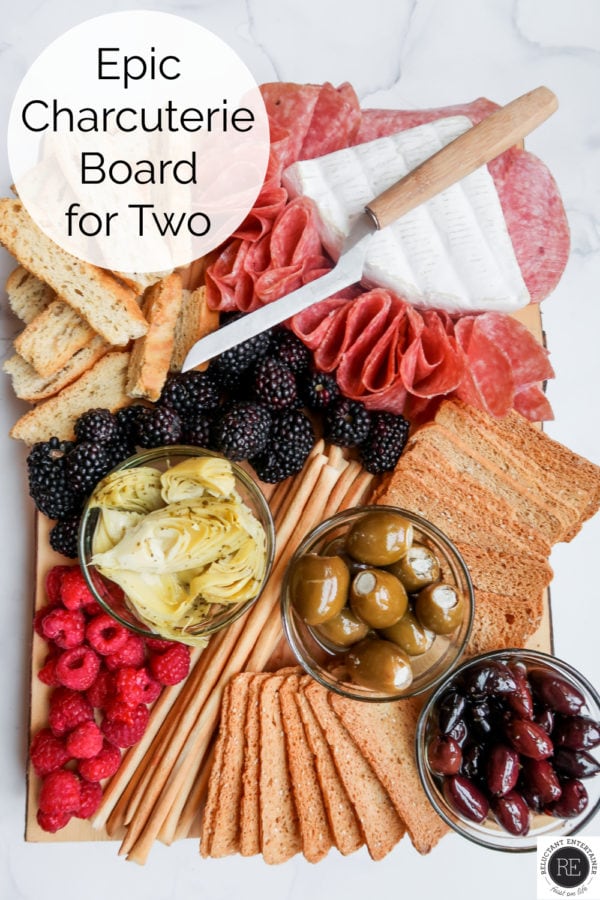 Hello and welcome to my home and table!
I'm Sandy—lover of food, family, cooking, THE BIG BOARD, travel, and bringing people together. Through great recipes and connection around the table, we become better, stronger, and more courageous people. Feasting on Life is real, and every time we do it, we grow a little more. Read more...